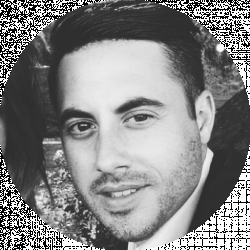 Latest posts by David Borgogni
(see all)
Last Updated on October 30, 2020 by
In this iContact review, we'll be exploring the main features of iContact to help you decide if it's the right platform for you.
There are a lot of email marketing platforms out there and a lot of questions to consider. Do you need it to come with a website builder? Is analytics important to you? How many templates will you want to choose from? How can you use email marketing to build your eCommerce business?
Your email marketing platform should offer you the tools that you need to convert people who are interested in your business, to regular customers, boosting your brand, your sales, and your bottom line and growing your business.
In this review, we're going to be looking at the main features and tools that you get with iContact. We'll explore the pros and cons of this platform as well as some of the alternatives available. We'll give you all the information you need to decide if this is the right email marketing tool for you.
Now, let's look at this tool in detail.
What is iContact?
A web-based marketing tool, iContact is structured to be useful for businesses of all sizes to manage email marketing and social media campaigns.
Created in 2003 by two economics students, it was first called Broadwick Corporation and was then rebranded to iContact in 2007 and acquired by PR giant Vocus Inc in 2012.
While suitable for a range of business types and sizes, iContact's focus has always been on small businesses and marketing professionals. Having won many awards over the years, iContact is highly thought of as an all-round marketing platform.
The Main Features of iContact
Here are the key features of iContact which we'll be exploring more later in the review:
Email editor using easy drag-and-drop functionality.
Customizable layout templates
Automation through various work-flow patterns
A/B split testing capability to find out which email gets the best response
Reporting of various analytics to help you make the most of your marketing
Access for multiple users
The ability to both build and segment your subscriber list in various ways
Compatibility with eCommerce and integration with various APIs.
Now, let's take a look at these features in a bit more detail.
Ease of use and dashboard
Registration is simple, entering names, email addresses, and the size of your initial contact list.
On the dashboard, a menu on the left shows the main functions and the center is where you work. It takes you step-by-step through suggested tasks.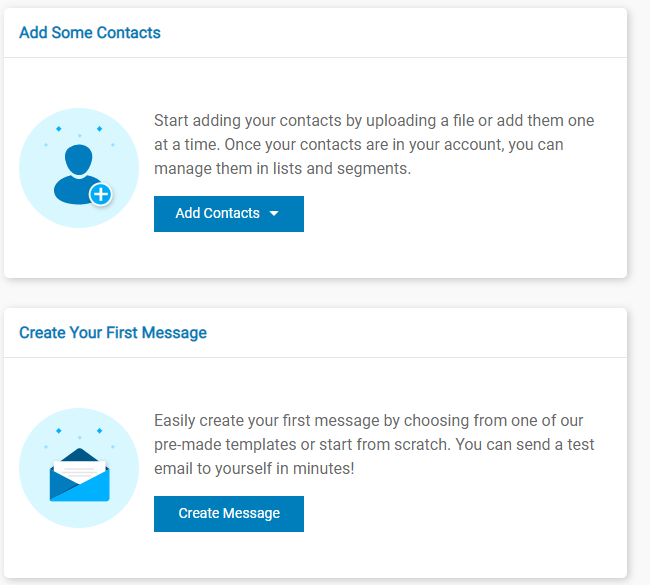 Once established, logging in takes you to a dashboard showing some analytics for your most recent campaigns. It's also straightforward to integrate and post campaigns on Facebook, Twitter and other social media platforms.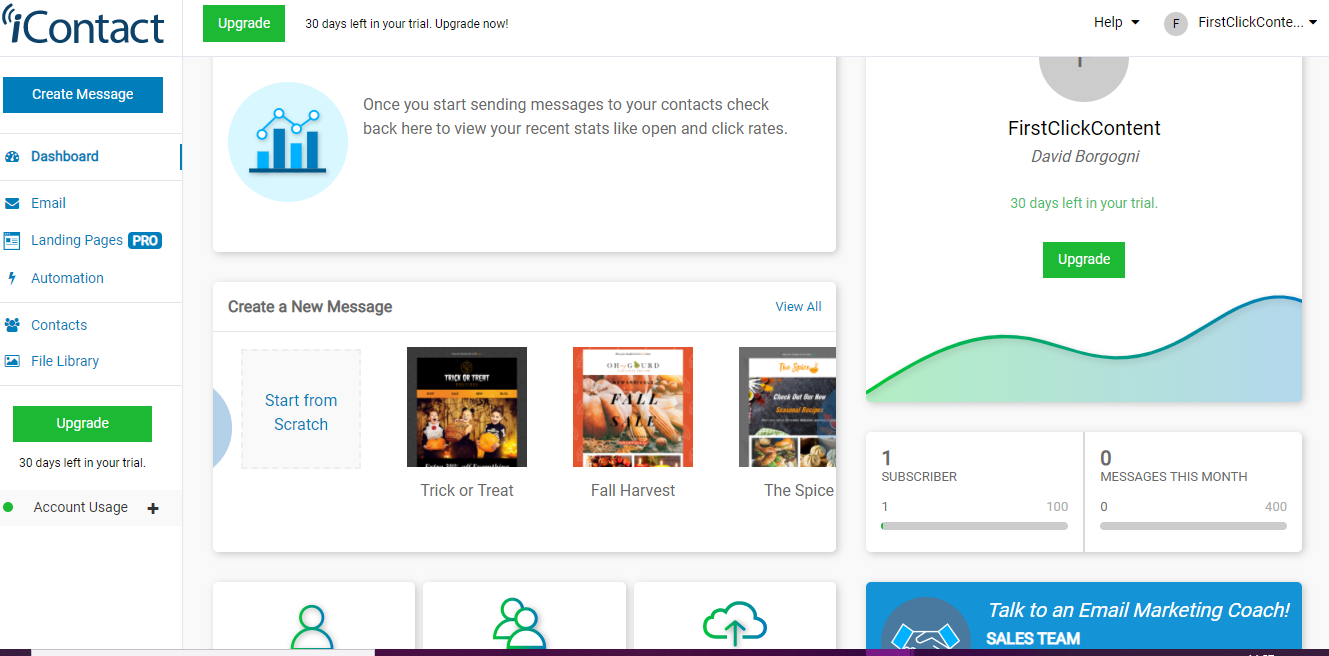 Email editor and premade templates
iContact comes with a very easy-to-use drag and drop email editor so that you can customize their template emails to suit your company branding. There's a library of over 700 customizable templates. You can also design your own email template using the editor, or code your message using HTML.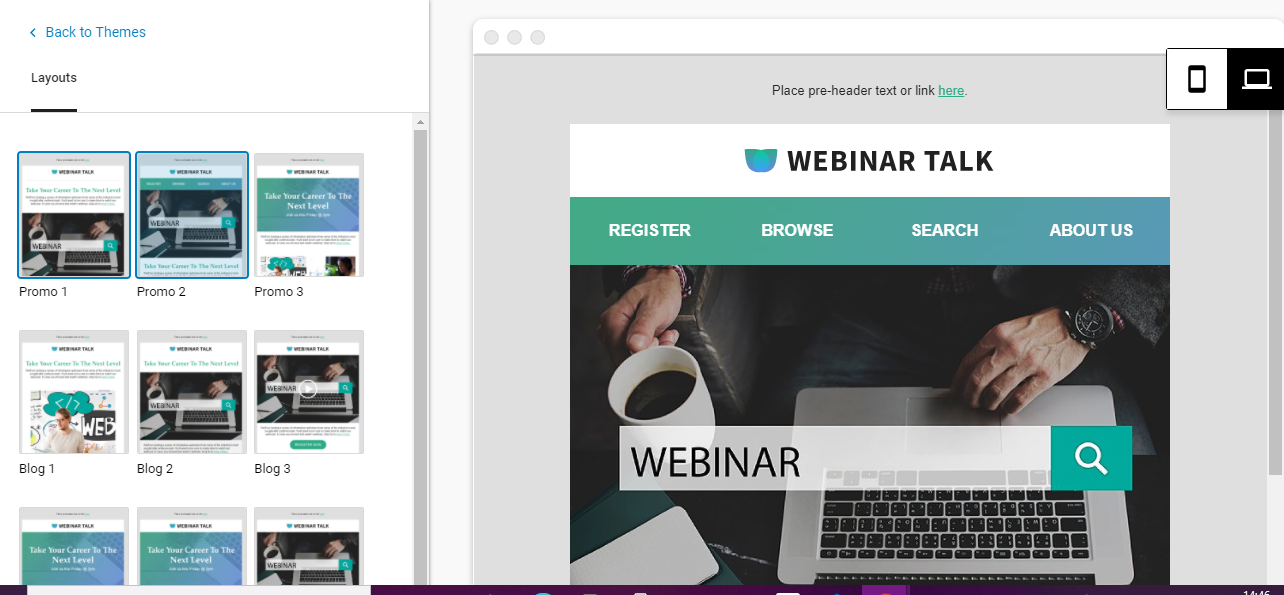 There are a range of image editing tools such as resizing and text wrapping, or for more advanced features, PicMonkey is one of the integrations available on the Pro plan.
On the negative side, there isn't an option for copying page elements like blocks of text, and while including a button in a message is possible, this isn't easy to accomplish.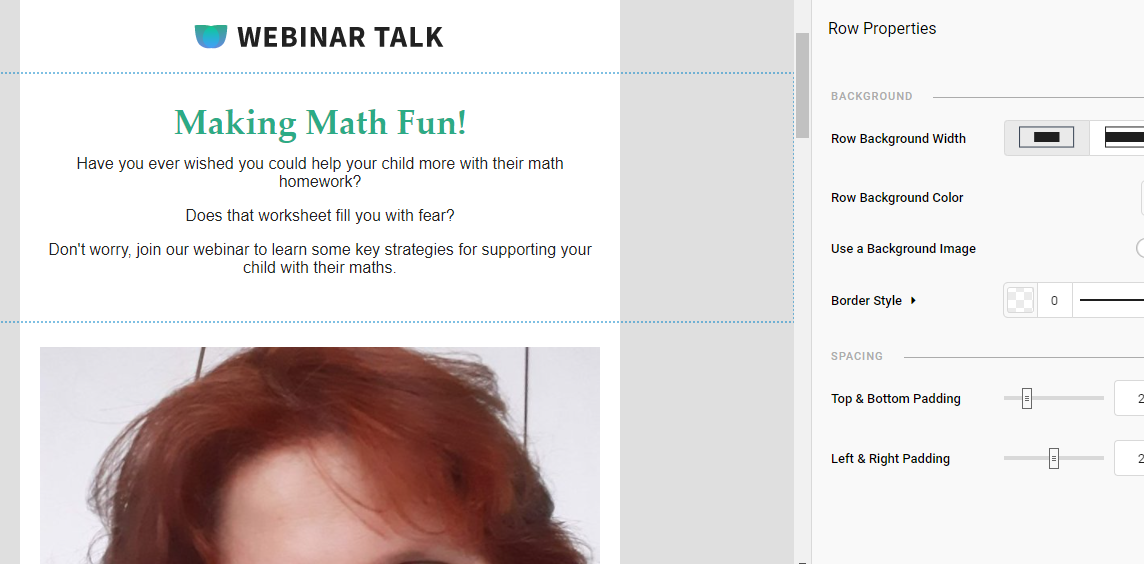 On the other hand, there are some great features available on iContact such as the ability to view how your message will look on desktop, tablet and mobile format, and tools that flag up any issues which might send your message to the recipients' spam folders.
Messages can be scheduled for delivery in the future to allow you to plan a whole marketing campaign in advance and you can also opt to send your messages on linked social media accounts.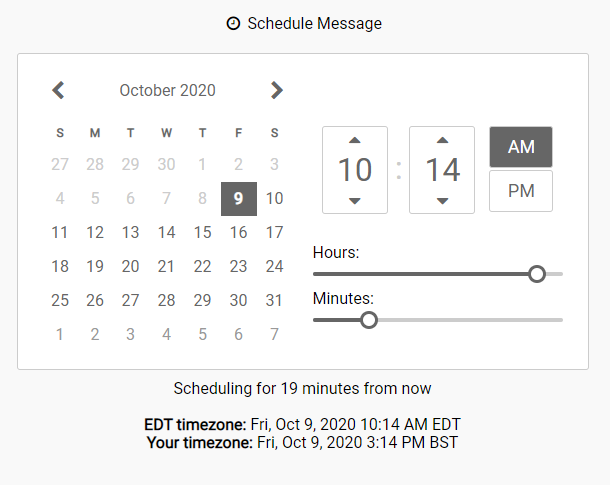 Automation
Do you want to send your new subscriber a welcome email just after they sign up? And then follow that up with another nurturing email two days later? You can set this up to happen automatically so that once you've created those welcome emails, you don't have to keep an eye on your subscriber list – it's all taken care of.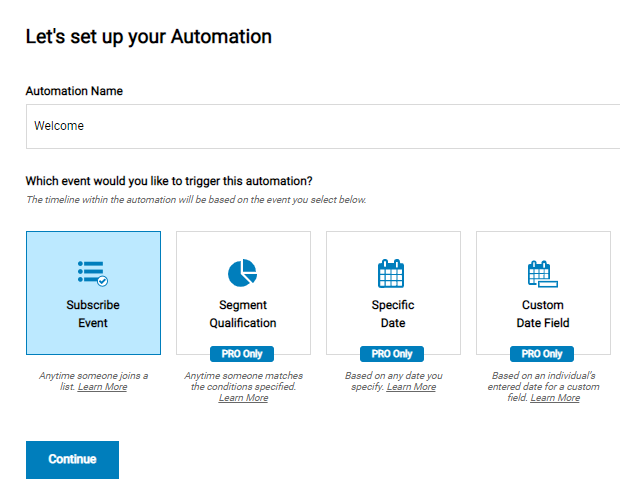 In addition, you can set different emails to go to subscribers who regularly interact with your email and those who don't. You can even schedule your emails to be sent at the appropriate time when they are most likely to open them, dependent on the time zone where they live.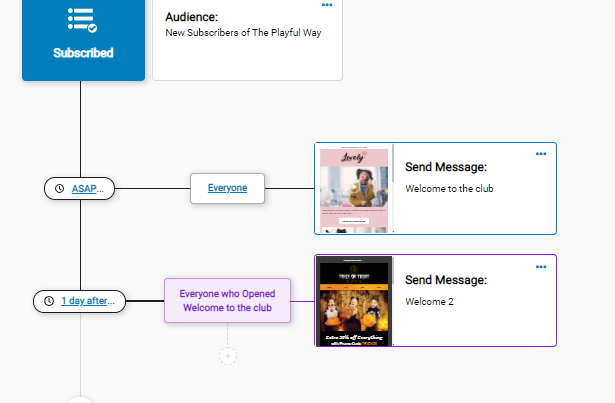 Split Testing
Available on all plans, you can toggle a button for split testing before you send your message. What this means is that you create two different email designs for the same campaign. iContact sends the two messages to a small percentage of your subscribers to find out which one gets the best response. This version is then sent to the remainder of your subscribers.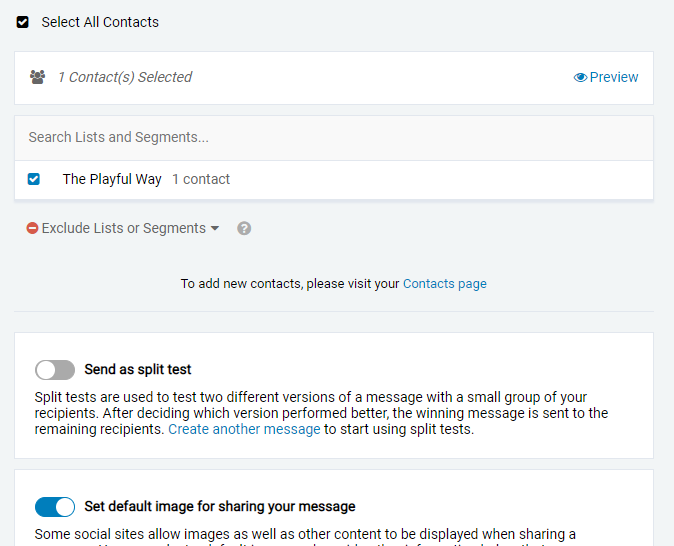 Managing your subscribers
You can add new contacts by copying and pasting email addresses in a block, uploading spreadsheets, entering email addresses manually, or by your prospective subscribers completing a signup form online.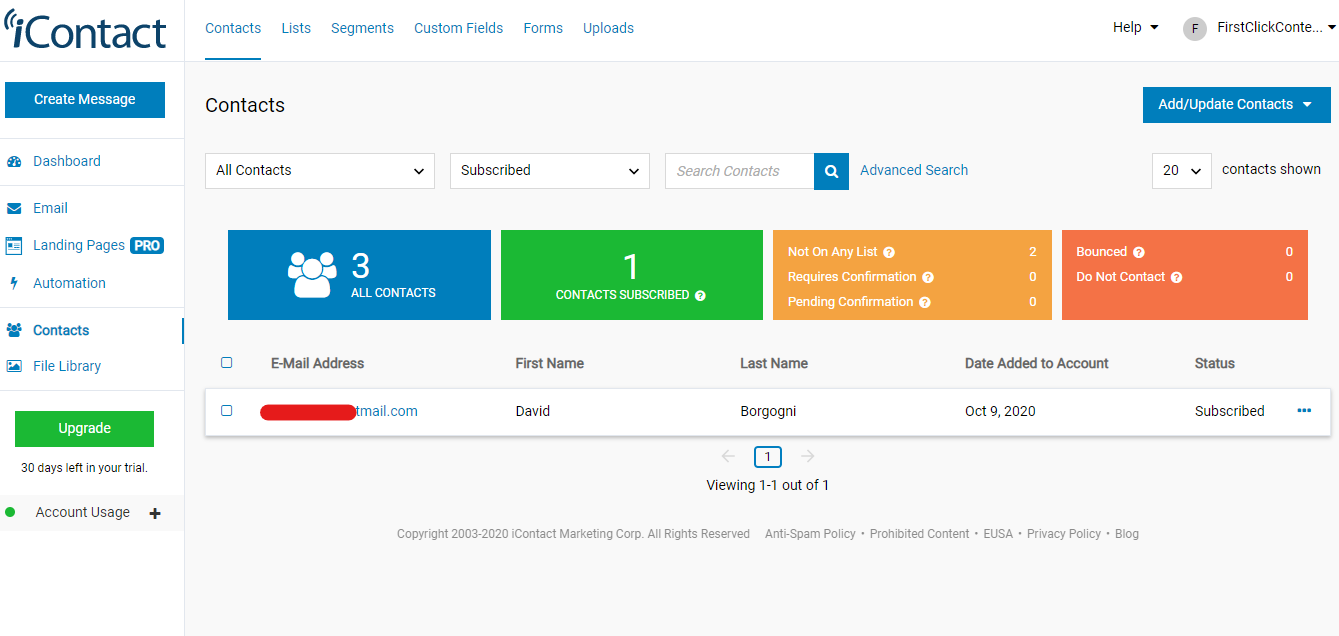 A double opt-in responder can be enabled, offering a further incentive for your subscribers but also ensuring that they click to confirm subscription, which helps to ensure that your messages don't end up in the spam folder.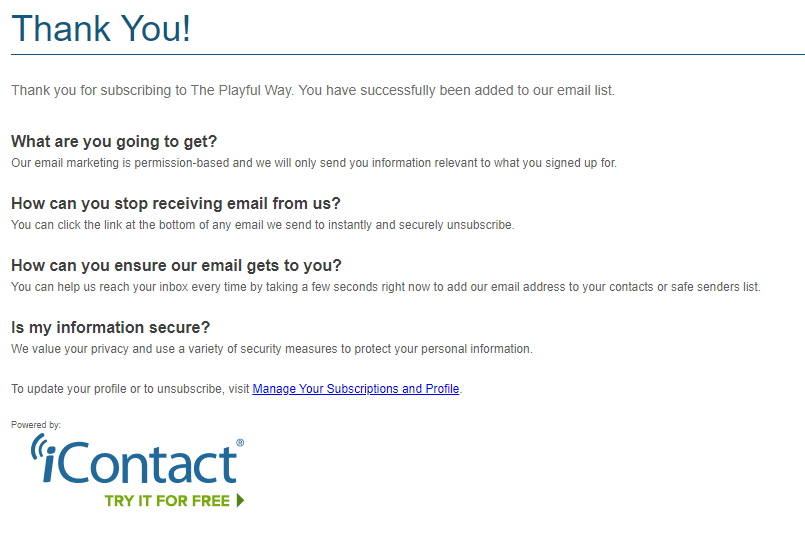 A great feature is the ability to track the history of a particular subscriber. This means that if they choose to unsubscribe, you can look back at all of the activity related to your campaigns. Which ones did they open? Did they click through on any of them?
Available in every plan is the segmentation feature which enables you to divide up your contacts based on various filters or behaviors. This means that you can send a fall catalogue to subscribers who have previously ordered at this time of year, or you can send a discount coupon to loyal customers who have responded to several campaigns in the past.
It's very easy to move your contacts from one list to another, including deleting or unsubscribing them.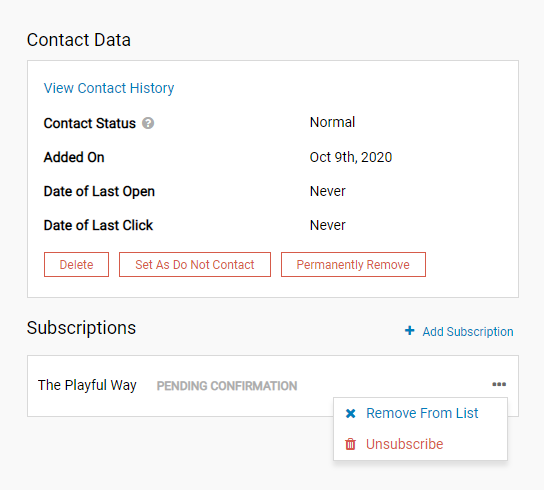 Sign up forms
Another set of templates makes creating signup forms simple and easy. Alternatively, if you are confident with HTML code, you can create your own forms with more control over input fields and aesthetics like font and color.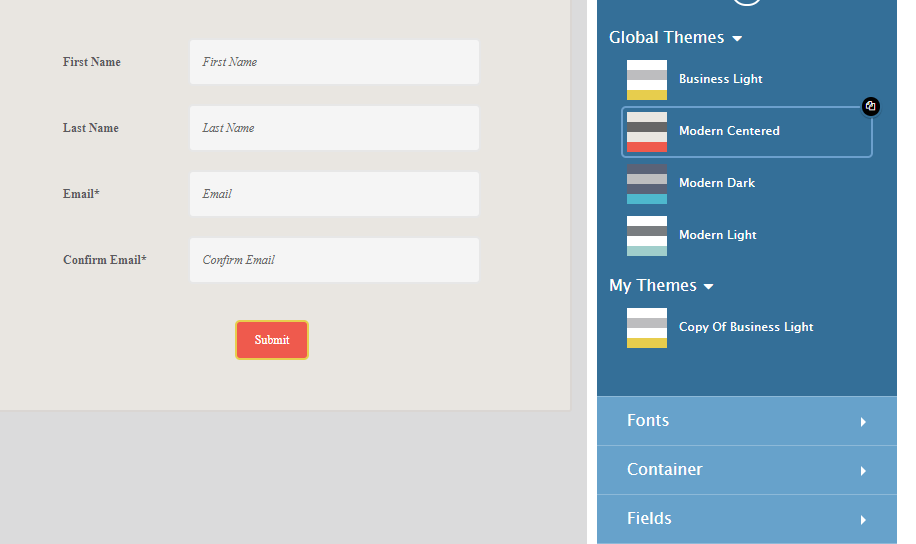 We'll talk more about integrations in a moment, but iContact also allows you to use other apps to create your forms and to add signup forms directly to Facebook pages.
Integrations
There is integration capability with a wide range of other apps and platforms from social media, to contact form creator apps, and Salesforce and other eCommerce apps.
Clicking on your profile in the top right corner of the screen brings you to Settings and Billing. Here there is the option for "Social Media", where you can link your social media platforms (though not yet Instagram).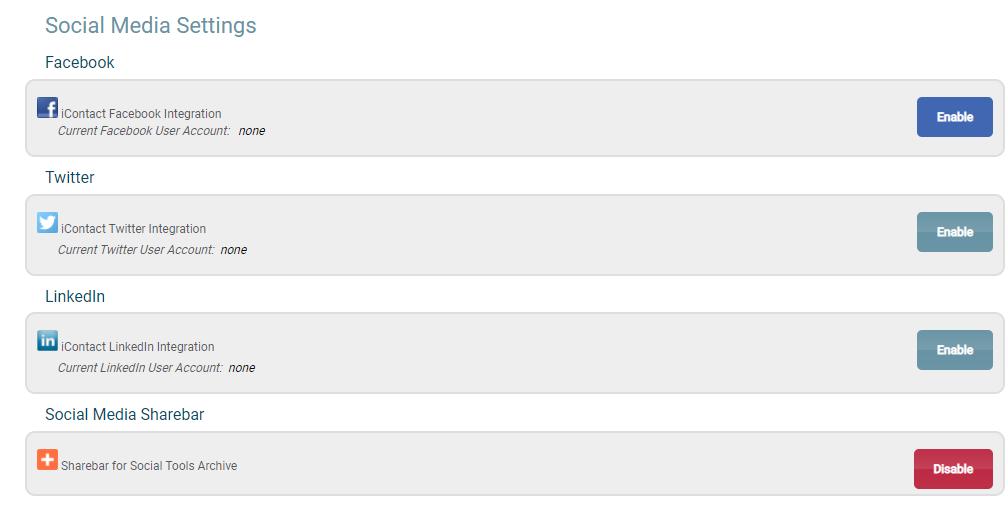 And you can go through PieSync, Zapier or Custom API Integrations to integrate with a host of other software, apps, and programs.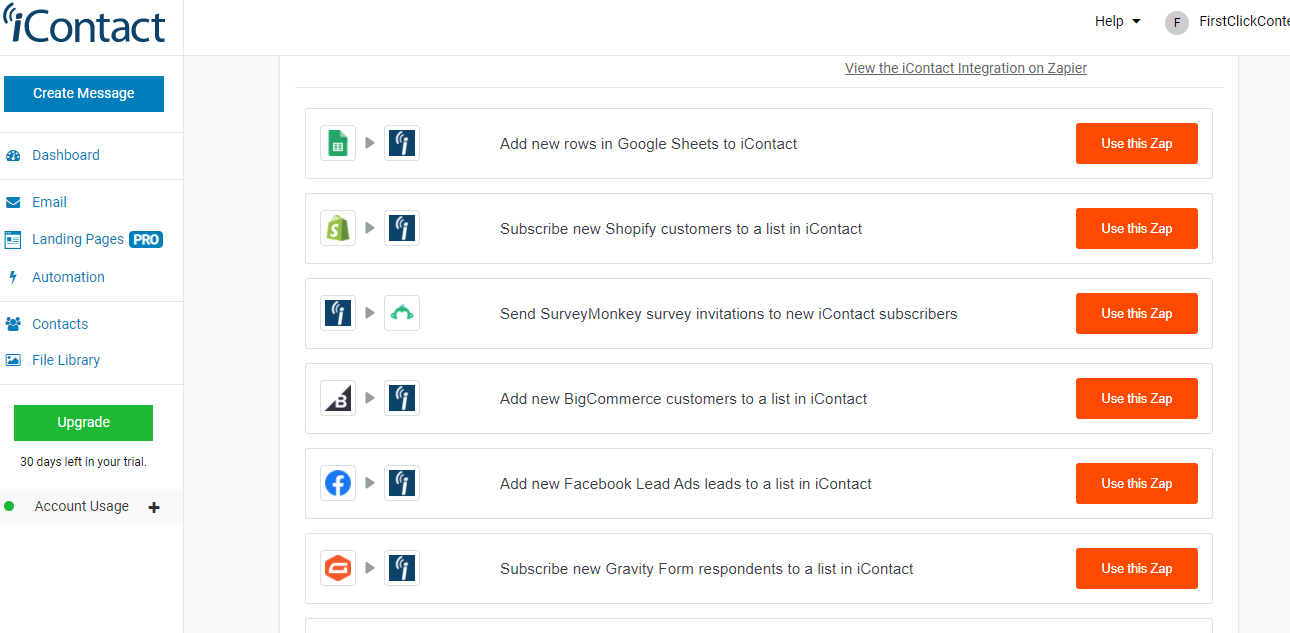 Reporting
iContact has their own analytics and tracking tool available to view on the analytics dashboard. To check how effective your marketing campaigns are generally you can view "List Health" and "Account health".
There's really quite a lot of data on the Tracking Dashboard, as you can see your results from your linked social media account as well as views and clicks.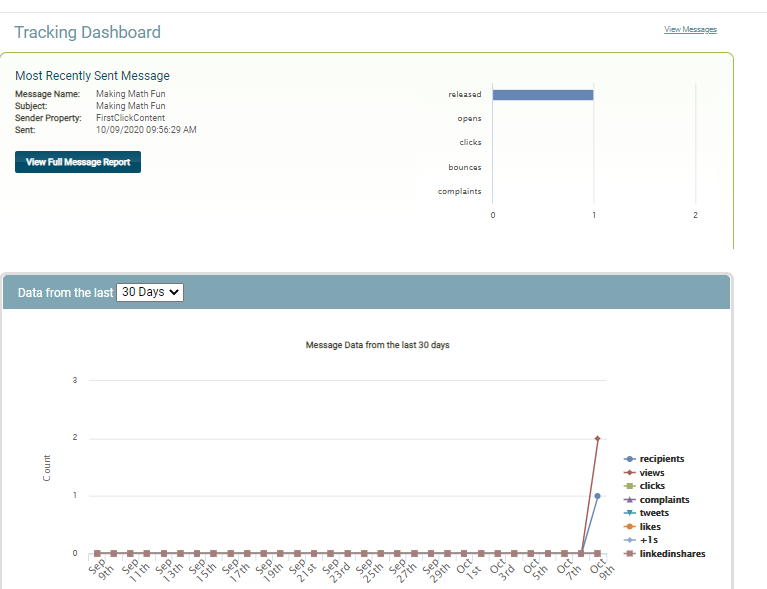 You can also see stats on individual campaigns such as the email opens, click-throughs and bounce rates which can be viewed in numeric or chart form depending on your preference.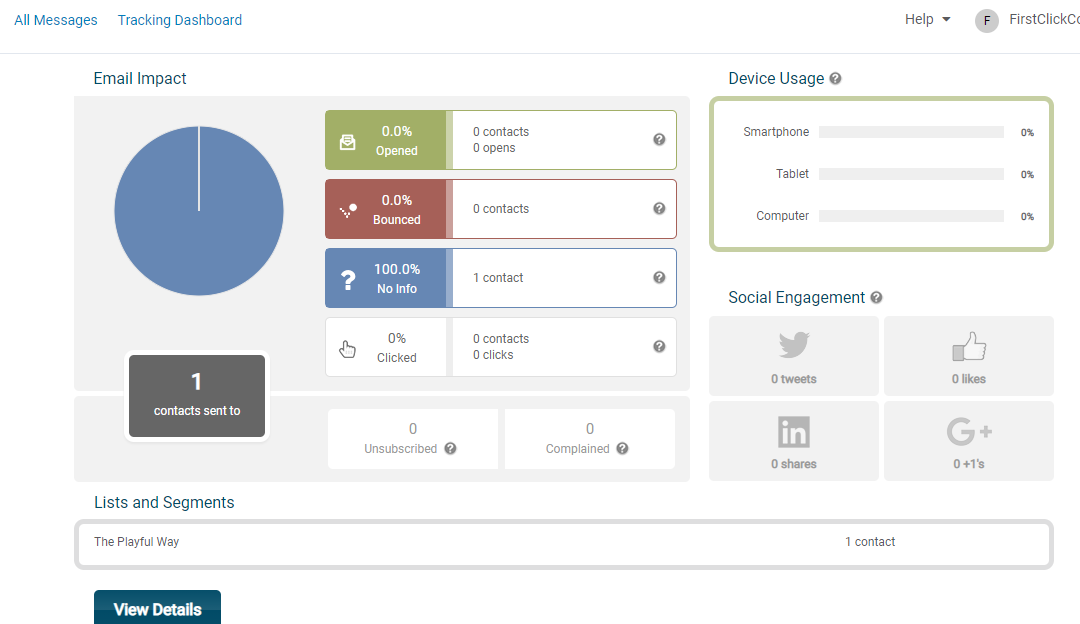 Support
iContact offers a range of different online help resources from the tutorials on their YouTube channel to a range of searchable help guides.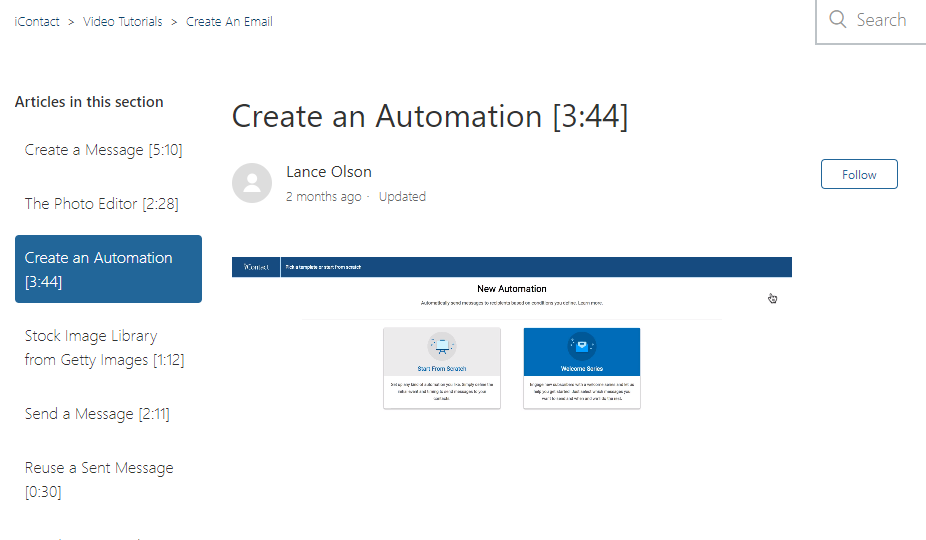 Live internet chat, phone, and email support are all available through the contact center and are generally very responsive with positive feedback from customers, though they are only available during office hours. Premier Account holders also have access to a dedicated customer advisor.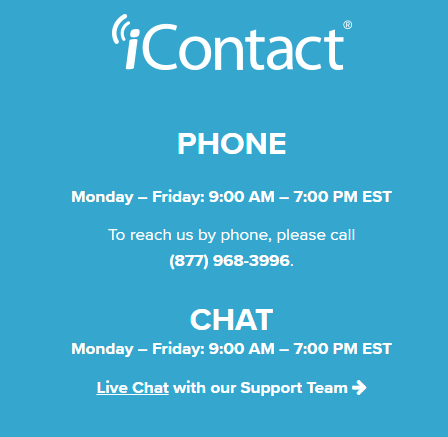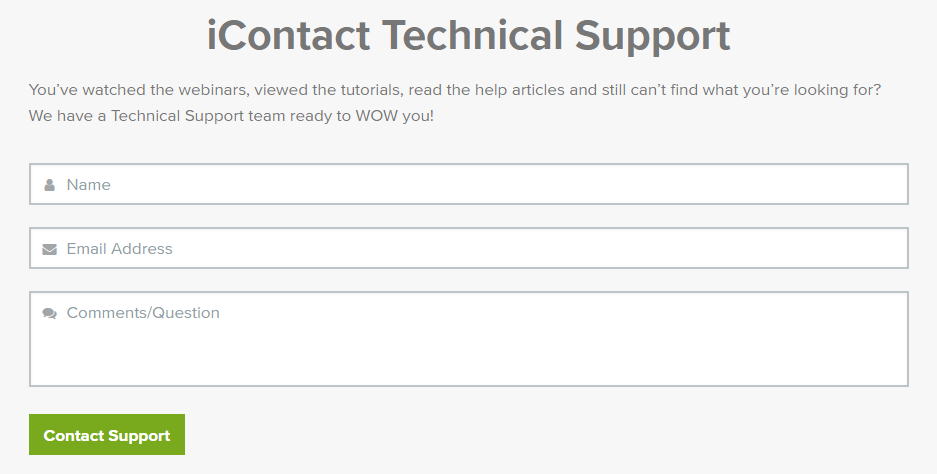 In addition, although they don't have a community forum, they do offer regular live webinars that you can attend for more information on how to get the best out of your marketing tool.
Mobile apps
If there's one thing that would take iContact to the next level, it would have to be the inclusion of a mobile app to manage your marketing on the go. At the moment you can only use these tools on a web browser.
Pricing
With three price plans to select from, all structured and tiered for different numbers of subscribers, iContact starts at $30.60 per month for a mailing list up to 500. Based on previous reviews it appears that this price has recently increased quite significantly. Where it used to be attractive for smaller businesses and those starting out in email marketing, this may not now be the case.
All plans include unlimited emails.
Basic – starting at $30.60 per month if paying annually for up to 500 contacts. This includes the drag-and-drop editor, welcome automation series and a library of stock images.
Pro Plan – starting at $61.20 per month paid annually offers a greater range of advanced features such as funnel reports, monitoring of social media, more automation and landing pages. The prices are stepped based on the number of subscribers on your list.
Premier – For those with more than 25,000 subscribers, you can set up a Premier Plan with added features: multiple profiles, A/B split testing, lead scoring, Salesforce synchronization and API support. You will also get an iContact Strategic Adviser.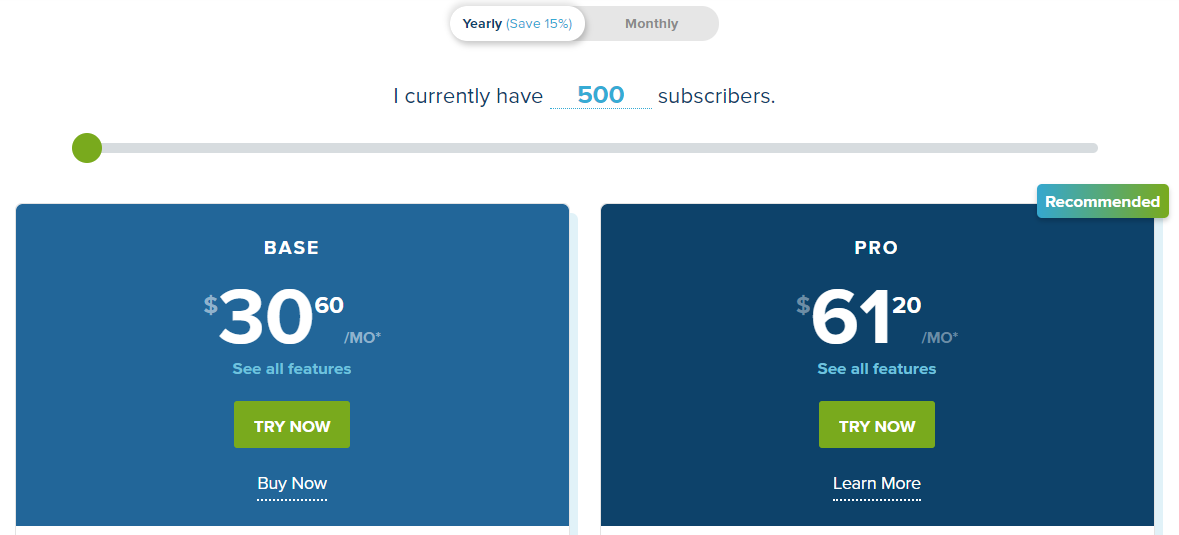 A one-month free trial is available with a cap of 100 subscribers and 400 messages.
iContact also offers free image hosting up to 5MB. More hosting space comes as an add-on price package.
Pros of iContact
User friendly
Easy to create and send emails with lots of templates
Tracking feature on the dashboard
List cleaning to remove duplicates
Great customer service from dedicated rep
Split testing available on all plans
Great automation in workflows
Social media integration
Free 30-day trial
Cons of iContact
Can't import multiple excel sheets to the same list
Email editor can be a little slow and glitchy
Recent price increase
The free image hosting comes with a very little storage capacity
Google Analytics is a paid-for extra on the basic plan (but included on Premier or Pro)
PicMonkey is only integrated into the Pro plan.
There is not a mobile app available.
Some editing features are missing from the message creator.
Are there any alternatives to iContact?
iContact is by no means the only email marketing tool available, though it's one of the best known. Here are some of the others:
MailChimp
MailChimp is probably the other best-known email marketing option. Slightly cheaper than iContact for those with over 10,000 contacts, MailChimp also has an excellent reputation for being user-friendly so it's great if you are new to email marketing and also offer a free plan for up to 2000 contacts.
MailChimp is comparable to iContact (check out our review here) and it would be worth trying them both out to see which one suits you better.
Constant Contact
Constant Contact offers some brilliant tools for those running a business based on events. It integrates superbly with Eventbrite and includes a website builder to easily create web pages to promote your events all on the same tool.
To learn more about Constant Contact, check out our review.
GetResponse
GetResponse is another fantastic tool for email marketing, offering a great range of features at a very reasonable price. The range of price points allows you to tailor your package to the tools you want to use, and the functionality and integration options are fantastic. The choice of automation tools is certainly something where you can't go wrong with GetResponse.
Read our GetResponse review for more information.
More Email Marketing Tools
Frequently Asked Questions About iContact
How many users can work on one account on iContact?
This is a great feature of iContact. Every price tier allows an unlimited number of users at no extra cost, allowing you to collaborate and do your email marketing as a team. An administrator has control over the different user permissions.
Does iContact include a website builder?
Not at this time.
Does iContact allow me to build surveys for my subscribers?
Not at the moment, though you can integrate an external survey provider app.
What does iContact do to prevent spam?
iContact is very serious about protecting the public from spam and has a strictly enforced set of terms and conditions. This means that there are rules to follow ensuring that contacts are happy to have you mailing them, have the option to unsubscribe at any time, are not subjected to inappropriate or misleading subject lines, and have access to your mailing address.
In addition, they will flag up any issues in your emails which means it might be considered spam and blocked at the recipient's end. If you send an email in breach of these conditions, iContact will block it, and guide you to some support to prevent this from happening in the future.
How do I build my list of subscribers on iContact?
There are a few methods to build your mailing list, both direct marketing, offering free content or other incentives or social media. It's best to use a whole range and see what works best for you.
Conclusion
iContact is one of the best-known email marketing providers available but not the best, though it does have a lot to offer businesses of varying sizes.
There are, of course, a few issues to talk about:
its pricing has recently increased significantly and then rises quite steeply as your subscriber list grows.
In addition, in today's world, you would expect a useful tool like an email marketing platform to have a mobile app so you can manage your business on the move, but this feature is missing.
The email editor is also somewhat slow to load and the storage for images is woefully small.
However, it does have all the key features that you need to manage an email campaign. If you want a no-frills option for quickly creating and monitoring email campaigns, then iContact could be just the thing you are looking for. You get professional-looking emails to send out at just a few clicks and can set up automated lists relatively easily.
The dashboard is personalized which is a good feature, showing you the status of your campaigns at a glance and allowing you to return seamlessly to unfinished tasks. The user interface is quite boring to look at, but easy to use for a beginner.
The Premier Package is what lifts this platform above its competitors. Of course, you have to pay for it, but the personal advice of a dedicated adviser who will help you create effective campaigns to boost your business is a great service.
If you're looking for a solid, no-nonsense platform that gets the job done with no frills, then iContact could well be for you. It's great for beginners and will get you set up and email marketing in no time.