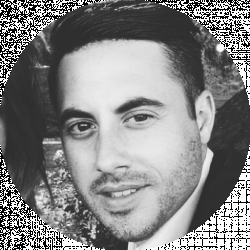 Latest posts by David Borgogni
(see all)
Last Updated on November 5, 2020 by Natalia Bickell
Despite the swift rise of social media marketing's popularity, over the course of the last decade, professional digital marketers are still relying heavily on email marketing tools to keep conversion rates at a high level. Developing a viable email marketing strategy is more important than ever since all statistics indicate that entrepreneurs can expect an average return of approximately $40 for every dollar they invest in their email marketing campaign.
Managing an email marketing campaign can become increasingly difficult as the number of contacts in your mailing list grows. Platforms like ActiveCampaign and ConvertKit simplify the marketing automation process and make email segmentation easier.
 In our ActiveCampaign vs ConvertKit comparison, we are going to take you through all of the most important features, each platform has to offer and we'll help you determine which of these email marketing tools is best suited for your business.
So, let's get started.
SMS Marketing services
Email Personalization


Who is this tool for

Plans
ActiveCampaign
- SMS messages
- Site Messages
- Facebook Custom Audiences
- Conversations
It gives you more than 4 custom options. Discounts codes, reminders, "thank you" notes and more
Is best for businesses that need ecommerce support
- Lite: $9 per month
- Plus: $49 per month
- Professional: $129 per month
- Enterprise- $229 per month

ConvertKit
ConverKit only focuses on providing email marketing help.
Lets you set up some basic if/then behaviors to customize your emails
Youtubers, bloggers and educational sites that just need to send the new content to their subscribers.
- From $29/month
to $79/month if you have 5K subscribers.
- Over 5k subscribers: It calculates depending on your needs.
The advantages of using ActiveCampaign and ConvertKit to set up email marketing campaigns

Currently, more than 3 billion people have an email address, and this number is expected to grow continually in the foreseeable future. The number of email messages sent each year has grown steadily since 2017 and the statistics indicate that in 2019 alone that number should reach 293.6 billion sent and received emails.
Such a vast number of daily email users also suggest that developing a customer retention strategy can be an essential step towards building a loyal base of recurring customers. Furthermore, the probability of selling an item to a customer that has already purchased a service or a product from a company is between 60% and 70%, while the probabilities of selling that same item to a new customer vary between 5% and 20%.
Both ActiveCampaign and ConvertKit provide a broad spectrum of marketing tools that make managing contacts in your email list easier and help its users send their marketing materials to the right addresses.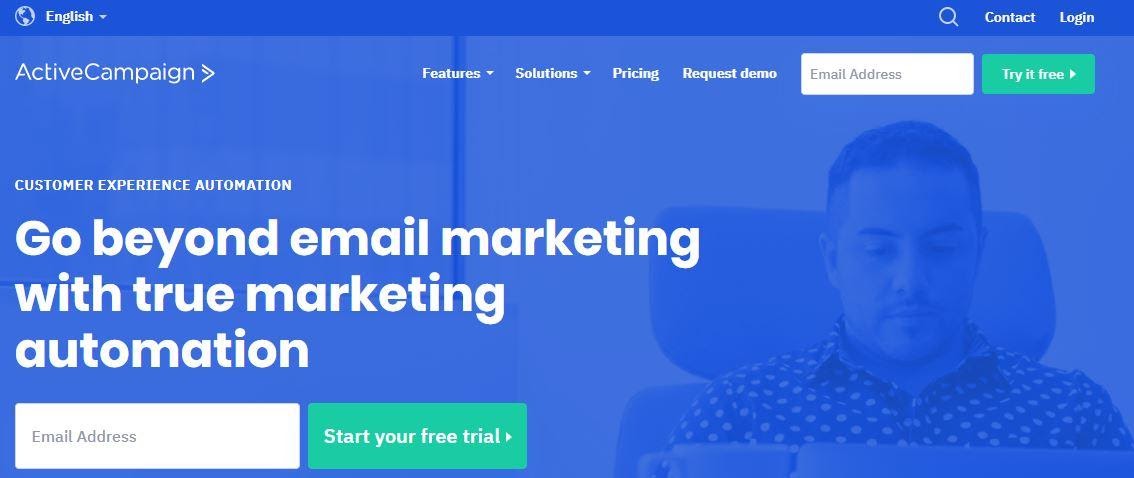 Besides offering the tools that let you distribute your marketing messages to all of your contacts, ActiveCampaign and ConvertKit are equipped with an email editor which enables you to choose how each email you send to your clients is going to look like.
These platforms also provide tracking tools that show you how your subscribers are reacting to the emails they are receiving from your company and enable you to adjust segments of your email marketing strategy that fail to produce the results you expected.  The greatest advantage of using ActiveCampaign or ConvertKit to run an email marketing campaign is the ease of use because even inexperienced marketers can use either of these platforms to set up a successful email marketing campaign.

Why Go with ActiveCampaign?
ActiveCampaign SCALES with best in class marketing automation features with many gradual pricing tiers. Whether you are running a store or blog, AC just WORKS! From basic automation triggers to advanced CRM-like functionality.
Try ActiveCampaign FREE
We earn a commission if you click this link and make a purchase at no additional cost to you.
The main differences between ActiveCampaign and ConvertKit
At first glance, ActiveCampaign and ConvertKit share a number of the same features, but they are ultimately aimed at different types of users. ConvertKit aims to provide bloggers and all other types of content creators with the tools they need to grow their following. ActiveCampaign platform seems to be a better choice for small and medium-sized businesses because it allows them to pursue leads or calculate the lead score. These, of course, are not the only differences between ConvertKit and ActiveCampaign, so let's have a look at some of the key differences between these two platforms.
You can't create landing pages with ActiveCampaign
SMS marketing option is not available on ConvertKit
ConvertKit doesn't offer social media monitoring tools
You can't embed videos to emails you send with ConvertKit
ActiveCampaign lets you add live eCommerce data to emails
ConvertKit apps for iOS or Android devices are not available
ActiveCampaign grants you access to Automation Maps that show you how different automations connect to each other
ConvertKit doesn't offer Win Probability and Predictive Sending options
The data tracking and email configuration features provided by ActiveCampaign are superior to those that can be found on ConvertKit. Nonetheless, the abundance of email marketing tools ActiveCampaign offers can be overwhelming for content creators who only want to deliver content to their subscribers efficiently. Read our ActiveCampaign and ConvertKit reviews if you want to learn more about these two platforms.
Do ActiveCampaign and ConvertKit offer marketing automation tools?
Each of these platforms is designed to help digital marketers and entrepreneurs save time on email marketing. Hence, both ActiveCampaign and ConvertKit enable you to:
Create opt-in forms
Send newsletters
Add new segments to email lists
Offer drip content
Manage subscriptions
Include different types of offers in your emails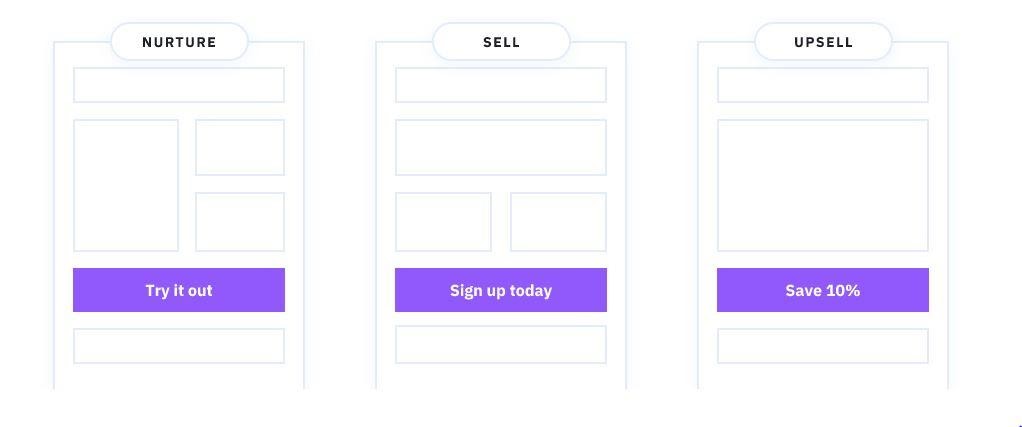 Moreover, both platforms are equipped with an email editor you can use to customize marketing messages you send to your contacts. ActiveCampaign and ConvertKit also let you segment your audience and choose which messages are going to reach a particular group of your subscribers.
Unlike ConvertKit that only lets you set up basic if/then behaviors, ActiveCampaign enables you to monitor a subscriber's browsing patterns and choose automation based on that data. You can use ActiveCampaign to:
Send discounts codes to contacts who visited the same product page several times
Get in touch with a contact who viewed the same product more than six times without purchasing it and offer assistance
Email personalized 'Thank You' notes to your clients after they  share one of your product pages
The 'New Customer' automation lets you send a series of emails to a customer that provide useful tips, suggest additional products or offer a discount for the next purchase
ConvertKit and ActiveCampaign provide a plethora of automation options that simplify the process of targeting the right audience during an email marketing campaign.
How can ActiveCampaign and ConvertKit improve the sales of products and services?
ConvertKit is designed specifically for bloggers or YouTubers who need a simple tool that can deliver their content to their subscribers. ActiveCampaign is a bit more versatile than ConvertKit since the platform is frequently used by:
Bloggers
Marketing agencies
eStore owners
SaaS websites
Higher education institutions
Besides the tracking options that enable you to target your audience more precisely, both of these platforms offer a few different email templates you can customize easily and adjust to the needs of your marketing campaign.
Adding a video to an email can boost its click-through rates for 200% to 300%, and improve the sales of the products or services you're promoting. However, you won't be able to embed videos into emails you send through the ConvertKit platform. Adding a video to an email with ActiveCampaign is a simple process that can be completed in only a few quick steps, which makes this email marketing tool a better option for all marketers who want to promote their products through videos.
Even though both of these email marketing tools offer a variety of ways to improve the sales of your products, ActiveCampaign is more versatile of the two platforms because it lets you create emails for a broader audience.
Which subscription models are available on ActiveCampaign and ConvertKit platforms?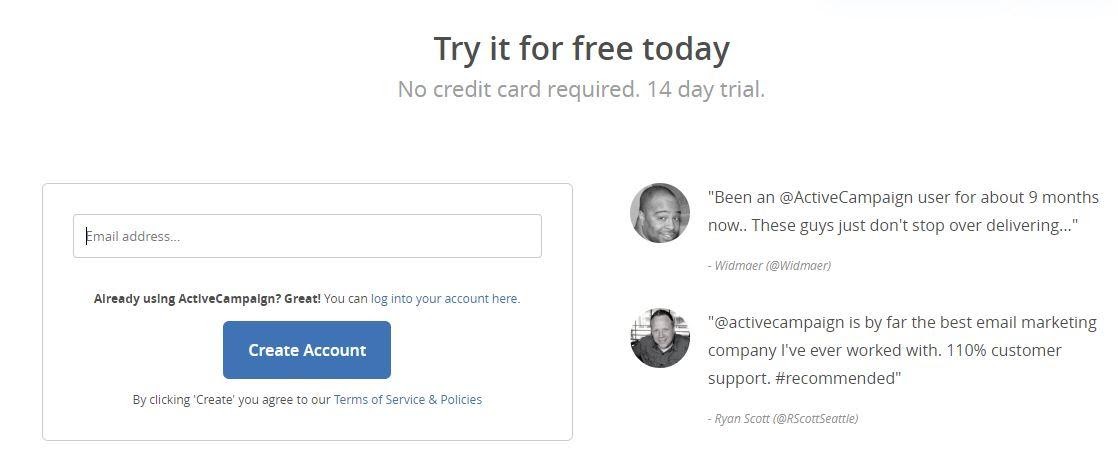 ActiveCampaign and ConvertKit platforms offer 14-day trial periods, which gives you plenty of time to decide if you want to continue their services after the trial expires. You can start your free trial on ActiveCampaign by following this link or you can click here if you want to create a free account on ConvertKit.
Furthermore, both ActiveCampaign and ConvertKit let you choose between subscription models that are based on the number of subscribers you have. You can choose one of the following pricing options on ActiveCampaign:
Lite
Plus
Professional
Enterprise
ActiveCampaign also allows you to decide if you want to subscribe to a model that is billed monthly or annually. If you decide to purchase a monthly subscription model the price of the plan you selected is going to be higher than the prices for that same model billed annually. The platform offers free migration so that you can:
Import contacts, tags and custom fields
Remake automation workflows
Recreate email templates
Rebuild opt-in forms

Unlike ActiveCampaign's subscription plans that allow you to have up to 100.000 contacts, the ConvertKit's pricing options limit the maximum number of contacts you can have. The platform does have a subscription option for users who manage mailing lists with more than 5000 contacts, but you have to insert the exact number of contacts in order to find out the monthly cost of the subscription.

ConvertKit also offers free migration features, but you'll first need to check if this email marketing tool supports migrations from the platform you were using previously to store your contacts. The Concierge Migration service is available for all accounts that have more than 10.000 contacts, which enables you to import sequences, automations or forms. However, ActiveCampaign provides support for migrations from a range of lead generation or mailing platforms regardless of the number of contacts or the pricing plan you have.

Why Go with ActiveCampaign?
ActiveCampaign SCALES with best in class marketing automation features with many gradual pricing tiers. Whether you are running a store or blog, AC just WORKS! From basic automation triggers to advanced CRM-like functionality.
Try ActiveCampaign FREE
We earn a commission if you click this link and make a purchase at no additional cost to you.
ActiveCampaign vs ConvertKit: Which marketing automation tool is more powerful?
Reaching the target audience and maintaining contact with clients is the ultimate goal of every email marketing campaign. Nonetheless, nearly half of the emails sent every day end up in the Spam folder, which is the reason why bloggers and all other types of digital entrepreneurs have to discover ways to craft the marketing messages that are going to capture the attention of their potential clients.
ActiveCampaign and ConvertKit platforms are equipped with the tools you are going to need to manage a large list of contacts or send emails to a particular group of subscribers your email marketing campaign is targeting. Both platforms also feature a library of email templates that can be customized quickly to meet your demands.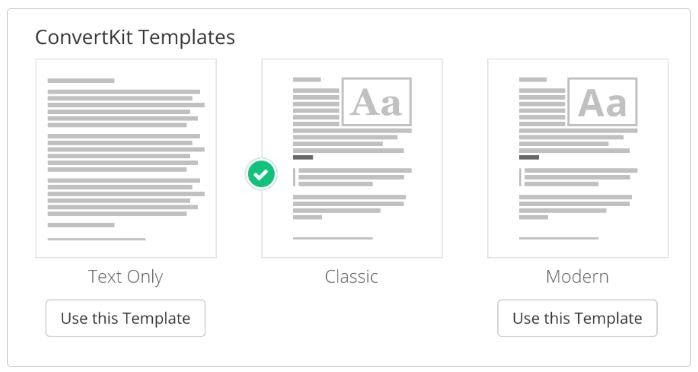 After you create an account on ConvertKit you'll gain access to three different email templates, which limits your options in terms of the visual style of emails you can create. The ActiveCampaign platform offers more than thirty email templates that can be used to create:
Personal emails
Event emails
Branded emails
Newsletters
ActiveCampaign lets you save all the changes you've made to a template so that you can use it on multiple occasions. In addition to a modest library of email templates, ConvertKit also features a library of landing page templates. You don't need any coding experience to customize a landing page template and you can also integrate ConvertKit with Unsplash if you need a fresh supply of stock images that can make your landing pages more visually appealing.

Both of these email marketing platforms have template editors where you can just drag and drop new images or any other type of element to the email, opt-in forms or landing pages you're designing.  ActiveCampaign is clearly a more reliable option for marketers who want to have complete creative control over the process of designing a new email because it offers more templates as well as better image and text editing tools than ConvertKit.
Exploring the ActiveCampaign and ConvertKit's email marketing automation tools
Managing and expanding the subscribers to your mailing lists is what ActiveCampaign and ConvertKit do best. Their email marketing capabilities are not identical since each platform offers options that are slightly different than those available on the other platform. ActiveCampaign's email marketing tools include:
Email segmentation
Subscription forms
Dynamic content
Split testing
ConvertKit also offers powerful marketing automation tools that enable you to:
Create automated funnels
Segment your audience
Set up automatic behaviors
Distribute targeted content
Customize a subscriber's path depending on their actions
Predict the behavior of your customers
Both platforms let you divide your mailing lists into different segments and send messages to your subscribers can be interested in. In this manner, ActiveCampaign and ConvertKit improve the engagement rates and consequently increase the sales of the products and services you're promoting.
ConvertKit allows you to visualize all of your automatization funnels and grants you a clear overview of all automatic behaviors you assigned to a mailing list. Even though you can't visualize automatizations with ActiveCampaign, the platform lets you send an automatic response to a wide spectrum of customer behaviors.
The A/B Split testing is available on either of these email marketing platforms, and you can use this feature to check how a group of randomly chosen subscribers is reacting to different versions of emails you are sending to them. ConvertKit's email marketing automation features are nothing short of amazing, but the platform is only a good choice for bloggers and digital content creators. On the other hand, ActiveCampaign can be used by bloggers as well as small and medium-sized business owners to send automatic emails to all subscribers on their mailing list.
Which messaging options do ConverteKit and ActiveCampaign offer?
ConvertKit is primarily an email marketing platform, which means that you can only use it to send emails to your contacts. Acquiring leads through Facebook and sending SMS or site messages isn't something you can do with ConvertKit. ActiveCampaign messaging options are not limited to email since the platform lets you send the following types of messages:
SMS messages
Site Messages
Facebook Custom Audiences
Conversations
Adding contacts to Facebook Custom Audiences will enable you to target them with ads you share on Facebook. This feature lets you target audiences based on their current job, geographic location or the products they've purchased. The Conversations  tool allows you to create new contacts through chat on your website by providing you with features such as:
Contact creation
Triggered automations
Customizable auto-reply
Custom branding
In case you want to keep several channels of communication with your contacts open, then ActiveCampaign is the right choice for you, but if you're only looking for a platform that allows you to send an email automatically you should consider using ActiveCampaign.
Which platform offers more integration options, ConvertKit or ActiveCampaign?
The ActiveCampaign and ConvertKit provide a rich selection of built-in integration options, and both platforms can be integrated with over a thousand of apps or services through Zapier. You can integrate ConvertKit with services from the following categories of third-party apps:
eCommerce
Email verification
Webinar services
CRM
Affiliate management
Moreover, you can integrate ConvertKit with lead capture apps or scheduling platforms if you would like to extend your contact list or schedule meetings effortlessly.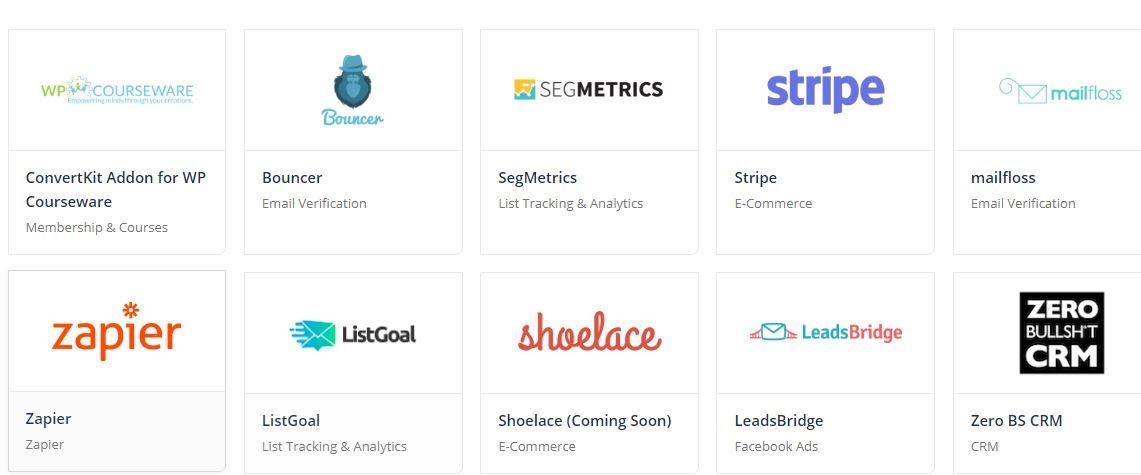 The services ActiveCampaign can be integrated with are divided into the following categories among numerous others:
Accounting
CRM
Databases
Forms
Event management
Sales
Even though both ConvertKit and ActiveCampaign allow their users to integrate with CRM systems, ConvertKit can integrate with only one CRM platform. ActiveCampaign lets you integrate with CRM systems such as:
Capsule CRM
Clevertim CRM
Nimble CRM
OnePageCRM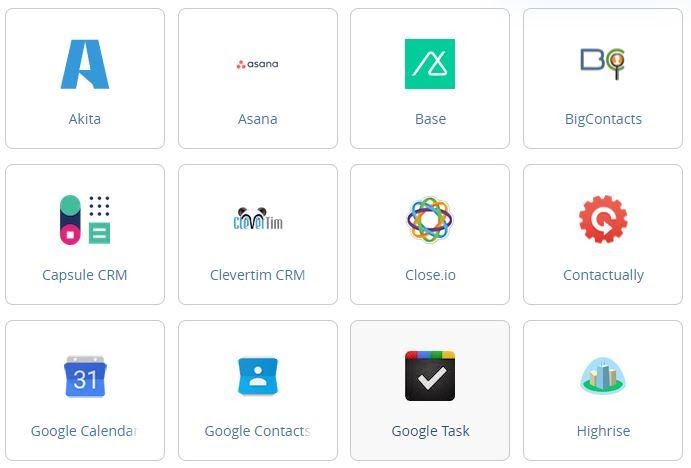 The ActiveCampaign outperforms the ConvertKit platform by simply offering more integration options to its users. That's why opting for the ConvertKit email marketing tool is only a good choice if you have no intention of integrating this tool with different sales, accounting or event management services. Marketing professionals or entrepreneurs have a lot to gain from ActiveCampaign's integration options because they can make their workflow much smoother.
Tracking the metrics with ActiveCampaign and ConvertKit
Knowing how the subscribers react to the marketing messages you send to them can help you run your email marketing campaigns more efficiently. Luckily, ActiveCampaign and ConvertKit allow you to keep an eye on all of the most important statistics that show you how well your campaign is going.
The ActiveCampaign's  Event Tracking feature lets you track how the visitors of your apps, online portals or websites are behaving. This feature enables you to see if a contact has opened an email you sent or if they started a new course.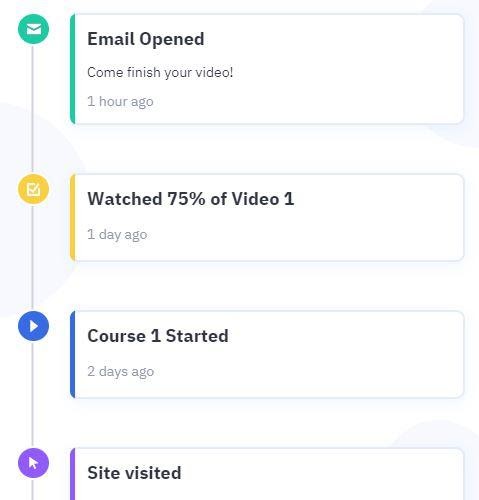 The ActiveCampaign's Site Tracking option allows you to see which services, information or products draw the most attention from your contacts so that you can send them follow-up messages that can potentially generate more sales. The ConvertKit platform lets you track each new email campaign you create and keep track of visitors, subscribers and conversion rates.
Optionally, you can also track broadcast link clicks if you want to monitor the click rates or open rates as well as how many subscribers clicked on a link in an email you sent.
The Bulk Actions drop-down menu that can be accessed from the Subscribers page offers the following options:
Tag
Add to Sequence
Export
Delete
Even though tagging subscribers or adding them to a particular sequence is a simple procedure, you can't summarize your data in a report with ConvertKit. The ActiveCampaign platform can be used to create different types of reports, such as:
Campaign reports
Automation reports
Conversations reports
Contact reports
Field Reports
eCommerce reports
Deal reports
Custom reports
Both ActiveCampaign and ConvertKit platforms can also be integrated with Google Analytics in case you want to use professional tools to track the metrics your email marketing efforts are generating. The analytics tools ActiveCampaign provides are more powerful than those you can find on ConvertKit. That is the reason why you should choose ActiveCampaign if you want to keep track of statistics that can help you create better email marketing campaigns.
Pros and Cons
ActiveCampaign
| | |
| --- | --- |
| Pros | Cons |
| Offers free migration services | Available features depend on the subscription plan |
| Excellent segmentation options | Doesn't have a landing page builder |
| A rich selection of customizable email templates | Integration with third-party apps may involve additional costs |
| The dynamic content option allows you to send customized messages to your subscribers | Phone support is only available for owners of the Enterprise subscription model |
| Provides a multitude of automation options | |
| Excellent price-performance ratio | |
| Easy integrations with third-party services | |
| Supports different messaging options | |
ConvertKit
| | |
| --- | --- |
| Pros | Cons |
| Powerful automation tools | Offers only three email templates |
| Offers a tag-based subscriber system | Reporting and analytics tools could be better |
| An effective visual automation builder | Provides fewer integration options than its competitors |
| Landing page builder | Embedding videos into the emails you send with ConvertKit is not an option |
| Allows users to create different types of forms | |
| Great segmentation features | |
| Affordable | |
| Excellent customer support | |
The Verdict: Which platform performs better ActiveCampaign or ConvertKit?
Email marketing is still one of the most efficient types of digital marketing that can help you improve the sales of your products and services. Finding an email marketing platform that has all the tools you need to take your advertising efforts to the next level can be difficult because there are so many different options to choose from.

Why Go with ActiveCampaign?
ActiveCampaign SCALES with best in class marketing automation features with many gradual pricing tiers. Whether you are running a store or blog, AC just WORKS! From basic automation triggers to advanced CRM-like functionality.
Try ActiveCampaign FREE
We earn a commission if you click this link and make a purchase at no additional cost to you.
Moreover, which platform you are going to pick depends on the type of business you would like to promote. There is no reason to spend extensive amounts of money on a professional email marketing tool if you're just looking for a quick way to distribute promotional materials to your subscribers.
ConvertKit is designed for bloggers and content creators, and it doesn't offer many of the features some marketers need to run certain email marketing campaigns. ActiveCampaign is the obvious winner of our ActiveCamapign vs ConvertKit comparison because it simply provides a broader range of options to its users than ConvertKit. However, if you are just starting out and you don't need all the features ActiveCampaign has to offer, then giving ConvertKit a chance might not be such a bad decision.
Conclusion
Understanding how your target audience thinks and finding out which products and services they are interested in can give you a competitive advantage over your competitors. Both ActiveCampaign and ConvertKit grant you access to the tools that are powerful enough to enable you to create opt-in forms or manage subscribers effortlessly. Which email marketing platform are you going to choose? Leave a comment below and share your opinions with us.
Frequently asked questions
Which payment methods does ActiveCampaign accept?
You can purchase a subscription model on ActiveCampaign using your MasterCard, American Express or Visa card. ActiveCampaign also accepts checks, wire transfers and payments from PayPal for annual subscription plans.
Is it possible to add and remove tags with automation?
Yes, ActiveCampaign allows you to add or remove tags with automations
Can I import deals to ActiveCampaign?
Unfortunately, that is currently not possible.  You must create all-new deals from your ActiveCampaign account.
Can I embed a form I created with ActiveCampaign on a website?
Yes, embedding a form on a website is an easy task that can be completed in just a few simple steps.
Can I import subscribers into ConvertKit?
Yes, importing subscribers to ConvertKit won't take much more than a few moments of your time.
What happens when you outgrow the subscriber limit?
The subscription model you own is going to be automatically updated as soon as you outgrow the subscriber limit on your previous subscription model.
How are my automation triggered?
Each automation you set up with ConvertKit is triggered by a particular subscriber action.
Is it possible to customize the Unsubscribe Page?
Customizing the unsubscribe page is currently not an option CovertKit offers.
Here are some other related articles you may be interested in: