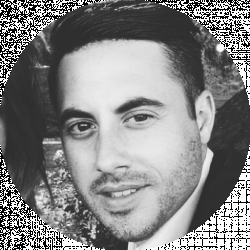 Latest posts by David Borgogni
(see all)
Last Updated on November 5, 2020 by Natalia Bickell
In this ActiveCampaign vs Sendible Comparision find out which platform is best for running digital marketing campaigns.
Is email marketing still more effective than social media marketing?
The numbers indicate that the conversion rates of posts on social media are around half percent, while emails reach around 85% of the people you send them to.
On the other hand, Facebook, the world's largest social network, currently has 2.19 billion active users, and companies that don't advertise on this social network are missing out on a huge market. The choice between ActiveCampaign VS Sendible is basically the choice between email and social media marketing, so which one you're going to choose largely depends on the types of marketing campaigns you want to create with these tools.

Why Go with ActiveCampaign?
ActiveCampaign SCALES with best in class marketing automation features with many gradual pricing tiers. Whether you are running a store or blog, AC just WORKS! From basic automation triggers to advanced CRM-like functionality.
Try ActiveCampaign FREE
We earn a commission if you click this link and make a purchase at no additional cost to you.
Our ActiveCampaign vs Sendible comparison will take you through the most important features these digital marketing software products have to offer and help you choose the one that is best suited for your needs. So, let's get started.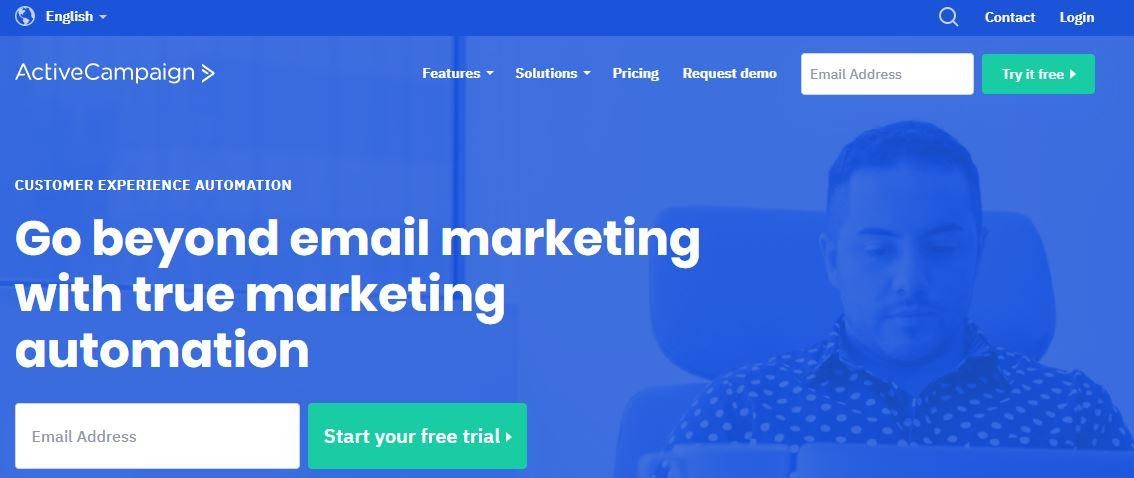 The Main Differences Between ActiveCampaign vs Sendible
The main differences between ActiveCampaign vs Sendible include:
ActiveCampaign doesn't have the option to auto-post campaigns on Facebook, whereas Sendible has the option to auto-post and bulk schedule. 
ActiveCampaign platform doesn't allow you to manage multiple social media accounts, whereas Sendible does.
ActiveCampaign features a library of campaign templates, whereas Sendible doesn't.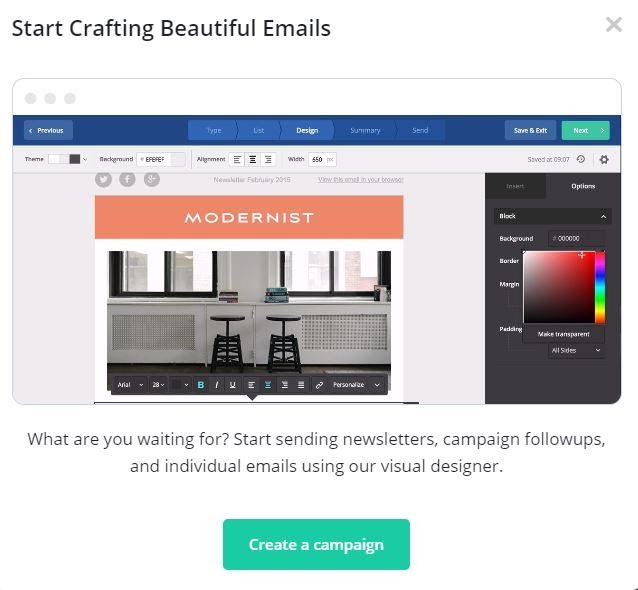 The tone of social media posts is more informal than the tone of emails you send during a marketing campaign. Moreover, if you are running an email marketing campaign you can use the email segmentation features to send your clients the content they want to see. That's why, as an email marketing tool ActiveCampaign enables you to choose more closely what type of content you are presenting to a particular group of clients.
The differences between ActiveCampaign and Sendible go further than email segmentation since marketing automation features or machine learning options are not available on the Sendible platform. 
The ActiveCampaign platform simply provides a broader spectrum of marketing tools to marketers than Sendible. Even though ActiveCampaign can't be used to schedule posts on social media, it can still be integrated with Facebook, Twitter, and other social media platforms. Sendible makes managing multiple social media accounts less chaotic, but it is ineffective as an email marketing tool.
Analytics
Customer Support
Integration
Plans
ActiveCampaign
It will give you all the relevant data you need about your email marketing strategies and social media. For more metrics, you need an integration
- One-on-One training
- Videos & Guides
- A community of users that can help you.
- FAQs
- Direct Contact Support
It can be integrated with many social media sites, team communications platforms and marketing tools.
Lite: From $9 to $369
Plus: From $49 to $319
Professional: From $129 to $479
Enterprise: From $229 to $399
Sendible
It gives you all the social media and email marketing metrics you need. It can be integrated with more analytic tools.
Submit a Support request through their website in case you need help.
Integrate it with all the most popular social media network; plus, blogging platforms and more than 250 apps through Zapier.
Starter: $29/mo
Traction: $99/mo
Growth: $199/mo
Large: $299/mo
What are the key benefits of ActiveCampaign and Sendible
Almost half of the Earth's entire population of approximately 3.03 billion people are on social media. Furthermore, there are currently 3.8 billion registered email addresses, and this number is expected to grow up to 4.2 billion by 2022.
Reaching the ideal customer of the products and services your company offers in such a broad pool of potential clients requires a dedicated effort. ActiveCampaign and Sendible platforms both offer an easy way to communicate with your target audience, although through different channels.

ActiveCampaign enables its users to:
Create subscription forms
Track sites or events
Monitor the Contact and Lead scoring list
Send site and SMS messages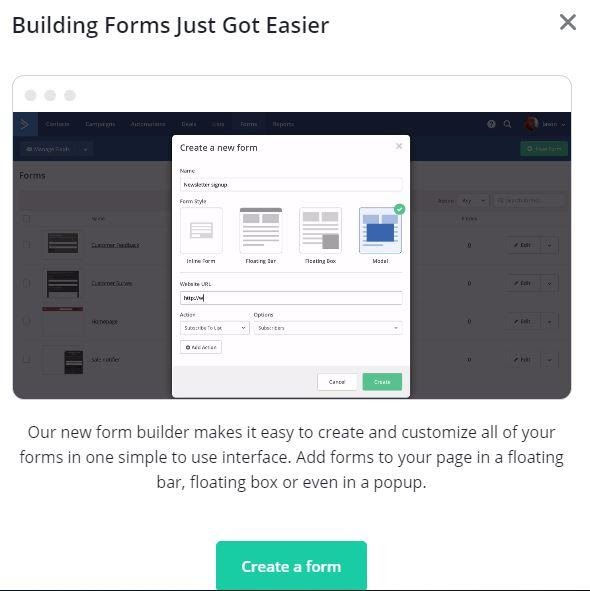 These are just a few among email marketing tools ActiveCampaign is equipped with that help you improve both customer retention and the quality of the services your company provides. The Sendible platform lets you manage messages from multiple social media channels from one place. It also allows you to:
Schedule social media posts for different clients
Group posts in queues
Collaborate with members of your team
Send regular reports to your clients
Experienced marketing professionals can use ActiveCampaign and Sendible to promote their products through email or social media. Check out our Active Campaign and Sendible reviews to find more about the benefits of using each of these platforms.
Which types of marketing campaigns can you run on ActiveCampaign and Sendible?
Marketers commonly use Sendible to manage social media accounts for their clients. So you can either use the platform to post new videos, photos or articles to different accounts on Twitter, Facebook, and other popular social networks or run an entire social media marketing campaign through Sendible.
ActiveCampaign grants you access to the tools you're going to need to send newsletters and various other types of emails to your contacts. You can import your contacts to ActiveCampaign from virtually anywhere on the Internet and create lists that enable you to manage your contacts more efficiently.
ActiveCampaign offers more than thirty customizable campaign templates you can use to promote webinars, send reminders after a customer abandons a shopping cart or design emails that advertise events. This email marketing platform lets you create and promote a wide spectrum of products and services with ease or even send emails automatically after a customer purchases an item from your website.
In case you're looking for a tool that makes managing accounts on different social networks easier, then Sendible is a better choice. However, if you want to manage large contact lists with ease or test how effective your marketing messages are, then opting for ActiveCampaign is your go-to option.
Do Sendible and ActiveCampaign improve customer engagement?
Currently, email marketing is still much more effective than social media marketing, but focusing your entire marketing strategy on email marketing doesn't necessarily have to produce great results. In fact, having an account on social media makes it easier for companies to communicate with their clients.
You can monitor the most important messages you receive on social media and delegate them to a team member from the Sendible's Dashboard. This makes it easier to reply promptly to messages or comments on different social media and offer valuable help to your clients.
Moreover, the Sendible's Dashboard grants you the insight into what is being said about the brand you're tracking in the news, blogs, or in the comments on social media. As your company's reputation grows, so will the customer engagement ratings, but you should keep in mind that building a large following on social media or the reputation takes a significant amount of time and effort.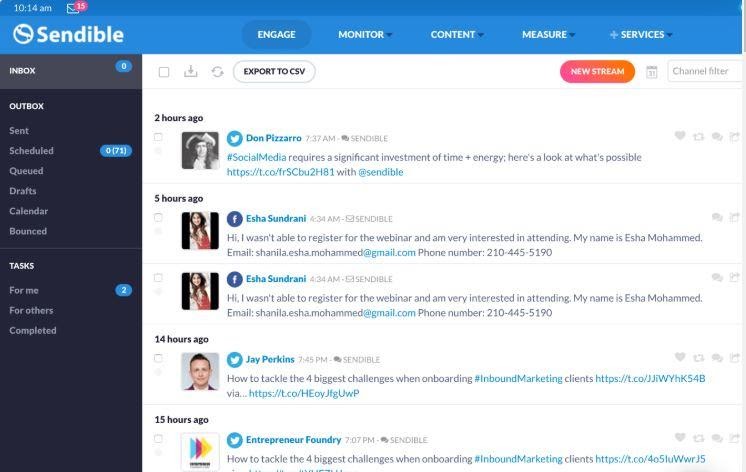 ActiveCampaign allows you to customize the emails you send to a particular target audience, which can potentially increase both customer engagement and conversion rates. The platform's Split Testing feature enables you to run a split test and see which emails were opened more frequently or generated more link clicks. You can use the data you acquire through Split Testing to craft better email marketing strategies that have excellent customer engagement rates.
Which platform is more affordable ActiveCampaign or Sendible?
Which of these platforms you are going to opt for, depends on factors that range from the number of members your team has to whether or not you want to have access to social data of the contacts in your lists. 30-day free trials are available on both ActiveCampaign and Sendible, which enables you to try out each of the platforms and decide which one offers more marketing tools you need on a day to day basis. Follow this link to start your free trial on ActiveCampaign or click here to create a new account on Sendible for free.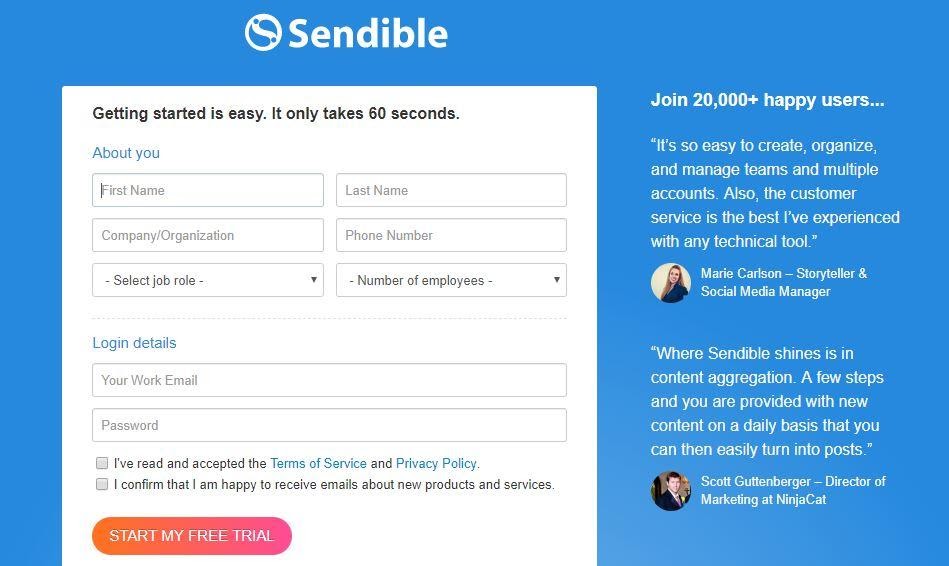 The ActiveCampaign platform lets you choose between four monthly or annual subscription plans:
Lite
Plus
Professional
Enterprise
The price of each of these plans changes as the number of contacts increases, so, for instance, the Lite plan costs just $9 per month if you have 500 contacts. The monthly fee for the Lite plan increases to $17 if you have a thousand contacts.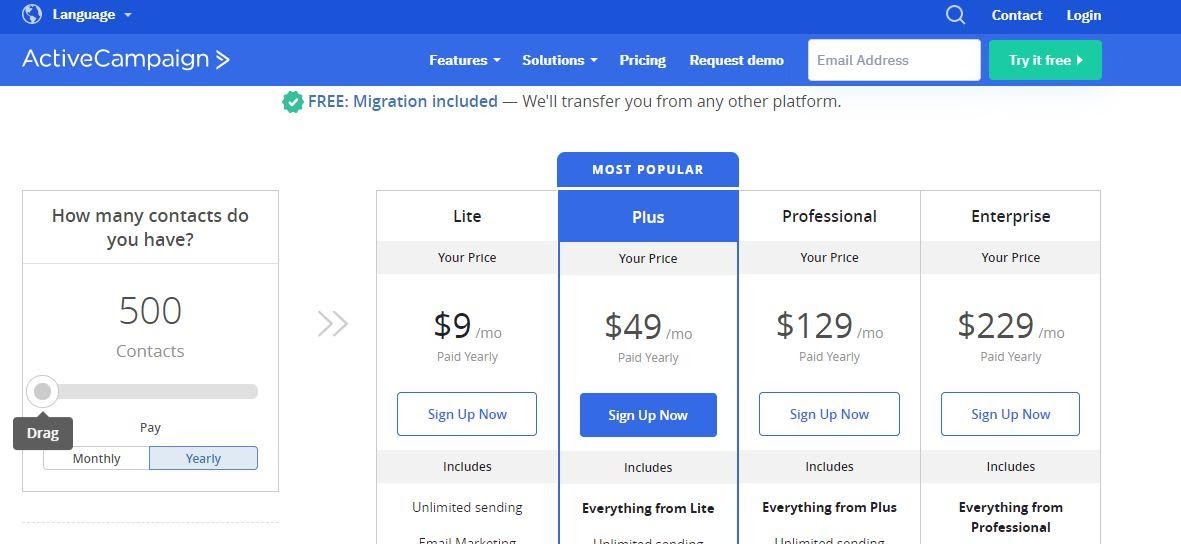 Sendible's subscription models are designed to accommodate the needs of one or more users. However, even with the most expensive subscription plan, the account you create on this platform cannot be used by more than twelve team members. The number of monthly reports also depends on the pricing plan you purchased, so with Traction model you can create 15 new reports every month, while with the Growth plan you can build as many as 35 new reports per month. Sendible offers the following subscription models:
Starter
Traction
Growth
Large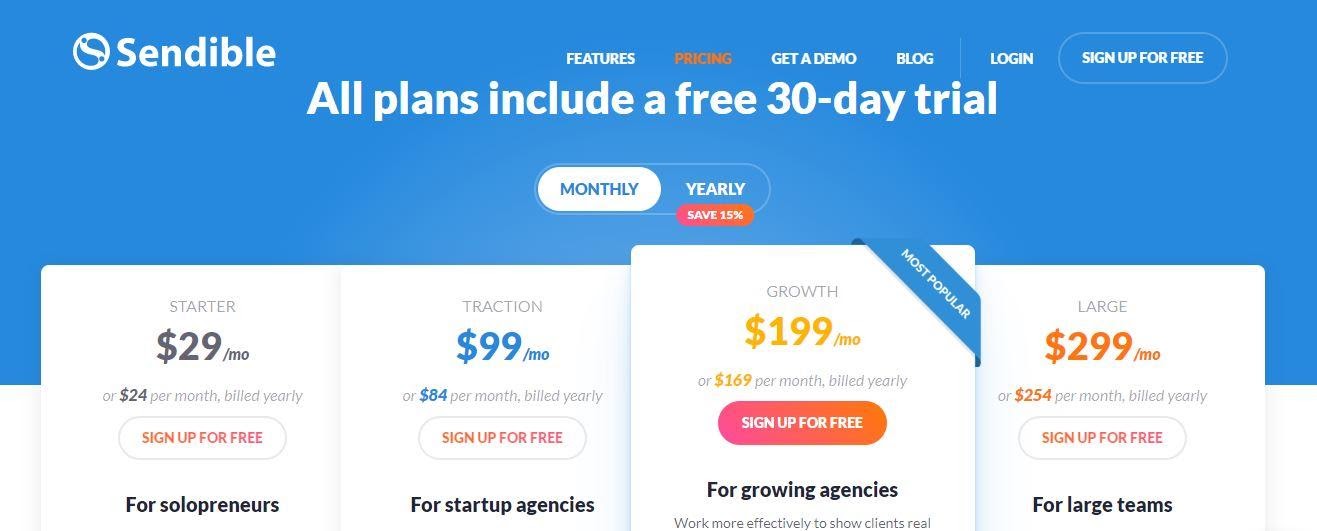 Choosing an annual billing method may prove to be a more profitable solution if you're planning on using the services of these two platforms over a long period of time since monthly subscription models are more expensive than the annual ones.
Individuals and large teams can use these platforms equally effectively to run email or social marketing campaigns and keep track of the most important metrics.
ActiveCampaign vs Sendible – Is there a clear winner?
A viable marketing strategy should include different ways of promoting a product. Social media marketing can be extremely useful if you want to increase product awareness or reach new clients. However, the conversion rates you'll be able to generate are notoriously low, which just shows you that you have to use more than one channel of promotion.
Combining the features ActiveCampaign and Sendible offer is probably the best way to maximize your marketing efforts and reach your target audiences. That's why saying that Sandible is better than ActiveCampaign is only true if you have no intention of running an email marketing campaign. Each of these platforms is equipped with powerful tools you can use for different types of promotional activities.
Sendible simplifies the process of managing multiple social media accounts, by enabling you to add images and videos to your posts or to switch between tabs and customize the post for a social network on which you want to publish it.
Scheduling social media posts with ActiveCampaign is not possible, but you can use this platform to design different types of emails, create subscription forms or use the platform's sales CRM system to automatically prioritize leads and manage contacts. Follow this link if you want to find out more about CRM systems.

It is worth noting that ActiveCampaign can be integrated with a number of social media platforms, such as:
Vimeo
YouTube
Twitter
Facebook
You can also integrate ActiveCampaign with services like Slack that keep all of the team's communications in one place or InviteBox that helps you get new customers through social referral programs.
ActiveCampaign provides a broader spectrum of marketing tools than Sendible. However, managing several social media profiles from a single tab is not possible if you're only using the ActiveCampaign's services.

Why Go with ActiveCampaign?
ActiveCampaign SCALES with best in class marketing automation features with many gradual pricing tiers. Whether you are running a store or blog, AC just WORKS! From basic automation triggers to advanced CRM-like functionality.
Try ActiveCampaign FREE
We earn a commission if you click this link and make a purchase at no additional cost to you.
Comparing the ActiveCampaign and Sendible's features
The ActiveCampaign and Sendible enable its users to perform different types of tasks related to email and social media marketing. Consequently, the tools you can find on Sendible and ActiveCampaign are quite different. The features ActiveCampaign provides are divided into the following categories:
Email marketing
Marketing automation
Sales & CRM
Messaging
Machine learning
Each of these categories contains different subcategories like Dynamic Content or Event Tracking that you can use at the different stages of your email marketing campaign. The Predictive Sending and Win Probability subcategories are located in the Machine Learning category and they allow you to predict the wins and losses or send emails that your potential clients want to see.

Sendible's features are organized into six main categories:
Dashboard
Publishing
Collaboration
Analytics
Listening
Mobile
You can use the Dashboard to communicate with your followers, share posts in bulks or measure your company's performance on social media. The Publishing category allows you to schedule posts, get a visual overview of the publishing calendar or add photos and videos to your posts.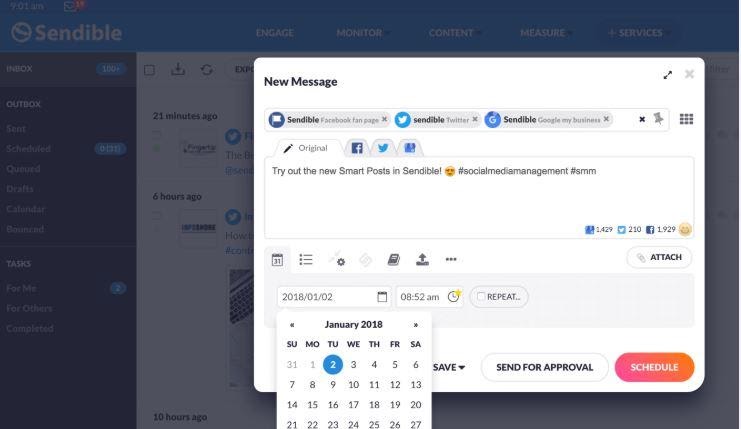 Moreover, Sendible also provides content suggestions that can improve the follower engagement rates for each new post you share on social media. Both ActiveCampaign and Sendible can be used from mobile devices, although the ActiveCampaign app is only compatible with the iOS 11 or later versions of the iOS operating system.
The features ActiveCampaign and Sendible provide to their users have almost nothing in common, because they are designed for different types of digital marketing. Sendible is capable of stellar performances, but only when it is used to create or share social media posts. ActiveCampaign's features enable you to manage your email correspondence with all of your clients or tailor personalized emails that target individual contacts instead of an entire target group.
Can you run social media marketing campaigns with ActiveCampaign and Sendible?
Sendible allows you to share any type of post on a social media of your choice, which means that you can use this platform to run social media marketing campaigns. You can manage all communication with your followers from the Dashboard, and you can also view all of the most important messages you received on all social media accounts you're managing in the Priority Inbox.
In addition, the interactive calendar grants you an overview of all scheduled posts, which enables you to execute your social media marketing strategy to perfection. The platform also lets you add visual and textual elements to each post you create so that you can easily communicate your marketing messages to your followers.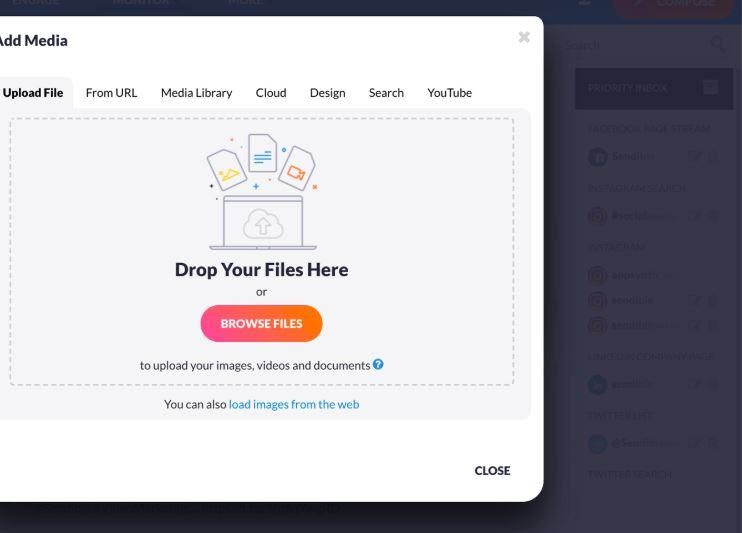 ActiveCampaign is far from a perfect option if your main objective is to promote your products through social media. The platform does offer some social media integrations, but these are not powerful enough to run a far-reaching marketing campaign on social media.
The ActiveCampaign allows you to add subscription forms to your Facebook page and extend your contact lists. Sadly, the platform doesn't offer a lot of social media options and is at its best when it is used to create templates for email marketing campaigns. So, you can't really use this platform to run a social media campaign.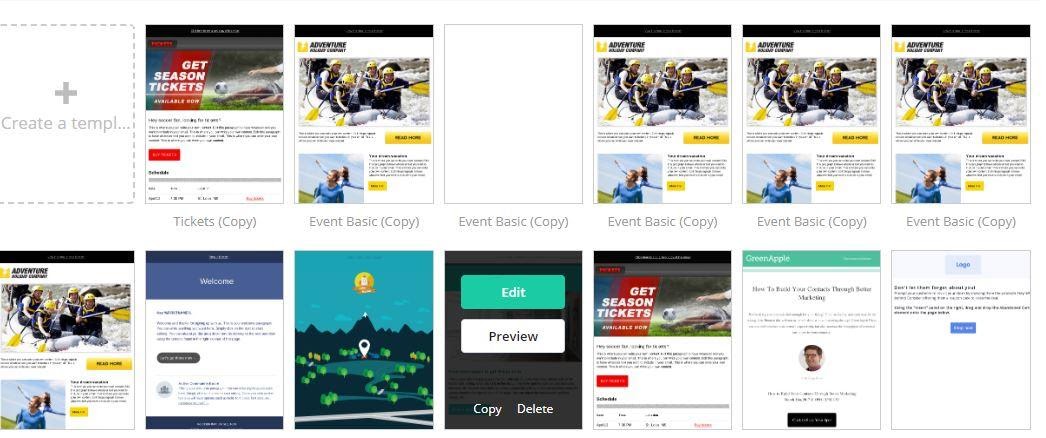 The choice between these two platforms when it comes to running marketing campaigns on social media is clear since ActiveCampaign is a primarily an email marketing tool that doesn't provide a way to create content or share it on social networks.
Which integration options do these platforms have to offer?
A large number of social media integrations is yet another reason why Sendible is a great option for all marketers who want to run successful marketing campaigns. You can integrate Sendible with social networks such as:
Facebook
Facebook Ads
Twitter
Instagram
LinkedIn
Google My Business
YouTube
Pinterest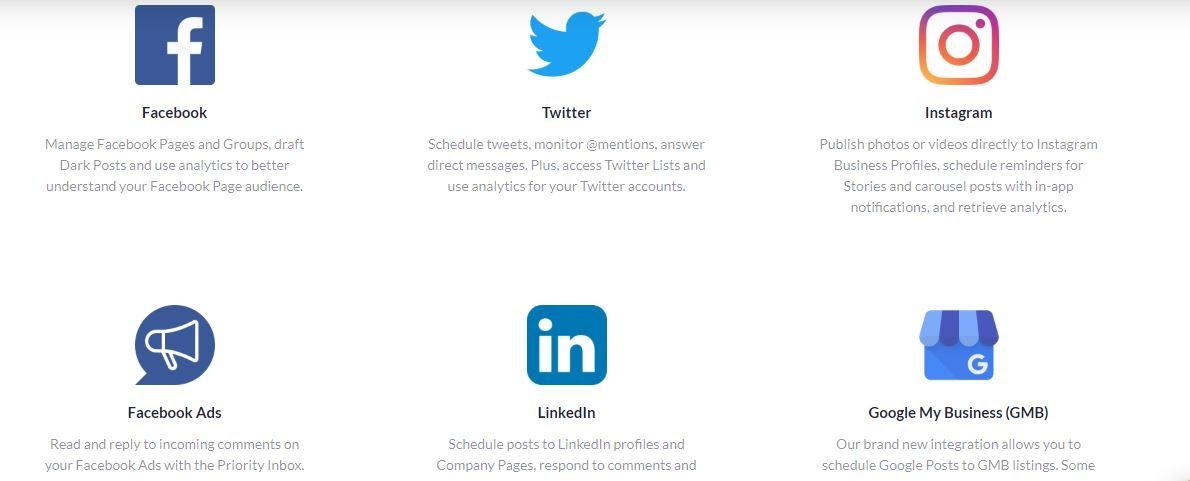 Furthermore, if you would like to share your blog posts on social media, you can integrate Sendible with blogging platforms like:
WordPress
Tumblr
Medium
Blogspot & Blogger
The platform can also be integrated with Google Analytics in case you want to have a better overview of the metrics your posts generate. Integrating Sendible with Canva will enable you to create different types of social media posts using Canva's collection of fully customizable templates.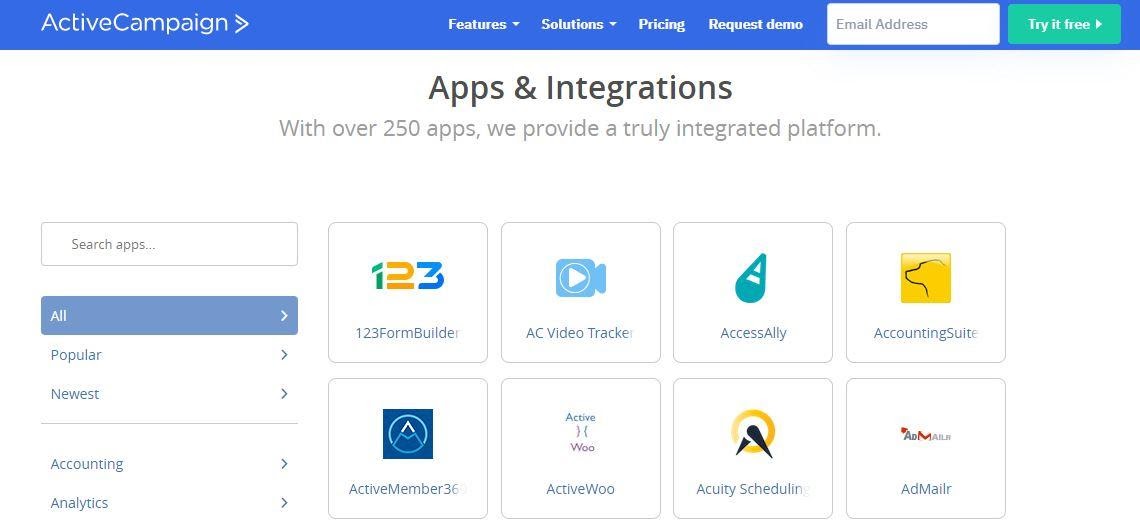 The ActiveCampaign can be integrated with more than 250 apps through Zapier that are organized in the following categories:
Accounting
Analytics
CMS
CRM
Databases
Developer tools
eCommerce
Forms
Event management
Lead generation
Social
Sales
Support
Such a broad range of integration options allows ActiveCampaign's users to create and update contacts based on events or generate new leads. Sendible offers less than thirty integration features, which is why ActiveCampaign is a better option if you are looking for a platform that will give you diversity during email marketing campaigns. The only downside is that all integrations on ActiveCampaign run through Zapier, so you must purchase all of the apps you want to integrate with this platform.
Do ActiveCampaign and Sendible offer marketing automation tools?
Automating the process of sharing new posts or sending emails when the visitors of your website perform a certain action is easy with both of these platforms. However, you won't be able to automate social media posting with ActiveCampaign or send automatic emails through Sendible. The ActiveCampaign provides these marketing automation options:
Site and event tracking
Attribution
Automation goals and maps
Split action
The Sendible's automation services like Auto RSS Poster make the process of managing social media accounts smoother. Moreover, you can automatically follow, unfollow and send messages to Twitter users, use the Facebook automation app to remove comments that contain a particular keyword or use the platform's Autoresponder to send emails to your contacts automatically.

Both Sendible and ActiveCampaign make running email or social marketing campaigns easier by offering a plethora of automation features. So, you should opt for ActiveCampaign platform if your goal is to automate the process of replying to emails, while Sendible is a more reliable choice for marketers who want to schedule posts and share them to social media automatically.
Comparing the ActiveCampaign and Sendible's analytics tools
ActiveCampaign and Sendible provide powerful analytics tools that enable you to know how well your content is performing. You can also create different types of reports with either of these platforms. These are the types of reports you can create with the ActiveCampaign platform:
Campaign reports
Automation reports
Goal reports
Contact reports
Deal reports
Conversations reports
Marketing revenue

The Sendible's Reports Hub allows you to monitor particular keywords, measure engagement rates for individual posts or track the growth of your audience on YouTube, Facebook or Twitter. The platform also lets you create customized reports with its Report Builder tool, you can either store in the My Reports folder or download to your computer.
Sendible and ActiveCampaign platforms can be integrated with Google Analytics, in case you want to have access to a wider range of metrics tracking tools. Sendible's analytics tools can only be applied to social media and you can't use them to monitor the traffic a web page generates or to find out its bounce rate. This is yet another reason why you should integrate this platform with Google Analytics if you want to measure the number of daily visitors to your blog or the website you're promoting through social media.
Both Sendible and ActiveCampaign provide the analytics tools that only measure metrics that are relevant for email or social media marketing campaigns. This enables you to see how a particular post or campaign is performing, but you have to use other analytics platforms if you want to gain deeper insight into the metrics your emails or posts on social media are generating.
Pros and Cons
ActiveCampaign
| | |
| --- | --- |
| Pros | Cons |
| Offers a broad range of automation options | Managing contacts can take some time to get used to |
| You can migrate your contacts from any other platform to ActiveCampaign | A relatively small number of email templates |
| Perfect for large marketing teams | Text message marketing options could be better |
| Win probability option allows you to predict gains and loses | The template editor provides only basic functionalities |
| Moderately priced, considering the range of marketing tools it offers |   |
| Offers Gmail extension for Chrome |   |
| The Split Testing tool is highly efficient |   |
| Provides more than 250 integration options through Zapier |   |
Sendible
| | |
| --- | --- |
| Pros | Cons |
| Lets you manage as many social media channels as you want | The maximum size of a team using Sendible can't exceed 12 members |
| Smooth integrations with any of the popular social networks | The number of reports you can create on a monthly basis depends on the subscription model |
| Enables you to monitor specific keywords | Not a great choice for individual entrepreneurs |
| Uploading images or videos to posts you create with Sendible is easy | Occasionally prone to glitches |
| Integrates with Canva, so you can create new social media posts using Canva's templates |   |
| Bulk scheduling |   |
| Priority inbox grants you access to all of the most important messages you receive on social media |   |
| Provide White Labeling options |   |
The Verdict: Which digital marketing platform should you chose ActiveCampaign or Sendible?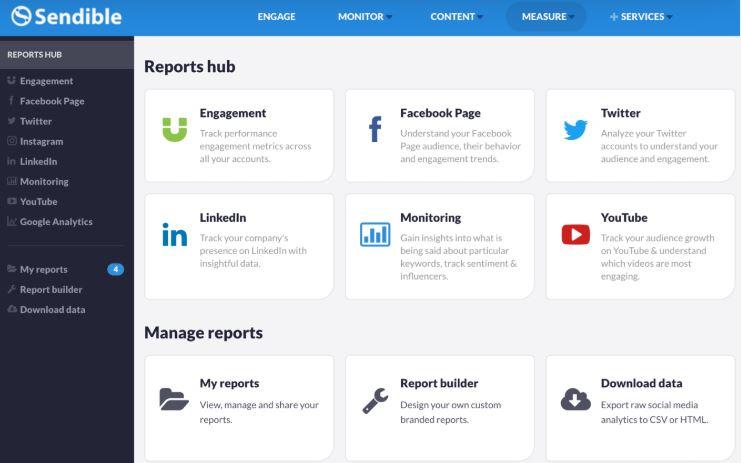 Promoting the products or services your company provides only through email or social media may not be the best way to approach a marketing campaign you're planning. Even though email marketing outperforms all other marketing strategies, neglecting the promotional activities on social media can prove to be a costly mistake.
ActiveCampaign is unquestionably a better choice if your primary goal is to distribute your marketing messages through email since Sendible doesn't really provide you with the tools you need to run a successful email marketing campaign.

Why Go with ActiveCampaign?
ActiveCampaign SCALES with best in class marketing automation features with many gradual pricing tiers. Whether you are running a store or blog, AC just WORKS! From basic automation triggers to advanced CRM-like functionality.
Try ActiveCampaign FREE
We earn a commission if you click this link and make a purchase at no additional cost to you.
However, managing your company's social media accounts from one place is not something you can do with ActiveCampaign. Sendible is by far a superior option to ActiveCampaign when it comes to scheduling posts or monitoring keywords on social media that are relevant to your brand.
Either of these marketing platforms can help you reach your target audience or boost the sales of your products, although in different ways. Combining email and social media marketing features these platforms offer can get you a step closer to a viable marketing strategy. Ultimately, which platform you're going to choose depends on the type of marketing campaign you'd like to create.
Conclusion
ActiveCampaign and Sendible enable you to strategically plan how you approach your target audience but through different channels. Sendible is an excellent option for teams that want to boost the sales of their products through social media. On the other hand, you can use the ActiveCampaign platform to create a perfect email marketing campaign. Which platform are you going to choose? Leave a comment and share your opinions with us.
Frequently Asked Questions
How much time does it take to calculate the Deal Scoring?
ActionCampaign can take up to several hours to calculate the score and apply it to a deal. Once the calculation is complete, the platform will update the score every 30 minutes.
Can I import contacts that have more than one tag?
Absolutely, but the process may be a bit technical.
Can I allow my contacts to manage their subscriptions with ActiveCampaign?
Simply add a manage subscription link to the footer of your email, and each of your contacts will be able to manage their subscription.
What does Sendible's 'Optimal Times' feature do?
Sendible calculates the best time to share a post, based on your posting history. It will take two or three weeks for the optimal time to be calculated after you start using the platform's posting services.
Which languages does Sendible support?
Sendible supports a large number of languages, but Twitter Search, Twitter Profile Search or Brand, and Keyword Monitoring options may not work properly if you use the Cyrillic or the Arabic alphabet.
Can I add emojis to social media posts I share through Sendible?
Yes, but you must use the emojis from the Sendible's database because the platform might not recognize emojis you copied from another location.
Here are other related articles you may be interested in: