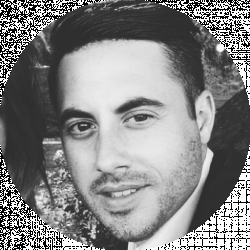 Latest posts by David Borgogni
(see all)
Last Updated on October 28, 2020 by Victor Carrera
ActiveCampaign vs Klaviyo – which email marketing platform is better for you?
We've tested both, so we can give you all the details.
The bottom line upfront: We think ActiveCampaign is better for beginners, but those wanting a more streamlined experience (or those who understand how to use automation already) might want to go ahead and give Klaviyo a try.

We'll be looking at the main features of each, their pros and cons, their pricing, and how they stack up against each other in terms of integrations and support.
Let's start with their main differences and similarities!
ActiveCampaign vs Klaviyo – the Main Differences
The main differences between ActiveCampaign vs Klaviyo are:
ActiveCampaign is quite user-friendly, whereas Klaviyo has a steeper learning curve
ActiveCampaign has some sales automation, whereas Klayivo doesn't
ActiveCampaign has some basic analytics, whereas Klayivo's analytics are a bit more in-depth
ActiveCampaign doesn't predict future customer behavior, whereas Klaviyo does
ActiveCampaign has a mobile app, whereas Klaviyo doesn't
ActiveCampaign has fairly basic templates, whereas Klaviyo's templates are a little nicer to look at
ActiveCampaign has a fast and responsive customer service team, whereas Klaviyo's customer service team can be a bit slower to respond
Which one you choose may come down to what you prefer: sales automation tools, or advanced data analysis. ActiveCampaign has sales automation, which is great if you want to set up pipelines, track deals, and assign tasks to team members. Klaviyo doesn't offer that, but it does have advanced data analysis, which will predict future customer behavior.
There's also the learning curve to consider. In our experience, ActiveCampaign walks you through each step a bit more, whereas Klaviyo can feel a bit overwhelming if you have no previous experience creating automation.
Those differences aside, there are a few other things too. If you want a mobile app, ActiveCampaign is your best bet (although it has to be said that the mobile app is pretty simple and doesn't offer a lot of features). Klaviyo has better analytics, and we think they have slightly better templates than ActiveCampaign.
The Similarities
What about the similarities? There are a few:
Both offer free email templates in a variety of categories
Both offer marketing automation templates for different purposes
Both allow you to segment, tag, and group customers/contacts together using different criteria
Both allow you to create forms
Both partner with Facebook Custom Audiences
Both have integrations with a variety of eCommerce platforms
Now, let's take a look at both of them in more detail.
What is ActiveCampaign?
ActiveCampaign is an email marketing platform that combines emails, SMS, website messaging, and social media to create powerful marketing automation.
It also has a variety of CRM tools. It's suitable for any-sized business, including individual bloggers or freelancers.
What is Klaviyo?
Klaviyo is an email marketing platform designed for use by eCommerce businesses. It works really well with Shopify Plus, but also works with other eCommerce platforms, including BigCommerce, Magento, Commerce Cloud, and WooCommerce.
It has smart segmentation and advanced analytics which allow it to predict future customer behavior.
ActiveCampaign – the Main Features
Let's take a look at the main features of ActiveCampaign.
User-Friendliness
Signing up for ActiveCampaign is really simple. Straight away, you can customize your experience by letting them know which features you want to focus on.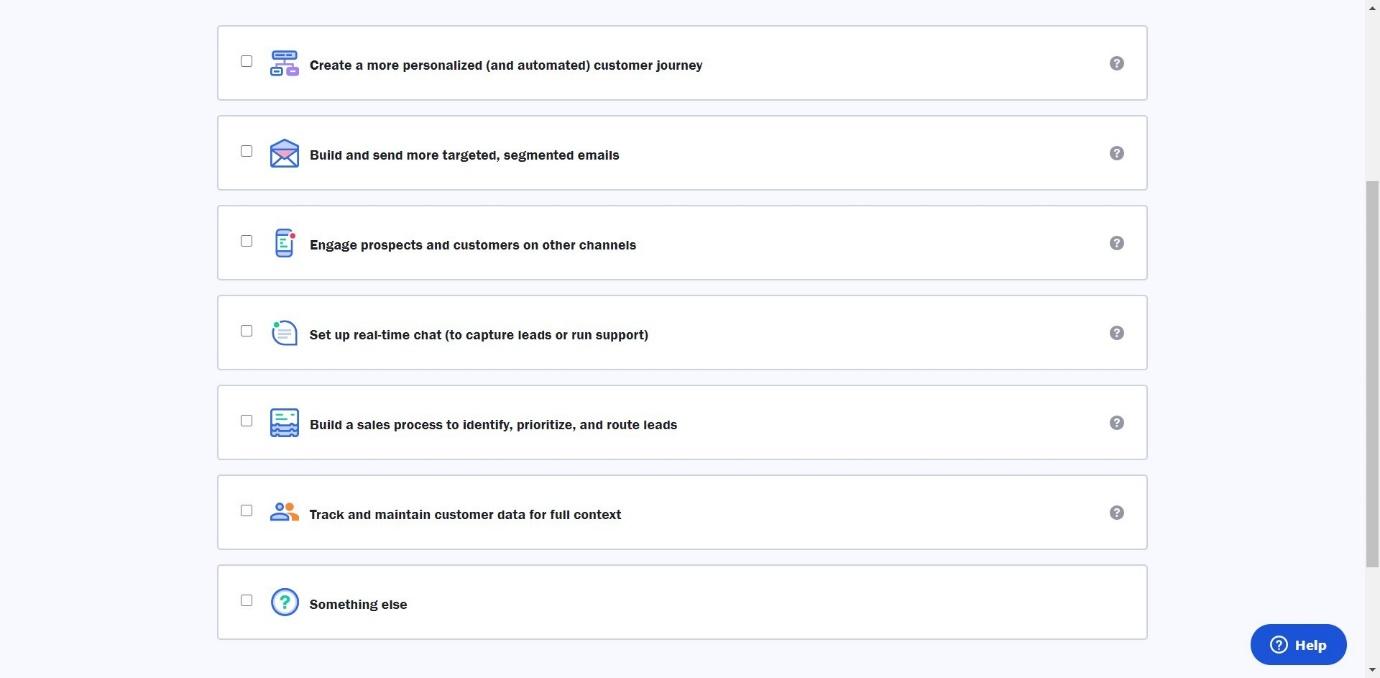 Once you've signed in, you'll be presented with a checklist of tasks to follow to get going.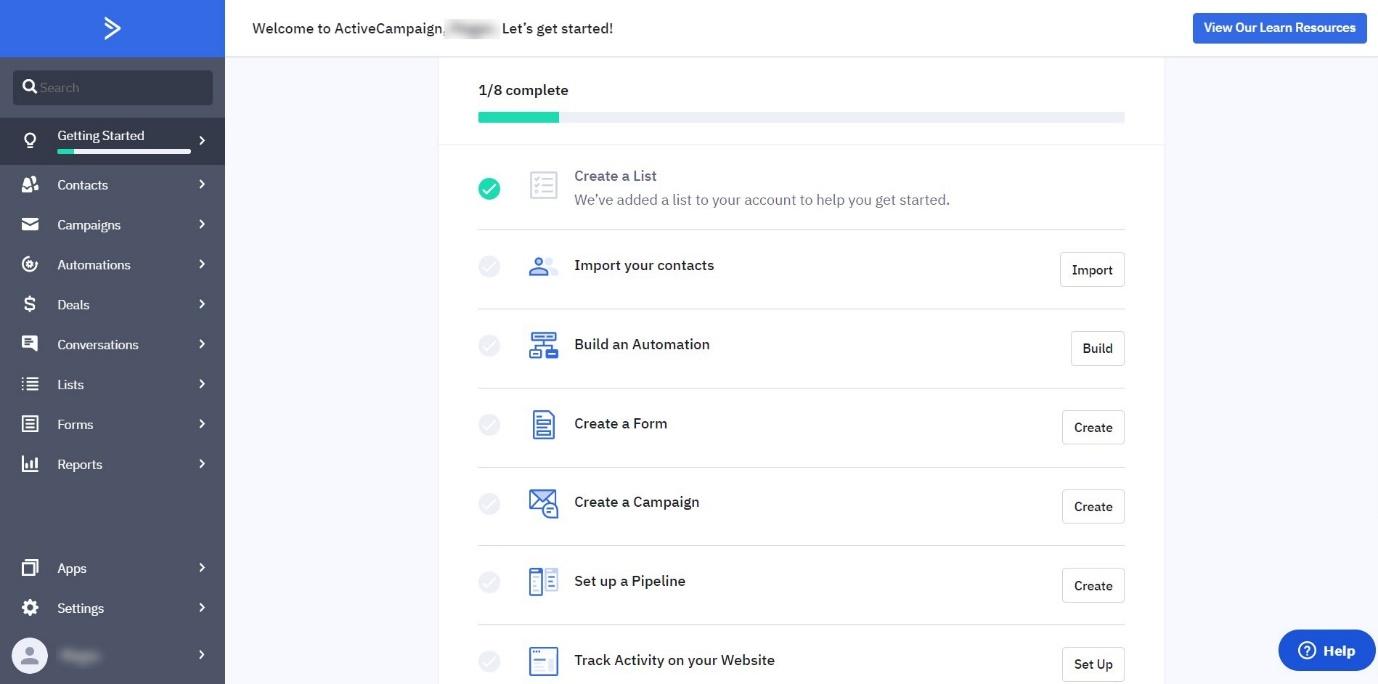 Navigation is simple, as everything you need is presented in the menu on the left. It's a clean, easy-to-use platform that feels intuitive and simple to understand.
Email Marketing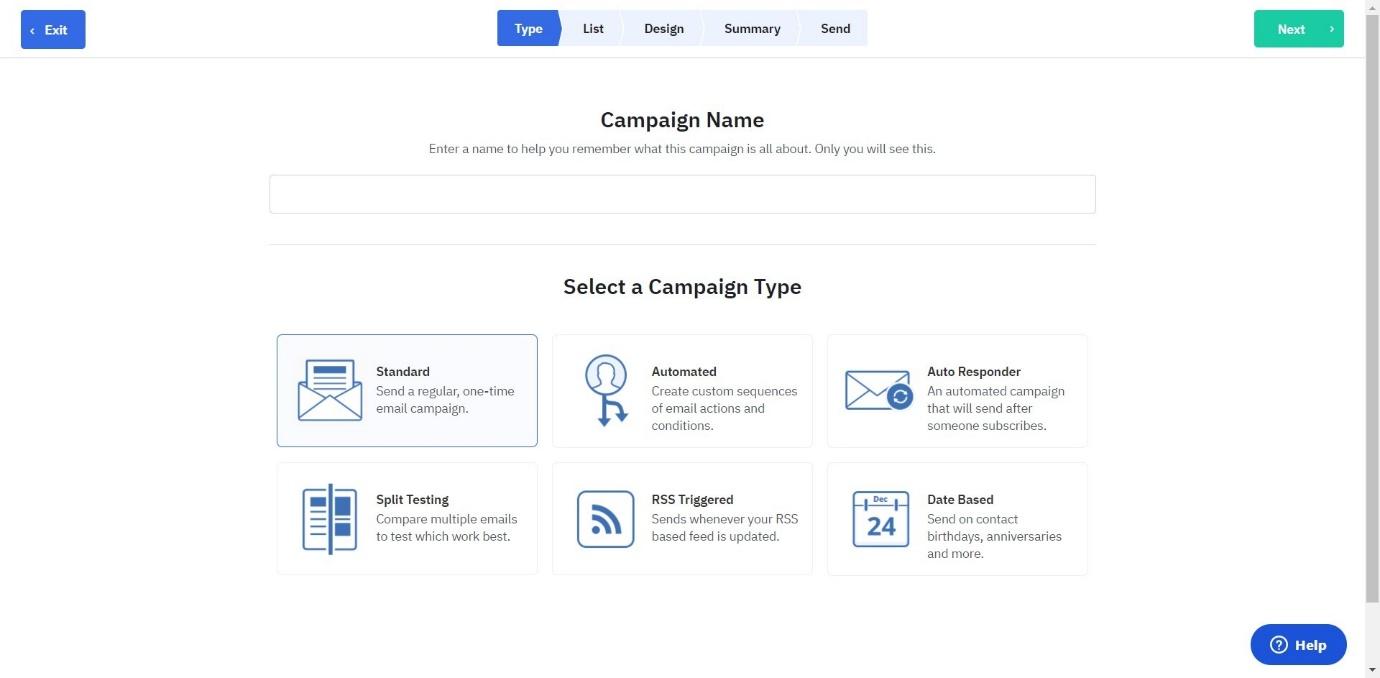 There are several types of campaigns you can create with ActiveCampaign:
Standard – a one-off email
Automated – a custom sequence of email actions
Auto Responder – an automated campaign that begins after someone subscribes to your emails
Split testing – test multiple emails at once
RSS triggered – sends when your RSS feed is updated
Date based – send on particular days (like customer birthdays)
There are several basic templates to choose from.
These will give you the basic structure of an email, which you can customize. Or you can choose from their 'inspiration' category: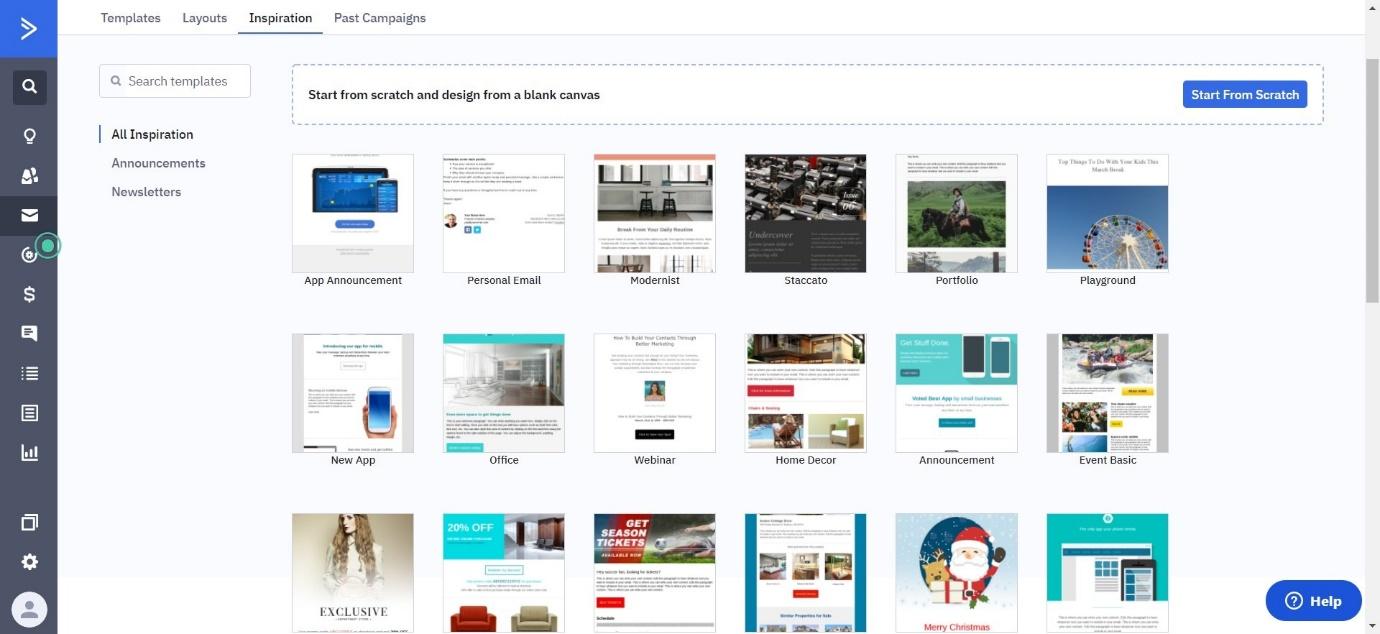 There is also the option of creating emails completely from scratch.
Once you've chosen a template, you can customize it using the simple drag-and-drop email creator.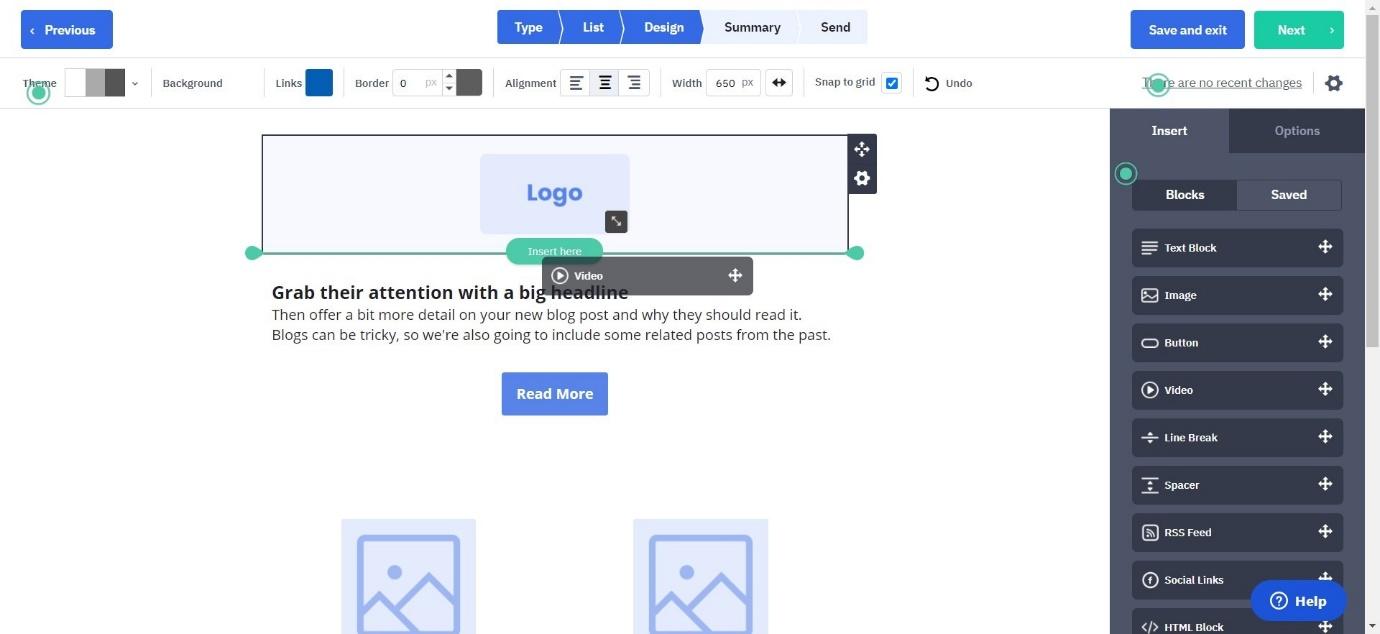 If you want to insert a new block, you can just drag it where you want it to go. You can add text, images, buttons, videos, line breaks, spacers, RSS feeds, social links, and HTML blocks. All of these can be edited, so you can play around with the font sizing and color scheme until it looks just right.
Once the email is finished, you can choose when you would like to send it, and which list you want to send it to.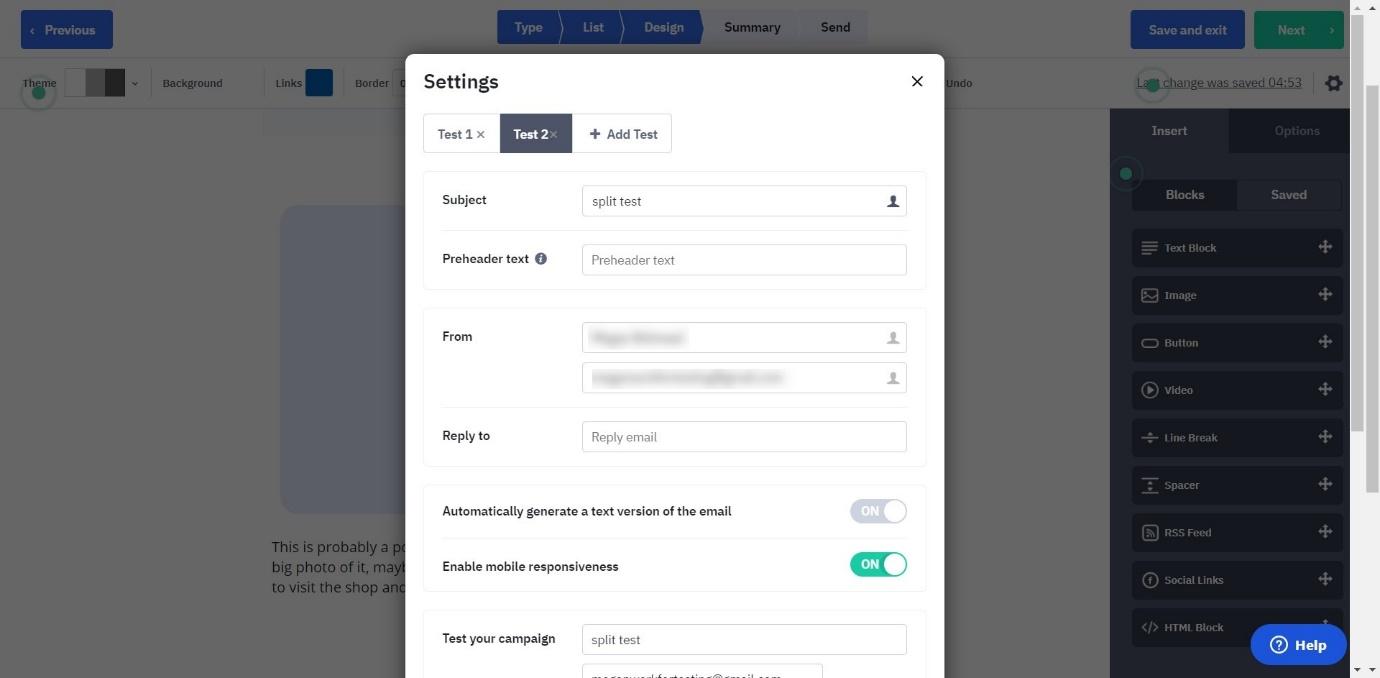 When it comes to split testing, you can either test different email subjects and/or 'from' information, or test email contents. You can set the email ratio percentages and decide whether to determine the winner automatically.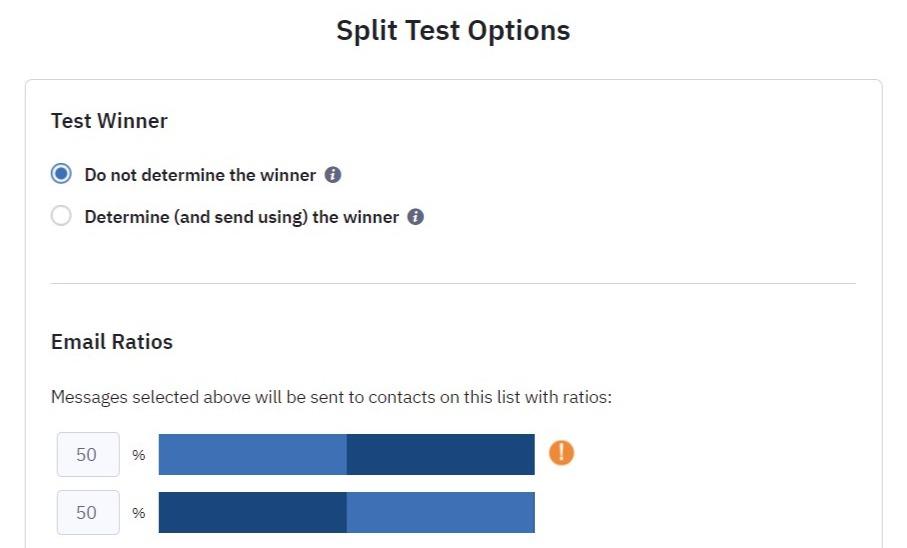 You can also utilize SMS marketing as part of your marketing automation (we'll cover those shortly). You can set the delivery schedule so you can send messages at the best time of the day, and you can collect phone numbers with custom forms on your website.
Customers can easily unsubscribe by texting 'STOP' or 'UNSUBSCRIBE'.
SMS messaging isn't available on the cheapest plan. The other plans receive some free SMS credits every month, and you can buy SMS credits for a set fee (for example, you can get 250 SMS credits for $6.25, or 500 credits for $11).
You can also send messages via Facebook Custom Audiences. This partnership allows you to target people based on visits to your website, information in custom fields, industry, job function, and more. You will have to pay the fees for Facebook Custom Audiences.
Lastly, they offer Conversations. This combines automation with live chat, to interact with your customers on your own website. This is priced separately and can be bought as an add-on to your existing plan.
Marketing Automation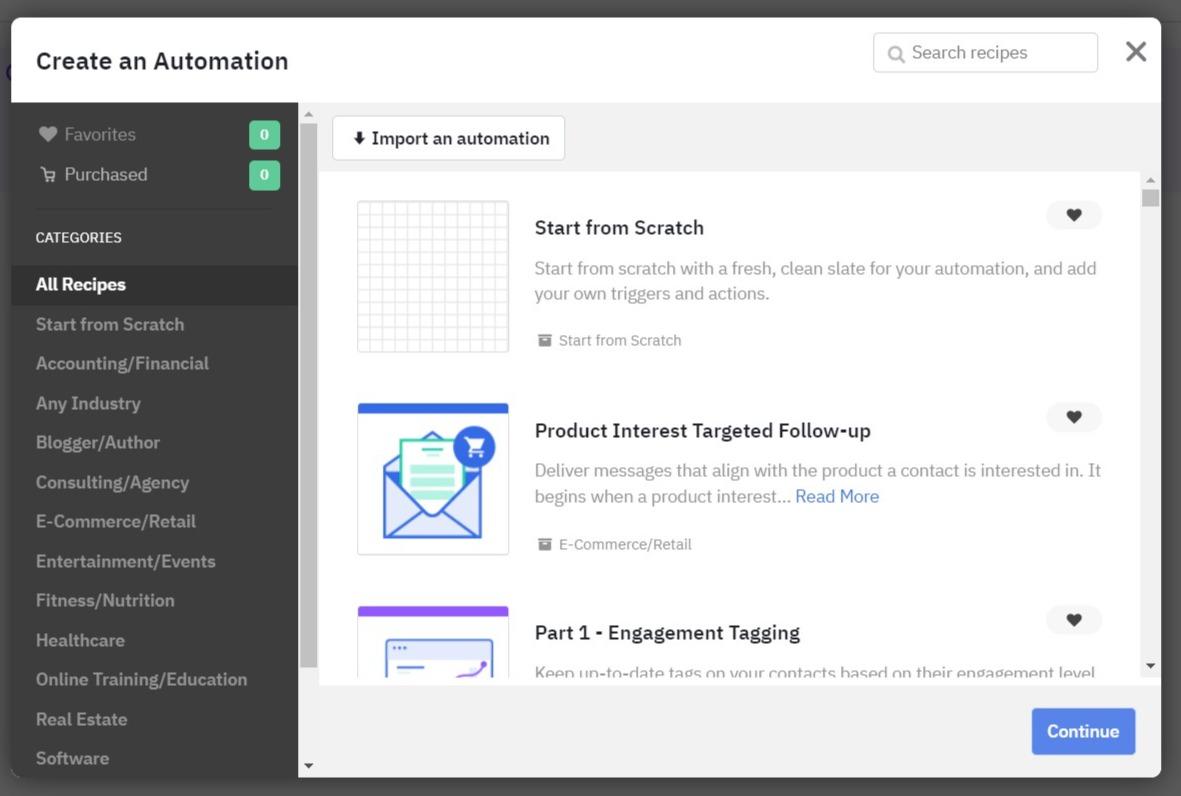 You can create automation from scratch or choose from a variety of templates. There are either free or paid templates to choose from. There are a few categories to choose from to help you to narrow down the kind of automation that will suit your needs.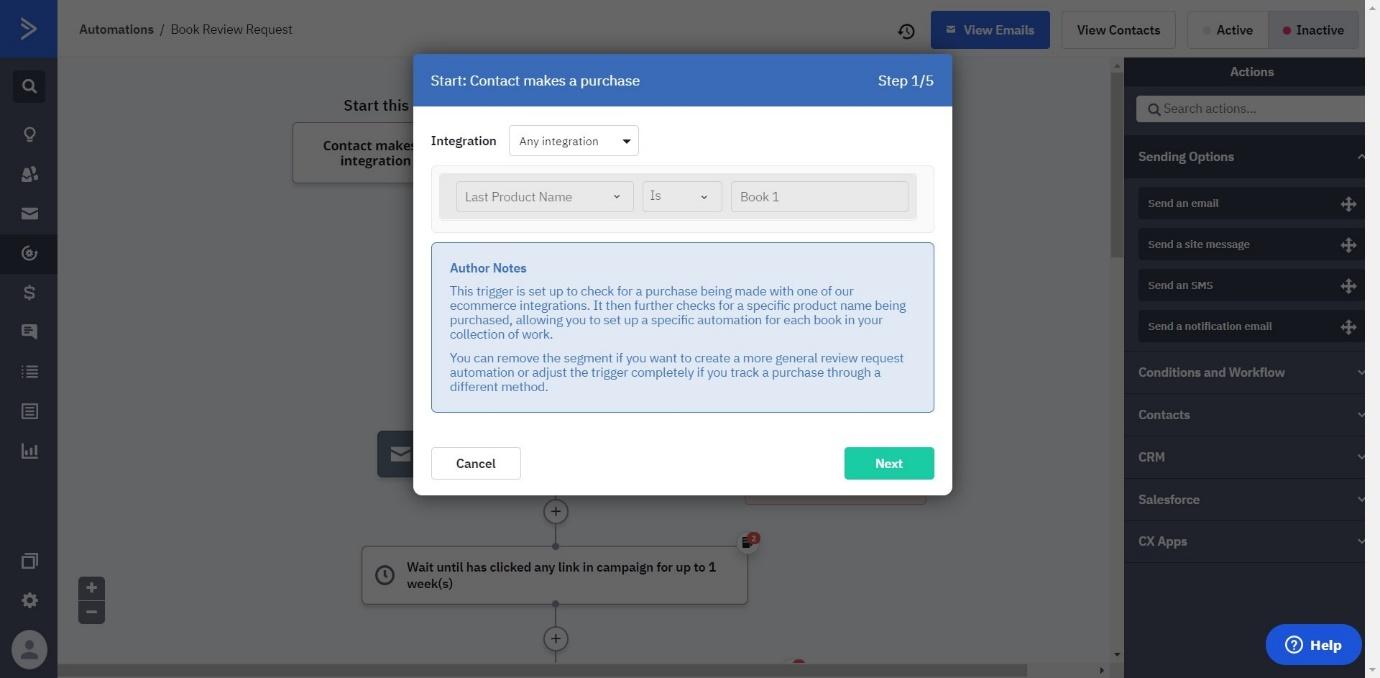 The Automation Wizard will take you through each step and what it means. As an example, the Author Book Review Request first starts with a trigger (in this case, a contact making a purchase). You can set the product(s) that you require your customer to purchase before an email is sent. You can then move along to the next step until each step is customized to suit you.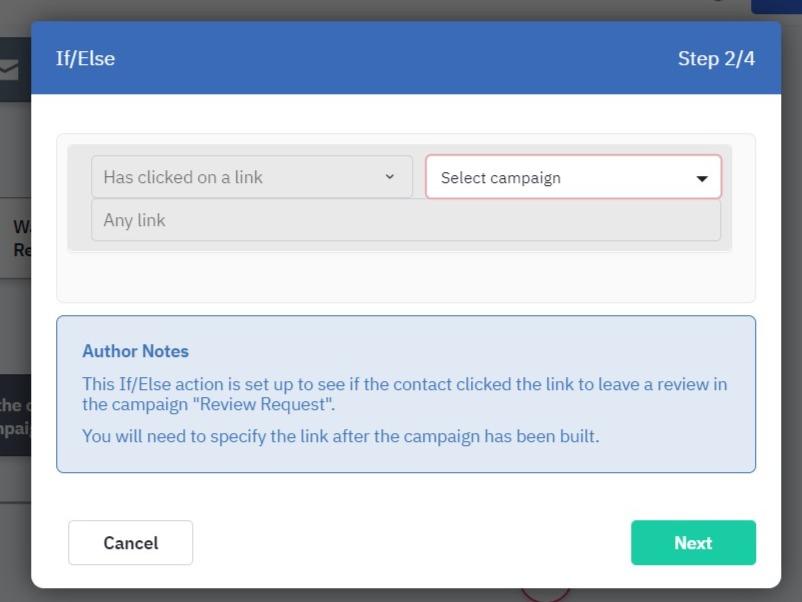 This does make the whole process a bit less overwhelming, especially if you're new to automation. It's good that there is a wide selection of templates to choose from, as you should be able to find one that suits your particular needs.
If you have experience with creating marketing automation, or if you just want to create something completely unique, you can start from scratch.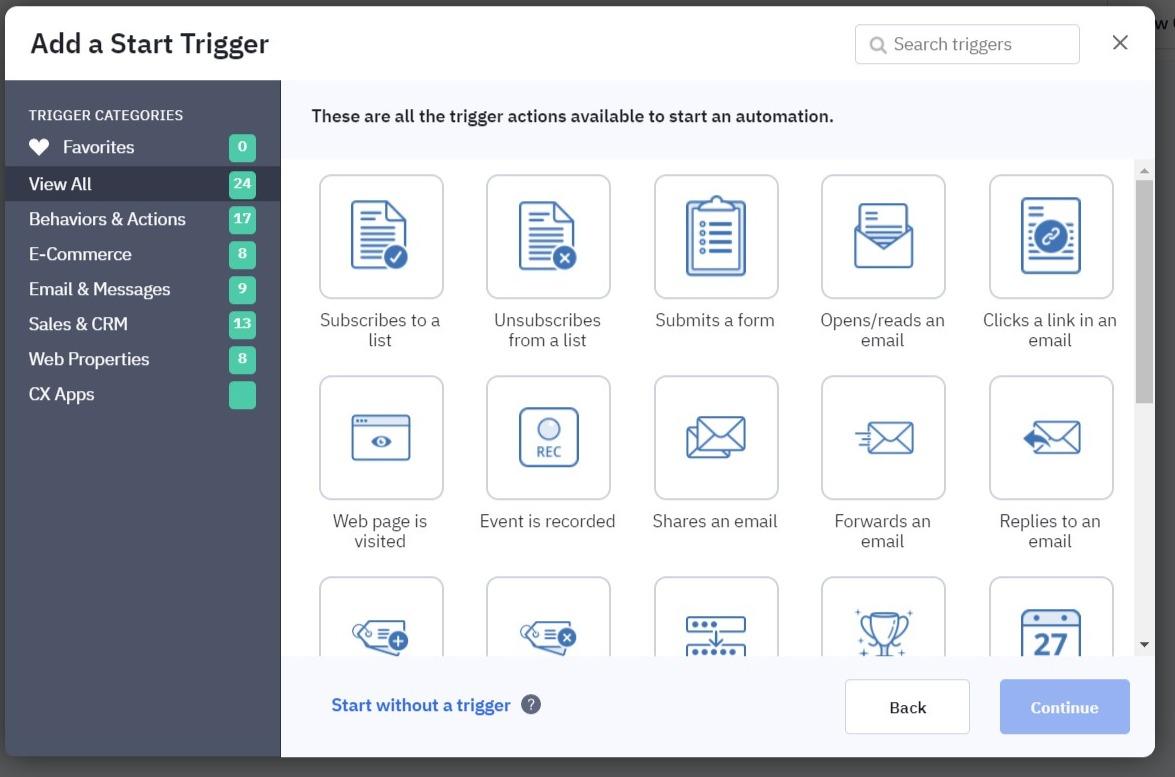 Once you've chosen a trigger, you can design your marketing automation to run however you'd like.
You can choose to focus on your most engaged contacts, and you can integrate with other platforms (which we'll look at in more detail later).
Sales Automation
You can create Deals with ActiveCampaign. This pulls together all the information gathered in other areas of the platform, using your contact information to create deals that are aimed at the right people.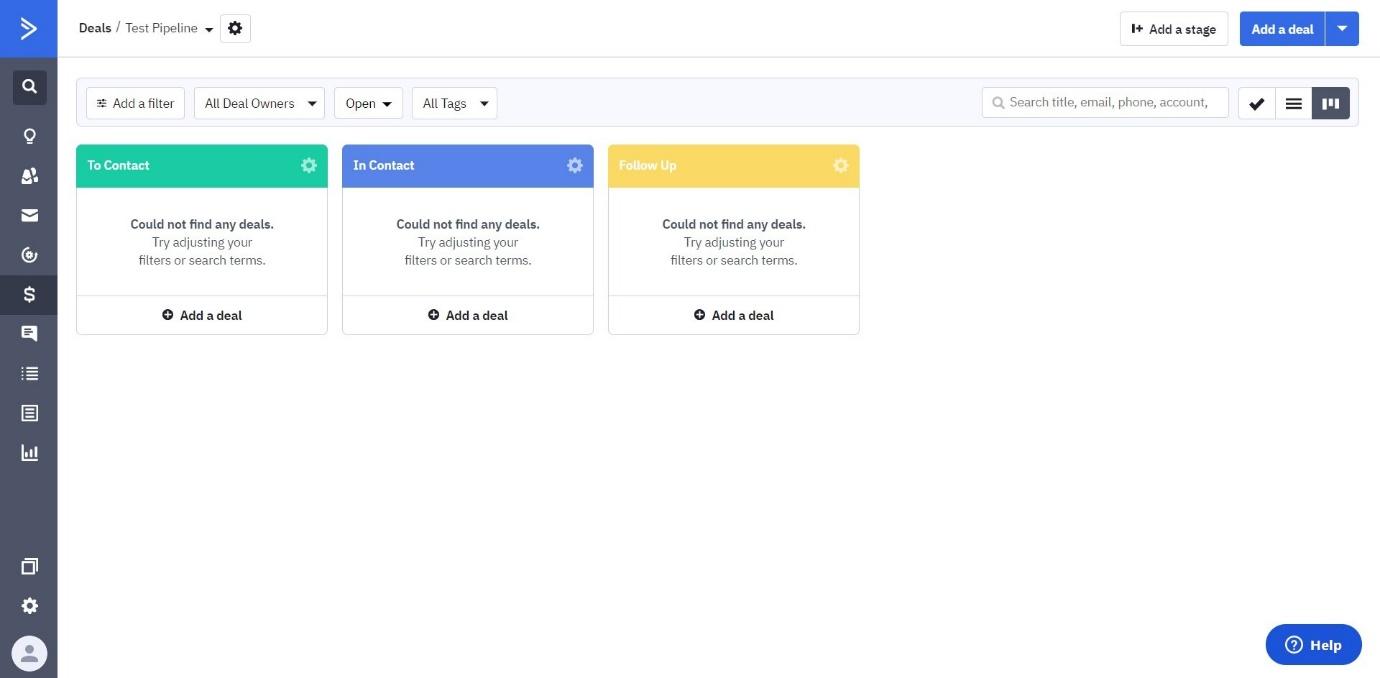 There are a lot of features to take advantage of here. You can:
Track the performance of team members
Calculate the probability of winning each deal
Automate your sales funnel
Segment leads based on their actions
Find leads that are the most engaged
Send emails to your team when it's time to follow up with a client or customer
Automatically update deal owners, stages, deals won or lost, and deal values
Assign tasks to individual salespeople
Take notes within each deal to share with your team
CRM
Contacts can be added manually, or you can import them from a .CSV file or from another service. Contacts can be added via your website or emails, too.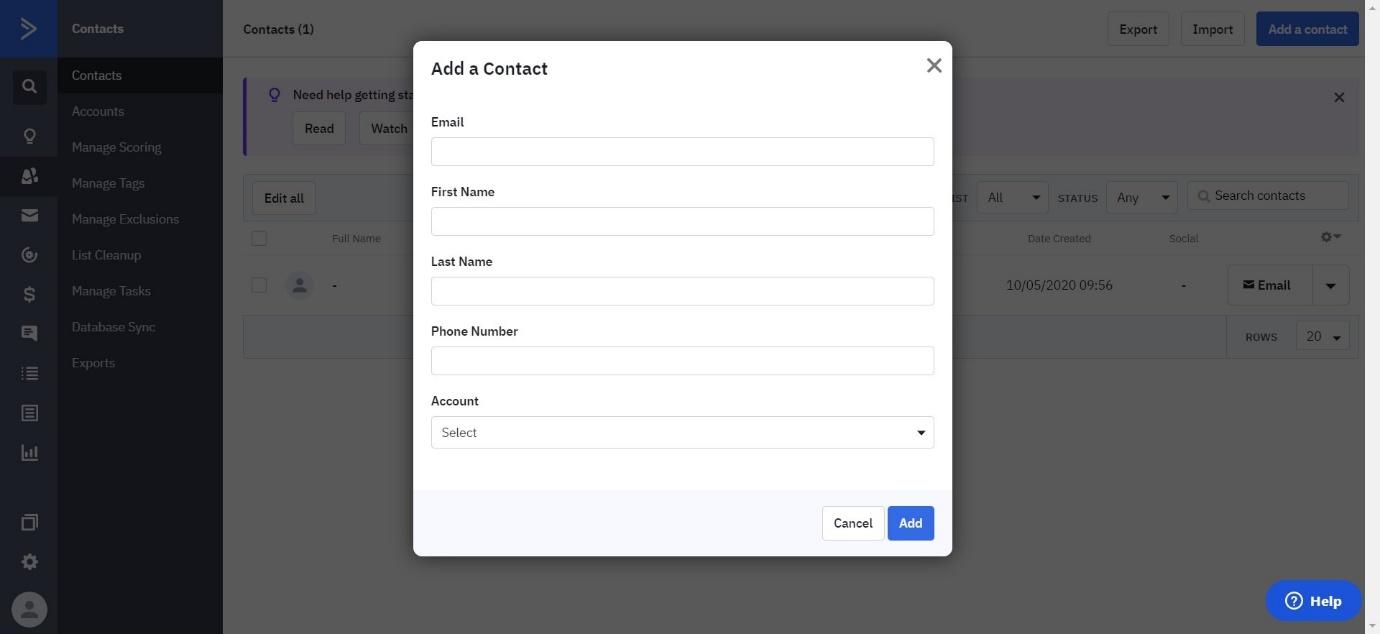 You can create lists, which makes it easier to send targeted emails. For example, you can send emails to customers who have made a purchase with you before.
You can also add tags to customers or contacts (these can also be added automatically using your marketing automation). This helps to keep your contacts organized and will allow you to target them with future campaigns.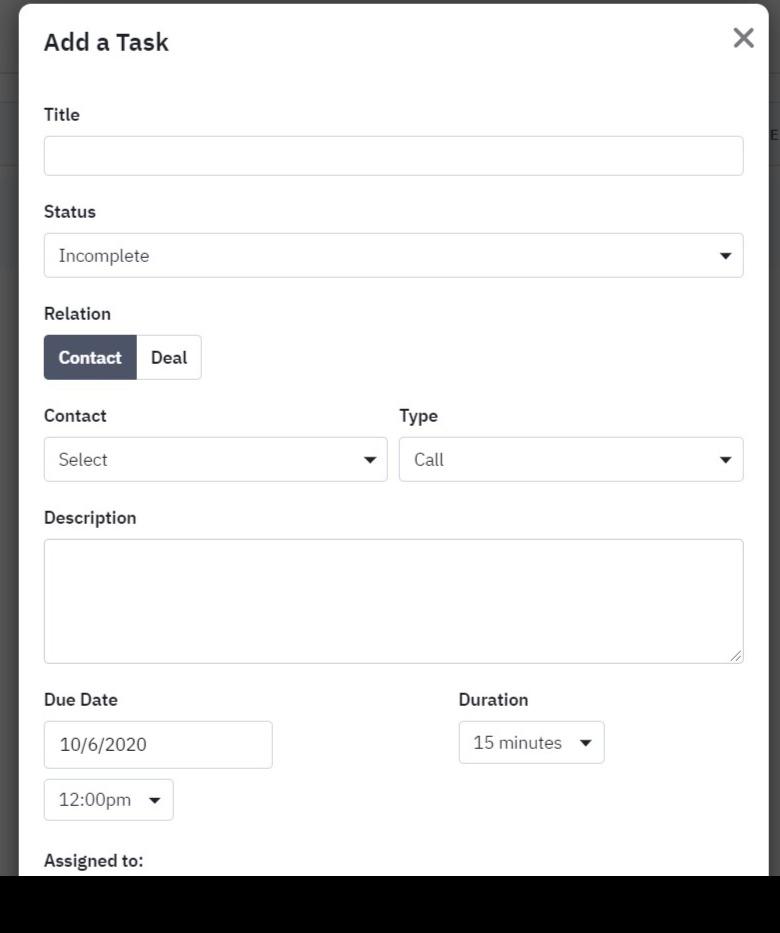 You can also create tasks, with due dates and duration.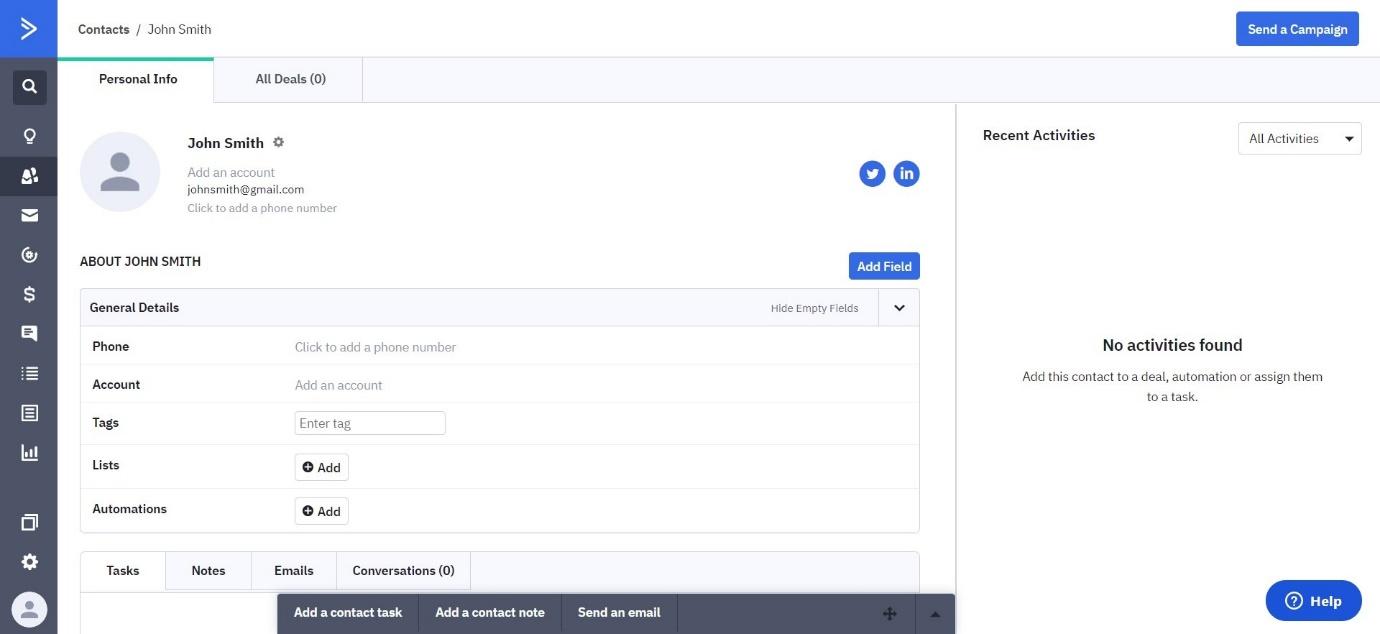 Clicking on a contact will bring up all your previous conversations (if they've interacted with you via your website), your email history, any tasks or notes relating to that contact, and their social media links. You can view their recent activities and see any deals they are engaged in.
Contact scoring will allow you to focus on your most engaged contacts. Points can be added or taken away automatically depending on the rules you create. For example, you can give points when emails are opened, if they visit your website, or if they submit a form. Points can be taken away if a contact unsubscribes. This is not available on the cheapest price plan.
Analytics
Analytics is easy to access using ActiveCampaign. You can view campaign reports, automation reports, goal reports, contact reports, deal reports, chat conversation reports, marketing revenue, and conversion attribution. They give you a good amount of information about how your campaigns are performing.
Reports can be shared with other team members via email.
Other Features
There are a few other features to talk about.
ActiveCampaign has a Chrome extension. This allows you to work with your Gmail account, tracking emails, seeing CRM information from our Gmail inbox, and adding new contacts with one click.
They also have a free mobile app. Available on iOS or Android, it allows you to view stats from your sent campaigns, and view and edit tasks, contacts, and deals.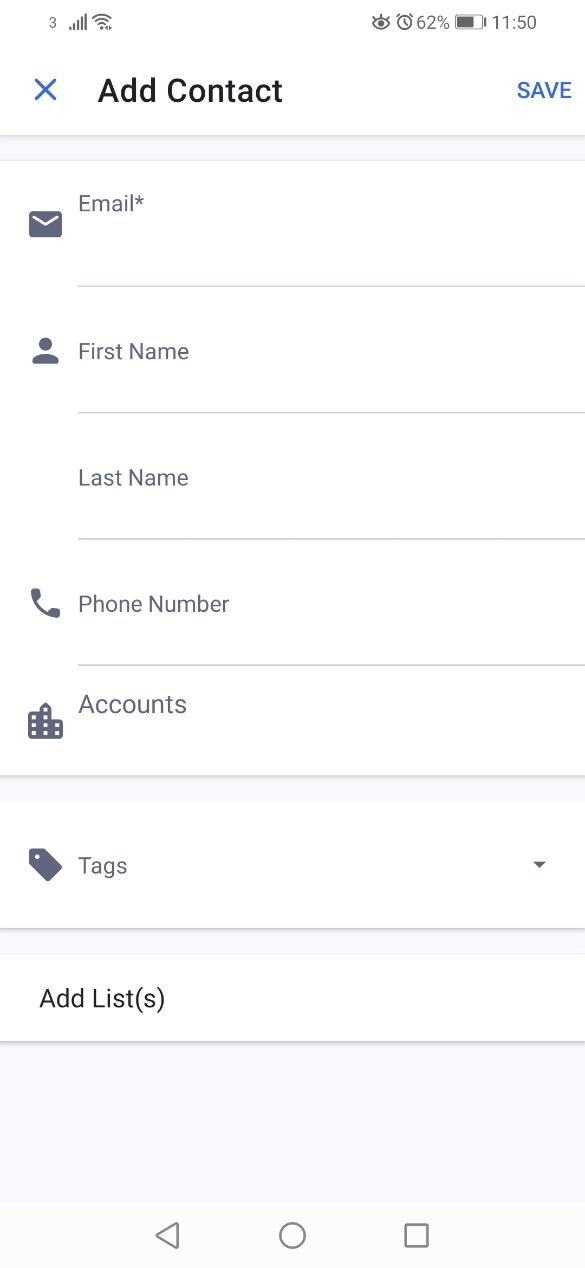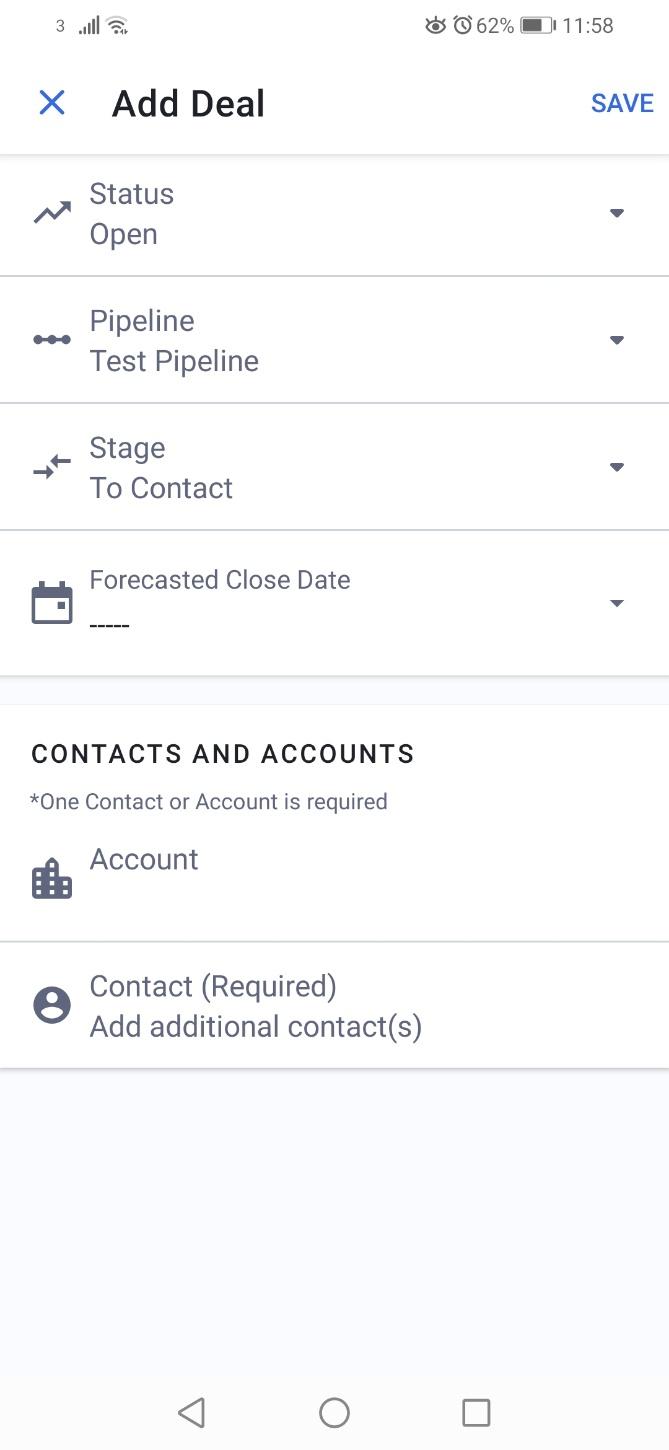 It's a helpful app, although you can't create campaigns directly from your phone or mobile device.
You can create forms to capture contact details, which can be inserted into your website or emails.
You can build landing pages with ActiveCampaign, too. This is not available on their free trial, so we weren't able to test it, but it looks to be a drag-and-drop page editor.

Klaviyo – the Main Features
Let's look at what Klaviyo has to offer.
User-Friendliness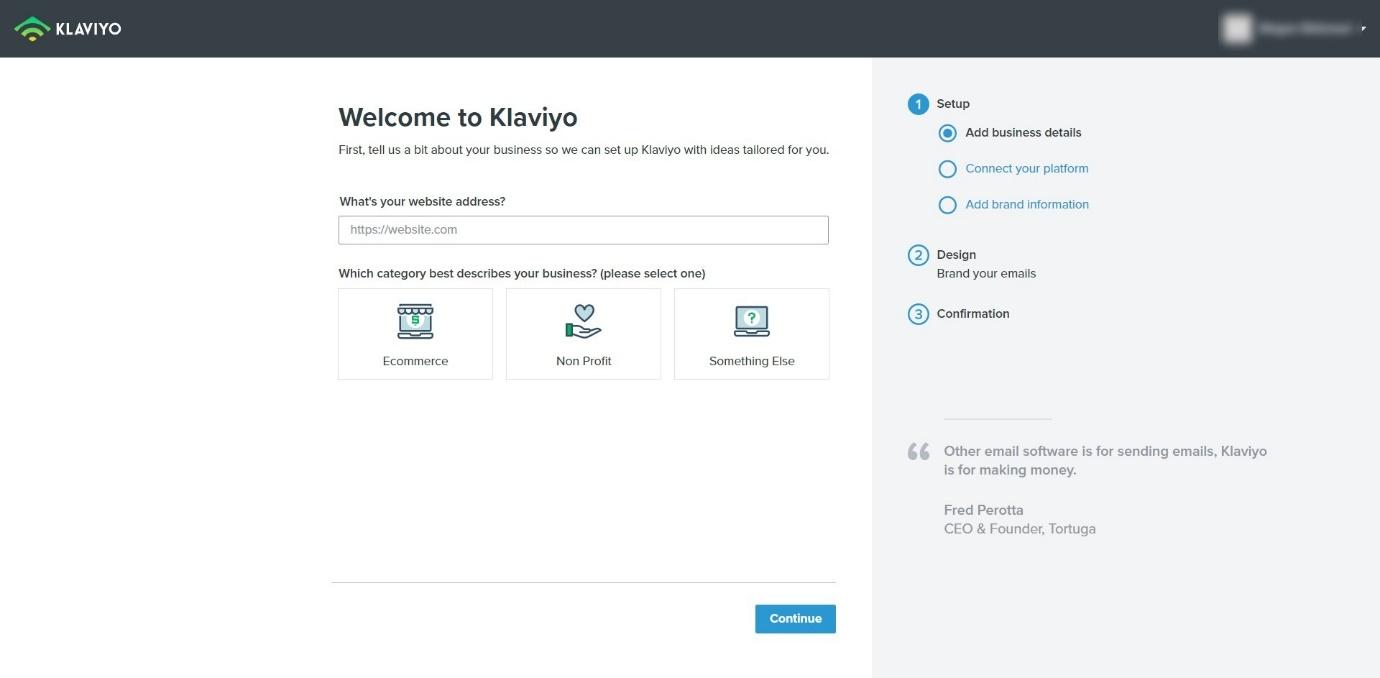 It's easy to get going with Klaviyo. You can customize your experience a little by choosing what kind of business you run, as well as adding your own logo and branding.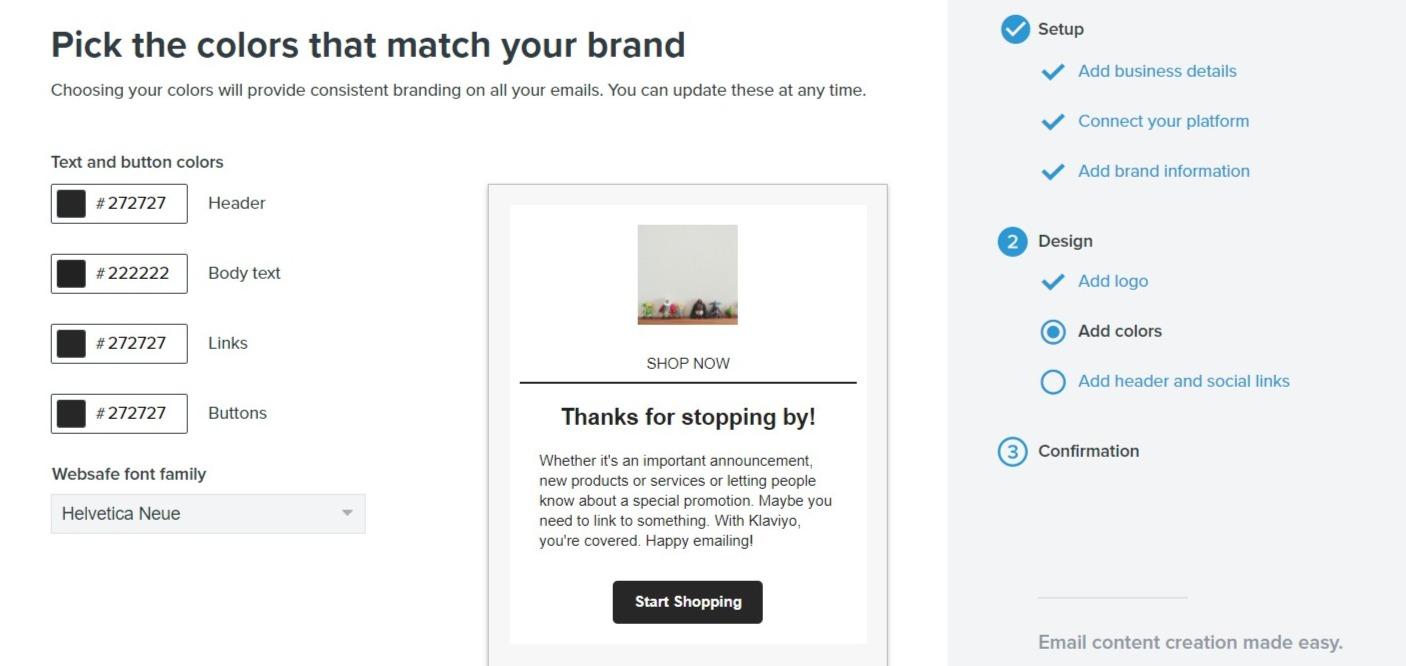 Once you're in, it's pretty easy to navigate. Everything you need is on the left, and they've included a few videos to help you get started.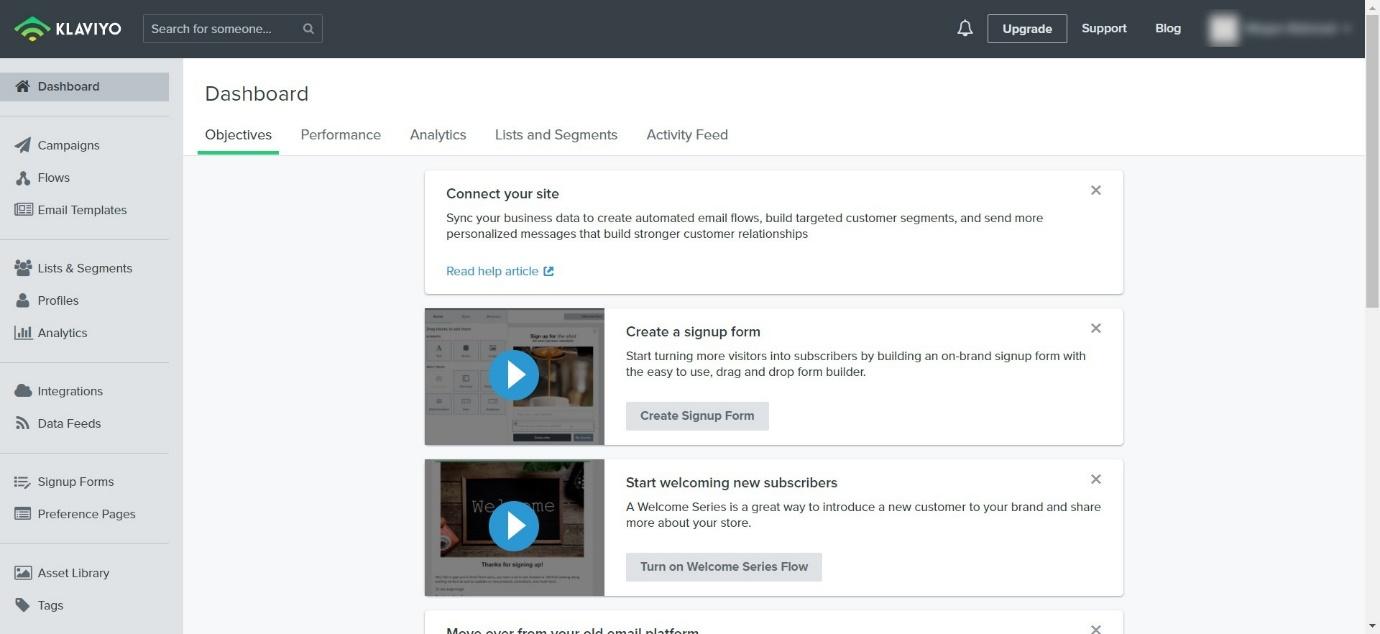 Email Marketing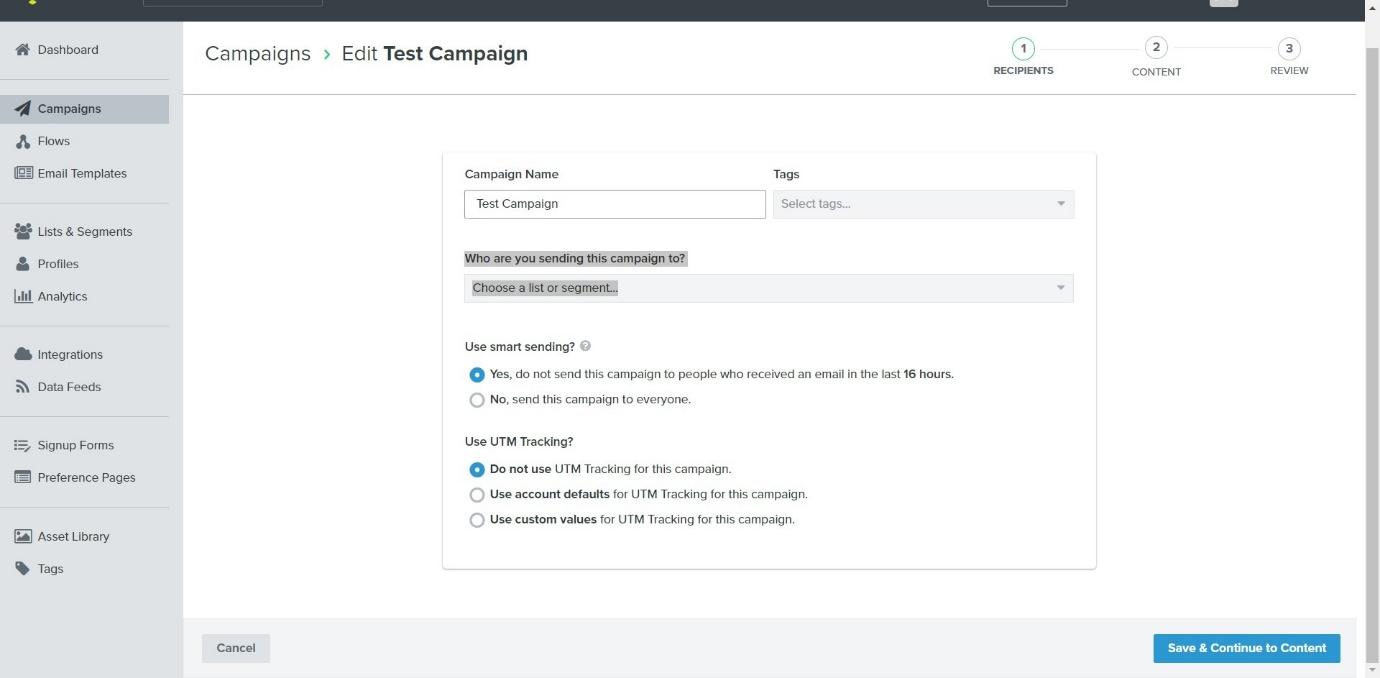 Setting up a new campaign is pretty straightforward. You can choose from text only, a drag-and-drop editor, or an HTML email builder.
They have a large selection of email templates, which can be quickly accessed from the navigation bar on the left.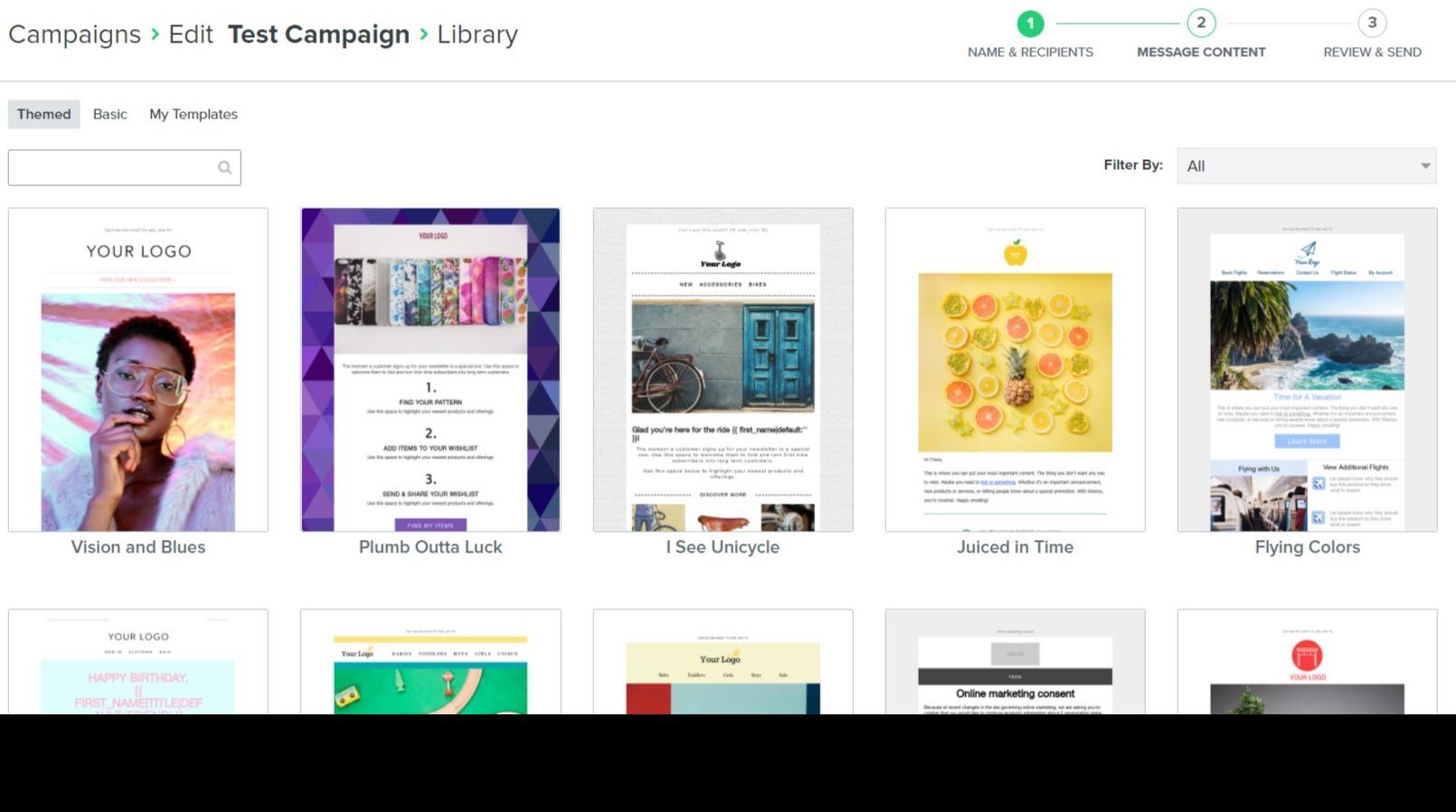 The themed emails are beautiful to look at, and they give you a really good idea of the kind of emails you can design using Klaviyo.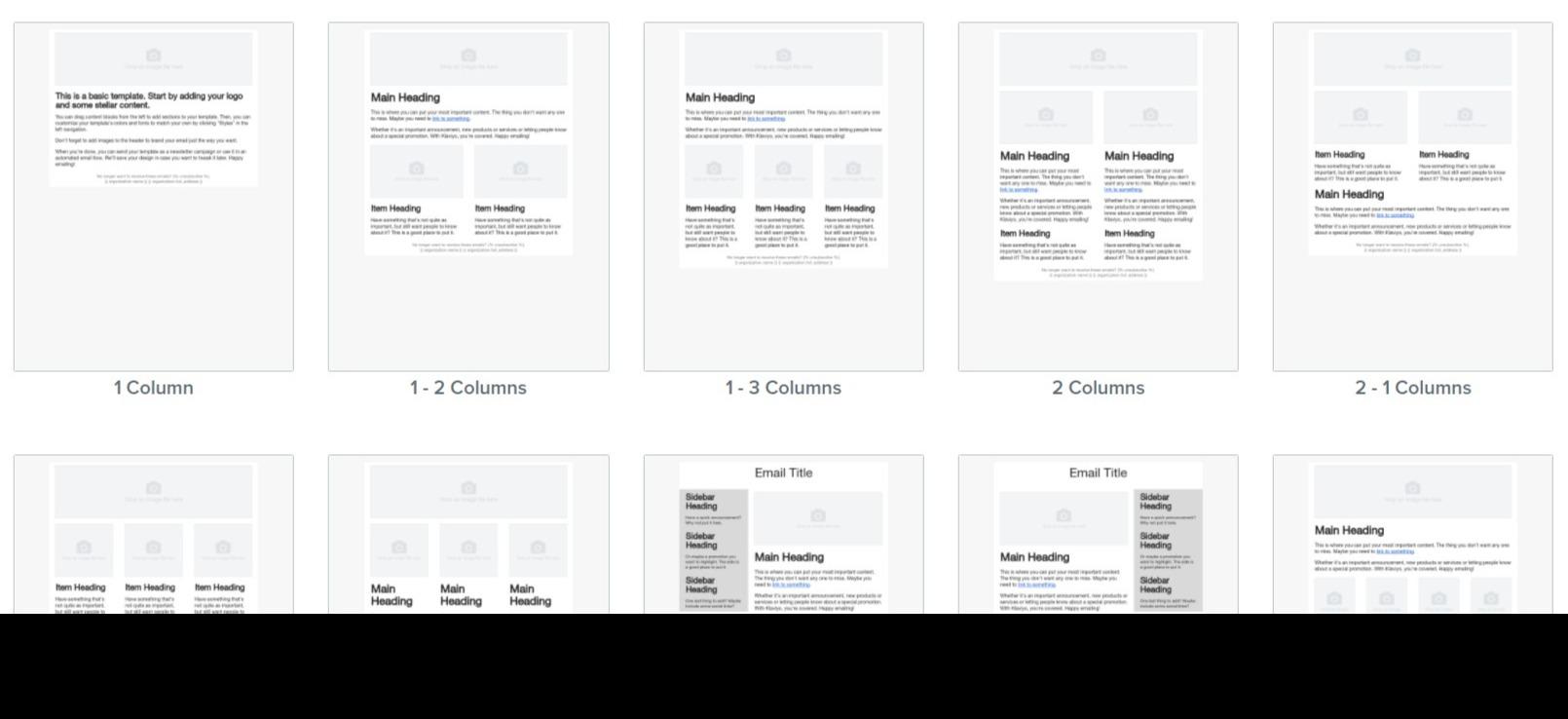 They also have basic templates which you can customize.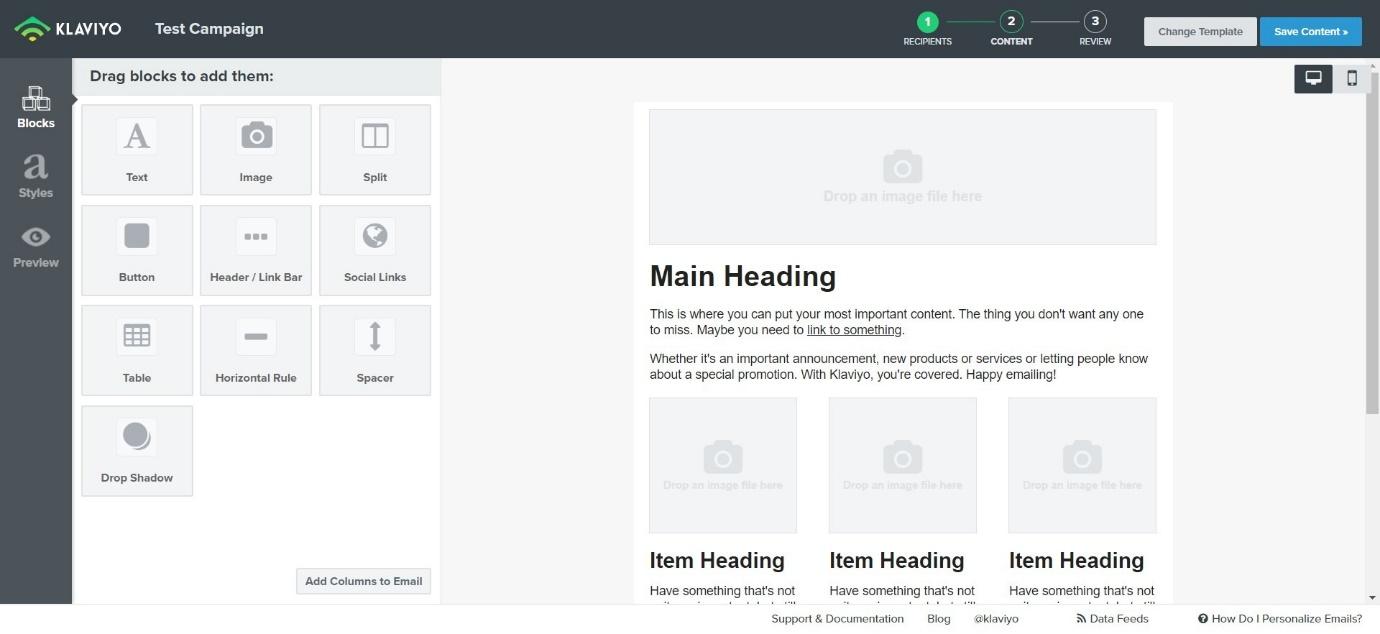 You can drag and drop blocks where you want them to be. You can add text, images, split blocks, buttons, headers/link bars, social links, tables, horizontal rules, spacers, or drop shadows.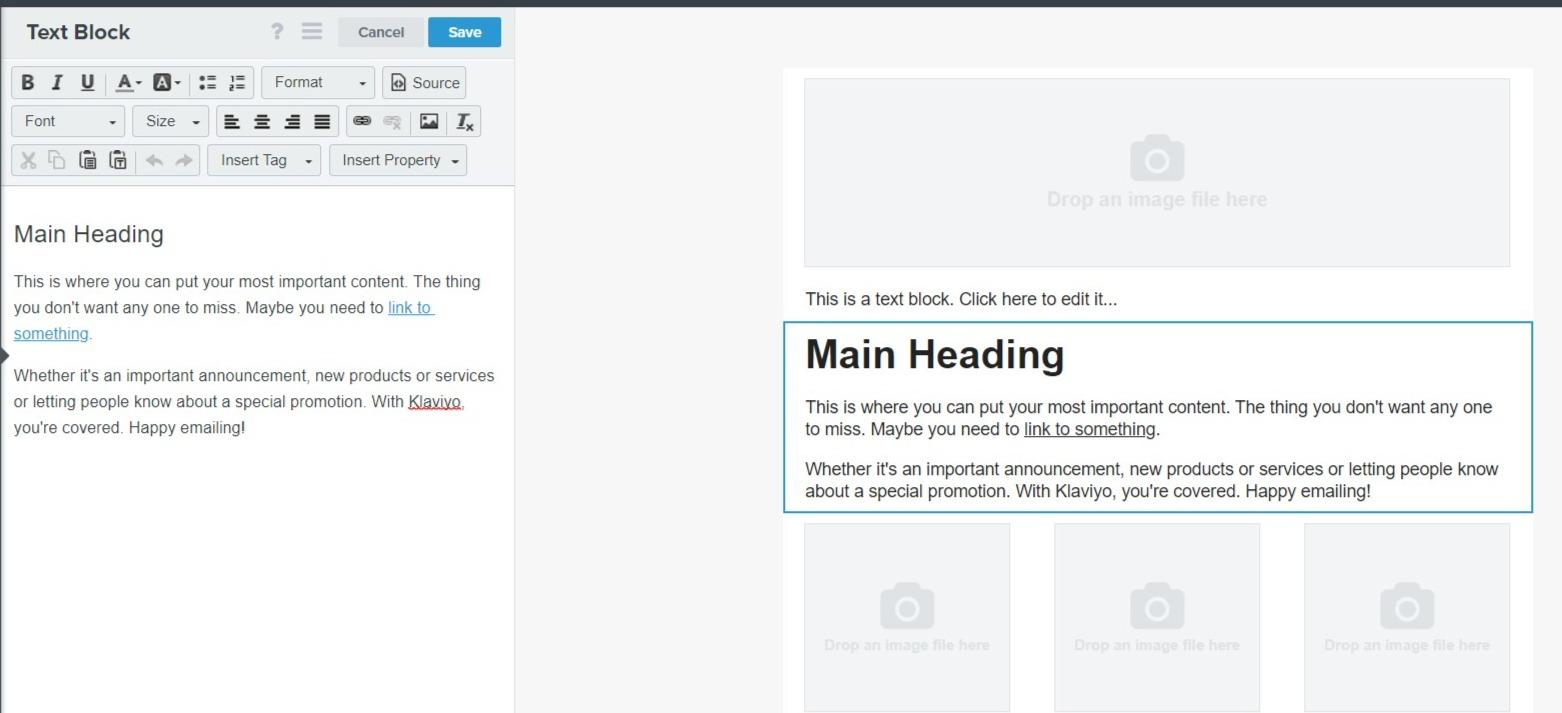 Each section can be customized, including changing the formatting, font sizes and types, and color schemes.
Once you've finished your email, clicking 'add variation' allows you to create another version of the same email for split testing.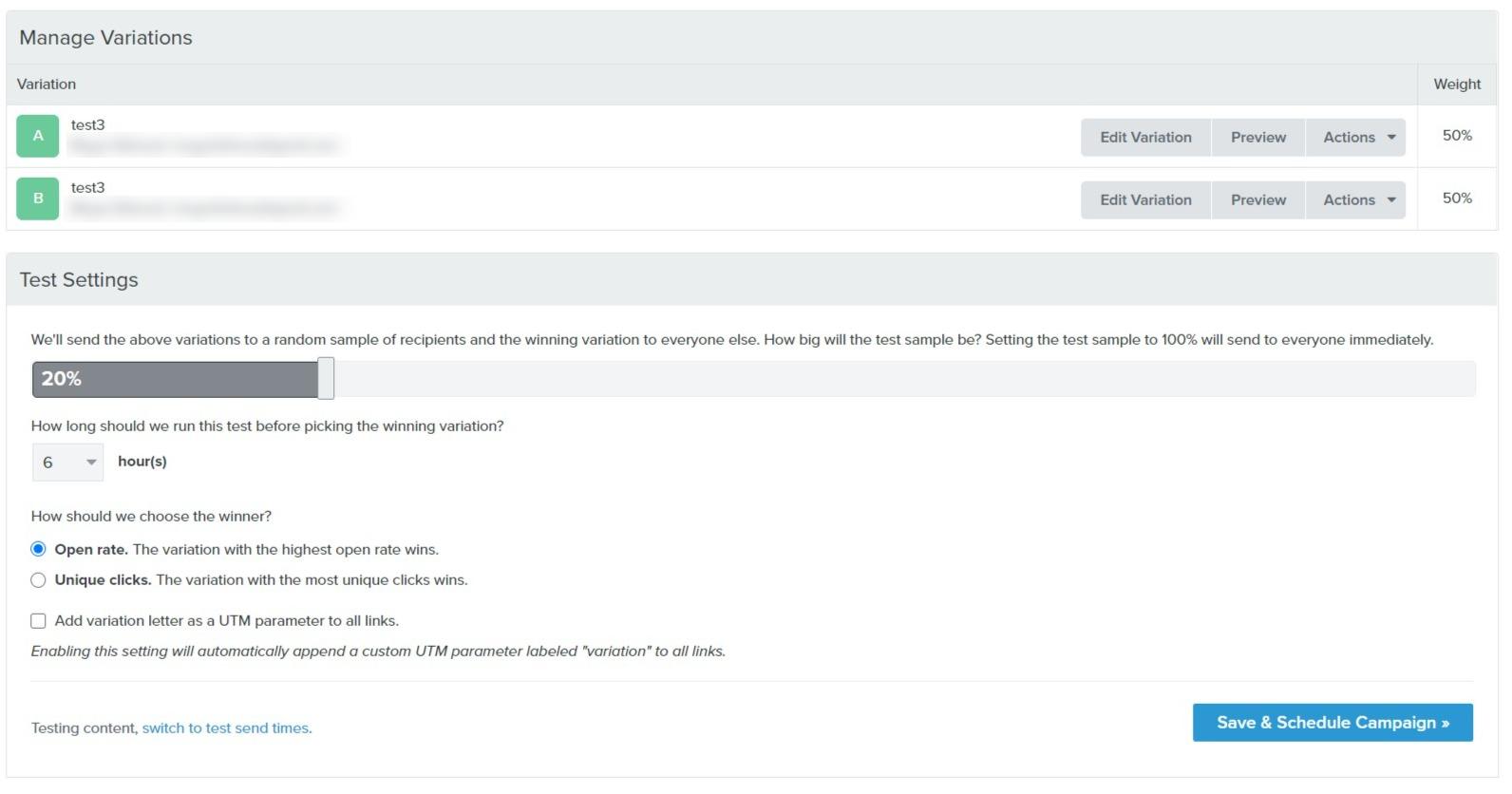 You can select the variations you want to test, as well as set the ratio percentage, timing, and how you would like to determine the winner (you can choose open rate or unique clicks as the deciding factors).
You can also create SMS campaigns with Klaviyo. You can choose the timing, scheduling your text messages to send when they're most likely to be seen and opened. Plus, your first 50 SMS messages are free, which allows you to test it out. You can pay as you go, which is great if you don't want to commit to buying a lot of them.
You can also utilize Facebook Custom Audiences (usual fees apply for Facebook). Then, you can use their smart segmentation (more on that shortly) to find people from Facebook who are likely to engage with you.
Marketing Automation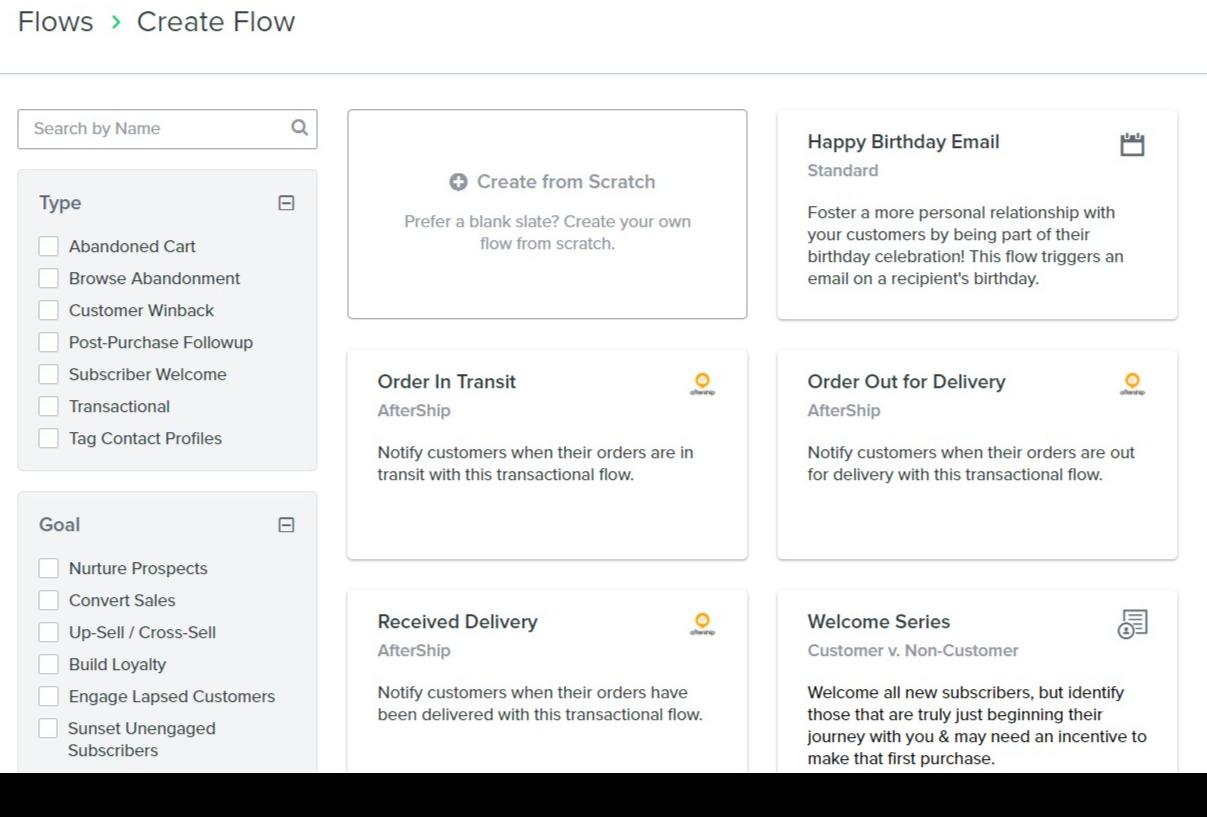 Creating automation (or 'Flows') is fairly simple, although it's not as intuitive as ActiveCampaign. It doesn't walk you through the process the first time you click on it in the same way that ActiveCampaign does.
You can search through the templates by name, or just browse the individual categories.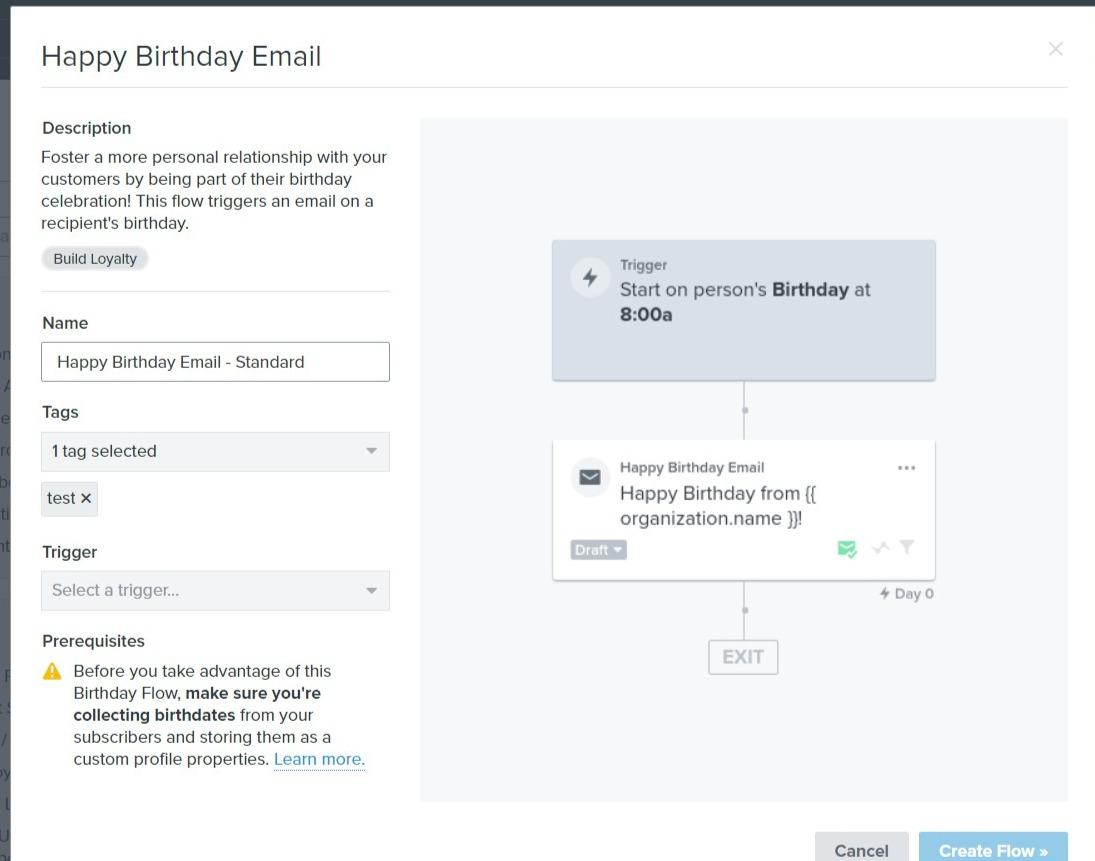 To create a new Flow, you have to first assign tags and a trigger. Once you've done this, you can start adding steps.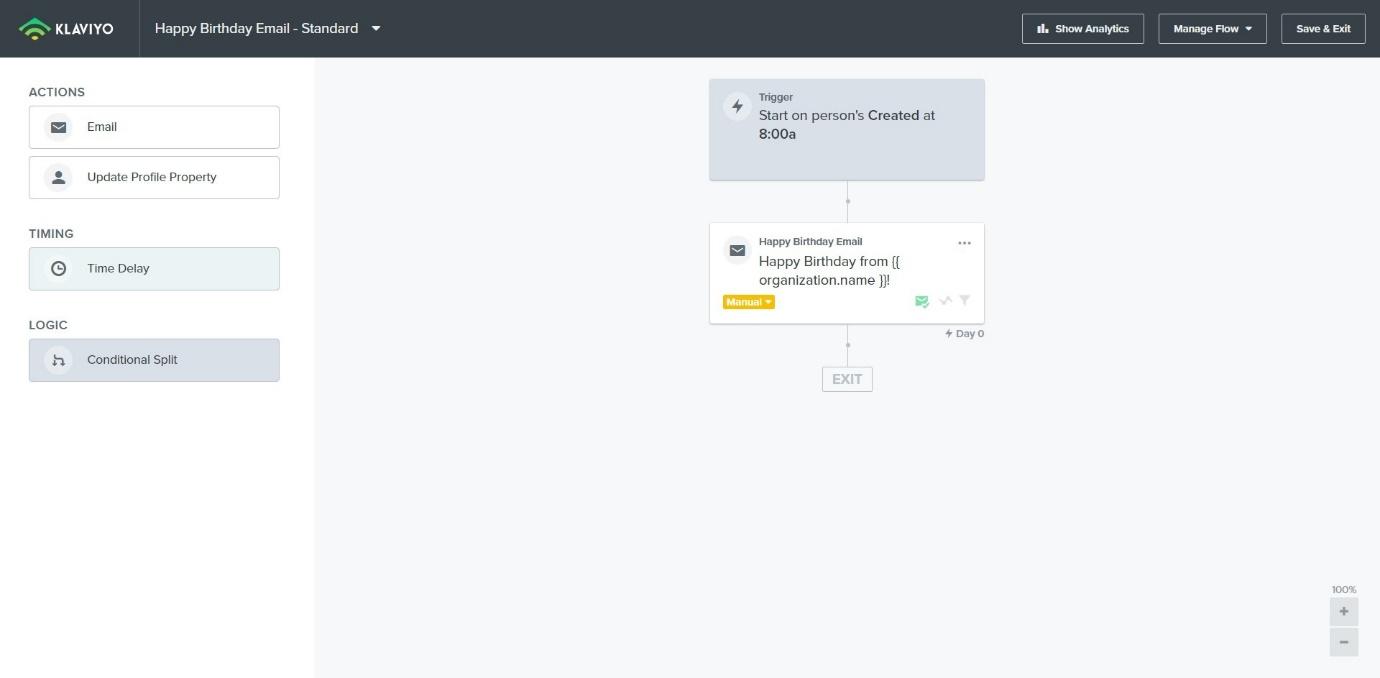 It definitely feels a bit sparse, and less simple to work out how to add new steps or edit each individual step. However, you can create powerful automation using Klaviyo – it just has a steeper learning curve.
One great feature is that you can quickly view analytics for each step: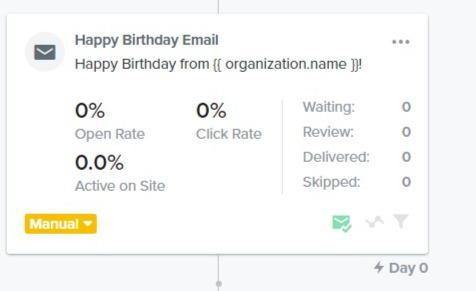 It's handy to be able to see this quickly, as you can make informed decisions about which steps are the most effective.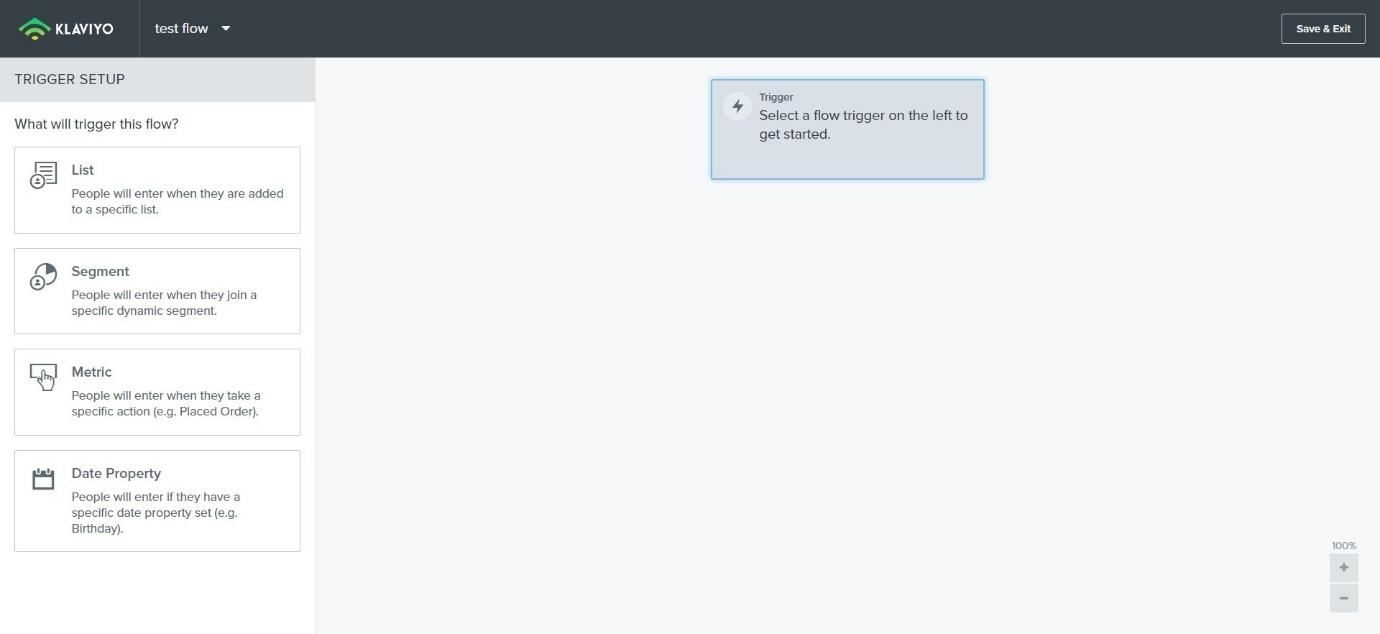 You can create Flows from scratch if you'd prefer. Again, this isn't as intuitive as ActiveCampaign, but it's not cluttered, so you should be able to see what you need straight away. You might just need a bit more time to learn it if you've never built an automation from scratch before.
CRM
CRM is a strength of Klaviyo – they focus on using customer data in the smartest way possible. You can create customer profiles, which gives you all the information you need to know about each contact.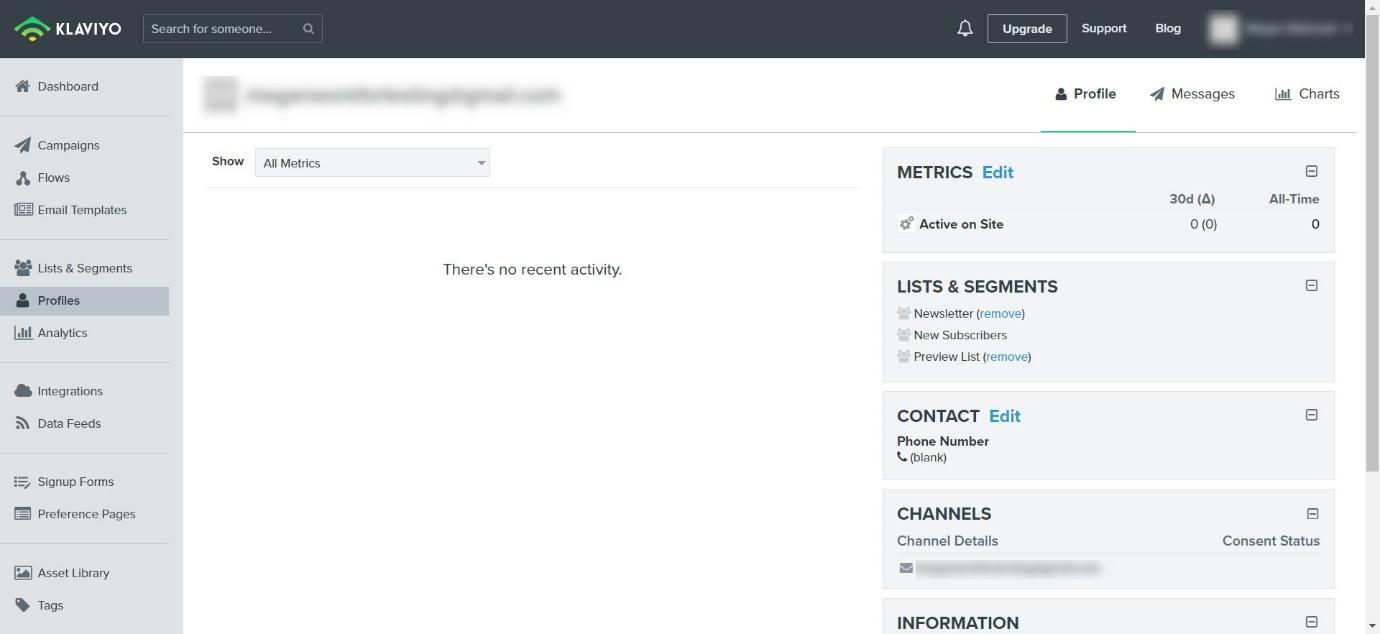 You can view key metrics, like how active they are on your website, which lists and segments they belong to, their contact details, and the emails they have received, opened, or responded to.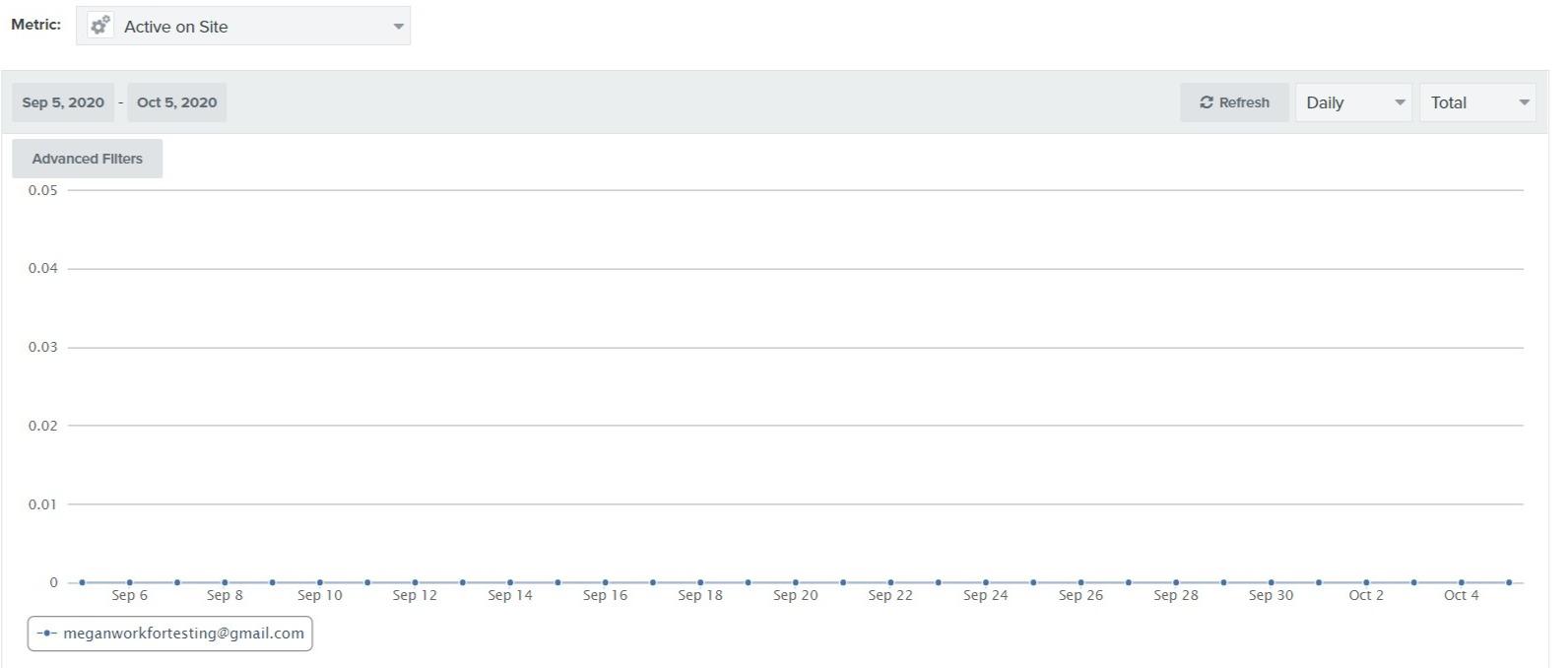 You can also view analytics for each contact in the form of charts, which gives you a nice visual clue as to how engaged they are with your business.
You can view:
Purchase history
How much time they have spent on your website or reading your emails
How much money they have spent
Klaviyo also uses Predictive Analytics. This uses previous data on each contact to predict what they might do in the future. You can even see how likely they are to make purchases (right down to their next expected order date, how much they are likely to spend, and the predicted number of upcoming purchases).
You can view the probability of each customer losing interest in your business, calculate their lifetime value based on past purchase history, use predictive buying cycles to time your automated email campaigns around the time that your customers are likely to buy again, and even automatically calculate the most effective time to send emails.
Although it may take a little while to get your head around how to use this properly, having access to this data could help you to market your products to your most valuable customers in the most efficient way.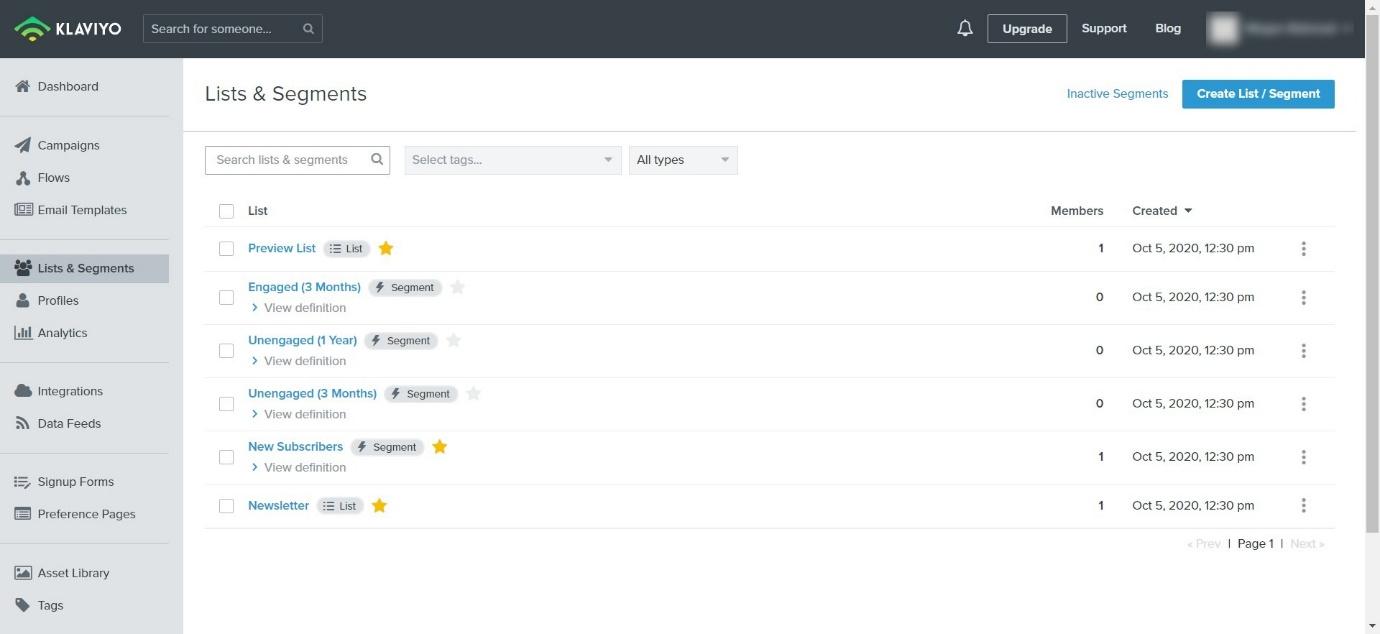 You can take advantage of smart segmentation with Klaviyo. Segments are updated in real-time, and you can automatically segment customers based on behavior. This allows you to send emails that are the most relevant to them.
For example, if you only want to target customers who have looked at a certain category of product over the last week, you can use Klaviyo's web tracking to target those customers specifically. You can also combine segments if you want to.
Facebook Custom Audiences ties in here, as you can import your segments directly into Facebook Custom Audiences, saving you a ton of time and allowing to advertise on another platform.
Analytics
Reporting is pretty good with Klaviyo. You can easily access key information, like bounced emails, clicked emails, emails marked as spam, emails received, etc. You can also run custom reports. These are pretty in-depth, and you can customize them with different variables, like total recipients, spam complaints rate, etc.
Again, this has a little bit of a learning curve, and you may need to follow a tutorial to make the most out of creating a custom report.
Other Features
Klaviyo doesn't have a mobile app or a Chrome extension like ActiveCampaign has.
They do have a form builder, which allows you to capture contact data, which then feeds into your customer profiles.
ActiveCampaign vs Klaviyo – Integrations
ActiveCampaign
ActiveCampaign has a lot of integrations. Here's an overview of the most popular ones:
Ecommerce
Magento
PayPal
Stripe
WooCommerce
CRM
Asana
Evernote
Dropbox
Google Sheets
Social
Facebook
Twitter
Vimeo
YouTube
Zapier
Klaviyo
Klaviyo has a lot to offer in terms of integrations, too, although it does have less integrations with social media tools. Here are a few of the most popular integrations:
Ecommerce
BigCommerce
Magento
SalesForce
Shopify
CRM
Teamwork Commerce
Unstack
Zoho
Olark
Social
Facebook Custom Audiences
ActiveCampaign vs Klaviyo – Support
ActiveCampaign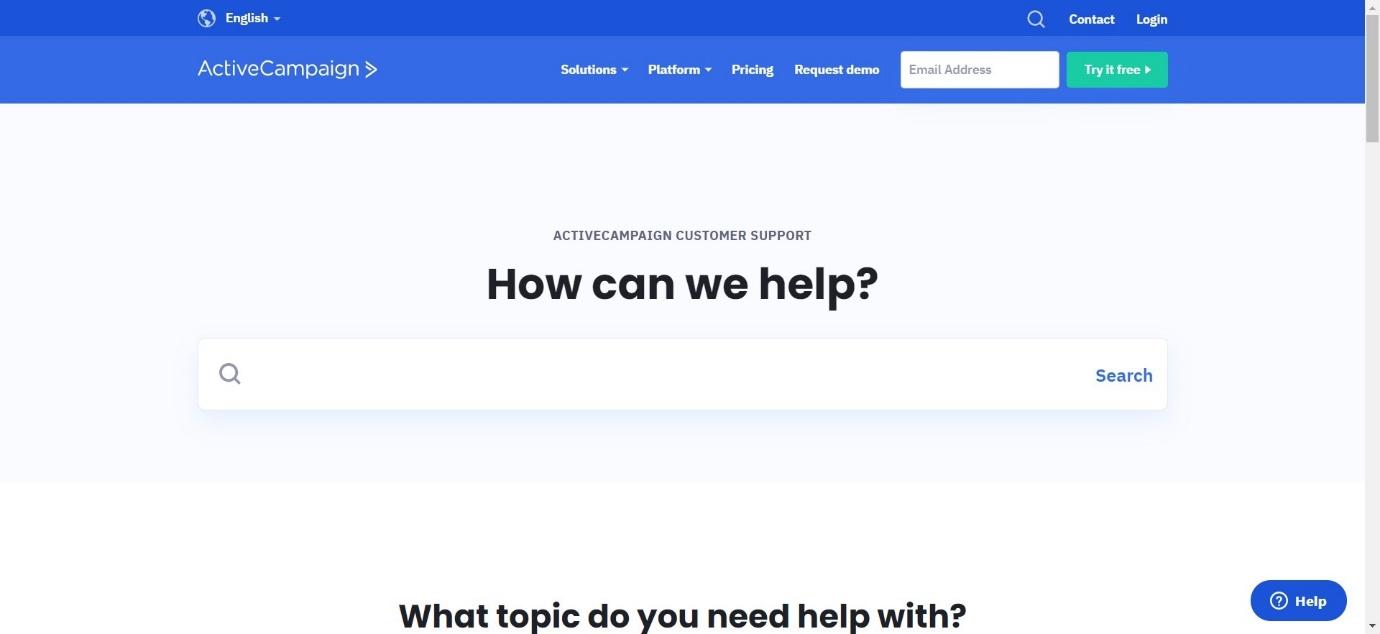 ActiveCampaign has a knowledge base with articles, videos, and guides. It's pretty extensive and easy to navigate. You can also connect to other users for support.
If you need specific support, you can contact them using a form on their website. They are pretty quick to respond and have a good reputation in terms of customer service.
Klaviyo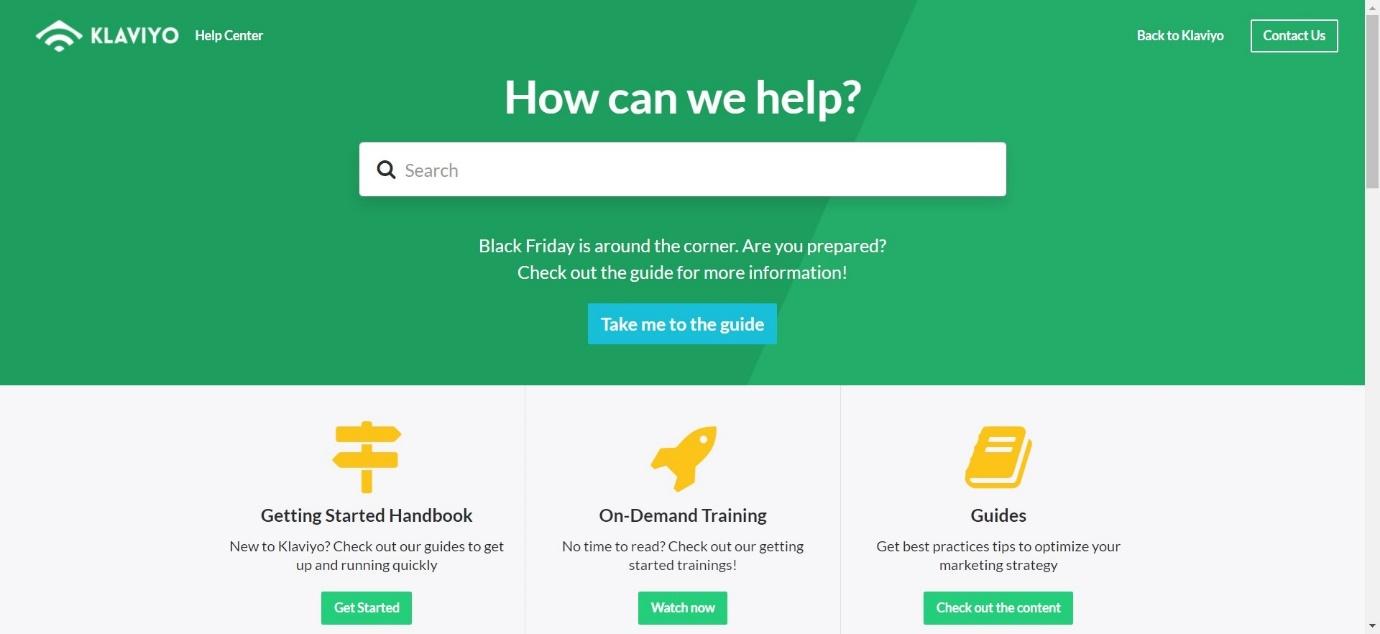 Klaviyo has a helpful, easy-to-navigate Help Center, with plenty of articles, videos, and guides aimed at new users. If you need extra support, you'll have to use the form on their website. The downside is, Klaviyo doesn't have as good of a reputation as ActiveCampaign when it comes to customer services – their team can be slower to respond.
ActiveCampaign vs Klaviyo – Pricing
ActiveCampaign
Based on 500 contacts, here are the price plans available:
Lite – $9/month (paid yearly) or $15/month (paid monthly)
This includes:
Unlimited sending
Email marketing
Send newsletters
Subscription forms
Marketing automation
Chat and email support
Up to 3 users
Plus – $49/month (paid yearly) or $70/month (paid monthly)
This includes:
Everything from Lite
CRM with sales automation
Landing pages
Facebook custom audiences
Lead and contact scoring
Integrations
SMS marketing
Dynamic content
Custom user permissions
Up to 25 users
Professional – $129/month (paid yearly) or $159/month (paid monthly)
This includes:
Everything in the Lite and Plus plans
Predictive sending with machine learning
Predictive content with machine learning
Customer attribution and path to purchase
Conversion attribution reporting
Split automations
Site messaging
In-depth onboarding consultation
Automation strategy consultation
3 one-on-one training sessions per month
Up to 50 users
Enterprise – $229/month (paid yearly) or $279/month (paid monthly)
This includes:
Everything from the other plans
Custom reporting
Custom mailserver domain
Custom domain
Dedicated account rep
Free design services
Free social data
Phone support
Uptime SLA
Unlimited users
You can sign up for a free trial here.
Klaviyo
Klaviyo has a slightly different pricing structure. Most features are available on all price plans – you just have to choose the amount of contacts you have and whether you want Email, SMS, or both.
They estimate that 500 contacts for email costs around $20, with an additional 100 SMS messages on top of that coming in at $21. The exact cost will depend on your requirements.
They also allow you to set up a free account, sending your first email for free before you decide upon a price plan.
You can find out more about it here.
ActiveCampaign vs Klaviyo – Pros and Cons
Let's look at the pros and cons of both.
ActiveCampaign
Pros
Easy to use and intuitive to navigate
Lots of support available
CRM features are very useful
Good integrations
Good customer support
Cons
Some features aren't available on the cheapest plan
A lot of features might not be that useful if you're just looking for a simple email marketing platform
Klaviyo
Pros
Email templates are beautiful
Smart segmenting allows you to use customer data effectively
You can predict future customer behavior
The help center is very informative
Cons
Lacks the sales automation that ActiveCampaign has
Not as easy to figure out the automation
Customer service team isn't as responsive
ActiveCampaign vs Klaviyo – Alternatives to Try
There are a few other platforms you can try:
GetResponse allows you to create beautiful emails and landing pages for your customers. You can read more about it in our ActiveCampaign vs GetResponse comparison.
Drip offers advanced tools in terms of creating marketing campaigns. It has a steep learning curve but can produce powerful results if you can spare the time to learn how to use it. You can find out more about it in our ActiveCampaign vs Drip comparison.
ConvertKit is ideally suited for bloggers and content creators, giving them access to tools to increase their contact list. You can find out more about it in our ActiveCampaign vs ConvertKit comparison.
Frequently Asked Questions
Here are some of the most commonly asked questions about ActiveCampaign and Klaviyo:
Do ActiveCampaign or Klaviyo allow you to build landing pages?
ActiveCampaign has a page builder. Klaviyo doesn't have a dedicated page builder as such, but they do allow you to create a form page, which will allow you to capture customer contact details.
Have ActiveCampaign or Klaviyo had any security breaches in the past?
No, neither platform has had issues with security breaches.
Do I have to download software onto my computer to use ActiveCampaign or Klaviyo?
No – they're both cloud-based, so you can use them in your browser.
Can I easily quit ActiveCampaign or Klaviyo?
Yes – you can cancel at any time in the 'account' section. Bear in mind that if you've paid for a full years' access, you will be able to use your account up until the time runs out.
To Sum Up – Which is Better?
Our overall winner today has to be ActiveCampaign.
Klaviyo has some really great features. Being able to predict future customer behavior – right down to when they're next likely to make a purchase – is a powerful tool, and that combined with the smart segmentation means you might want to give it a try (especially if you're experienced in building automation already).

However, what gives ActiveCampaign the edge is the features – the page builder and the sales automation, for example – and the fact that it has a lower learning curve. It feels a little more user-friendly, and the customer service team is great, which we think is pretty crucial.
We hope this has helped you to find the right email marketing platform for you.
If you've used either platform, we'd love to hear your thoughts in the comments!