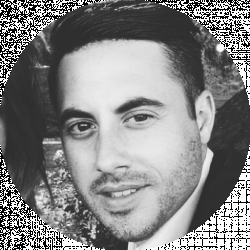 Latest posts by David Borgogni
(see all)
Last Updated on October 15, 2022 by
If you're looking to gain new skills in a particular area, online learning is a great way to go about it. You can learn whenever you want, and wherever you are – even if you're on the move. Whether you need to study to improve your career, or you just want to learn something new, online learning can help.
There are many online learning platform options that offer online learning – from short courses to full degrees. In our Coursera review, we'll be testing the Coursera platform, taking a look at which courses it offers and how the platform works. We'll also take a look at user reviews to see what they have to say about the platform.
Why Study Online?
If you've never studied online before, you might be wondering if it's for you. Here are a few benefits of online learning:
Portability – wherever you are in the world, if you have a device and an internet connection, you can study online. This is a great benefit if you travel a lot.
Flexibility – Do you think you're too busy to study? The benefit of online learning is that you can squeeze it in whenever it suits you. If you have small pockets of free time, you can still study – you can fit it around your lifestyle.
Wide range of subjects – you can find online courses on every subject imaginable! From short courses on wellbeing to learning a whole new language, you should be able to find a great course that suits your needs.
Community – you may think that online learning is a solitary pursuit, but it doesn't have to be. Many courses offer online class discussions as part of their lessons, or forums in which you can connect to other students.
Access to great tutors – with some online platforms offering partnerships with universities, you could access course content from great tutors and professors that you would not normally be able to get.
It can be cheaper than attending a physical college or university – an online learning platform can offer great deals for students as they don't have to pay for a physical space.
It encourages self-discipline – online learning forces you to learn to manage your time appropriately, which is a great skill to master.
The Main Features of Coursera

Founded in 2012, Coursera says it offers 'universal access to the world's best online education', delivering courses in partnership with highly rated universities. It boasts over 30 million users – so what does Coursera have to offer?
Courses are run by great instructors from many educational institutions – lessons include videos, assignments, and forums.
The learner will receive an electronic course certificate when they complete a course
Specializations are a series of courses and projects to give you real skills to use in your career, which looks great on your CV and helps to build a portfolio
You can study university-level degrees via Coursera, in business, computer science, and data science, with some highly regarded universities and colleges
MasterTrack Certificate offers Master's programs in online modules, which count towards your degree
The app allows you to study wherever you go
Courses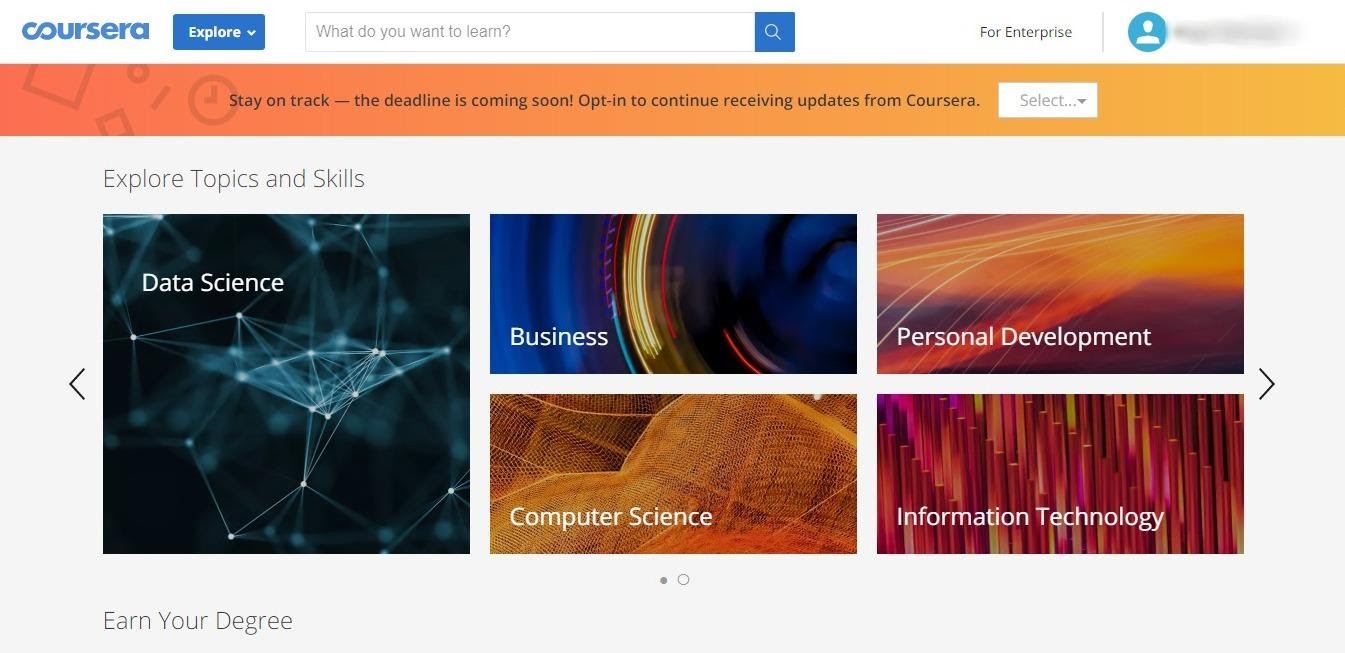 You can sign up to Coursera for free. This allows you to browse through the subjects, and you can see straight away that there's a lot to choose from.
 There are individual courses in the following categories:
Data Science
Business
Computer Science
Personal Development
Information Technology
Language Learning
Health
Math and Logic
Social Sciences
Physical Science and Engineering
Arts and Humanities
Once you've signed up for one or more courses, you can easily see your progress by clicking on the 'My Courses' section.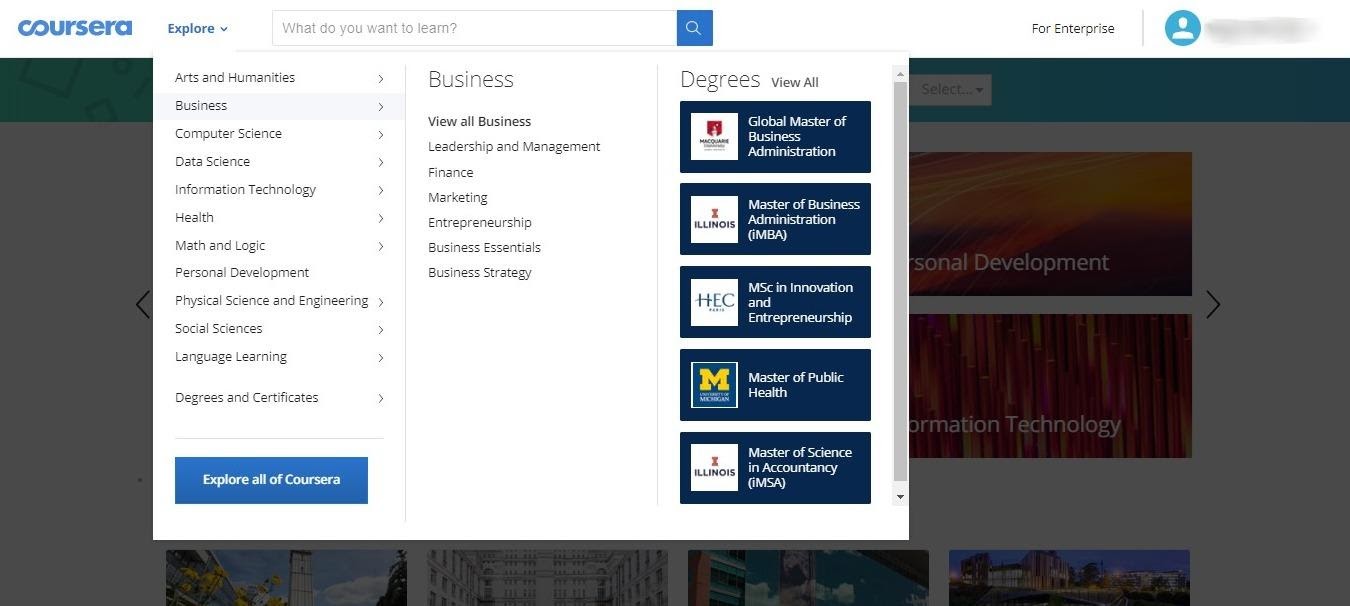 When you click on 'Explore', you can view the courses by category. You can also see the degrees offered in each category.
Some courses are completely free – like the Philosophy course we looked at, created by the University of Edinburgh:

The Course Overview gives you a detailed look at the syllabus, showing you the outcomes for the course, and reviews from previous students. It will also show you the lecturers and a little more information about the university itself.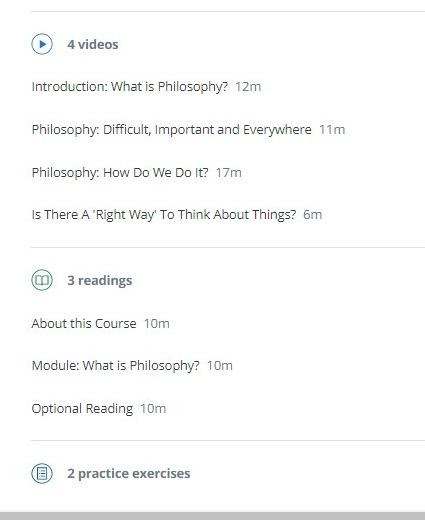 You can get a really good idea of how the course is structured – you can see from the above image the detailed breakdown of what the lessons will look like. The Introduction to Philosophy course consists of readings, quizzes, practice exercises, and videos.
With this Introduction to Philosophy course, you can either purchase the course or 'Full Course, No Certificate' option. This allows you to access the materials for free, but without the certification at the end.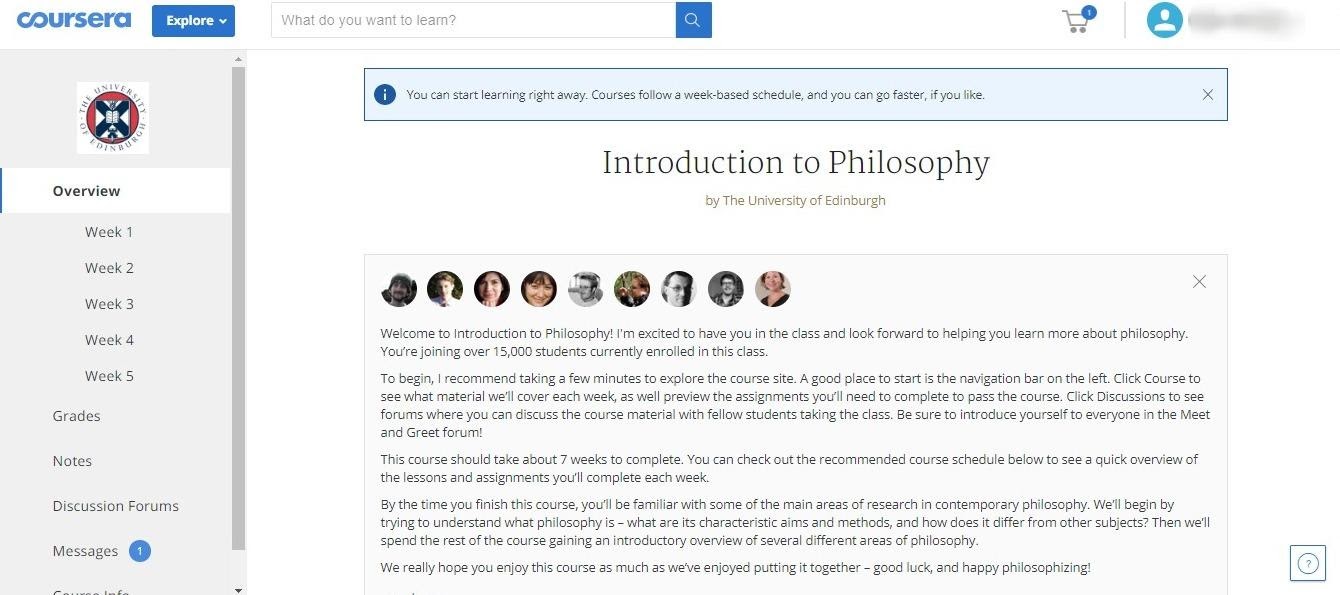 Once you have registered with the course, you can access the materials. The courses are meant to be split over a certain number of weeks and usually have a start date. However, with the course we tested, we could access all the materials straight away.
The Forums allow you to discuss the materials with other students. This is not only a great way to meet new people, but it's also helpful to extend your learning and see other perspectives on the subject.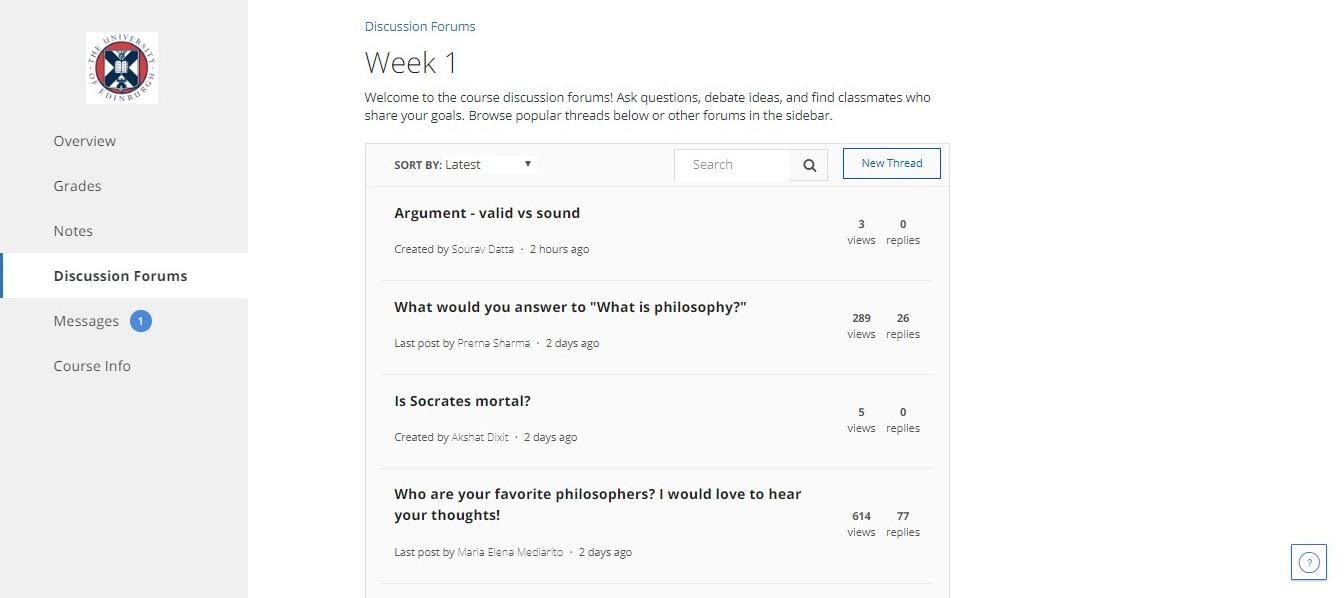 The forums are easy to navigate, and it's simple to leave messages and chat with other students.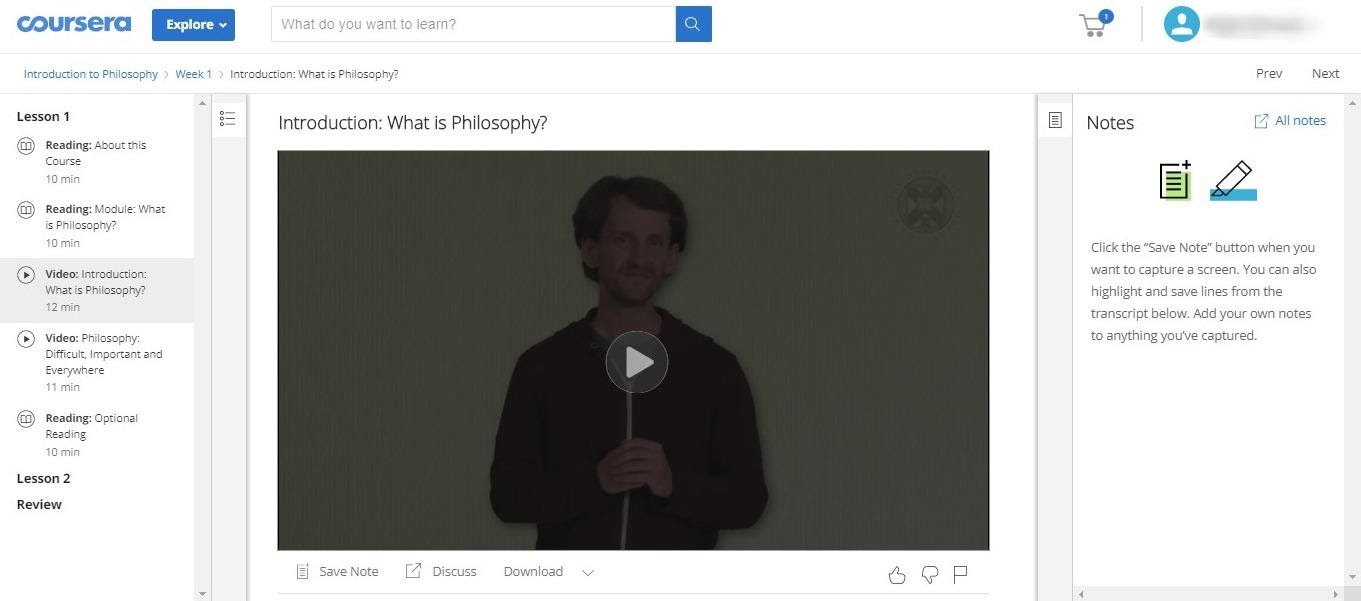 Once you click on a lesson, the sidebar on the left allows you to see an overview of each section. The sidebar on the right acts as a 'Notes' area. This is great if you're watching a video lesson and want to jot down key points and ideas.
The lessons are designed to be as accessible as possible – you can see a full transcript of each video underneath as it plays. You can also choose to view the video with subtitles, or even download the video to watch later.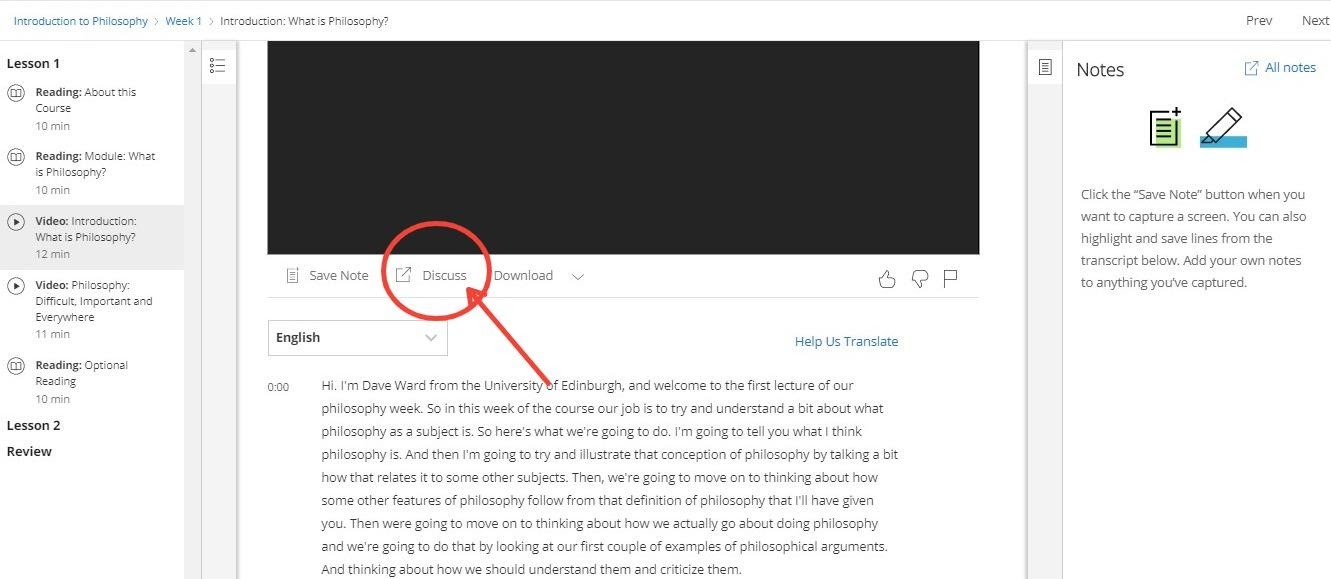 If you click 'Discuss' underneath the video, it opens up a discussion forum in a new window. This is really helpful, and we could see how Coursera promotes the connection between students.
The video we watched, by a professor at Edinburgh University, was very detailed, interesting, and well presented. We could see from the overview that the course contained an impressive amount of course content, covering a lot of different topics – all for free if you choose to forego the certificate at the end.
You can see each graded assignments or quiz, when it's due, and how the grades are weighted. This is very handy to have, as it can help you plan when you will complete the assignment.
Overall, the course we looked at was easy to navigate, appealing, and interesting.
Coursera Specialization
Specializations are a little different than standalone courses.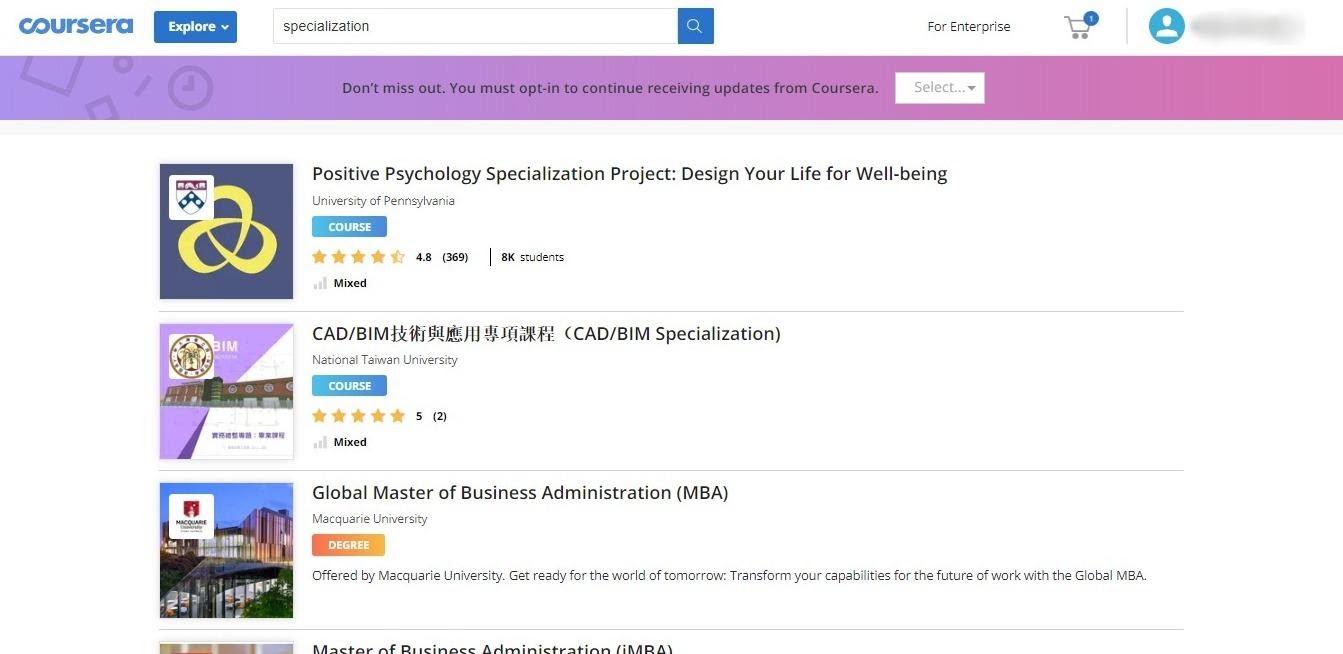 They're a series of related courses, usually designed to help you perfect a specific skill. They vary in length, from a few months up to a year. At the end, you will receive a specialization certificate.
As you can see, the overview of a Coursera Specialization is similar to a standalone course:
In this Specialization certificate, 'Python for Everybody' by the University of Michigan, you can see an overview of each Coursera course you'll need to complete. It also shows you who the instructors are, as well as a basic idea of how it works.
Specializations always contain something that is referred to as a 'Capstone Project', which you need to complete in order to receive certification. These are usually hands-on projects that mimic real-life scenarios you may come across in your job. In the 'Python for Everybody' course, the capstone is the course 'Capstone: Retrieving, Processing, and Visualizing Data with Python'.
You can see the potential here – if you need to learn a new skill for your career, you can gain very specific knowledge here. If you're job hunting or you want to progress to the next step, this could be a great way to get there.
You can sign up for a 7-day Free Course Trial, which gives you access to a great course without committing to payment – you have to input your card or PayPal details, but you can cancel at any time (some users have had issues with this, however – see the 'Cons of Coursera' section for more information on that).
As you can see, the courses all work the same way – with an overview, discussion forum, and the 'grades' section to see when assignments are due.
As you can see here with this specific course, the assignment is retrieved from email data from an open source project, and you need to commit to a live session guided by a video lecture.
Degrees
What if you want to study for a whole degree with Coursera – how does it work?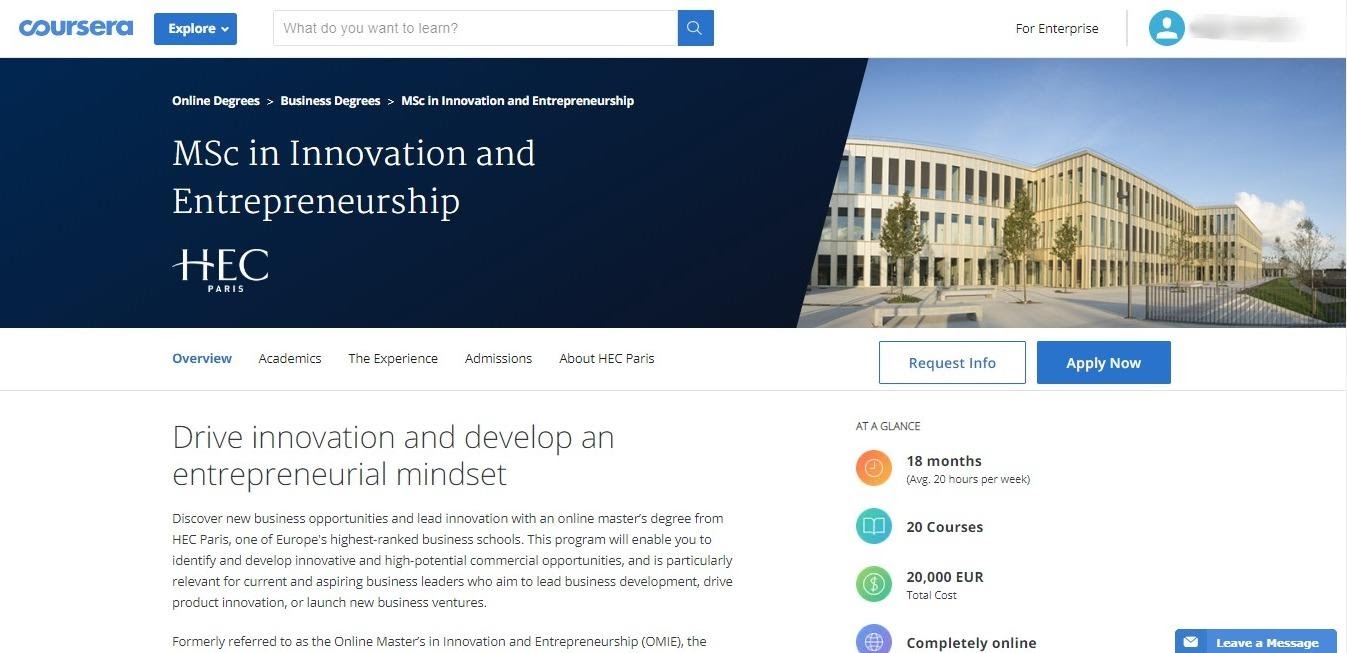 If you click on a specific degree, the overview allows you to see the degree aims, the benefits of the course, information about the university providing it, as well as important information like the time period you have to complete it, and how much it costs.
You have to apply for more information, which may help you to make your decision.
Coursera offers online degrees in the following subjects:
Business
Computer Science and Engineering
Data Science
Public Health
They've partnered with many universities and institutions, including the University of Michigan, Arizona State University, and the University of London.
Enrolment for a degree is a little more complicated. Some of the online degrees offer an Audit option – this allows you to access the course material for free, but you will not be able to submit assignments or get the certification at the end. As you can imagine, this option gives you access to an incredible amount of information if you have the spare time to look through it.
MasterTrack
MasterTrack courses, meanwhile, are semester-length courses, and they can be used as credits towards a degree. They cost between $2,000 and $5,000.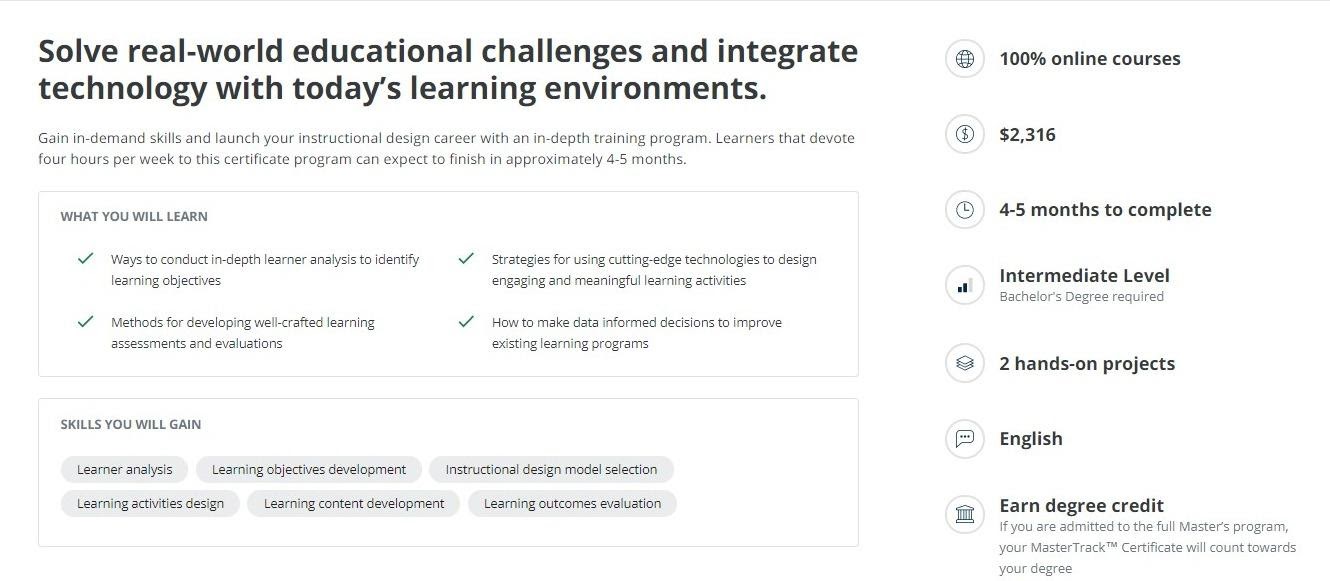 The MasterTrack courses are great because they pack in a lot of information. They offer live global webinars, feedback from instructors, and real-world projects to work on. You can collaborate with peer assessment on a project, which is a great way to boost your portfolio and show potential employers real projects you've worked on.
Universities and Institutions
Coursera partners with many great universities and institutions, including:
The Chinese University of Hong Kong
The World Bank Group
American Museum of Natural History
Princeton University
Google AR and VR
University of Toronto
University of Minnesota
Standford University
Yale University
University of Copenhagen
In fact, there are so many partners that we can't list them all here – Coursera has a list of them on their website. It's an impressive amount of partnerships.
Payment and Financial Aid
Although there's a great amount of free content on Coursera, you do have to pay for some of it. There are a few different ways to pay:
Individual Payment
Payment for an individual Coursera course is very simple – you can pay by credit or debit card, or PayPal. This is a one-off fee which allows you access to certification (once you complete the course).  You will have 180 days to complete the course from the day you pay.
Subscriptions
Coursera also offers subscriptions. You cannot subscribe to the entire Coursera catalog, which is a feature they used to offer. You can, however, subscribe to an individual course. You pay a set fee per month, which will give you ongoing access to that course until you have completed it.
You can subscribe to some Specializations, paying a monthly fee which gives you access to every course in the Specialization until you receive a professional certificate. You can cancel subscriptions at any time – however, looking at user reviews, some people found they were still charged after canceling – so it's a good idea to keep a close eye on that.
Financial Aid/Scholarships
You can also access financial aid or apply for a scholarship. You will need to apply for this, by filling out a form. Coursera will consider your application over a period of two weeks. You will either be approved or denied, and you will be informed of this by email.
Support
The Help Center section of Coursera is pretty easy to navigate: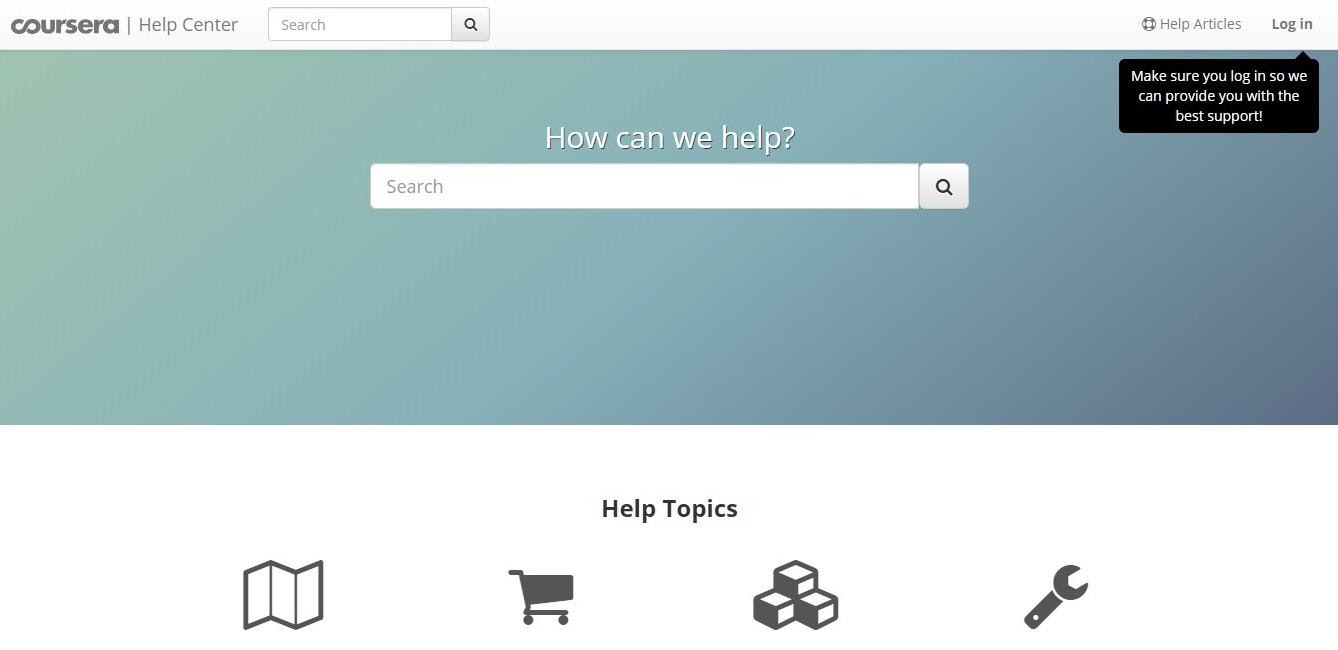 You can search for what you're looking for, or explore the Help Topics. We were able to easily find the information we were looking for. We didn't see any helplines, however – the Contact section redirected us back to the Help Center.
It's unclear if you can contact a real person for support if necessary, which is a shame – especially if you have an issue with payment and you need to speak to someone urgently.
The App
We also downloaded the Coursera app to see how it works.
The app itself is free. It's very simple to use – once you log in you can see the courses you're subscribed to and your progress. You can access all the content, including the forums.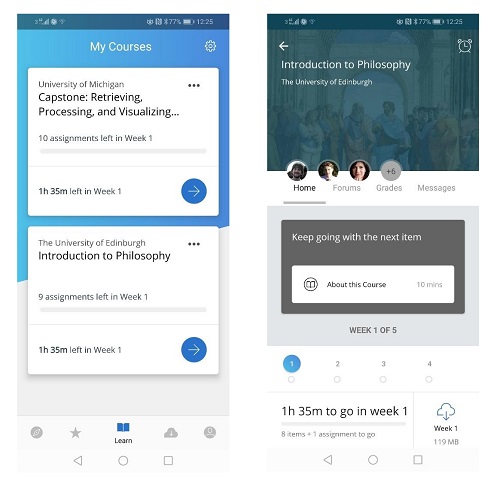 The app is very nicely designed and easy to navigate. It's a real plus point – one of the advantages of online learning is that you can grab your device and study in your spare moments.
Being able to easily access the course materials is great. The videos work well, and you can follow along with the transcript underneath if you need to.
The Pros of Coursera
An impressive amount of partnerships with prestigious institutions – you know you'll be accessing top-quality materials
The Courses themselves are simple to navigate
The platform encourages people to connect with each other via the forums, which is great for meeting new people and extending your learning
The Course materials are great, and having access to some of it for free is very generous
The Specializations are great, giving you practical projects to work on which look great for current or future employers
The ability to study a full degree online is really helpful for those who cannot attend a physical university or college
It covers a huge amount of topics
The app is great and easy to use
The Cons of Coursera
It feels a little overwhelming to browse through all the subjects – it's not organized clearly
It wasn't easy to see how to access support – many other students have complained of the same thing
Some courses rely on peer grading – this can be a problem depending on the students that you connect with
Some users have complained that their payments were still taken even after they canceled the course
Frequently Asked Questions About Coursera
Here are a few questions people have asked about the platform:
Is a Coursera certificate useful?
This is difficult to say for sure – generally, though, having a Coursera certificate can show potential employees your skills and your commitment to learning and improving.
Does Coursera offer refunds?
Coursera does not offer refunds for subscriptions – so you'll have to cancel as soon as possible if you've changed your mind. If you've have opted for a paid courses, you can request a refund.
How does Peer Reviewing work?
You will be asked to review the work of a peer, and they will be asked to review your work, too. The course will walk you through this as you go, but essentially you will need to offer positive feedback as well as constructive criticism.
What is the Honor code?
The Honor Code is a code of conduct that the student has to follow. If you break the code, you could be removed from the platform. You can also report another student if they break the code, too.
What happens if I am rejected by financial aid?
You will receive an email detailing why. You will then have the option to apply again.
Do I have to pay for a course certificate?
No – if you want, you can just browse the course material. You can pay for certification if you want to.
Is Coursera good for businesses?
Yes. They offer Coursera for Business, which allows you to design learning tracks for your employees – this is great if you want to train up multiple people in the same subject. The prices start from $400 per year.
How does the affiliate program work?
You can join the affiliate program via Linkshare – you could get up to 45% commission if someone signs up via your link.
Conclusion
Coursera offers a huge catalog of courses. One of the cons we mentioned is that it feels a little overwhelming – mostly because of the sheer amount of choice. The partnerships with universities and institutions mean that you have access to the best lecturers and professors – and completing a course will look great on your CV.
They've also designed the platform itself to be easy to use. Whether you're studying on your phone or a computer, you'll be able to navigate the Coursera platform easily, even if you're completely new to online learning. Having a well-designed app gives Coursera a real advantage – it's great for students who need to study on the go.
Another pro is the amount of free information on there. If you're not bothered about certification and you just want to learn, you can access all sorts of information. It only took us about ten minutes to sign up to Coursera, find a course, and gain access to it – without having to pay anything, or even enter card details.
However, one of the off-putting things about Coursera is the user reviews, especially if you sign up for a free course trial and then cancel. Quite a few users have had issues with canceling their subscriptions and have been charged for them even after they cancel. The lack of support is an issue, too. Although the Help Center is great to help you to use the platform, it's difficult to find out how to contact someone if you need to.
In terms of content, though – we'd recommend it. It offers so much choice, with an incredible amount of information for free, written by professors and tutors from prestigious universities. If you're careful with your subscriptions and consider your choices carefully before committing to a subscription, it could be a great choice for you.
Further read: