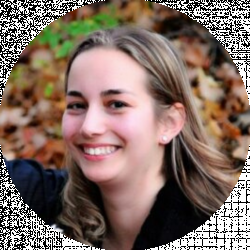 Latest posts by Julie Thompson
(see all)
Last Updated on October 11, 2020 by Victor Carrera
In this Hello Bar Review, we will look at the key features hello bar has to offer, pros, cons and thinks you should consider.
As a website owner, growing an email list is essential for promoting your business, increasing conversions, and getting sales. However, getting visitors to your site to opt-in before they leave isn't that easy. Approximately 98% of visitors leave a website without taking any action at all.
You need to provide relevant content, product launches that people can get excited about, and be active on social media. Once your website starts building traffic, it's essential to have a quick way to capture leads.
Hello Bar is a plugin that places a thin bar on the top of your website with a call-to-action. It can be set up by novice website users in only a few minutes. It's a floating bar that remains stuck to the top of the page so the site visitors will see the call-to-action no matter how much they scroll.
The plugin increases the conversion of collected emails. You can even request help from one of their marketing experts during business hours.
What is Hello Bar?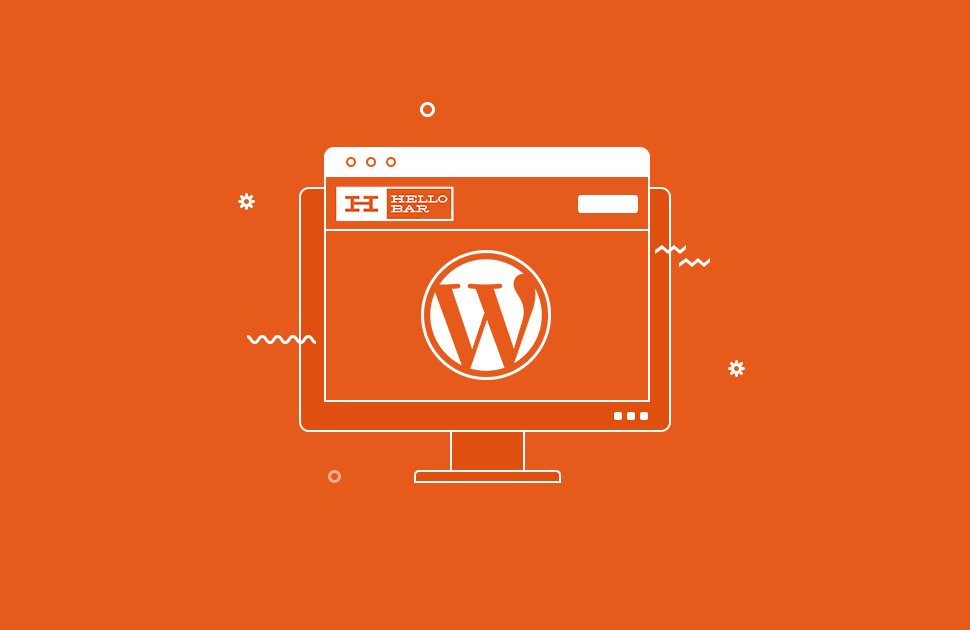 Hello Bar is an online marketing tool that helps website owners collect e-mail leads. The plugin helps bloggers, digital marketers, eCommerce, and service providers increase website traffic and sales.
500,000 websites trust Hello Bar Plugin to increase their leads including Salesforce, FOX, and Eventbrite.
Who created Hello Bar?
Hello Bar was created in 2010 by Digital Telepathy, a savvy group of online marketers. It was acquired by Crazy Egg in 2012.
Crazy Egg was founded in 2006, it is co-founded by online marketing guru, Neil Patel, and provides Confetti and Heatmap mapping tools that help website owners visually conceptualize user behavior.
It acquired Hello Bar to market it as a separate product that aligned with their niche. Crazy Egg currently maintains the plug-in and updates it to match user needs.
Features
Hello Bar has the following options for adding a call-to-action to your website.
Hello Bar. A thin, floating banner that can be placed at the top or bottom of a website.
Pop-up modal. A landing page that can pop up over the center of your website.
Slider. A landing page that appears on the screen from the left or right side.
Alert Bell. A floating action button that can expand when the website visitor clicks on it.
Page takeover. A pop-up that covers your entire website screen.
It also offers the following benefits (some are only available with the paid version).
A/B testing. Analytics provides data on which Hello Bar message and style works best for your target audience.
Segmenting. Hello Bar has over 200 targeting filters to customize who sees your message and when it appears.
GDPR. Keep in compliance with Google SEO.
Integrations. The plugin works with many third-party integrations including Zapier that helps bridge the gap between Hello Bar and most online software.
Subscribe prompts. Use opt-in forms that pop-up when site visitors read specific text on your website.
Customized pages. With a paid plan, you can add personalized thank you pages, Yes/No questions, and more.
Marketing experts. Need help with your next campaign? Talk with one of Hello Bar's support staff during business hours.
How to use Hello Bar
Hello Bar is a great tool for websites that need a non-intrusive way to advertise products, sales, newsletters, social media, announcements, and even job openings.

Product launches
Launching a new product? All new products must solve a popular problem to be successful long-term. Use the Hello Bar to create a call to action for your new product.
Enticing people with an answer to their problem can get quick conversions that will lead them to a landing page to view and pre-order/purchase your product.
Hello Bar even has an A/B testing system. Simply activate the system and choose two or three different ads to test. It even has built-in analytics for real-time data, so you can quickly choose the ad that works the most in your favor.
Advertise a sale
Maybe one of your products didn't sell the best or you just ordered too much inventory. You can link the Hello Bar Plugin directly to a landing page or the product you are trying to liquidate.
It's a great way to advertise a sale without changing the code on your main website. Visitors can easily see the deal and click only if they are interested.
Affiliate marketing
Hello Bar has a great feature for affiliate marketing. If you would like to link the bar to an affiliate site or a landing page, you can use a cookie-based restriction.
By utilizing this feature, only first-time visitors will see the offer. This is helpful if you have different pricing, offer a bonus for first-time visitors, or the first purchase.
You can also use the bar as an affiliate link without the cookie restriction if you prefer.
Newsletter opt-in
If you are looking for a non-obtrusive way to get more email subscribers, Hello Bar can help. You can use the action bar to gather emails. However, you will need some witty text or a hot freebie to get this to work. Using Hello Bar in this way is very passive, so you won't gain a list overnight, but it can help you gain subscribers who don't appreciate flashy pop-ups and website gimmicks.
Once a visitor signs up for your email campaign through Hello Bar's email capture form, you will need to point them in the direction of a landing page to complete the process. Collected contact information is stored by Hello Bar and can be exported to popular email newsletter software such as MailChimp, AWeber, Constant Contact, and Vertical Response (among others).
Promote Social Media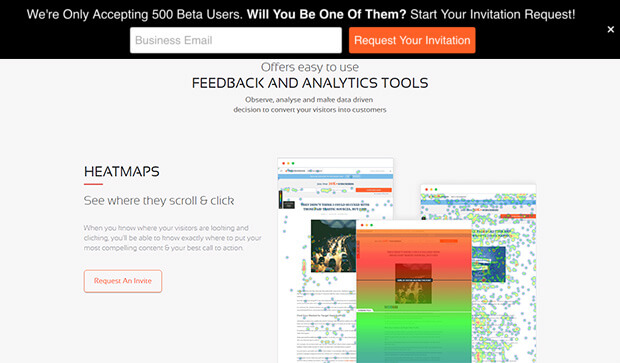 Hello Bar can also link to one of your social media accounts. This is particularly helpful if you have recently signed up for a social media platform and want to tell visitors where to find you.
You can also use it to bump up your following of an existing social media to increase your brand awareness or qualify for an Influencer affiliate program.
Whatever platform you choose to link to, make sure you are active on that profile. If people are clicking from your website to your social media account, you will need to have current, valuable information for people to click the follow button.
Real-time customer service
If you use your website as an eCommerce portal, you are bound to have an issue. Website servers can crash, there can be security issues, or maybe you are closed for shipping due to a holiday.
Anytime you want to inform your website visitor and paying customers of an issue, you can insert that message into Hello Bar. It can even be linked to a blog post explaining the issue if necessary.
Your customers will appreciate the update and it will save you time answering questions via email, mobile device, and social media.
Find your next team member
With business growth comes job openings. Posting a job opening can be costly and difficult to determine the best website to post on for your niche.
Use Hello Bar to announce that you have a job opening and that you are currently hiring. Hiring directly from your website means you are getting an app from direct fans of your website.
Link to your careers page if you have more than one opening. Control how you see the app and apply spam filters to weed out robo job applicants.
How Much Does Hello Bar Cost?
There are three versions of Hello Bar, Starter (free forever), Growth ($29 month), and Elite ($99 month). The free version is branded with the Hello Bar logo and will show a Hello Bar ad to ten percent of your visitors. The paid versions remove branding and ads and provide you with additional upgraded features.
Hello Bar allows you to pay monthly for their service. If you opt to pay yearly, they will give you two months free (paid plans only).
Starter (free forever)
View Limit: 5,000 /mo
Limit of 10 Bars
Unlimited Subscribers
Basic Design Features
Targeting Features: Device Type Only
1 Live A/B Test
Basic Integrations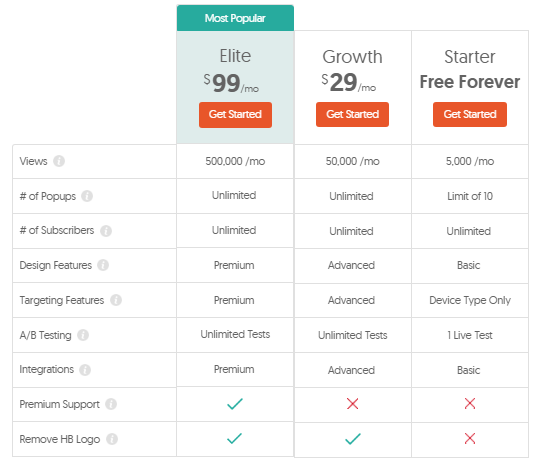 Growth ($29 month)
View Limit: 50,000 /mo
Unlimited Bars
Unlimited Subscribers
Advanced Design Features
Advanced Targeting Features
Unlimited A/B Tests
Advanced Integrations
No Hello Bar Branding (logo and ads removed)
Elite ($99 month)
View Limit: 500,000 /mo
Unlimited Bars
Unlimited Subscribers
Premium Design Features
Premium Targeting Features
Unlimited A/B Tests
Premium Integrations
No Hello Bar Branding (logo and ads removed)
Premium Customer Support
Hello Bar also has overage charges. While they are reasonable, the fees could add up if you don't monitor your account. Once you exceed 50,000 views with the Growth Plan, Hello Bar will charge you $5 for every 25,000 additional views in the same month. If you are a member of the 500,000 views Elite Plan, you will receive a $5 charge for every 100,000 additional views.
If you feel that you don't fit the mold of the three plans they offer, simply contact them to see if a custom plan is available for your needs. They work with clients who have multiple domains, frequently have more than 500K visits a month, and digital marketing agencies. They will even help you migrate your information from one of their competitors and give you a discount if you run a non-profit.
Pros
Free plan available
Easy to use, setup in less than five minutes
Doesn't slow down your website
Integrates with Aweber, MailChimp, Constant Contact, Vertical Response, Buffer, Facebook, Google+, LinkedIn, Pinterest, Twitter, and more.
Segment messages to a diverse audience (i.e. different message for first-time visitors)
Cons
Watermark and ads on the free version
Overage charges for additional view per month
No gamification options (spinning wheel for discounts, etc.)
Who is Hello Bar For?

If you have a new website, Hello Bar can provide you with a forever free plan service if you are content with 10 popups and 5,000 views per month.
The plugin won't slow down your website. It can integrate with your email campaign software and directly link to your social media accounts. Plus, you can segment the bar so different types of visitors see different messages.
Hello Bar is best for bloggers, digital marketers, eCommerce, and service providers.
FAQ
Does Hello Bar slow down my website?
Hello Bar uses javascript to run on your website. Even though it does load every time a visitor clicks on your site, the amount of time it adds is very similar to having Google Analytics installed.

In other words, you should not notice a perceivable load time for Hello Bar. Add-ons to your website such as chat tools and large, unoptimized images, are usually the culprits.
See how close the load time is below according to Hello Bar's website.


Why is Hello Bar covering my website header?
If your website header is not visible after installing Hello Bar, the fix could be as simple as choosing the "Pushes page down" option in the Style section. Try this first, save changes, and refresh your website. You should be able to see your header.

If after choosing this option, your header is still covered, this is due to your website's theme code allowing for a fixed CSS position for the navigation menu. This is the same code that Hello Bar uses and will conflict with your website's header.

You can modify your website's code so that the top navigation bar is not set to fix or absolute. If you would rather not modify your website's code, you can set the Hello Bar to appear at the bottom of your website, or choose a slider, modal, or takeover instead of the bar design.
Why can't I get my emails to sync?
Most third-party email integrations have requirements for collecting emails such as having a first and last name. Research the settings of your email service and turn off any requirements for collecting contacts. Once your requirements are turned off, your emails should sync properly.
Who is Hello Bar Not For?
Hello Bar offers great features if you opt for one of their paid plans. However, maybe this is a service you don't have a budget for or would simply prefer a different style.

There are over 20 Hello Bar alternative options. I have chosen my top three and provide a summary and pricing for each.
Alternatives
Smart Bar by Sumo (Free / $49 per month, or $39 per month if paid annually)
The free version provides customized design, social media sharing, email opt-in forms, and visitor targeting. You can have unlimited subscribers and 10,000 emails per month. You will see a Sumo watermark but it combines its Smart Bar with eCommerce solutions and analytics for a better all-in-one package.
Upgrade to the Pro version ($49 per month, or $39 per month if paid annually). The paid version boasts upgraded features like A/B testing, unlimited emails, advanced email integrations, eCommerce templates, and advanced analytics. You will also lose the Sumo branding.
It's worth noting that the cap for the Pro version is 100,000 visitors per month.
SiteKit (Free / $19 per month)
SiteKit offers smart bars and popup. It has gamification capabilities for eCommerce and quick sign up for Shopify users.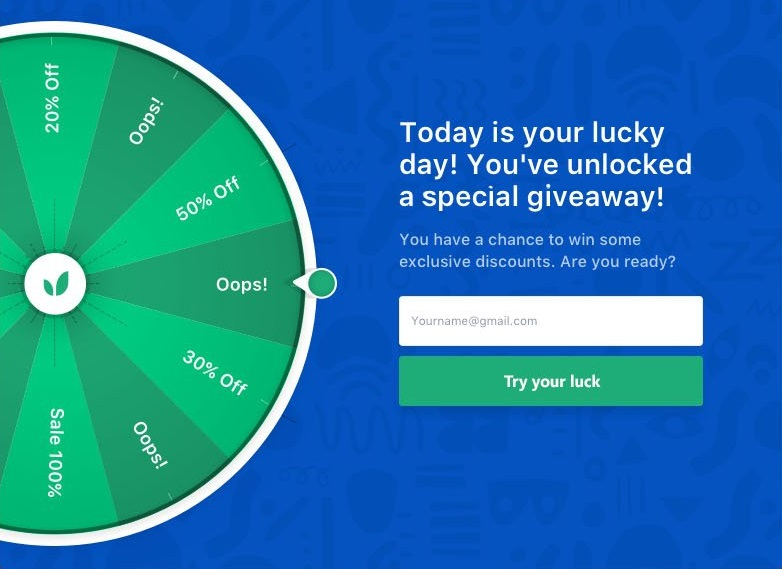 SiteKit offers a free forever plan with unlimited campaigns and monthly views. You can even remove the branding logo from the smart bar without upgrading to a premium plan.
The exit-intent technology, gamification, and smart targeting are only available in the paid plan.
WP Notification Bar Pro ($19.00 one-time fee for 1 website)
If you are a WordPress user, WP Notification Bar Pro is worth a look. It offers unlimited notification bars, multiple notification types, social media, custom HTML, and multiple colors, all for a one time fee of $19.00 per site (discounts are available for multiple sites).
The pro Notification bar version also features A/B testing, view and click tracking, countdown timer, pop-up video integration, and its 100% responsive.
There is also a free Notification bar version available with fewer features.
Final Thoughts
If you are planning to use Hello Bar's free version, keep in mind you will be bombarded with their watermark and ads. The ads lead back to Hello Bar's website stealing high dollar real estate space from your website.
If your website is highly reliant on sales (and most of them are), you may want to consider a free Hello Bar alternative that has more views, allows for more integrations, or even an open API for complete customization. You could also opt for a paid HelloBar alternative that adds other features like eCommerce tools.
However, if you can afford one of their paid plans, Hello Bar can be a sleek way to advertise your products and services. Their bar and popup are trusted by elite corporations and back by industry-leading entrepreneurs. Plus, they have the customer service and help documentation to back it up.
Here are some other articles you may be interested in: