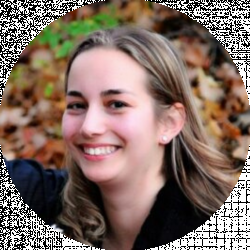 Latest posts by Julie Thompson
(see all)
Last Updated on November 4, 2020 by Natalia Bickell
With eCommerce conversion rates in the single digits at best, it is completely understandable why business owners are constantly searching for platforms that will lower their customer acquisition costs.
Enter Privy. This sales engagement platform is used by over 500,000 online stores to capture emails, phone numbers, and purchasing data. Privy is an integral part of eCommerce success given that with its targeted automation you can compete with powerhouse marketplaces like Amazon.
The platform caters to consumers who are used to personalized emails and texts from their favorite retailers. With automatic cross-selling, cart abandonment recovery, and tons of integrations, It provides small to mid-sized businesses reliable sales automation for their unique product lines and services.
But is Privy right for you? Let's take an in-depth look at the platform and compare a few worthy alternatives so you can start increasing your eCommerce revenue today.
What is Privy?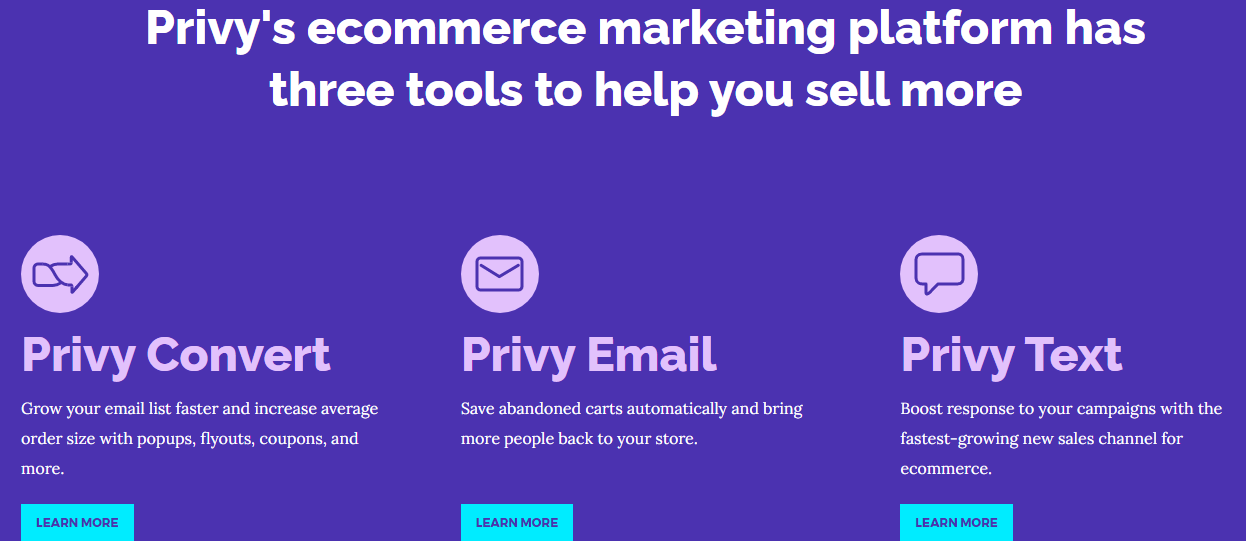 Privy has a three-prong approach to help you sell more through your eCommerce marketing platform.
Privy Convert provides popups, coupons, flyouts, and more to increase your email list fast.
Privy Email reminds your potential shoppers that they have products in their carts
Privy Text takes advantage of the new sales channel for eCommerce.
Privy History
Privy was created in 2011 by entrepreneur Ben Jabbawy. Set to be acquired in 2014, the deal fell through. Ben and 2 engineers started Privy 2.0 in the hopes of utilizing existing Privy customers to take the company to the next level.
After interviewing every current Privy customer and getting them to prepay a discounted annual fee, Privy 2.0 was off the ground. Today, the platform is used by 500,000+ online stores in 180 countries. Privy is used to not only capture emails but exponentiate online sales.
In 2019, Privy's revenue skyrocketed to $8 million and employs 60 people. The platform is the #1 reviewed sales app in the Shopify App Store. Privy's Chief Marketing Officer, Dave Gerhardt, worked on Privy in the early days, has since worked for Hubspot and Drift, and is the author of the bestselling book Conversational Marketing.
Pros
Privy allows users to make multiple pop-ups that all have a different feel so your visitors don't get bored. You can customize them to meet your niche and fulfill your sales needs. To save time, set up pre-defined templates. Each promotion or marketing campaign can have a different template so you can spend more time utilizing Privy instead of manually making a pop-up after pop-up.
Privy has an app that is supported by major eCommerce platforms for plug-and-play usability. Privy integrates with Shopify, Wix, WooCommerce, Magento, and more. If you are interested in trying out Privy, it is easy to sign up. It currently has a 15-day trial with no credit card is required. Check out all the features for free and only pay when you are ready to commit. Privy also provides email and live chat 7 days a week according to their website.
Cons
While small to mid-sized businesses will find Privy useful, the platform does not contain enough features and customizations for larger businesses. Compared to competitors with professionally designed templates, Privy lacks flexibility with its style options and overall features.
There is no forum or Slack channel for users, making it a necessity to contact customer support with any issues. User forums are nearly standard these days to build community among users and get answers instantly.
Software Requirements
Privy is cloud-based and can be accessed anywhere you have an Internet connection. There is no software to download. Within popular eCommerce platforms such as Shopify and BigCommerce, Privy is an app integration.
Pricing

Privy Convert
$0 per month
Up to 5,000 page views per month
Every popup/display type
Fully customizable
All integrations (including Shopify and BigCommerce)
Email and live chat support
Privy Email
$13 per month
Unlimited emails to 1,000 contacts
Shopify integration
Send newsletters, promotions, and other one-off emails
Automated cart abandonment emails
Automated order follow-up and coupon reminder emails
Create automated email sequences
Unlimited email sends
Privy Text
$10 per month
Up to 600 texts to 100 contacts
Automated cart abandonment texts
Automated after sign-up texts
Shopify cart and coupon integrations
The Starter Plan (Bundle)
$30 per month
Unlimited emails to 2,000 contacts
Popups & flyouts to grow your email list
Add to cart & free shipping bar displays to increase average order value
Send newsletters, promotions, and other one-off emails
Automated cart abandonment & order follow up emails
Unlimited popups, flyouts, and all other display types
Unlimited email sends
Ease of Use

It is very easy to sign up for Privy. You can sign up via your Shopify account, Google, or general email account. By signing up you can begin your free trial of Privy instantly, no credit card required.
Once you sign up, you are automatically taken to the Privy dashboard (see below). From the dashboard, you can start your first pop-up, setup campaigns, view reports, and more. The menu is uncluttered and the navigation is logical. Easily change pop-up elements such as text, color, and more just by clicking on the relevant menu items on the left.
Clicking save will take you to a draft pop-up screen that allows you to create an A/B test, add validations, and setup coupon codes.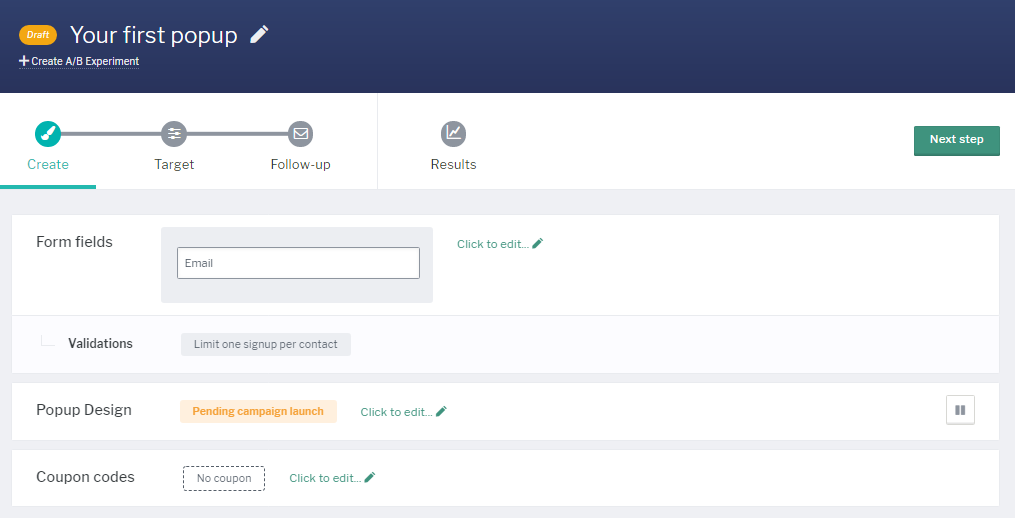 Additional options include: abandoned cart, newsletters, order follow up, contacts, and reports.
Integrations and Add-Ons
Privy is mainly used as an app integration with Shopify or BigCommerce. However, Privy doesn't stop there. It also integrates with Zapier (a gateway app) and HubSpot. Plus, you will also be able to set up integrations with practically any email marketing software you use, Facebook marketing, and rewards programs.
SMS Integrations
Attentive
Concierge
Klaviyo
Postscript
Retention Rocket
Website + Ecommerce Platforms
3dcart
BigCommerce
Hubspot
Joomla
Magento
Shopify
Shopify Plus
Site123
SpaceCraft
Squarespace
Tumblr
Volusion
Weebly
Wix
WooCommerce
WordPress
ZenCart
Email Service Providers
Benchmark
Bronto Marketing Platform
Campaign Monitor
Constant Contact
Convertkit
Customer.io
Delivra
dotdigital
Emarsys
Emma
Feedblitz
Firedrum
Freshmail
Hubspot
InInbox
Intercom
Iterable
Keap
Listrak
MadMimi
MailerLite
Mailigen
Mailrelay
Mailup
Maropost Marketing Cloud
Omnisend
Remarkety
Retention Science
Robly
SendGrid
SendPulse
Other Integrations
Facebook Marketing Platforms
Flashchat
Octane.ai
Recart
ShopMessage
Rewards Programs
Features

Privy Convert
Pop-ups
Customize pop-ups, flyouts (mobile optimized), spin-to-wins, banners, bars, landing pages, and embedded forms. You don't need to know any code to create coupons, ask for emails, etc. The pop-ups only take a few minutes to create and are easy to add to your existing eCommerce platform.
Advanced targeting
Emailing your entire list or using the same pop-up for both first-time visitors and established customers is no longer acceptable. Consumers want to have personalized offers and those discounts need to be sent when they are ready to buy. Privy helps you segment your visitors and provides triggers based on URL, # of visits, cart value, and more.
Cross-sell
You can't always offer a freebie. Customers who are buying your products are supporting your business and most likely would be interested in hearing about corresponding offers. Privy can automatically suggest similar products by using shopping cart data. Sit back and watch your order totals increase.
Cart abandonment
Sure, sending an email after a visitor has abandoned items in their cart may work if a discount is involved, but why wait? Privy displays a pop-up when customers can't commit and encourages them to finish their shopping.
Pre-built campaigns
Privy is helping businesses achieve their sales goals. With over 500,000 clients, the platform knows a little about how online shops are standing out from the crowd. Fortunately, Privy shares that info. with every user by providing pre-built campaigns that work.
Reporting
Get detailed reports regarding your sales and pop-up campaigns. Run A/B tests to see which pop-ups are working for you.
Privy Email
Privy Email provides email automation for your Shopify store for only $13 per month. Use the convenient drag and drop editor to quickly send branded emails.
Automated emails
With Privy Email, you can automate cart abandonment emails and recover up to 20% of sales. Twenty percent could pay for your Privy subscription costs, equipment costs, or even an additional employee.
When a customer orders a product from you, it is more than just a sale, it is the start of a profitable friendship. After a customer orders, send them an automated email just to say thanks. You can also use this feature to present more products to purchase or ask for a company or product review.
Automatic coupon reminders
Sometimes a customer will sign up for your coupon and get sidetracked before completing a purchase. Use an auto series of emails to provide reminders so the sale doesn't go bust.
Reporting
Privy compares your sales to newsletters and automatic emails so you know what is working and what areas need improvement. Easily access this data from your dashboard.
Privy Text
With everyone on the go 24/7, even though an established email still reigns as the best way to earn revenue, emails can undoubtedly get lost in the shuffle. Take a step into the future with automatic text messaging. Try Privy Text for only $10 per month (no annual contracts).
While marketers shutter in fear of annoying their customers, 47% of people text say they are likely to opt-in to texts for brands they like. Use Privy Text to grow your engagement list, after sign-up text, and save sales by linking their phone number to abandoned shopping carts.
And since text marketing is still fairly new, Privy takes care of all of the compliance too. Plus, if you sign up for Privy Text, you'll receive a free copy of The Ultimate Guide to Text Message (SMS) Marketing for Ecommerce.
Customer Service and Technical Support
Privy has a searchable knowledge base with how-to guides and best practices. The platform also offers a blog and a Privy Masterclass.
While most customers take advantage of the live chat feature (7 days a week), you can contact Privy with an email request (support ticket) if you have additional questions.
Security
Privy offers an email to let them know if you think you've found a security vulnerability. All valid reports will be investigated by the platform and will receive a reply. They even offer a PGP key to encrypt your communication. Privy provides rewards for finding security bugs that are paid out through PayPal.
Privy follows children's online privacy protection and does not allow the use of its services for persons under 18. The platform also acknowledges that the Internet and email transmissions are never fully secure. Privy recommends that you take caution when sharing any personal information with Privy through the Internet and email.
To keep a high level of security, Privy may occasionally ask you to enter a password to verify identity if you are changing profile information or making corrections. However, you are responsible for not sharing your password to maintain the security of your account.
Alternatives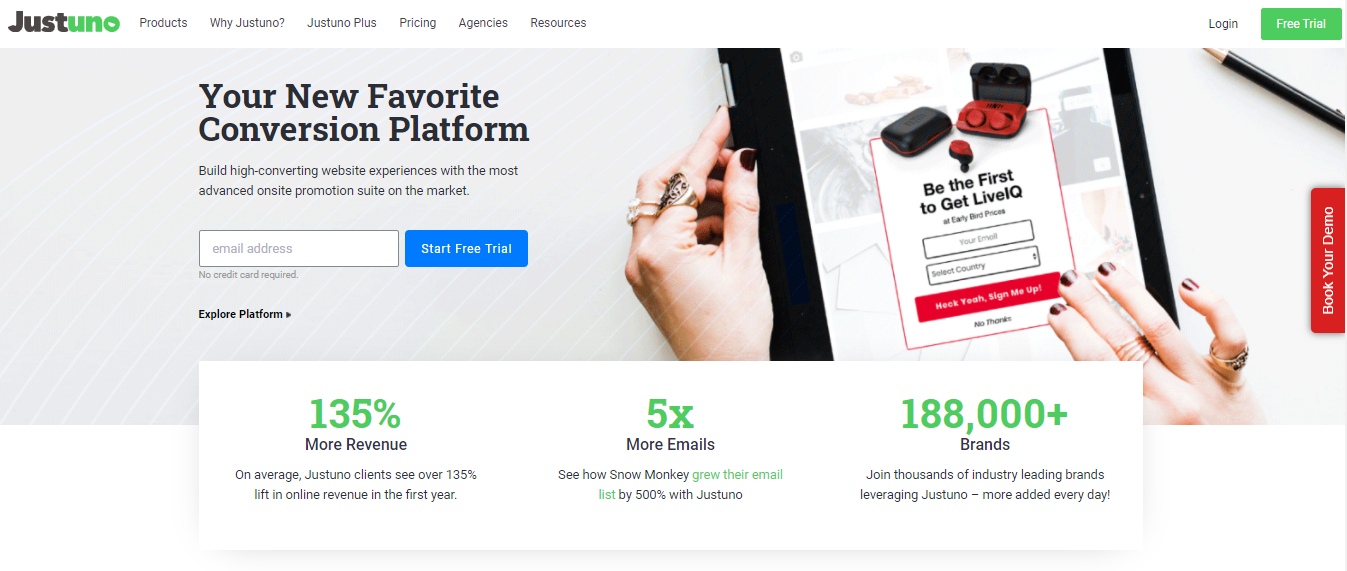 Justuno uses AI to increase conversion rates. The platform utilizes push notifications, banner ads, and pop-ups to offer customers targeted products at a specific time based on data collection.
Pros
Facebook Messenger integration
Commerce AI to target customers with the right products and offers
Push notifications
14-day free trial, no credit card required
More affordable than Privy
Cons
Learning curve
Conversion statistics are not always accurate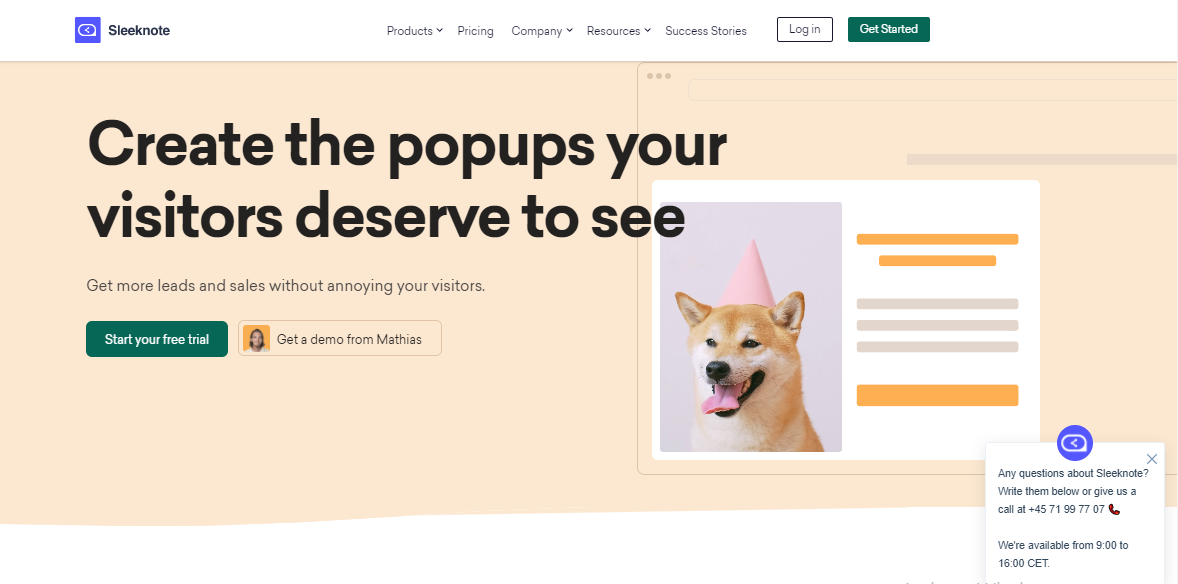 Sleeknote features a drag-and-drop editor without a learning curve. Complete your first campaign in just a few minutes. Take advantage of professional campaign templates, advanced targeting, without intruding on your potential customers' shopping experience.
Pros
Drag-and-drop editor
Customization, in-depth testing, and tracking
Phone, email, and chat customer support
Cons
Price is based on website traffic
Needs infrastructure improvement to support multiple domains and languages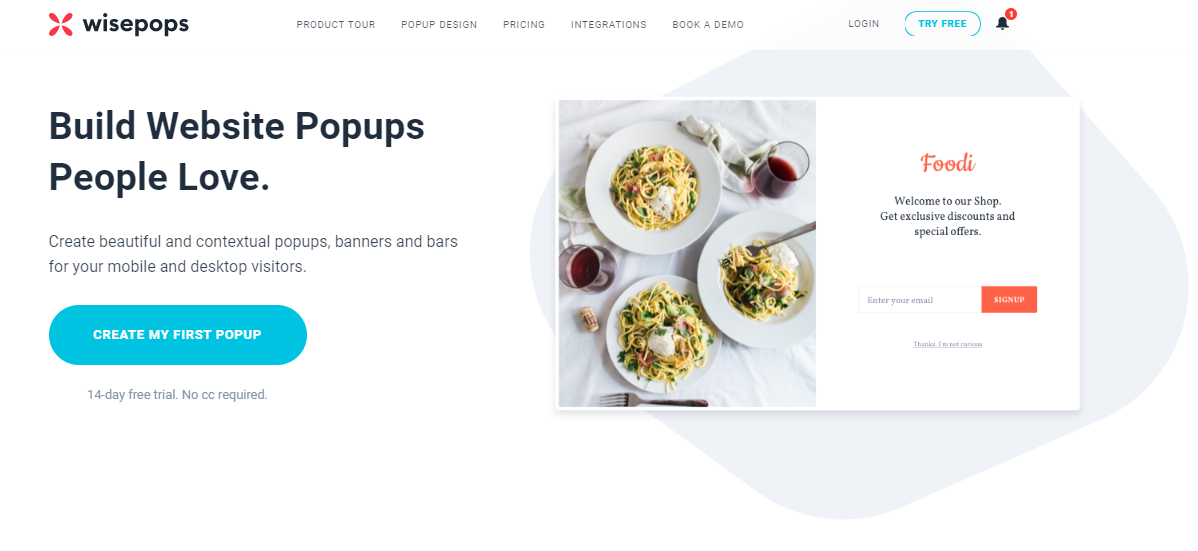 WisePops includes a drag-and-drop pop-up builder with custom CSS. You can add images, video, multiple call-to-action, HTML, and more to each pop-up. The platform makes it easy to adapt your campaign for mobile use, 60 pre-built templates created by web designers, and 6 different triggers to target customers at just the right time.
Pros
WYSIWYG builder for ultimate flexibility
60 professionally designed templates
30+ segmentation and targeting options
One-third of the cost of Privy
Online chat support
14-day free trial, no credit card needed
Cons
Cost is per page view, not by each pop-up
Structure supports collecting emails, not easy to run other campaigns such as surveys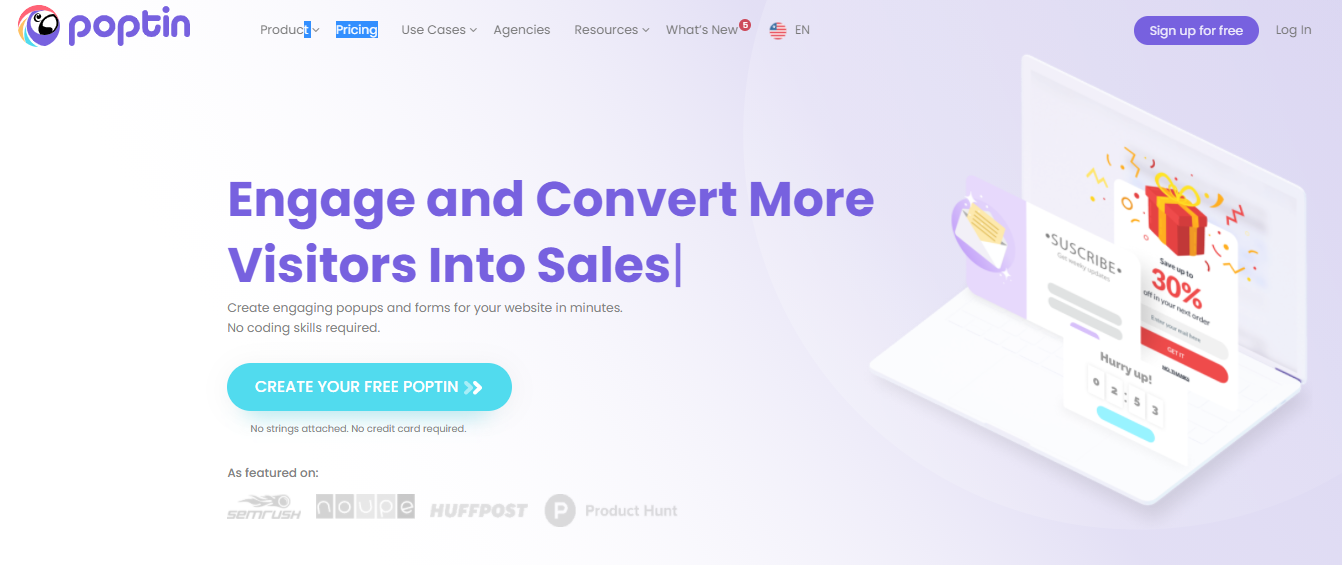 Poptin provides a variety of pop-ups including lightboxes, countdown, full-screen overlays, slide-in popups, social widgets, and top and bottom bars. Poptin offers responsive templates, live chat support, and a free package so you can try before you buy.
Pros
Free plan
Survey builder
Pre-built templates
Dedicated customer service
Cons
Limited integrations
Drag-and-drop could be more user friendly
FAQs
Question: How much is privy?
Answer: Privy has a 15-day free trial that includes all features. If you have less than 5,000 monthly page views, you can use privy for free. If you have higher traffic, pricing starts at an affordable $20 per month.
Question: How do I cancel privy?
To cancel your Privy account, you can contact their support [at] privy.com or through your admin dashboard. Canceled subscriptions will no longer be billed and your account will be downgraded to the free option.
Question: How do I install Shopify privy?
Answer: To install the Privy app for Shopify:
Visit Privy's listing in the Shopify App Store.
Click the Add app button.
If you're not already logged into Shopify, enter your store URL and click Log in.
On the app's install page, click the Install app button to log into Privy.
Final Thoughts
Privy provides entrepreneurs, small to mid-size business owners, and eCommerce a trifecta of tools to increase engagement lists and boost sales. It has a shallow learning curve, and can even serve as an add-on for marketing agencies.
Privy's lack of advanced features and design modifications will have large businesses wanting to look elsewhere though. Fortunately, there are a long list of alternatives that offer better feature sets, professionally designed templates, and pricing options.
Privy's lack of advanced features and design modifications will have large businesses wanting to look elsewhere though. Fortunately, there are a long list of alternatives that offer better feature sets, professionally designed templates, and pricing options.