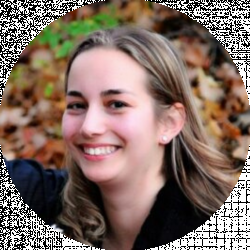 Latest posts by Julie Thompson
(see all)
Last Updated on January 5, 2023 by Natalia Bickell
Setting up an online course takes hard work and dedication. Not only do you have to create the content, but you will also need to edit, market, and sell the online course to make a profit.
However, the need is continually increasing for quality online courses so your effort will not go unnoticed. Providing current skills to a largely digital workforce can help companies match individuals to the right opportunity. Nearly 80% of online students who have had the chance to learn in a face-to-face setting admit that their online learning experience was the same or better than in a classroom.
Don't let the task of choosing an online course platform keep you from sharing important information with the online learners who need it. I compare Teachable vs Coursera with features, pros and cons, and even alternatives so you can get started building your online course today.
The Main Differences between Teachable vs Coursera are:
Teachable allows anyone to become an instructor, whereas Coursera screens all of its instructors.
Teachable gives you control of your online course pricing, marketing, etc., whereas Coursera works on a per-project fee.
Coursera courses are free if no certificate is needed, whereas Teachable does not offer free courses.
Coursera has an app that is available through iOS and Android, whereasTeachable's app is only available on iOS.
The Similarities
One-time fee or subscription
Creative, Tech, and Design niches
Video classes
No marketplace
Teachable vs Coursera: What is Teachable?
Teachable is an online platform that allows to create and sell online courses and memberships. It provides everything you need to get started including an intuitive framework. You can add videos and images to written content with pre-made templates that can be customized to your specific course.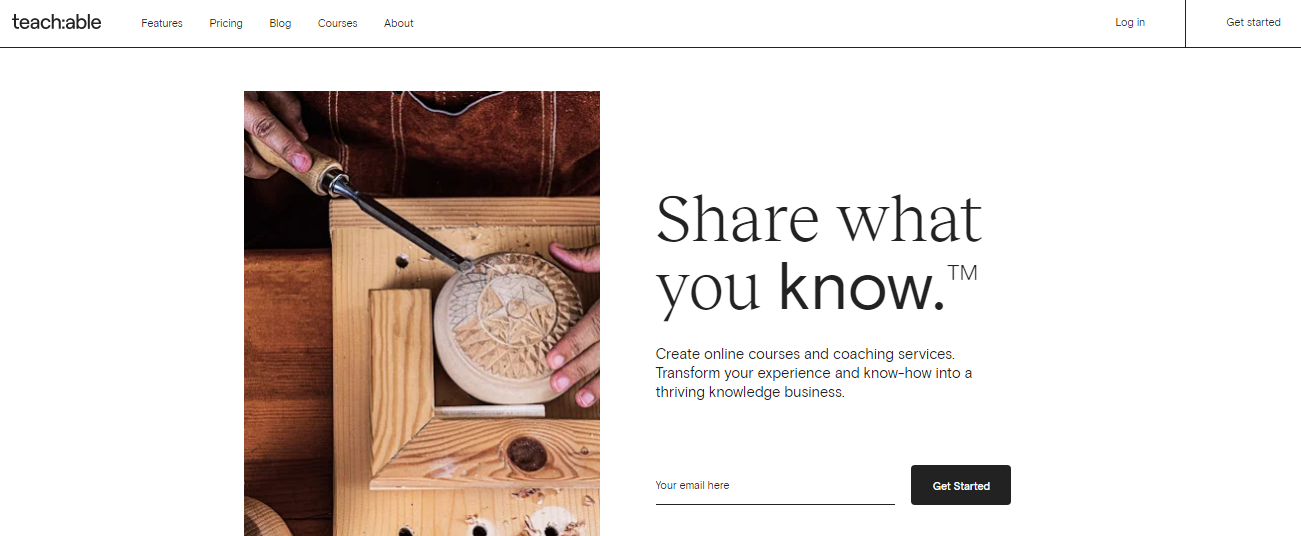 Unique to Teachable is its built-in payment processing Teachable Payments. Although convenient, you can also use 3rd party payment processing services like Stripe or PayPal.
With over 60,000 course creators and 18 million-plus students, Teachable is an industry leader in the online course space not just for entrepreneurs but for enterprise-level users as well.
Teachable vs Coursera: What is Coursera?
Coursera is a web-based e-learning platform that partners with top universities and field experts. Course learners can purchase courses as a one-time class or a subscription. It offers courses for free if no accreditation is needed.

Coursera subjects include:
Art and Humanities
Business
Computer Science
Data Science
Engineering
Health
Information Technology
Language Learning
Math and Logic
Personal Development
Physical Science
Social Sciences
Please note: To create courses on Coursera, you must be an invited partner. If interested in creating and launching courses, you will need to get your organization to apply to be a Coursera partner or collaborate with an existing Coursera partner.
The Main Features of Teachable
Teachable has an in-house payment processor for the following countries: United States, Canada, UK, Germany, France, Italy, Spain, Poland, Sweden, Austria, Belgium, Norway, Denmark, Mexico, and the Netherlands.
If your country is listed, you can receive payments daily, weekly, or monthly. You can also set your preferred payout schedule through your Teachable account. In-house payments are processed via Stripe Express.
If Teachable doesn't currently support your country, you can only receive payments once a month. These payments are processed using Teachable's Stripe account to your verified PayPal account.
BackOffice, Teachable Affiliate manager, allows course creators to pay affiliates via PayPal and set up PayPal as a form of payment available to online learners.
Straightforward Interface
Teachable is easy to navigate and customize as you go. Even if you aren't tech-savvy, you will be able to create an online course without a large learning curve. This will save you significant time building the course so you can spend more time testing and improving your content.
While some course builders only let you upload content from your computer, Teachable allows files to be uploaded from Dropbox, Google Drive, and OneDrive. This can significantly decrease the amount of time it takes to bulk upload and add content to individual lessons.
Teachable allows you to drip your content automatically which can improve student engagement and overall satisfaction of the course. Depending on student enrollment or course start date, you can customize emails that students receive at a pace that works for your course.
The Main Features of Coursera
Coursera has several different tracks for online learning. From single courses to semester degree programs, Coursera provides an engaging experience for both the course creator and online learner.
Certificate programs allow the learner to prepare for a career or career change. Depending on the industry, some of Coursera's certificate programs are recognized by schools and companies.
Coursera has nearly 4,000 online courses that are all taught by industry leaders working at Universities or in the field.
Courses that require a learner to follow several courses to complete their certificate. MasterTrack courses are semester-based and certificates are only issued after all units of the MasterTrack are complete.
The platform offers quick refresher or skill guides that provide step-by-step instruction. These projects generally take a learner under 2 hours to complete.
Coursera groups courses into skillsets so the learner can take one course or a series of courses depending on the depth of skills needed.
Top universities secure partnerships with Coursera to help learners virtually attend affordable courses. Completing said courses can provide learners with an accredited online degree.
Teachable vs Coursera – Pricing
Teachable
Basic
$39 per month
Unlimited video
Unlimited courses
Unlimited hosting
Integrated payment processing
Student management
Lecture comments
Basic quizzes
No fees on free courses
VAT (value-added tax) for EU
Unlimited students
5% transaction fees
Course product
Coaching product
Members-only community
Instant payouts Applies if you set up Teachable Payments. If on Monthly Payment Gateway, receive PayPal deposits once a month with a 30-day delay
2 admin-level users Admin users include primary owner, owners, and authors.
Product support
Course creator training Access to training courses in TeachableU
Custom domain support
Coupon codes
Drip course content
Integrated email marketing
Third-party integrations

Pro
$119 per month
Includes everything in Basic, plus:
No transaction fees Transactions processed by the Monthly Payment Gateway for schools that were created before 10/9/18 will be subject to a 2% transaction fee.
Course product
Coaching product
Members-only community
Instant payouts Applies if you set up Teachable Payments or custom payment gateway. If on Monthly Payment Gateway, or non-custom PayPal gateway, receive PayPal deposits once a month with a 30-day delay
5 admin-level users Admin users include primary owner, owners, and authors.
Priority product support
Graded quizzes
Advanced reports On courses, students, videos, and upsells
Unbranded website Please note that secure URLs (e.g. login and checkout pages) and myTeachable (including the mobile app) are exceptions where there will be some indications that Teachable is powering the site.
Course completion certificates
Course compliance
Integrated affiliate marketing
Business
$299 per month
Includes everything in Pro, plus:
No transaction fees
Course product
Coaching product
Members-only community
Instant payouts Applies if you set up Teachable Payments or a custom payment gateway. If on Monthly Payment Gateway, or non-custom PayPal gateway, receive PayPal deposits once a month with a 30-day delay
20 admin-level users Admin users include primary owner, owners, and authors. For more than 20 admins, contact Sales.
Priority product support
Manual student imports
Bulk student enrollments
Custom user roles
Advanced theme customization
Group coaching calls
Coursera
Since Coursera only uses invited partners as course creators, pricing is not listed. Please consult Coursera or a Coursera partner if interested in designing an online course through its platform.
For learners, Coursera has a yearly subscription fee. Coursera Plus is $399 per year and includes unlimited access to 3,000+ courses, guided projects, specializations, and professional certificates
Coursera provides a 14-day money-back guarantee for all learners. According to the platform, a specialization takes approximately 3 months to complete.
Coursera Plus gives access to a majority of Coursera courses, but not the entire library. It is possible the course created could be accessed only by a one-time fee. Financial aid is available if the learner cannot afford the course.
Teachable vs Coursera – Support
Teachable
Teachable has an extensive knowledge base that covers answers to frequently asked questions nicely organized by category. If you are unable to find an answer to your question, you have two additional options.
You can create a support ticket with a detailed description of your question (email, all plans). If you have the Pro plan or above, you can also take advantage of live chat with Teachable's knowledgeable customer care team.
Teachable does not currently offer phone support. The platform claims they can provide superior support through email and live chat due to the ability to provide screenshots and video links, not keep you waiting on a phone line, and cc-ing affiliates and students when necessary.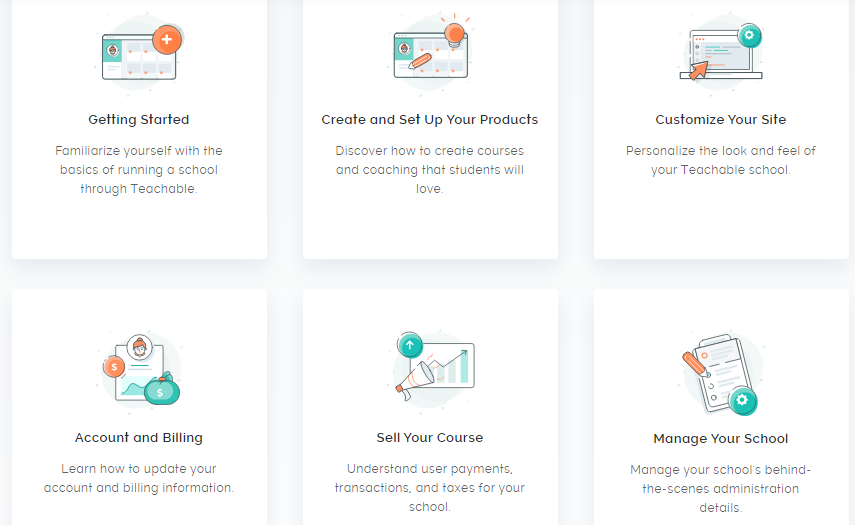 Coursera
Since Coursera instructors are screened or are currently one of the platform's current partners, the company handles questions and support tickets internally.
They currently have an open application for new instructors. The following areas of study are the topics Coursera is currently requesting instructors for:
Business
Computer Science / Web Development
Data Science / Machine Learning
Design
Information Technology
Software & Tool Training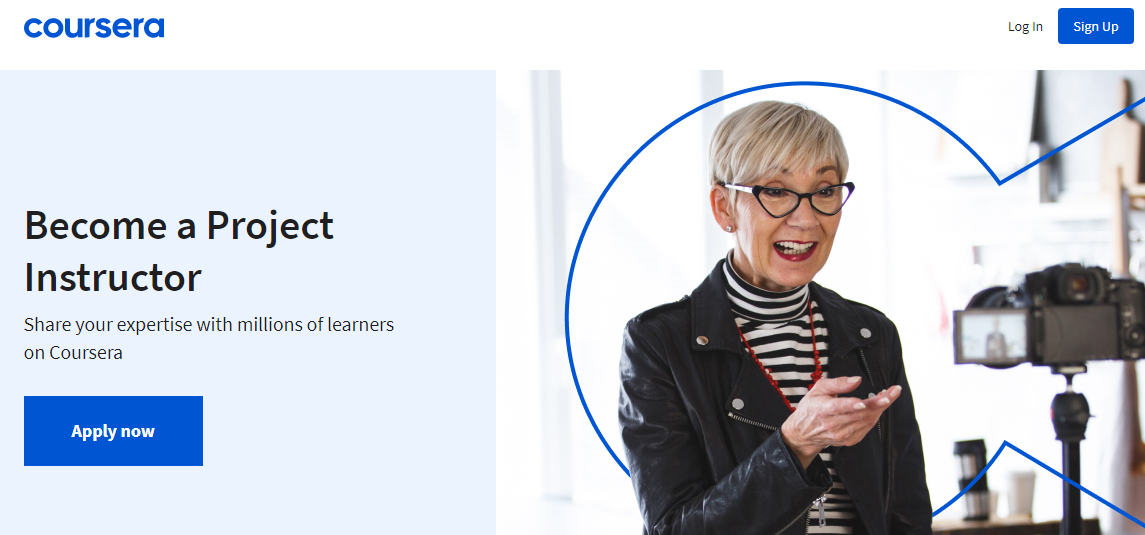 Teachable vs Coursera – Pros and Cons
Teachable
Pros
Built-in payment processor "Teachable Payments"
EU Vat taxes
Course completion certificates available on Pro plan (and up)
Monthly payment plans
Marketing tool keep students informed during the enrollment and completion process
Cons
No phone support
No in-house sales funnels
Lacks customization options compared to competitors
No marketplace to list courses
5% transaction fees on the Basic plan
App-only available for iOS and not realistic for online instructor use

Coursera
Pros
Low course fees (compared with traditional colleges and universities)
Free courses (no certificate provided)
Accredited degrees from over 200 top Universities like Stanford
Quality courses
Learn on the go (download course material so you can study even without an Internet connection)
App for iOS and Android
Cons
Pricing is not always transparent
Not for beginner learners (since Coursera offers accredited degrees, courses may start intermediate, required prior knowledge of the topic)
Alternatives
Thinkific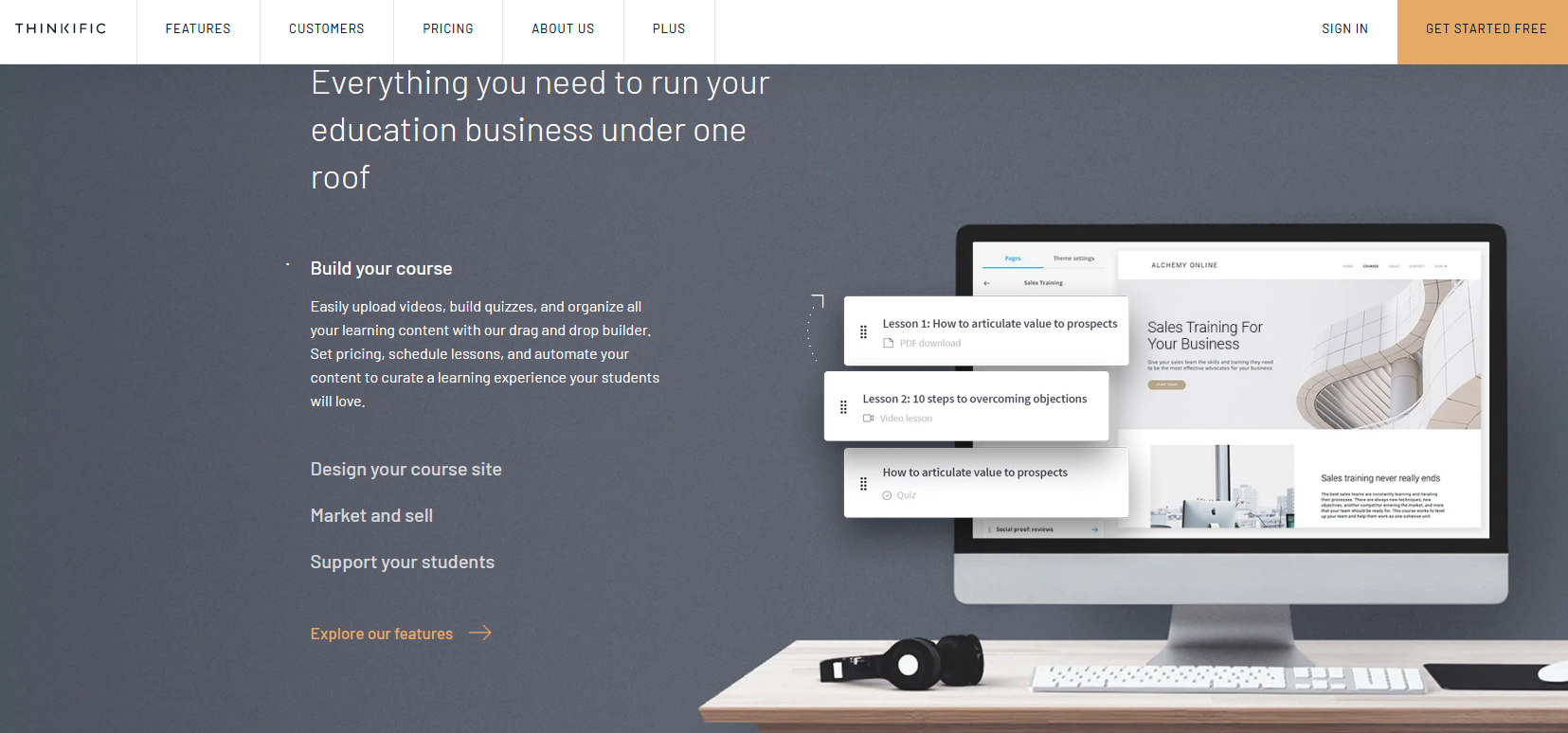 Pros
Bulk selling of courses
No transaction fees
Voice over tool
Supports Live lessons
Cons
No marketing tools within the platform
No in-house email marketing tool
No live chat
Udemy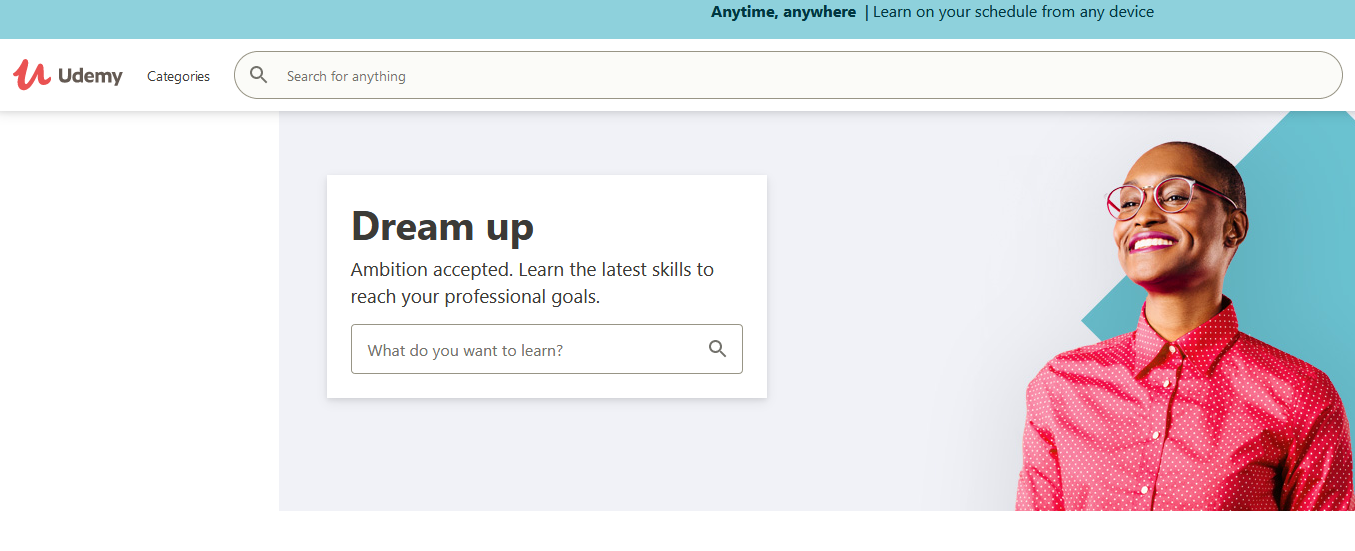 Udemy has over 100,000 online courses with a large variety of course subjects.
Pros
Largest selection of courses
Completion certificate
Cons
Anyone can become an instructor (course quality can vary)
A large number of courses is greater competition for instructor success
LinkedIn Learning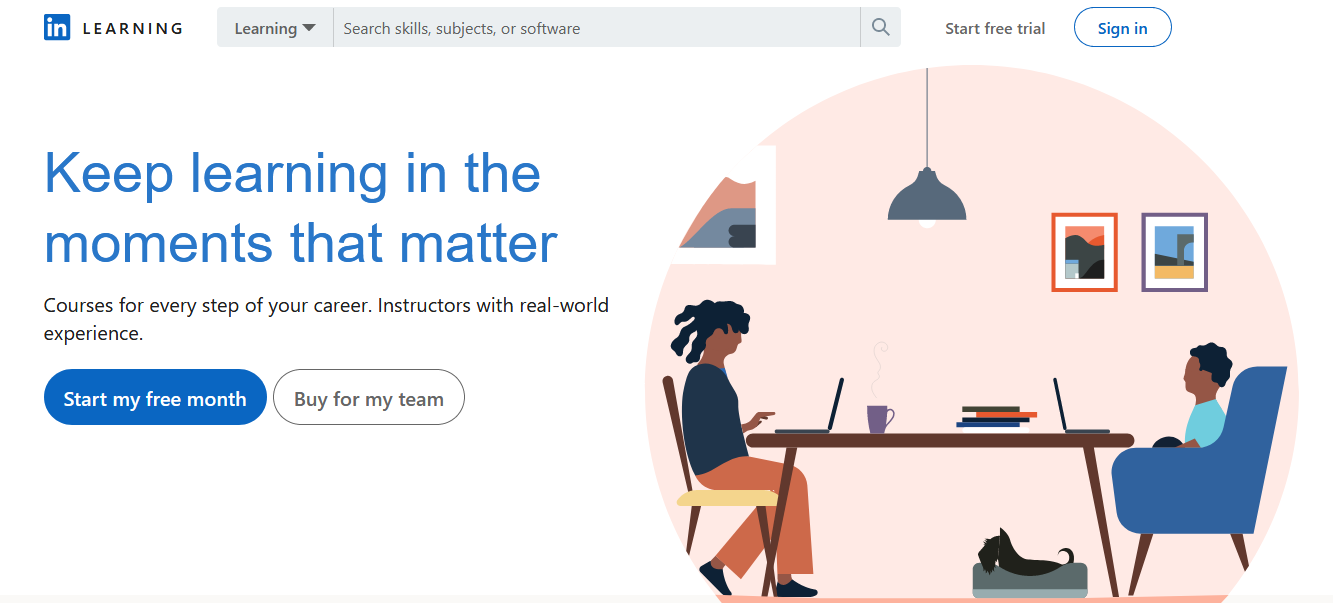 Formerly Lynda.com is part of LinkedIn services. It has 16,000 courses with specializations in business, tech, and design.
Pros
Instructors are vetted
Business owners can train employees with LinkedIn Learning courses to streamline onboarding or advanced learning
Completion certificate
Cons
Limited niche categories for online learning
FAQs
Question: Is Thinkific better than teachable?
Answer: It depends on what features are important to you. Thinkific offers more security features, whereas Teachable has more marketing tools to help your course sell.
Question: Can I use teachable for free?
Answer: No. Teachable has 3 paid tier plans for creating courses, Basic, Pro, and Business. The basic plan includes unlimited video, unlimited courses, and unlimited hosting for only $39 per month.
Question: Does teachable market your course?
Answer: Yes. When you create a course on Teachable, the platform provides you with a sales page to promote the course. The sales page is filled with auto-generated content, however, you can personalize it to your liking. The sales page can not only help you sell more courses, but it can also collect email addresses pre-launch.
Question: Can you make money with teachable?
Answer: Yes. Teachable is an online course creation platform to help you make money from what you know and can share with an audience. Teachable offers video, audio, and text-based course options.
Question: Where can I promote my online course?
Answer: There are several opportunities to market your online course. You can use your social media following to spread the word. Collaborate with other course creators to promote the course to their audience. Provide a discount code or free introductory course to your newsletter list. You can even provide exclusive bonuses for people that follow you.
Teachable vs Coursera Conclusion – Which One is Best?
While Teachable and Coursera both offer online courses, their platforms are not apples to apples like for instance Teachable vs Thinkific. Teachable is open to everyone who has information to share and has the drive to promote it to an existing list of followers or even from scratch.
Coursera takes a more professional approach by screening each instructor and monitoring every course. The payoff is that online learners receive current, real-world education that they can apply toward a job promotion or even successfully switching careers. Even though it may be more difficult to teach with Coursera, you will be compensated for the hours you put in and can rest assured you will be alongside a power-house team of high-quality instructors.
With online learning growing rapidly, Teachable vs Coursera offers two different ways to get your foot in the door of this profitable market. If you have never taught an online course before I recommend giving Teachable a try. The platform is easy to set up and since it takes care of execution and payment, you can scale at your own pace. More experienced online instructors will appreciate Coursera's vetting process.
Will you take the Teachable route and entrepreneur your way into a catalog full of courses or will you apply to Coursera and focus on the course content?