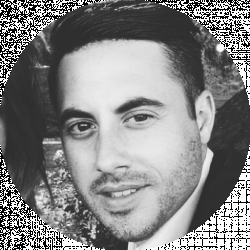 Latest posts by David Borgogni
(see all)
Last Updated on August 29, 2020 by
Our Advanced Web Ranking review is going to take you through all of the software's most important features and help you decide if it is the right keyword tracking tool for your business.
Did you know that 93% of all online experiences start with a search engine?
Being aware of how the keywords you add to your website rank on Google and other search engines can improve the traffic your website generates and secure steady sales. The recent updates of Google's search engine have made it difficult to improve your website rankings through keyword stuffing and other similar techniques that are supposed to trick the algorithm.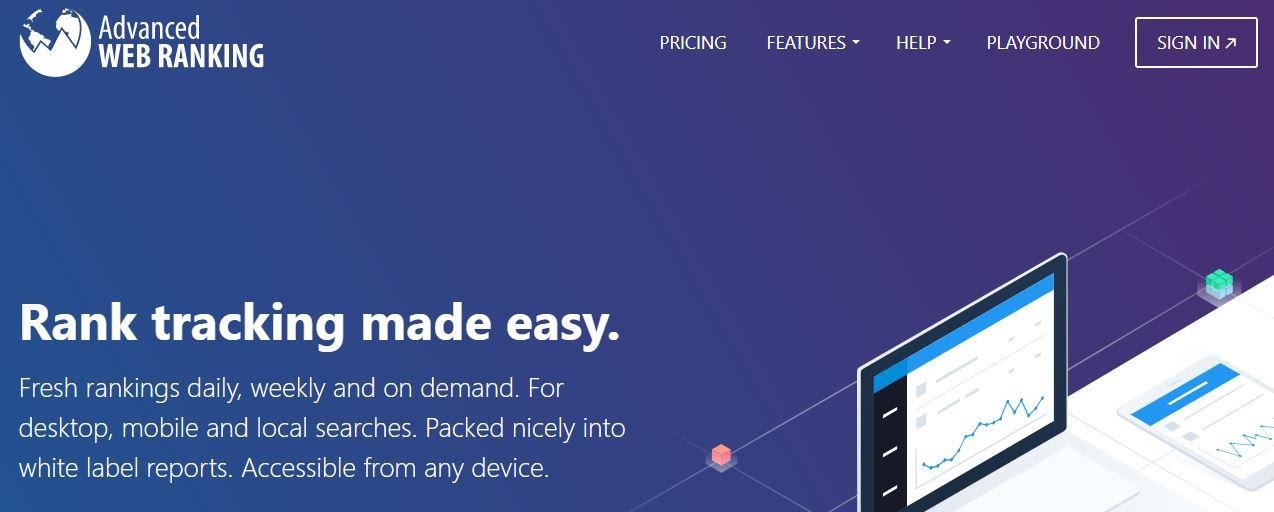 Despite rumors that SEO is effectively dead (not the case at all), appearing on the first page of search results for a keyword is still important, since 75% of internet users are not going to look at the results displayed on the second page of the SERPs. The statistics suggest that tracking your website's rankings can give your business a significant boost, which means that you must have access to the tools that enable you to track keywords or see how your website is performing on different search engines.
What are the benefits of using AWR?
Currently, the SEO industry is worth approximately $80 billion, and its worth is expected to continue rising as voice searches become more common. Even though the landscape of SEO has changed quite a bit over the course of the last decade, it is clear that it shouldn't be neglected during the process of creating a new marketing strategy.
Software products like Advanced Web Ranking, SEO Profiler or SECockpit are designed to help its users have a clear overview of their website's performance on different search engines. AWR also enables you to see if you are using the right keywords or to create detailed reports you can present to your team or your clients.
This web-based software is equipped with the tools that show you visibility statistics for websites, search engines or keyword groups. You can use AWR to monitor statistics like:
Visibility evolution
Ranking distribution
Ranking comparison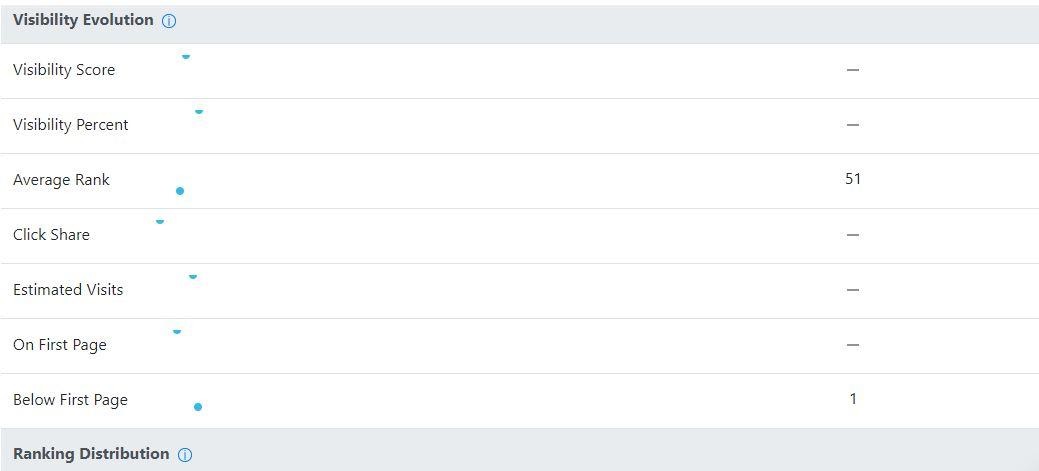 Each bit of data you acquire with AWR can be utilized to create reports related to different aspects of SEO. Digital entrepreneurs and marketers who are looking for a way to measure the performance of their SEO strategy or find out what their competitors are doing differently can benefit from using AWR. In addition, this keyword tracking tool can assist you in detecting flaws in your SEO strategy, which enables you to improve your SEO rankings by making necessary changes to your keyword selection.
Why is it so important to track keywords?
The days when repeating a keyword over and over was enough to guarantee a place on the first page of search results are long gone. In fact, video search results have 41% higher click-through rates than text results, but this doesn't mean that you should stop paying attention to keywords altogether.
More than a half search queries on Google have four or more words, so instead of opting for simple keywords, you should find so-called 'long-tail keywords' that are best suited for your industry. AWR enables its users to track short or long-tail keywords and grants them the overview of how high these keywords are ranked on Google, Yahoo, and other search engines.

Besides discovering the highest-ranked keywords, you can use to improve your website's search rankings, AWR  lets you see top-ranking sites that utilize the same keywords. Detecting the keywords that are the most relevant for the type of business you are running can be useful during the process of crafting your content strategy.
AWR keyword tracking tools enable you to just insert a particular keyword and see how highly it ranks on a search engine of your choice. Keywords may not be as important today as they were a decade ago, but they still play a major role in boosting a website's or a webpage's ranking.
How can AWR assist you in improving your website's visibility?
Reaching the first page of the search engine results of all major search engines takes time and dedication. Moreover, creating high-quality content won't have the desired result, if your website isn't visible to Internet users you are trying to reach. Website visibility can be defined as the process of getting your website found when your potential clients are searching for the products or services your company offers.
There are countless ways in which a website's visibility can be improved, but you won't know which of these techniques to use unless you monitor its visibility over a certain period of time. That's why AWR, allows its users to keep track of how visible their content is on search engines or within a specific keyword group.
You can use these metrics to build your website's credibility and discover ways of producing content that can be easily found by anyone who uses a particular search term that is relevant for your website. However, obtaining the visibility metrics may not be enough to turn around your SEO strategy, since there are more than a few factors that contribute to how easy it is to reach your website.
Staying a step ahead of your competition with AWR
The metrics your websites and individual web pages generate won't mean much unless you compare them to those generated by competing websites. Evaluating a website's performance is much easier if you know how much traffic the websites of your competitors are attracting or which keywords they are using to secure a high ranking on popular search platforms.
The AWR's Top Sites and Top Sites in Time features enable you to see the highest-ranking websites for each of the keywords you are tracking. Moreover, the platform lets you define how many websites should be displayed in the results or to see which websites ranked among the top ten for a particular keyword over the course of an entire year or just one week.
Both of these features provide valuable information to marketers because they allow them to monitor the highest-ranking websites for all keywords they want to incorporate into their SEO strategy. In addition, keeping track of websites that are consistently featured on Google's, Yahoo's or Bing's first pages can help you craft a content strategy that will enable you to compete with those websites.
Which subscription options does AWR offer?
Creating an account on AWR doesn't cost anything, because the platform offers a 30-day free trial. In fact, you won't need much more than a few minutes to get your AWR account up and running. The free trial gives you more than enough time to test the platform's capabilities and determine if you want to continue using its services.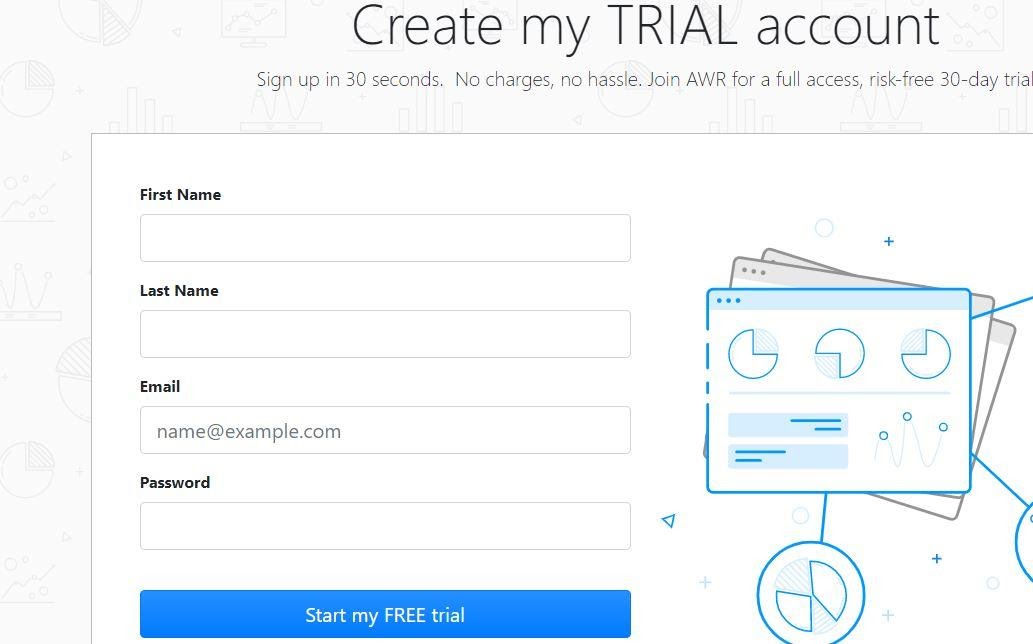 After the free trial expires you'll be prompted to choose between the following subscription models:
Starter
Pro
Agency
Enterprise
Each of the pricing plans the AWR offers can be billed on a monthly or on an annual level, but if you opt for the annual billing method the price of the subscription model you selected will be reduced by 10%.

Moreover, each of the subscription models has a different amount of keyword units that indicate how many keywords you can track. The keyword unit consumption depends on factors such as:
The number of tracked keywords
The number of tracked search engines
The types of tracked search engines
Project update frequency
Search depth
The scope of the SEO tools you'll have the access to depends on the subscription plan you choose, but features like Google Data Integration, Local and Mobile Rankings or Competitor Insights are available within all pricing plans. Purchasing the Agency subscription model will enable you to use the following options:
One-hour updates
Historical ranking imports
Data Studio Connector
Developer API
The Starter pricing option is best suited for small businesses that don't need too many keyword units, while as their names suggest Agency and Enterprise plans offer advanced keyword tracking features that can help marketing teams monitor a large number of keywords.
Advanced Web Ranking Review: Does AWR live up to the expectations?
AWR is probably one of the oldest keyword tracking software products on the market. The platform was founded in 2002 and since that time it has secured its place among the best SEO tools, right next to platforms like SEMrush or Moz Pro.
The AWR's dashboard is divided into six major categories:
Reports
Ranking
Comparison
Visibility
Google Data
Settings
Each of these categories contains several subcategories that enable you to compare websites, measure the visibility of landing pages or find out your website's organic click-through rate.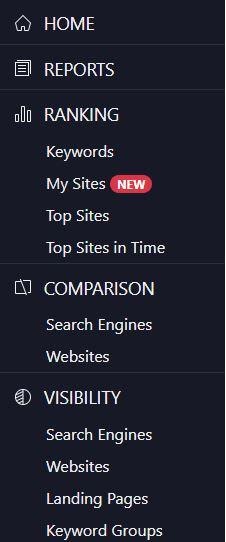 In order to start tracking keywords, you must first create a new project, and AWR doesn't limit the number of projects you can create. So, all you have to do is add the website's URL and specify the keywords you would like to track. Optionally, you can adjust the results page depth and update frequency or add multiple search engines to projects.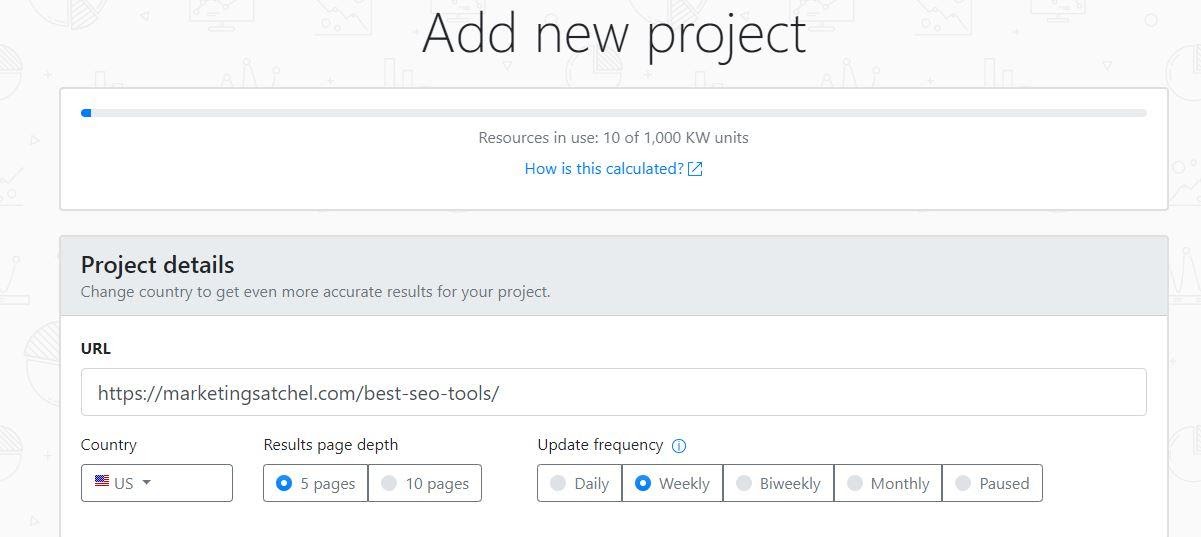 Moreover, you can add new keywords, competitors or search engines to a project after you create a new project, so you can extend the list you search engines or keywords you're tracking at any moment. How often you'll receive new data depends on the update frequency you selected, and you can receive updates:
Daily
Weekly
Biweekly
Monthly
Connecting your Google Analytics account or Google Search Console to a project you created will enable you to get even more detailed data for the Google search engine. AWR will automatically measure all of the most important metrics that are based on the parameters you've selected, and you'll be able to export all the data you acquired as a report.
Tracking keywords with Advanced Web Ranking doesn't require too much time or effort, but the platform is also equipped with the tools SEO marketing professionals need to measure a website's performance on different search engines.
Tracking keywords with AWR
Before you can start using AWR to track keywords, you must first conduct research to find out which keywords are the most relevant for a particular website. Afterward, you can add all keywords you want to track while creating a new project or you can perform the same action from the Keywords tab that is located in the Overview menu once the project is already created.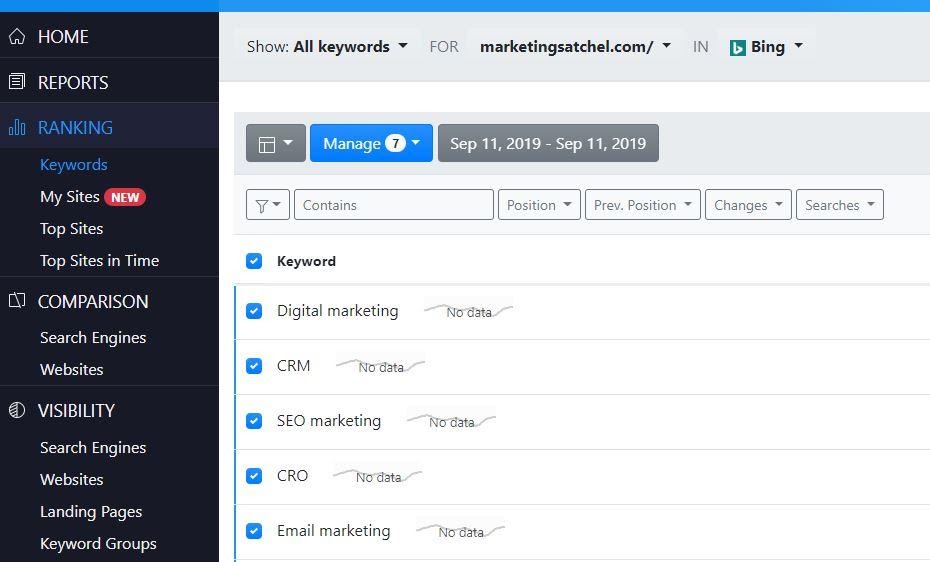 Clicking on the Keywords submenu in the Ranking menu will allow you to see all keywords you added to a project and to adjust the parameters on which the displayed results are based. AWR lets you add columns, change search engines or compare the results in charts. Connecting the Google Search Console to your AWR account will grant you access to these metrics:
Impressions
CTR
Clicks
Average position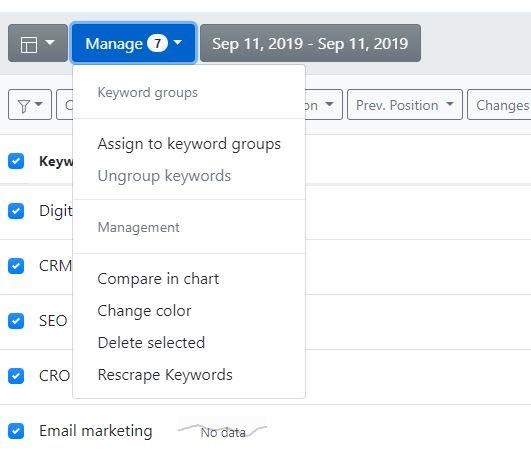 Arranging keywords into groups is also on the list of features AWR offers that makes managing a large number of keywords easier. The software lets you see the results from all search engines you added to a project or view the metrics the competing websites are generating. AWR grants its users control over the SERP features so that they can decide if they want the results to include features like:
Sitelinks
Tweets
Knowledge panel
Images
Top stories
Videos
Including any of these features into the search results will enable you to see all news-related results or videos related to the keyword, you're tracking. AWR's keyword tracking tools are powerful enough to even meet the expectations of the most demanding users, but they are also easy to use, so novice SEO marketers won't need too much time to become familiar with them.
Monitoring a website's visibility with AWR
The visibility metrics indicate how visible a website is on Google, Yahoo and other major search engines based on the keywords you added to a project. The AWR's Visibility menu contains the following subcategories:
Search engines
Websites
Landing pages
Keyword groups
SERP features
Market share
The Search engines, websites, and keyword groups subcategories grant you insight into the visibility evolution, ranking distribution, and ranking comparison metrics. Each of these metrics contains a plethora of statistics that show you the visibility score, how high a website or a keyword group is ranked or whether a website or a keyword is moving upward or downward in the search rankings.

Moreover, AWR enables its users to adjust the parameters on which the results are based by defining the keywords, positions or changes that occurred since the previous update. The data you acquire in this manner can help you understand how difficult or easy it is to reach your website or a landing page and take the necessary steps to make them more visible on different search engines.
Advanced Web Ranking's Visibility features enable its users to conduct an in-depth analysis of the website's or a keyword's visibility. Teams of marketing professionals and inexperienced SEO marketers can use the AWR's Visibility options equally effectively to determine how easy it is to reach their website and to export detailed reports that contain a variety of metrics.
Creating reports in AWR
You can export a report from AWR  with a single click, and the platform lets you save each report as a PDF file. In order to start creating a new report you just have to open the Reports menu and select one of  the following options:
Keyword Rank Performance
Search Markets Overview
SEO Performance Overview
Search Visibility Performance
Competitor Rank Analysis

The metrics that will be included in the report depend on the type of report you selected, since the data that is important for the SEO Performance Overview doesn't necessarily have to be relevant for a Keyword Rank Performance report.
However, each of these report templates contains a number of subheadings that reveal key performance indicators summary, organic versus total traffic or your best ranking keywords. Clicking on the Settings drop-down menu that is located next to the Generate PDF button grants you access to these options:
Edit report
Duplicate report
Create new report scheduler
Pin report
Delete report
The Edit report feature lets you add new subheadings to a report or customize the existing ones. The AWR platform is equipped with all text editing tools you are going to need to create a professional report. Moreover, you can generate different types of charts and tables that are based on the data you acquired with AWR.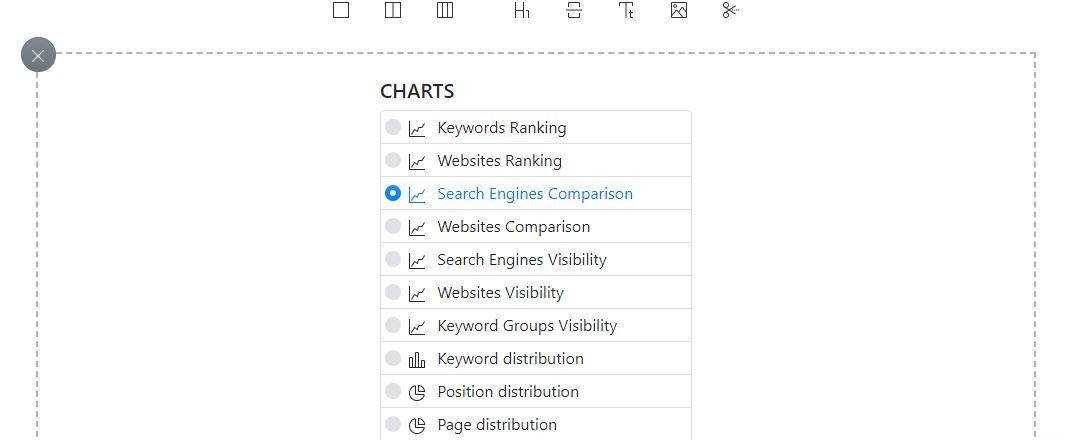 All changes you make can be saved with a single click, so you can easily save progress or use the same report on more than just one occasion. Furthermore, you can schedule daily, weekly, biweekly and monthly reports for each of your projects and even choose the day of the week or the month when the reports are going to be created.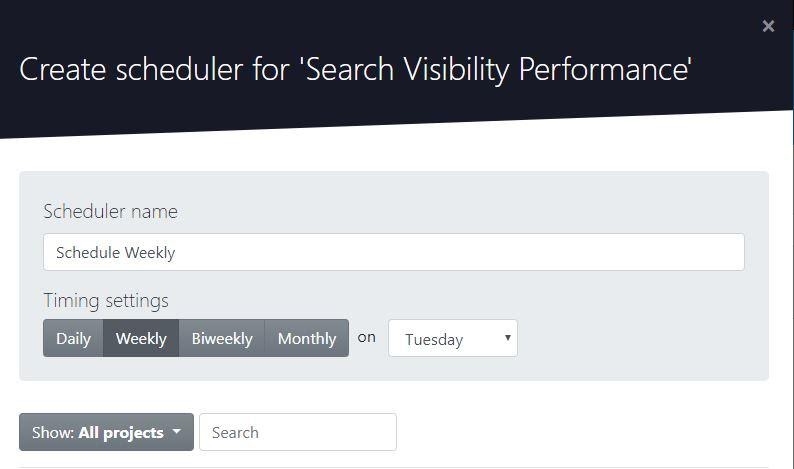 Creating different types of reports with AWR doesn't require too much previous experience with SEO marketing since you can easily import all the necessary data into a template and export a report in just a couple of easy steps. Such a broad spectrum of report features makes Advanced Web Ranking one of the best keyword tracking platforms for both experienced and novice users.
Pros and Cons
Pros
Intuitive, user-friendly interface and a well-organized dashboard
AWR doesn't limit the number of projects you can create
Quick integrations with Google Analytics and Google Search Console
Provides a broad range of keyword tracking tools
Easily accessible visibility metrics
Offers a powerful set of SEO tools at an affordable price
Lets its users create professional reports with ease
Excellent comparison features
Cons
The number of available keyword units depends on the subscription plan
Limited integration options
Supports only the English language
Doesn't offer link monitoring tools
The Verdict: Does investing in AWR pay off?
Maintaining a website's position on the first page of major search engines takes a significant amount of effort and time. So, in order to know if your SEO strategy is producing the results you want, you must have access to each metric that can indicate that your strategy is underperforming.
After nearly two decades on the market, Advanced Web Ranking is still one of the most reliable keyword trackers that can be used on Mac and PC computers or as a web-based software. Discovering the highest-ranking keywords on search engines like Google, Bing or Yahoo and determining the visibility of the keywords you add to a project is what AWR does the best.
The ease of use makes this keyword tracker suitable for both seasoned professionals and the newcomers to the SEO world. The vast number of features, fully customizable reports, and excellent customer service are just a few among the countless reasons why opting for one of the AWR's subscription plans is a great investment that will pay off in time.
The Best Alternatives to AWR
There are quite a few SEO marketing tools that are equipped with a set of features similar to those AWR provides. Platforms like SEMrush, SERanking or Moz also enable their users to accurately track keywords, measure their website's visibility or create reports.
In addition to keyword tracking tools, SEMrush offers features that enable you to study ad texts of your competitors, track backlinks or compare multiple sites. Each of these SEO marketing platforms can be used to audit a website and gather data that indicates how different search engines rank a website or the keywords it contains.
Unlike SEMrush or SERanking, AWR doesn't support backlink tracking, since it is primarily a keyword tracking tool. Enhancing the link building research is one of the main reasons why marketers should consider using AWR's alternatives, but if keywords are more important to your SEO strategy than backlinks, you can hardly go wrong if you opt for AWR.
Advanced Web Ranking Review Conclusion
Even though keywords are no longer as important as they once were, SEO marketing is still an effective digital marketing technique that can help generate more traffic on your website and improve conversion rates. The set of keyword tracking tools AWR provides enables you to monitor the metrics that show you how well the keywords you've chosen rank on different search engines. Are you using the Advanced Web Ranking platform to track keywords? Leave a comment below and share your experiences with us.
Frequently asked questions
How many keywords can I track with AWR?
The number of keywords you can track with AWR depends on how many keyword units you have. Keep in mind that the amount of available keyword units isn't the same for all subscription models.
Can I integrate AWR with Google Analytics and Google Search Console?
You must first create a Google Analytics and Google Search Console account before you can integrate AWR with these platforms. Metrics like Organic CTR, clicks or impressions won't be available until you integrate AWR with Google Search Console.
Is it possible to import rankings from an external source?
Yes, the AWR platform allows its users to migrate data from other platforms, and migration data assistance is provided to the owners of the Enterprise subscription plan.
How long does it take to generate the initial ranking update?
The amount of time AWR needs to create the initial ranking update depends on how complex a project is and the scheduler frequency you selected. It can take anywhere between a few minutes and a few hours to generate the ranking update after you add a new project to AWR.
Here are other related articles you may be interested in: