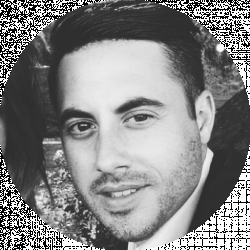 Latest posts by David Borgogni
(see all)
Last Updated on August 29, 2020 by
If your business has a website, then you will know that in this day and age, if you want to be found online, you need a good SEO strategy.
Ranking well in search engines can save you a ton of money on paid advertising, as it enables your ideal customers to find you organically!
SE Ranking is an all-in-one SEO software subscription that can help you improve your search engine ranking whether you are an individual, a small business or a larger enterprise.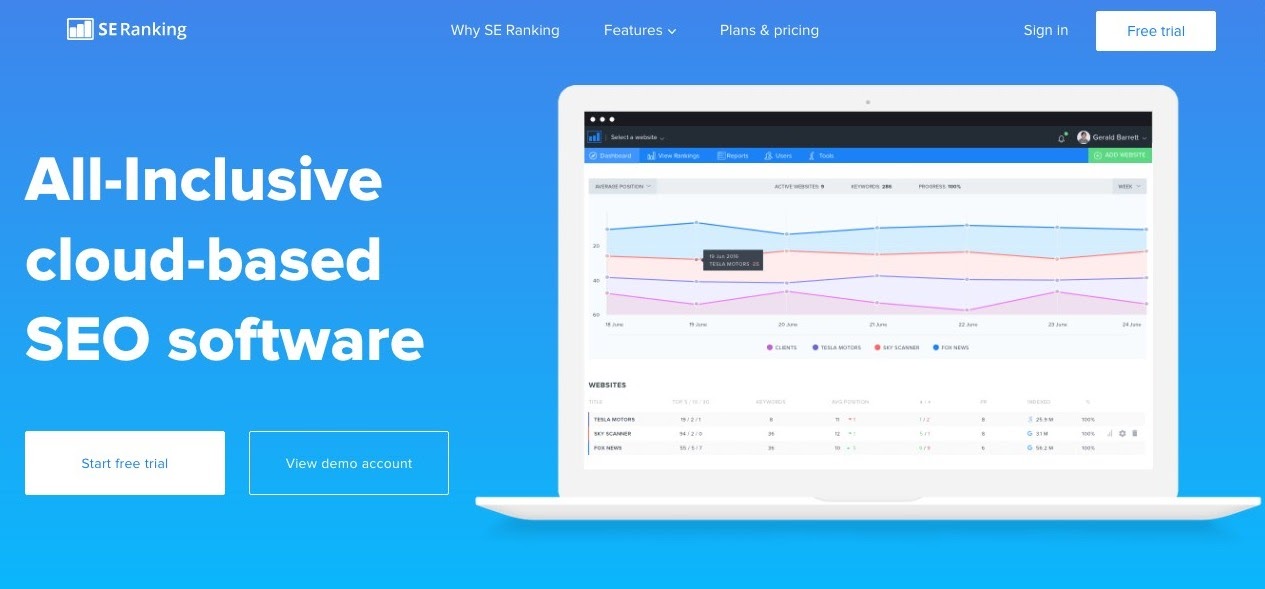 In this SE Ranking Review, we will help you to decide whether this SEO tool will be a good fit for you and your business.
Whether your business is local or global, ranking in search engines can have huge benefits.
Often, smaller local businesses like restaurants, high street shops, plumbers, builders, and electricians think that it doesn't matter how well they rank in search engines since most of their customers are local to the area and already know about them.
However, ranking well can open local businesses up to a whole host of new customers that didn't know about them before.
In fact, 78% of local mobile searches result in an offline purchase!
Today we are going to look at the SEO software, 'SE Ranking' to see how it works and to help you decide if it is right for your business. We will look at all of the features of the tool, as well as the pros and cons, so you can make an informed decision on whether it's the right SEO tool for you.
Before we get started with the main review we are going to talk about why SEO is so important, and why it should be a big part of your ongoing marketing strategy.
Let's get stuck in…
Why should SEO be part of your marketing strategy in 2019?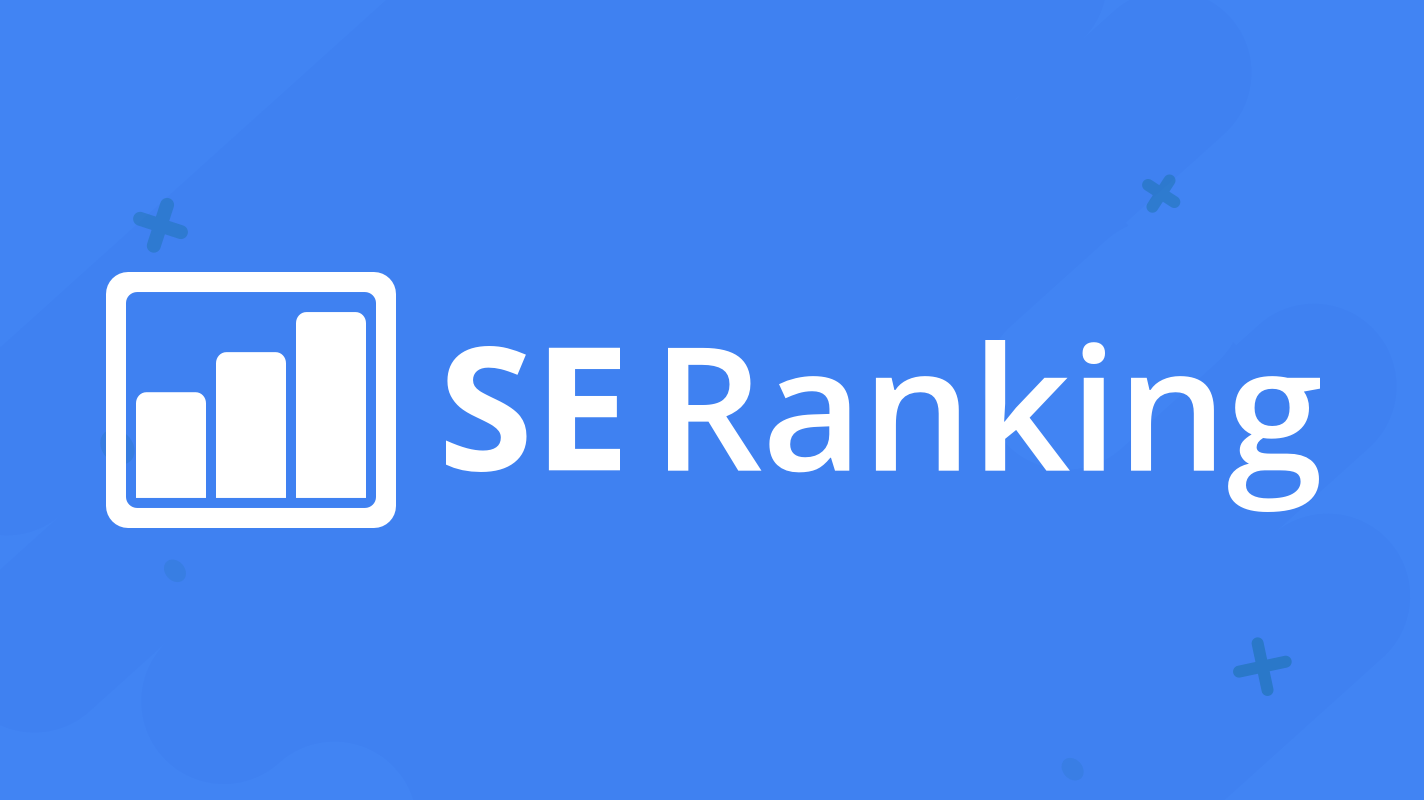 Why should you be using SEO as part of your marketing strategy when you could just use paid ads?
It's a good question. Paid advertising is a wonderful thing, but did you know that your customers finding you through organic search could be even better?
Why?
Because many people now know that the first couple of results on a Google search page are likely to be more relevant to them than the paid ads, and so 70-80% of people skip straight past the paid ads.
The organic search results are likely to be exactly what you are looking for because google algorithm has searched these pages extensively to find the most relevant content for the search query.
To give you an idea of how important organic search results are, research shows that a whopping 70% of links that search engine users click are organic!
And the good news is that with a great SEO strategy as part of your marketing plan, you can use search engines to your advantage!
If you can manage to appear on the first page of a search engine results page (SERP) you can get around 32.5% of the organic search traffic straight to your website.
That could be huge for your business.
And this is where tools like SE Ranking come in.
SE Ranking Review 2019 – Can SE Ranking Improve Your SEO?
SE Ranking is an all-in-one SEO platform that can help you to ensure your (or your clients) website's rank well in search engines.
It provides everything you need to track and improve your SEO, whether you are a small business owner, agency, or SEO professional, with features such as website auditing, keyword rank tracking, backlink checker and much more.
The keyword suggestion tool lets you find profitable keywords for your industry, and also helps you find long-tail keywords and similar keywords to your initial search. You can easily filter the keywords by popularity so you can find ones that will be easy to rank well for.
You can use SE Ranking to perform competitor research so that you can see what is working (or not working) for your competitors, and then use this to your advantage by either improving on their strategy or honing in on areas where they are weak.
There are also marketing plan and website audit features which provide you with actionable steps you can take to improve your SEO, and you can keep track of your progress with the regular crawl comparison.
If you are an agency or SEO professional then it gets even better…
SE Ranking offers white-label features. To generate leads there is an SEO audit feature which you can place on your website to offer your visitors a free on-site audit in exchange for their email address. This allows you to collect your ideal customer's data as well as fresh leads for your business. You can also offer the entire SE Ranking platform as a white-label service to your customers, but more about that later…
SE Ranking is a subscription-based software, so you pay monthly for the service and the price varies depending on your requirements, so you only pay for what you need to use which is great for smaller businesses who are just getting started.
The Key Features of SE Ranking
Keyword rank tracker
Website audit
On-page SEO checker
Backlink checker and monitoring
Keyword suggestion tool
Keyword grouper
Page changes monitoring
Marketing plan
SEO/PPC competitor research
White label features
White label lead generator
SEO reporting tools
API
Social Media Management – Publishing and Monitoring
Keyword Rank Tracker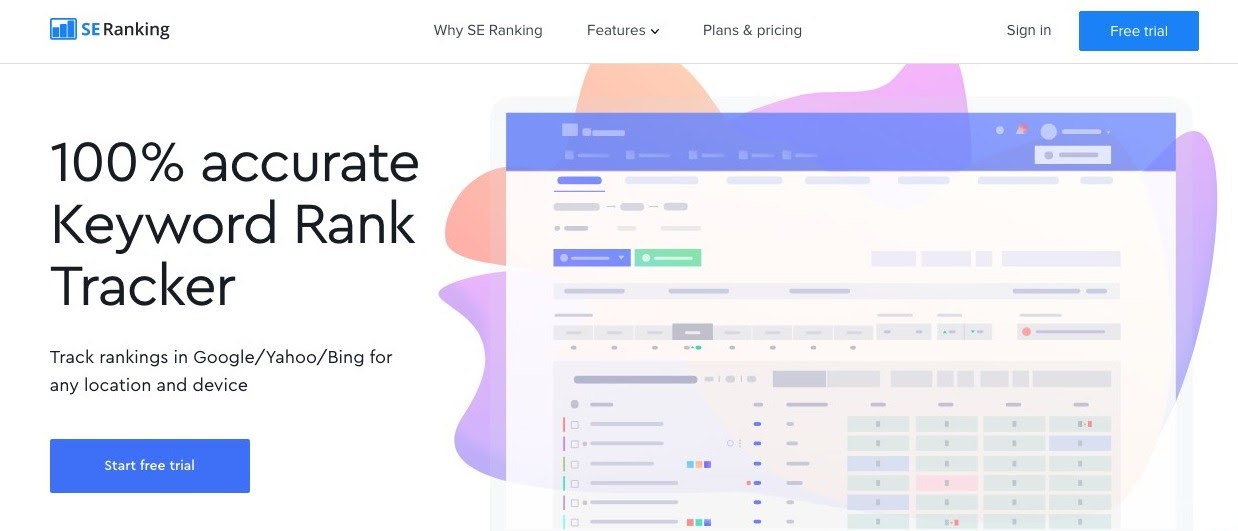 One of the most useful features SE Ranking offers is the keyword rank tracker. It is 100% accurate and tracks keyword rankings in all of the major search engines such as Google, Bing, YouTube, and Yahoo. It works for all locations on both mobile and desktop devices.
As well as tracking your own keywords, you can also use this tool to track your competitor's keywords by adding up to 5 competitors per the report, so you can see the comparisons side by side.
Every time you enter a keyword for analysis you will receive data on not only its competitiveness but also the search volume, KEI, number of search results, relative traffic forecast, suggested bid by Google, and more, so you can make an informed decision on how and which keywords to use in your strategy.
SE Ranking's Website Audit Features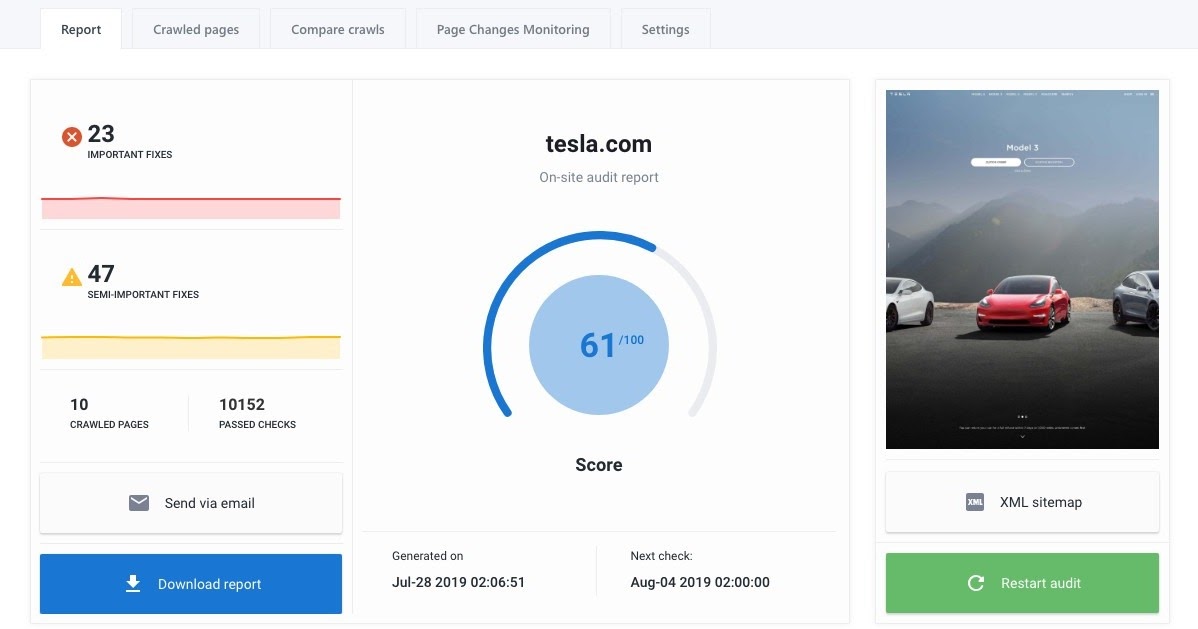 The website audit feature provides you with an in-depth review of your website, or any other website you want to look at (such as your competitors) and it can even reach closed domains! The tool crawls every page of a domain, and provides you with a domain overview and health check which shows you a list of things you can fix to quickly improve your SEO, such as ensuring you don't have any duplicate content, and that you have the optimum word count on each page.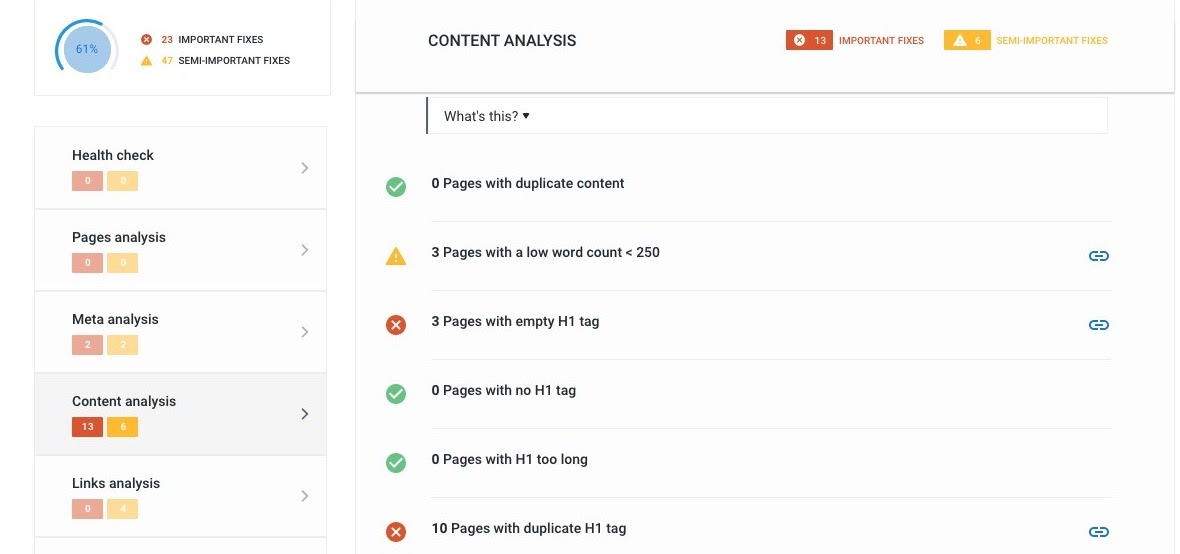 The link analysis feature lets you check for any broken links on your site that may be damaging your SEO, and also shows you any pages on your site that may have too many links that could potentially be penalized by search engines.
There is also a usability analysis tool which checks for features that would make your site more user-friendly, such as having a favicon, being mobile optimized, having a custom 404 page and HTML validation.
All the data you receive from the crawl is presented on the dashboard, so it's clear and easy to understand, enabling you to take actionable steps to improve your SEO.
Backlink Checker and Backlink Monitoring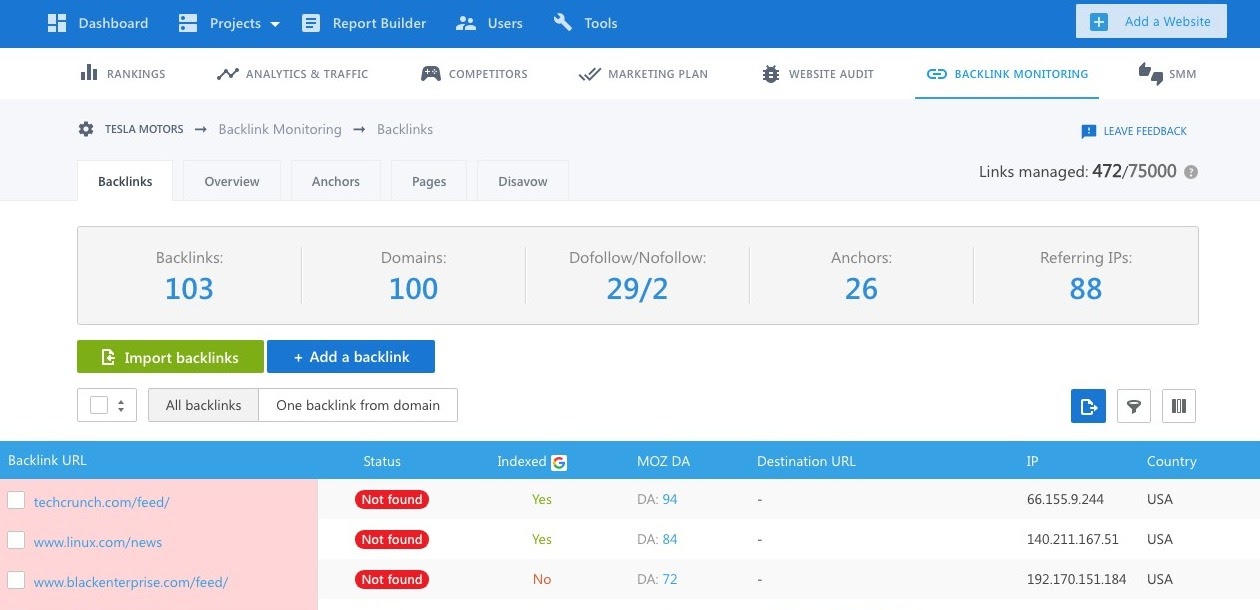 You can use SE Ranker to check and analyze backlinks on either your own websites or your competitor's websites. Backlinks are analyzed against 15 SEO parameters including domain authority by MOZ, backlink URL, anchor text, domain trust and more.
You can easily sort and filter through your backlinks so you only need to see the links that are useful to you at the time. The most commonly used filters are nofollow and noindex.
Once you have analyzed the quality of your backlinks, you can also monitor and manage them to ensure no low-quality backlinks are harming your SEO. You can either automatically download or manually import a .csv file containing all of your backlinks, and sort through them as you need to.
If you would like to disavow (ask google to disregard) any of your backlinks that are poor quality or spammy, then all you need to do is mark the links you want to disavow, and a file will be automatically generated for you to use.
There is also a handy budget feature, which assigns a value to each of your backlinks, regardless of how you acquired them, which can help you budget for future marketing campaigns.
SE Ranking's Keyword Suggestion Tool & Keyword Grouping Tool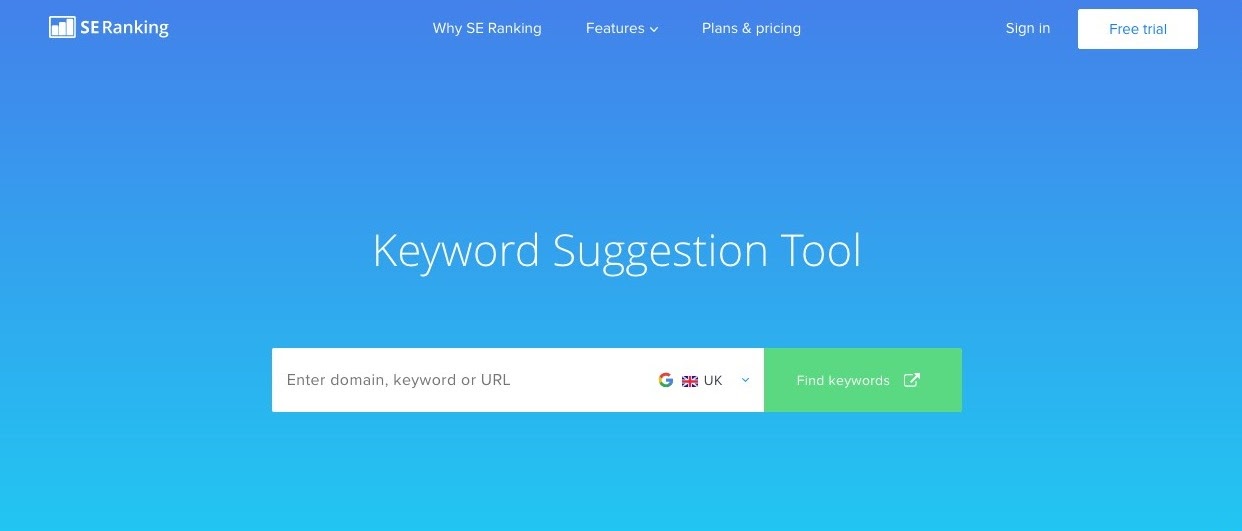 SE Ranking has the largest database of keywords, with more than 2 billion unique search queries. The internal database is updated monthly and receives suggestions from Google, Yahoo! and Bing.
The keyword suggestion tool is very easy to use and provides you with both long-tail and short keywords, which you can sort by popularity to find the right ones for you. This will help you find profitable keywords that will enable you to rank well in search engines.
You can segment keywords with the keyword grouping tool to help you distribute keywords throughout your site. This can also help you plan your future SEO strategy. The grouping tool has lots of benefits; it can save you time (as this task could take hours if done manually) and it helps eliminate any mistakes that may occur while doing this manually.
Marketing Plan
SE Ranking's Marketing Plan feature gives you a detailed roadmap of everything you need to do for your SEO and marketing strategy. It's super easy to use, and you get a numbered step by step guide of everything you need to do, so you can check things off the list as you do them!
The to-do list is extensive, and include tasks for all of the following areas:
Semantic core and keyword research
On-site optimization
Mobile optimization
Content strategy
Off-site optimization
Social media strategy
B2B and White Label Features
If you run an agency or are an SEO professional, then SE Ranking's white label features will be perfect for you, and the best thing about it is that you don't need to pay any extra for white labeling- it's already included in the plan.
You can use the whole SE Ranking platform under white label, showing your customers and clients your own professionally branded SEO platform. This will help you build trust and loyalty with your clients, enabling you to grow even faster.
With white labeling you can use your own domain (no hosting is required as it's all in the cloud), add and manage users, create branded and customized reports, and brand the whole platform with your own color scheme and logo to that it's unique to you.
The lead generator is possibly one of the most unique features that SE Ranking offers, as it allows you to generate your own leads for your agency or service by installing a widget on your website that offers your website visitors a free on-page audit in exchange for their contact details. The audit is generated automatically and sent to them as a detailed report with your customized branding, so you don't need to worry about a thing.
The leads you receive from the lead generator are likely to be hot, as they clearly have an interest in improving the SEO of their website, and so are more likely to purchase SEO services from you.
Social Media Management Tools
SE Ranking has social media management tools that allow you to easily schedule and monitor your social media accounts, all from one place, so there is no need to purchase additional social media management software.
You can plan and share content across all of your social media channels with just a few clicks. SE Ranking will help you to increase your engagement by posting at the most active times for your audience, and it will also let you know which types of content will get the most engagement.
SE Ranking Pricing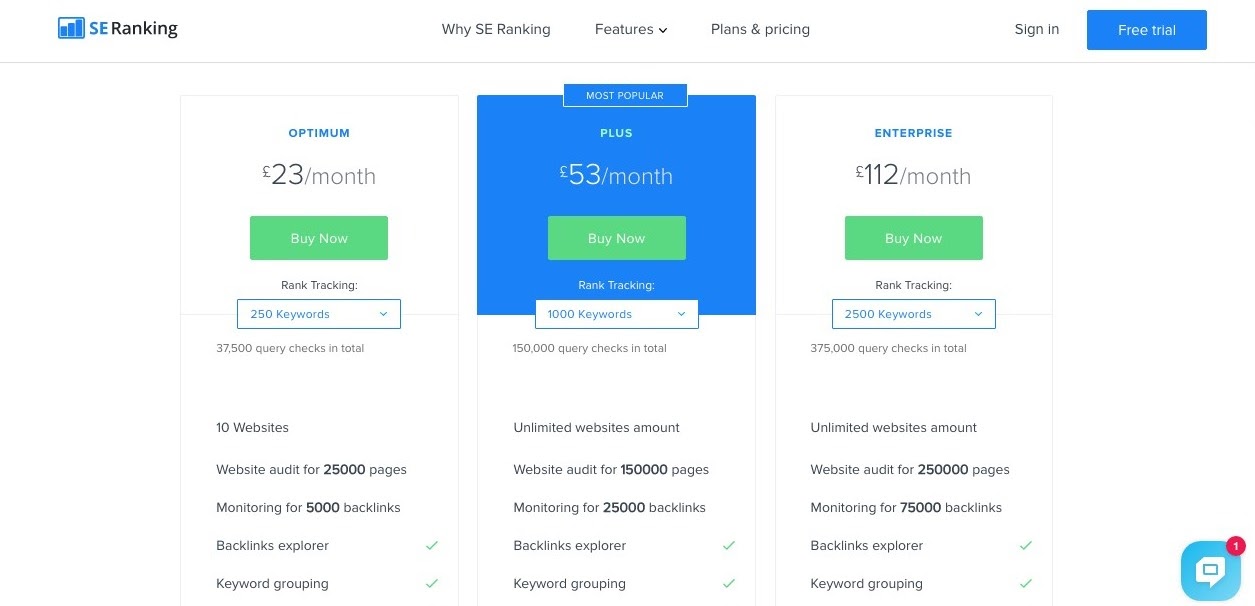 SE Ranking is one of the most affordable SEO tools around, starting from just £23/month. The pricing plan does vary by your usage, and the rankings check frequency you need (the prices in the image above are based on a monthly subscription with daily ranking checking) and it also offers a discount based on your subscription period, giving you more discount for longer subscription periods.

So let's compare the plans based on daily ranking checkings for a monthly subscription period, just to keep things simple…
There are three main packages, 'Optimum', 'Plus', and 'Enterprise'. The Optimum plan for just £23/month is the most basic plan, but it has some limited features. This plan would be best suited to a small business doing their own SEO rather than an agency, particularly as it doesn't include and white-label features.
The next plan is the Plus plan, which is apparently the most popular option. This plan is just £53/month and includes everything you need if you are an agency or marketing professional, including white labeling. The only thing not included in this plan is API.
The largest plan is the Enterprise plan, which is £112/month. This plan has everything included in the plus plan, as well as API. The main difference between this plan and the plus plan is that there are higher search limits, so whether or not you need this plan would depend on the size and scale of your business.
Pros and Cons of SE Ranking
Pros:
Very affordable
White labeling solutions to use for clients
Lead generation tool is included
You can perform competitor analysis
Flexible monthly plans depending on your needs
Discounts if you commit to a longer plan
The cloud-based solution so no need to worry about installing software on your computer
Very user-friendly, great for beginners
A marketing plan helps you stay on track and makes sure you don't miss anything
Website audit gives you a good overview of how you are doing so you can track your progress
Cons:
Social media management tools are very basic
You can only access API on the most expensive 'Enterprise' plan
Lacks third-party integrations
Overall the pros of SE Ranker far outweigh the cons, especially at this price. It's clear to see that it's well worth the money for all of the features that are included, particularly the white labeling and lead generation features for agencies.
Conclusion: Is SE Ranking The Best Budget SEO Tool?
While SE Ranking does not have all of the features of some of the other SEO tools like SEMrush, there is no doubt that it offers great value for money. The Enterprise plan is just £112/month compared to SEMrush's business plan at $399.95 per month which is quite a big difference.
SE Ranking offers a full white label solution included in the monthly price, so if you are an agency or professional offering SEO services, you can use the white-label software with your custom branding to show your clients and prospects. You can also take advantage of the lead generation tool, which plugs into your website and offers a free on-site audit to your web visitors in exchange for their details, there is no extra charge for this and it can help you to grow your business so we think that's a huge bonus!
The amount of features that SE Ranking offers is extensive for the price. For the monthly fee, you will have everything you need to track and improve your SEO.
SE Ranking is the perfect tool for online entrepreneurs who are looking to improve their SEO, small businesses who want to handle their SEO in house, and smaller agencies who are working on a budget and looking for white label solutions.
In conclusion, would we recommend SE Ranker?
Yes. Absolutely.
We haven't seen any other tools that offer this much bang for your buck. If you want to give SE Ranking a try before you commit to a monthly plan then there is a completely free 14-day trial to give you a feel for the tool.
SE Ranking FAQ's
What is included in the free 14 day trial of SE Ranking?
The free trial of SE Ranking includes access to; Keyword rank tracker, backlink monitoring, on-page SEO checker (one report per day), page changes monitoring, SEO and PPC competitor analysis, marketing plan and website audit (limited access), Google analytics and search console integration, SEO potential, social media management and analytics, sub-accounts, reports, and keyword suggestions.

The features NOT included are:

– Backlink checker
– Search volume checker
– Index status checker
– Parameter checker
– Keyword grouper

You can try these tools, but you need to get in touch with SE Ranking to organize this.
Can I migrate to SE Ranking from another service?
Yes. you can import your keywords from the previous software you were using with SE Ranking's automated migration procedure. If you have used a tool in the past that don't use a rank tracker (SEO Power Suite) then you can contact SE Ranking support and they will handle the migration for you manually.
Can I fully customize my SE Ranking account?
Yes, the white-label feature allows you to customize the whole system. You can change the colors of the interface, add your own logos, and customize the reports. There will be no evidence that the software is associated with SE ranking so you can confidently present the software and reports to your clients as your own. This is all included in the package so there is no additional purchase necessary.
Can I upgrade my plan at any time?
Yes, if your business is growing and you need access to more data you are free to upgrade your plan at any time. You simply head to the 'subscription' page within the settings (top right of the web page) and click 'upgrade a plan'. You will then be given a new cost calculation before checking out.