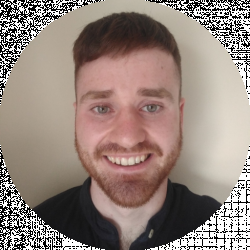 Latest posts by Eoin Cunningham
(see all)
Last Updated on August 29, 2020 by Natalia Bickell
For most people, a good Search Engine Optimisation (SEO) tool is hard to come by.
In fact, plenty of people would argue that a good SEO tool is virtually impossible to come by!
Anyway, the foundation of any good tool should be embedded within the idea of versatility.
And, with SEO PowerSuite, you are most certainly getting a versatile tool, which is both functional and reliable.
The tool has four key SEO features, which we will go into more detail regarding in the features section of this article.
But, quickly, the four tools offered by SEO PowerSuite are as follows:
Rank Tracker
SEO Spyglass
Website Auditor
Link Assistant
They also offer a free trial for anyone who's not sold on their services by the end of this article.

What's great about SEO PowerSuite, is the fact that it can be linked to other free tools.
The following free tools should be a staple in your online repertoire:
Google Analytics
Google Search Console
Social Media Platforms such as Pinterest and LinkedIn
You can use the above tools to improve the performance of both your website and your clients' when linked with this SEO tool.
Some of you who are more accustomed to the current digital economy, are probably scratching your head right now that we're even considering recommending this tool. If you're not, here's why you should be.
You see, SEO PowerSuite is a piece of downloadable SEO software. And, in an age of cloud apps, you might be wondering why you'd be willing to take a step back technologically.
After all, Cloud apps offer you superior:
Well, the price of cloud apps is a lot less budget-friendly. In fact, it's an awful lot more expensive. So, if you want an SEO tool that's cheaper than the likes of Ahrefs and SEMrush, you should strongly consider SEO PowerSuite.
Also, with cloud-based SEO tools, you'll more than likely be paying via monthly subscription. This means, even when you're not using it, you're going to be paying for it.
So, there's definitely a solid argument in favor of paying for a one-off piece of downloadable software, such as this one.
Anyway, there's been enough talking, let's get stuck into the nitty-gritty of this online tool.
What is SEO PowerSuite?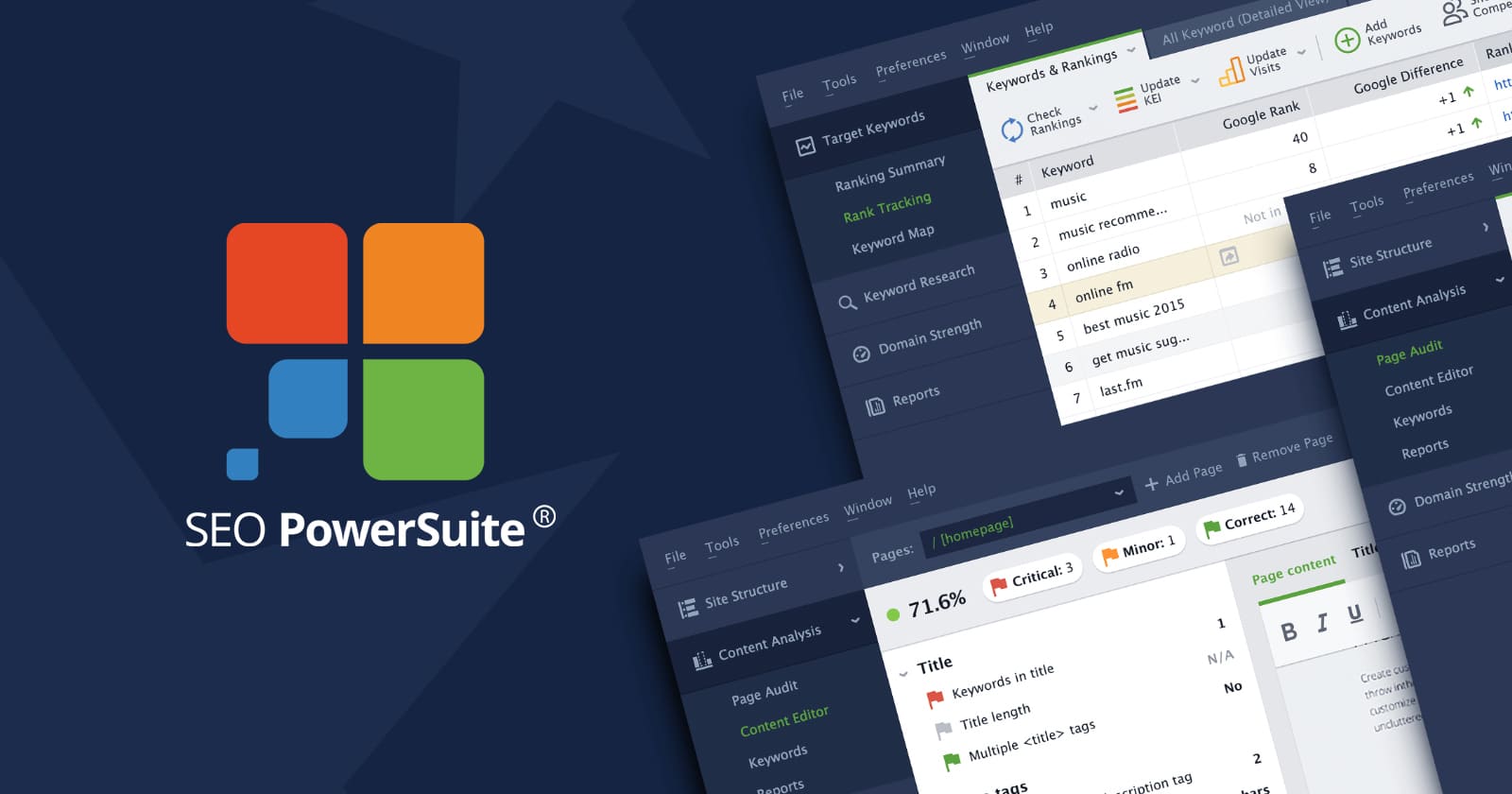 The most logical place for us to start is with what SEO PowerSuite is in its simplest form. And, that is, a piece of SEO software that aids in automating the process of Search Engine Optimisation. More specifically, the services it offers provides you with a set of tools (which, we referred to as features up above) to aid you in crafting your SEO strategy.
How does SEO PowerSuite work?
Well, it works by providing you with the features you need to create a successful SEO strategy for your business. It's four key tools are integral to this process.
SEO PowerSuite's Four Key Features
Rank Tracking
This feature is quite cool. It will enable you to look at the popularity of keywords so that you have a better chance of getting your content more clicks. You can also use it to perform keyword research if you so wish.
For many people, a tool such as this one is priceless. Mainly because it will aid you in setting up successful SEO strategies. And, with today's digital economy becoming increasingly saturated, any business involved in e-commerce needs to have a solid Search Engine Optimisation strategy.
The Rank tracking doesn't rank solely for one specific search engine in a given region across the globe either. You can input specific instructions into the tool's database so that you can rank keywords across multiple engines in a host of regions. This is great for those who have a large client database transnationally and who need to regularly carry out in-depth keyword research.
For those curious, you'll be pleased to know you can use this feature across the following search engines:
How to use SEO PowerSuite's Rank Tracker Tool: 4 Easy Steps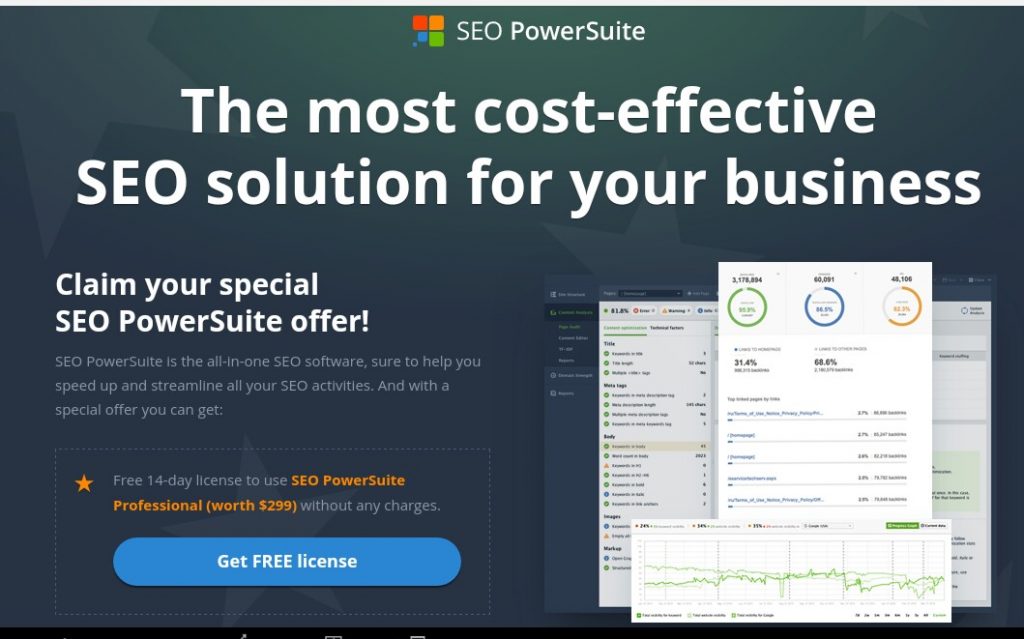 The first step when using this tool is to establish which site you want to track. This can be done quite simply by entering the URL of the site you want to track into the setup wizard.
After you've chosen which site you want to track, the next step is to link to your Google AdWords and Analytics account. This will allow the tool to collect crucial data regarding your website. But really the main thing here is that the tool can see how many visitors your site is getting and their origin.
Next, you'll be prompted to enter the keywords and phrases you wish to track. You'll only be allowed to enter one keyword or phrase per line. Once you're happy with your selections, you just need to click "Next>" on the bottom right-hand side of the wizard.
Your final step in the process is selecting which search engines you wish to track keywords for. The more keywords you've chosen to track, the longer this process will take.
Tracking and Ranking Keywords for SEO
After keyword tracking has been completed, you can then look at the keyword ranking. You can do this across several search engines. You'll also be able to see the regions your site is ranking best for across the world. By clicking "Organic Traffic" on the interface, you will be able to track your keyword ranking in the form of a graph. This will give you a great inclination of how you're competing for keywords over time across different metrics.
The tool will also enable you to calculate keyword difficulty. It will do so by assessing the link profile and on-page SEO for the first ten Google search results that pop up.
You will then be able to see a score in relation to the difficulty of ranking for your chosen keyword. The lower this score is, the better chance you have of ranking for that keyword.
Keyword Research Across Several Services
The next area of note is keyword research. SEO PowerSuite will automatically perform keyword research for you.
It does so by using:
Google Keyword Planner
Related Search Results
Autocomplete
SEMrush
Yahoo
Search Assist
Analytics
Yandex
Search Console
You can also manually input keywords to search for.
SEO PowerSuite offers a Keyword Efficiency Index (KEI) rating for every keyword. This rating can be found by dividing the square of the search volume over the competitive score. It's again, a very important metric for anyone looking to engage in effective keyword research for their site.
Overall, the rank tracker does an excellent job and would be a great addition to any SEO strategy.
SEO Spyglass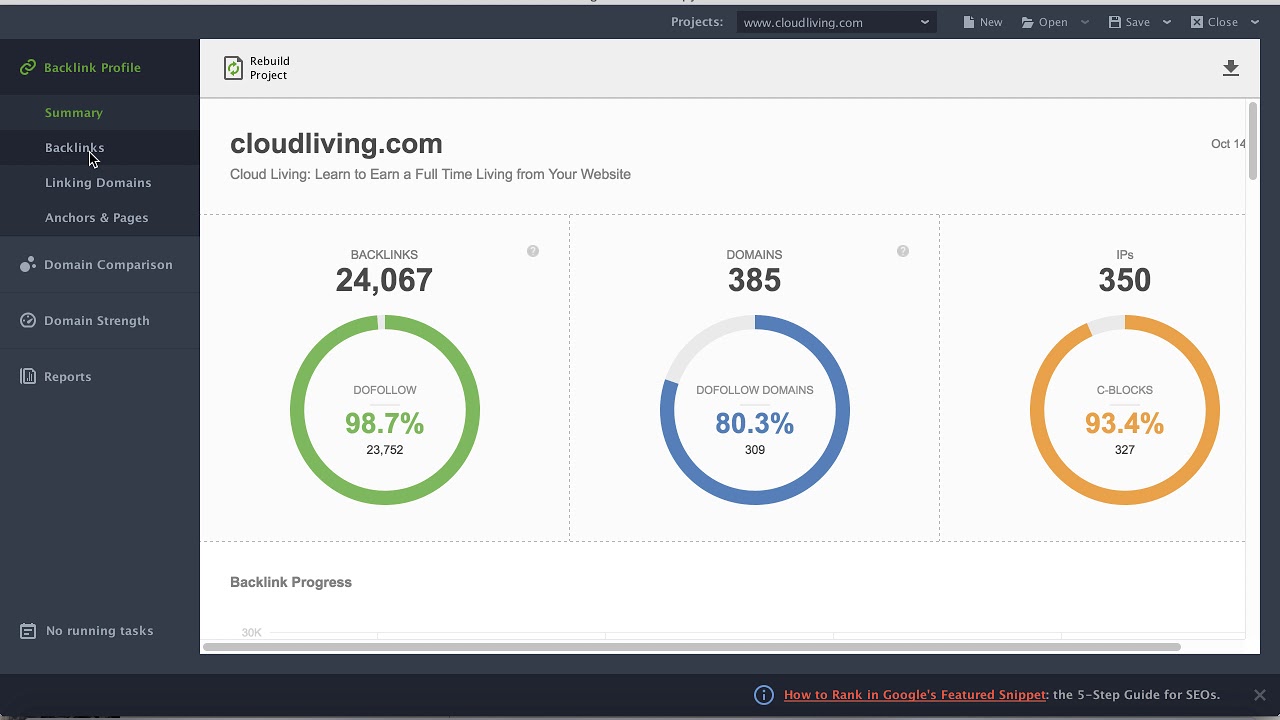 You can use SEO Spyglass to:
Backlink research to view your competitor's backlinks
Model your SEO strategy around your competitor's
Analyze how you stack up against your competitors
Look at the current backlinks in your site
Spot risks and eliminate them
Like the rank tracker, to use SEO Spyglass you must enter the domain/sub-domain of your site or your competitor's sites into the URL. Once you have done so, you will be presented with a series of backlinks.
From your perspective, this is a good thing because you can use SEO Spyglass to weed out low-quality backlinks on your site. In turn, improving your site's rank in the main global search engines.
Once you have entered the URL of the site you wish to analyze into the wizard, you will be able to see a summary of all that site's backlinks.
You'll also be able to do backlink research for a specific keyword or phrase in the summary. A search bar is provided in the top right of the user interface to do so.
Along with the above ability, you'll have access to powerful data filters so that you can get specific results regarding your competitors.
Filters you can apply include:
Links connected to the home page
The backlinks country of origin
The tool also gives you access to features such as:
Inlink Scores
Backlink Traffic
Penalty Scores
Both inlink scores and penalty scores are pivotal to assessing the quality of the backlink traffic you are getting.
The next thing worth mentioning is the ability to compare domains. It will allow you to compare your domain with five other domains in terms of certain metrics. Such as:
Domain Strength
Domain Inlink Rank
Total Backlinks
Total Linking Domains
Top Country
Overall Rating
Dofollow Backlinks
Now, that's not all the metrics the feature offers, but it should give you a good taste of what the feature is all about. Also, the above metrics should give you an idea of what you need to excel at to beat your competition.
One of the coolest things about the feature is that it allows you to view the anchor text your opposition is using. The right anchor text could be the difference between successful and unsuccessful backlinking. So, it's an awesome bonus.
For those unaware, anchor text is simply the words or phrases people click on to be brought to a website.
Finally, the link intersection metric is extremely useful. It will allow you to see the backlinks which are working for your competitors but for some reason, you're not using.
What is SEO PowerSuite's Website Auditor?
SEO PowerSuite's website audit is exactly what you'd expect it to be, a tool that audits websites for On-Page SEO. The tool gives you the power to analyze links on a website and look through its resources. Google Lighthouse is another tool that springs to mind that offers a similar service.
You can use the Website Auditor to optimize your content so that it gets more views. The tool also enables you to get a behind the scenes look at your website in a similar way to Google crawlers do.
Understanding how your website is going to be assessed is invaluable in relation to how you should be going about setting it up. Quite simply, if you know that you're going to be judged on certain indicators, you also know to focus on those exact indicators.
Anyway, you can also use this tool to discover keywords and get a sense of your oppositions' content strategy.
How to use the Website Auditor to Audit your Site
You'll first want to enter your website's domain into the setup wizard.
Then you should run an Onpage SEO audit. Do this by going to, and clicking on, the "Site Structure" section. You'll have the option on your interface to tweak a few other settings, but don't touch any of that just yet. Instead, submit your information. Afterward, you should see a screen that reads in the top left:
You should also see a sidebar that contains data titled under the following headings:
Indexing and Crawlability
Redirects
Encoding and Technical SEO Factors
Select an option from the sidebar to see pages that are not fully optimized or pages that could pose a problem in the future. You will be able to identify such pages through their factor status (Error, Warning, Info).  Thoroughly read the factor status report, as it will explain to you how you can fix the problems with your site. Carefully go through all the status reports, and then rerun the site audit to make sure you haven't left any improvements out.
See Everything with Visualisation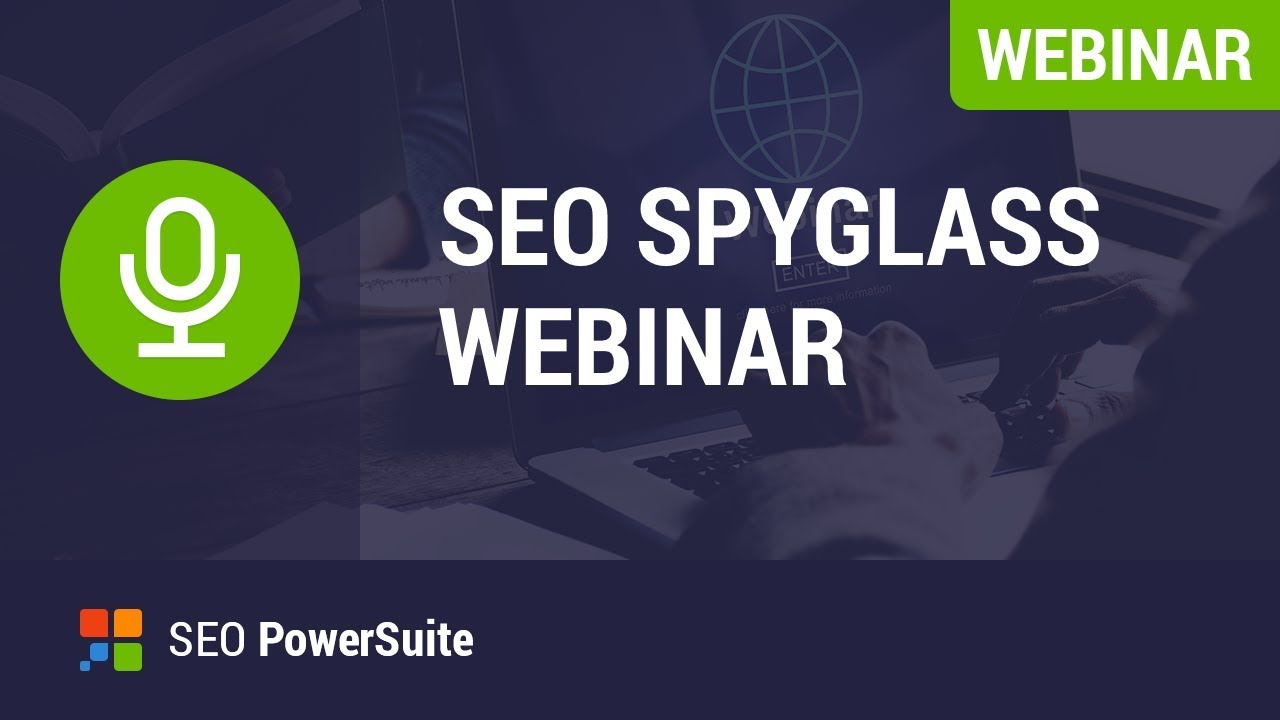 After the Site Audit, we have the Visualisation section. It's essentially a visual blueprint of all the links and information inside your site. This data is interactive, making it easy to navigate. It also allows you to see which pages are interconnected and select specific links you wish to follow. Such a feature, while elaborate, is helpful if you know what you're doing.
Access Data from Pages
If you wish to view the data and analytics of certain pages, well, this is the section to do so. You will have access to SEO indicators such as:
The Number of Links
Links from the Page
Tags
Word Count
This is great if you run a blog because you'll be able to assess the metrics on your site and improve them, if necessary, to attract more traffic.
All Resources
This section enables you to see all the resources available on your website. The main advantage of SEO PowerSuite's all resources section, in its website auditor, is that it simply gives you a more organized list of links. Hopefully, this will make the process of finding and grouping links much easier.
Content SEO Analysis
"Content Analysis" is the section located directly under "Site Structure". It contains the following features:
Page Audit
Content Editor
TF-IDF
Reports
Perform a Page Audit for SEO Best Practice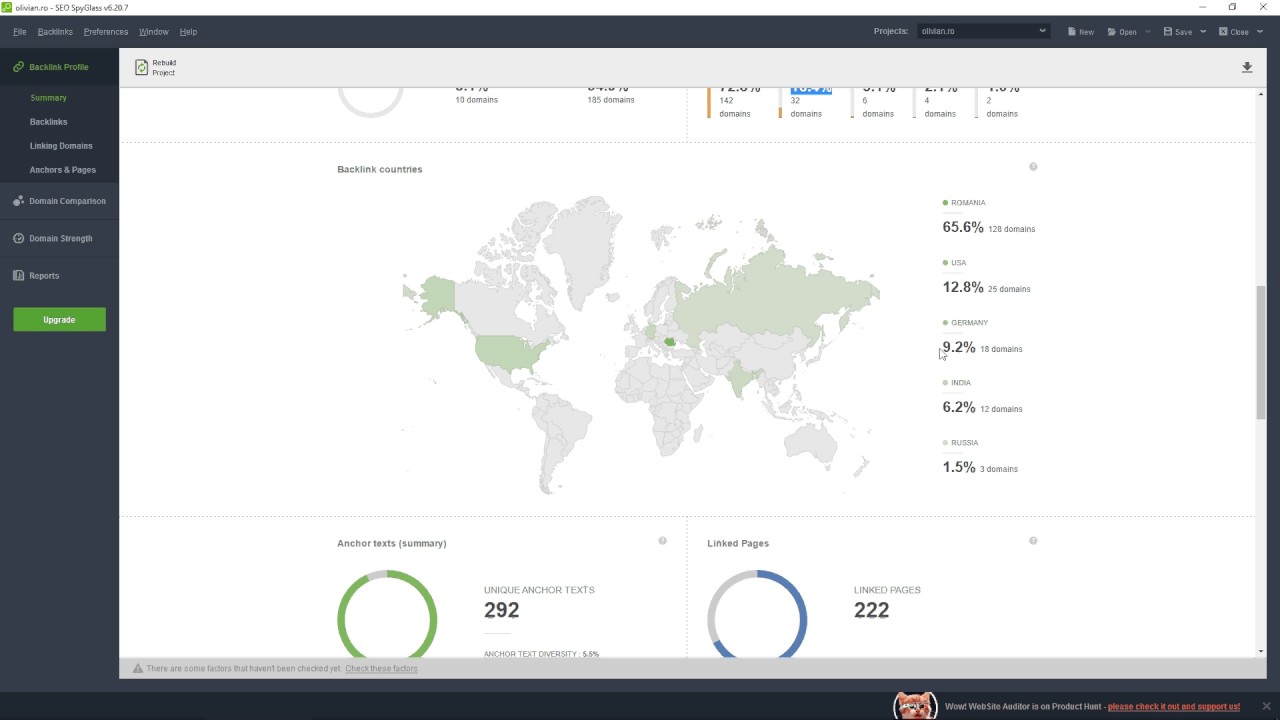 This feature is great because it essentially walks you through how best to optimize the content on all your site's pages for SEO. It does so by analyzing your target keyword frequency on your site's pages. Some of you may notice that performing a site audit and performing a page audit are two of the same.
So, the main thing to notice is not actually their similarity, but rather their specificity. The SEO PowerSuite tool does a great job in that regard to give its customers the most holistic buying experience possible. While also tailoring everything to ensure it fits your needs.
Make your Content Pristine with the Content Editor
SEO PowerSuite's content editor will allow you to directly make on-page changes for your site. So, if you've recently performed a page audit, and notice your content needs work, you'll be able to quickly make the necessary changes for SEO thanks to the content editor.
Use TF-IDF for Latent Semantic Indexing
For anyone who likes to sniff around the competition, a feature such as this one has been specially made just for you.
Anyway, for those curious, its full title is "frequency-inverse document frequency formula". It's essentially an aid to help you perform more effective keyword research. You have the option to search for multi or single-word keywords. You can type your keyword or phrase you wish to search for into the search bar to the right of "Analysis For".
Upon doing so, the tool will pull up the top ten results from Google's search rankings for that keyword. Knowing what's working for your opposition should help you perform effective keyword research. It'll also highlight all the keywords you used in the article.
Basically, the feature is absolutely awesome when it comes to Latent Semantic Indexing (LSI).
Reports
SEO PowerSuite's "Reports" feature allows you to summarise all the above features into one little HTML or PDF file. Which, you can then send off to your colleagues via email.
Link Assistant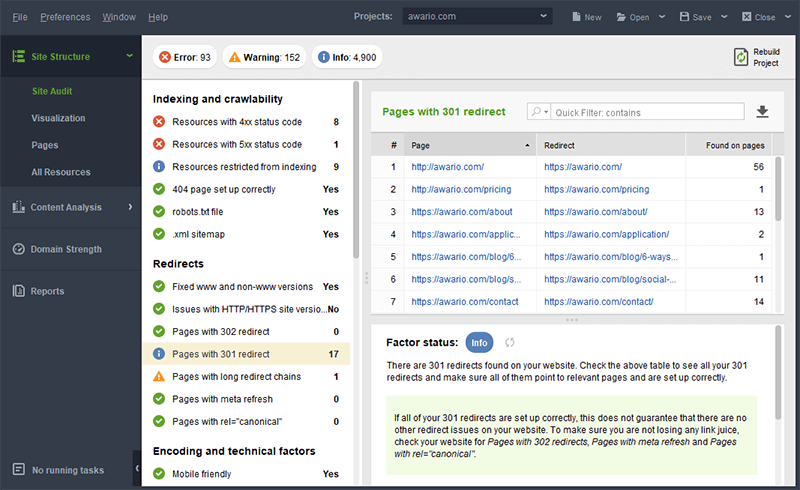 Link assistant allows you to:
Begin link building for your website
Identify potential opportunities to create links
Find contact info via the "Prospects" section
Create and send emails using templates
The best way to think of Link Assistant is as a sort of aid for your business to find contacts. Its Prospects section is great because it allows you to search web pages for email addresses. Manually searching through sites for contact emails can be time-consuming, so a feature such as this one will save you time in the long run.
Also, it helps you find contacts, which you may not have been able to find, had you completed a manual search. Every single business owner ever could benefit from an ever-lengthening contact list, so this is another great feature of SEO PowerSuite.
How to Use Link-Assistant to find Backlink Opportunities
The first thing you need to do, as with all SEO PowerSuite tool options, is to specify your site's URL.
Secondly, you need to start looking for potential prospects to build your backlink profile. To do this, go to "Prospects", and you should see "Link Prospects".
Next, you need to click on "Link Prospects". Upon doing so, you'll be presented with a wizard titled "Find Link Prospects".
Our fourth step is easy, you simply pick the prospect you wish to search for. For instance, the first three options are:
Guest Posting
Reviews
Commenting
So, if you're a blogger, looking for sites to guest post on, you would choose "guest posting". Or, if you're into e-commerce, you might choose reviews to find sites that write reviews on products in your niche. Regardless of your area of expertise, you'll have so much freedom to choose exactly what it is that your business needs.
The fifth step is to choose your keywords. You'll be presented with a wizard, which clearly tells you to do this, and walks you through the entire process.
Assessing your Options and Sending Emails using Link Assistant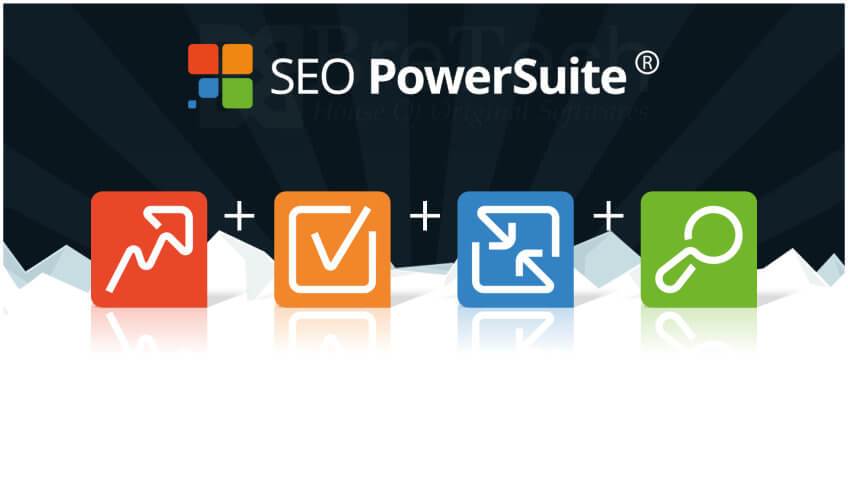 At this stage, you should be able to see a tonne of low hanging guest post opportunities, or whatever prospect you chose, on your screen.
To assess your prospects, you will have the ability to avail of the following metrics:
Domain InLink Rank
Alexa Rank
Social Platforms scores (Facebook)
Domain Authority
Here, you will also be able to acquire some of your prospects' email addresses. You can use the dashboard to send and even receive emails, but you first must take care of your POP3 settings.
Afterward, you can use SEO PowerSuite to begin sending email pitches to prospective clients. A great thing about Link-Assistant is that it will provide you with email templates to base your pitches around. So, if you don't know how to structure your emails, this feature could prove invaluable to you. After all, no one wants to work with someone who can't even send a professional-looking email. In the eyes of most SEO expert professionals, if you can't be trusted to properly write an email, well, you more than likely can't be trusted to deliver upon your business promises either.
Another great thing about sending emails with Link-Assistant is it allows you to drip schedule their release.
This gives you extreme control over your email marketing.
You will be able to set a specific date and time for emails to be released in the SEO PowerSuite cloud.
Pros of SEO PowerSuite
The Links Assistant allows you to focus on SEO campaign prospects without doing any manual research
It's easy to use
You'll have access to great tools and features, which are updated frequently
Works on lots of different operative systems
You have access to detailed reporting with each tool
One-time purchase pricing
Multi-client friendly
Great value for money due to its one-time purchase option
Cons of SEO PowerSuite
Doesn't offer as many backlinks as tools such as Ahrefs or Google Search Console
Sometimes it won't work according to online reviews
Can slow down your laptop or computer
A few people feel that its price is not right, despite offering four tools
Additional licenses may be required to use it on multiple computers
Reviews of SEO PowerSuite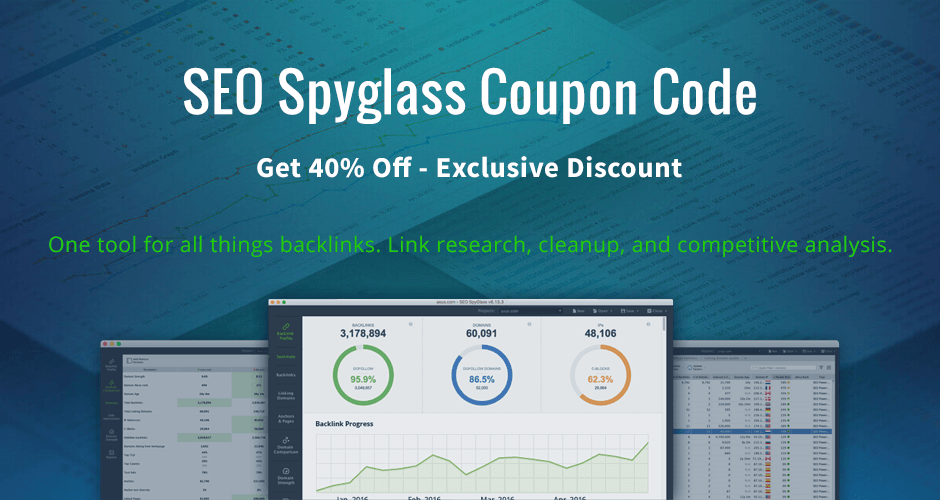 We used TrustRadius.com to find our reviews.
SEO PowerSuite: Get a Taste for what your Competitors are doing!
Our first review comes from Eamonn Kelly. He gave SEO PowerSuite an impressive 9 out of 10.  He states in his review that he used bought SEO PowerSuite to make use of its Rank Tracker tool. The idea being it would him in his keyword research. He was impressed with the services and felt that the Search Engine Optimization app is superior when it comes to:
Attention to detail
Competitor analytics
Keyword volume
Eamonn was also impressed by the Link-Assistant and SpyGlass tool.
Other aspects he particularly liked:
The ability to track more than one competitor all at once.
User-friendly experience and straightforward app design.
The Link Assistant tool.
Other aspects he did not particularly like:
The cost.
He felt that the reporting could be more detailed.
Eamonn finishes up his review, by stating that he feels it's well suited to anyone looking to track their competitor's site rankings.
SEO PowerSuite offers great Technical, Onsite and Offsite SEO Support
Our next review comes from Dragan Nikolic. He gave the app a rating of 7 out of 10. Which is slightly bleaker than our previous reviewer's rating? Anyway, Dragan only made use of two of the four main tools offered by SEO PowerSuite.
And, those two are:
Website Auditor
SEO SpyGlass
So, if you're interested in using either of the above tools, you should pay close attention to this review. The Website Audit really impressed Dragan. And, he found it to be an "excellent tool" when it came to fixing on-site technical errors. In a similar vein, he felt that SEO SpyGlass was awesome when it came to fixing offsite technical problems.
Other things he really liked include:
The ability to audit and change your onsite content.
Optimizing offsite SEO.
Being able to see what his competitors are doing.
Being able to track site rankings.
Other things did not really like include:
The fact it runs under Java, slows down your device.
It uses a lot of storage space.
Lacks certain features in comparison to Ahrefs and SEMrush (e.g. Vast Link Index).
Overall, he enjoyed SEO PowerSuite and felt that it offered technical SEO, onsite and offsite Search Engine Optimization elements. He also notes that it's set with good support and updates regularly, as technology advances. To finish, he throws in a little bit of invaluable information regarding licensing.
If you're a "solopreneur", you should choose their professional license. But, for agencies, they offer an enterprise license. The number of clients you can enroll in their enterprise scheme is limited to 400 people.
SEO PowerSuite – best suited to small to medium-sized businesses.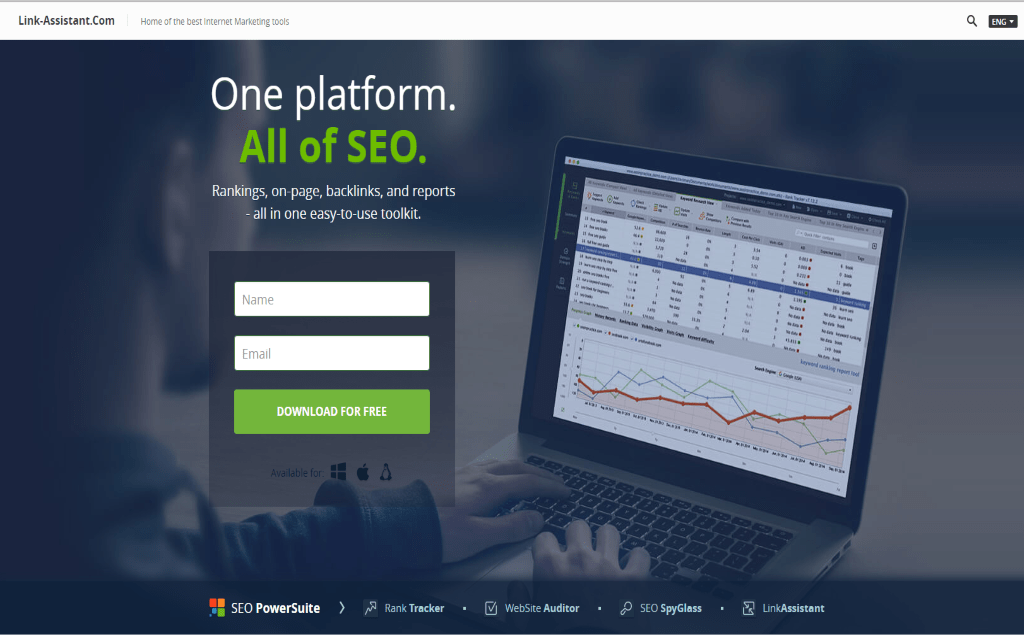 Our final review comes from Crystal Dickerson. She gave SEO PowerSuite a measly 5 out of 10 ratings. Crystal goes on to explain that her business decided to purchase SEO PowerSuite to design and implement a business plan regarding:
SEO
Content Strategy
Social Platforms
Her company found all four of SEO PowerSuite's tools to be extremely useful. Mainly because it gave them a barometer from which to gauge where they were in comparison with household names in their industry.
They used the following metrics to compare themselves with their competitors:
Competitor Backlinks
Page Strenght
Keyword Strenght
These metrics allowed them to create a successful business plan by simply improving upon areas they were lacking. They were extremely happy with the end product, as they found their search engine rankings improved drastically in less than a year.
The following are all benefits Crystal associated with using the app:
Easy-to-Use
In-depth charts and graphing
Keyword Research
The following are all drawbacks according to Crystal:
All tools are not on the same platform
Pricing
Frequent updates
Crystal finished her review by recommending the SEO automation tool to small to medium-sized business owners. She did not feel that the app was well suited to larger businesses.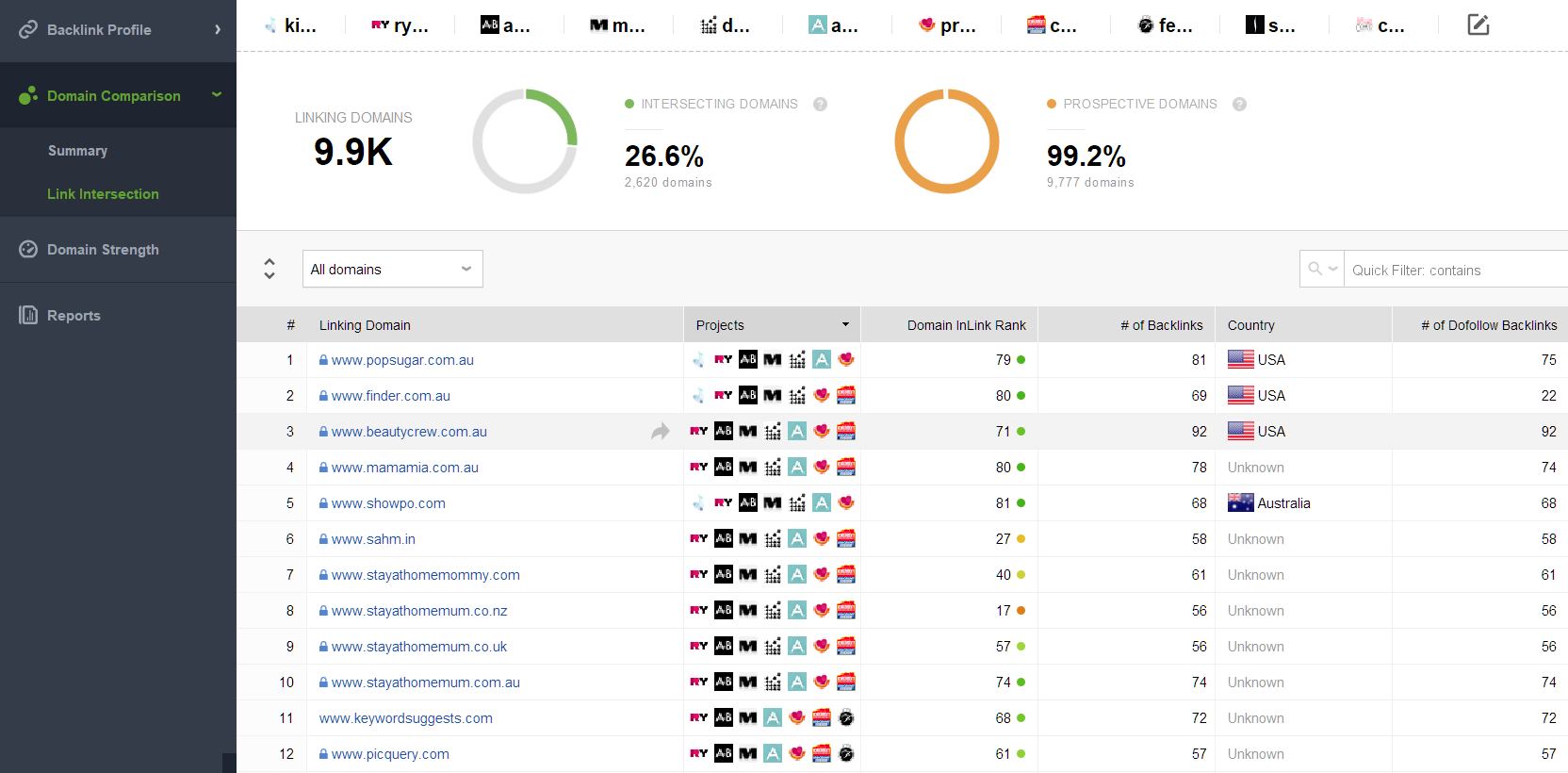 Frequently Asked Questions SEO PowerSuite Review
What is SEO PowerSuite?
It's a software app, which automates the process of SEO. It will give you the reporting and data edge you need to outrank your opposition on all the top search engines.
Is SEO PowerSuite any good?
Overall, yes it offers helpful tools and features.
Is SEO PowerSuite Free?
You can get access to a free version of the app, but you'll have access to limited tools and features.
What is SEO SpyGlass?
It's a tool that comes with SEO PowerSuite. Long story short, the tool enables you to identify high-quality backlinks for effective SEO and prospect identification.
What is Website Auditor?
Website Auditor is a tool, which comes as part of SEO PowerSuite. It will audit your site and its pages to identify areas you are failing in along with areas that could potentially fail you in the future. Basically, it helps you to improve your site's rankings in search engines by optimizing it for SEO.
SEO PowerSuite Alternatives
Also, see:
Our in-depth guide to SEO on our website by clicking HERE
Is SEO PowerSuite Worth the Money?
Given the good and bad, this app is worth it overall. The fact it offers four incredible tools makes it extremely versatile. Plus, it's well suited to small and medium-sized businesses, so it should save some of you a lot of time and effort.
You'll also enjoy an easy to use user interface, meaning you'll be able to quickly adapt to using the app. Also, you'll be able to perform effective keyword research, along with proper backlink scoping.
Please note though that SEO PowerSuite is not best suited to large agencies. Meaning, you should instead consider, some of the alternatives listed above, if you, or your clients, fit that criterion.
Here are other related articles you may be interested in: