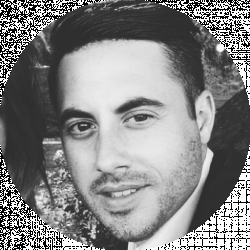 Latest posts by David Borgogni
(see all)
Last Updated on January 5, 2023 by Natalia Bickell
Are you struggling to get ahead of your competition?
If this is the case, then it is probably the right time to find out what they're doing differently?
Reaching your target audience can prove to be a difficult task if you don't have the right tools to find the keywords that will ensure a high ranking on search engines. In fact, 75% of Google users only look at the results that are displayed on the first page.
That is why using meaningless words to boost your website's rankings on search engines, certainly won't produce the results you're hoping for. Choosing your keywords wisely is the best approach you can take towards improving the rankings of your website, blog posts or any other type of content you'd like to promote.
Hopefully, our SpyFu review is going to assist you in overcoming the challenges of finding the right keywords for your business. So, let's get started!
Why Should You Use SpyFu?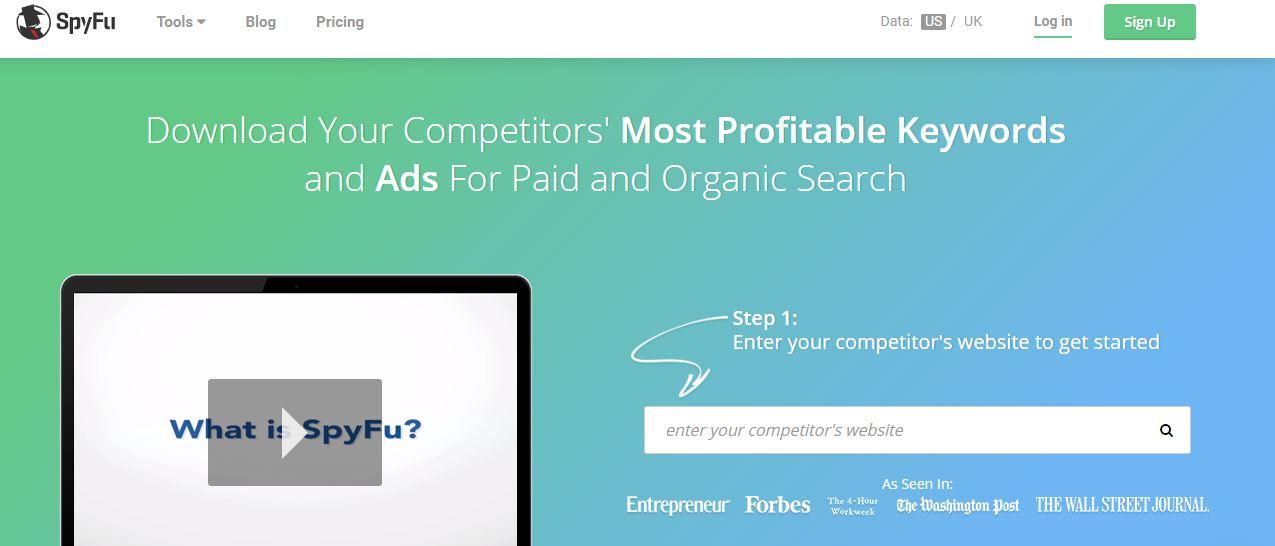 Running an eStore or a website that attracts thousands of daily visitors involves much more than uploading new content regularly. You can also check out our guides to CRO tools and CRM systems if you would like to find out how you can improve your online marketing strategy.
Understanding who your ideal customer is and how to reach them is just the first step towards turning leads into actual sales. Moreover, how well your content performs on search engines determines the amount of traffic it generates and consequently, it impacts the conversion rates.
Having your website buried at the bottom of the search results is probably the worst thing that can happen, which is why online marketing professionals and entrepreneurs must put in extra effort into understanding how Google's algorithm works. Follow this link if you would like to find out more about the best SEO tools in 2019.
Even though keywords are far from being the only factor that improves the performance of websites in search results, they still make reaching your target audience easier. A search analytics platform like SpyFu enables you to discover the keywords some of the most successful businesses in your industry are using.
Besides learning the secrets of your toughest competitors you can also use SpyFu to search for keywords on which you are going to build your own SEO strategy. Discovering backlinks that will get you better rankings on the search engines is also on the list of features SpyFu provides. The platform's AdWords Advisor offers almost instant advice that is crafted specifically for your domain and suggests which keywords you should buy.
How Can SpyFu Help Me Find The Right Keywords?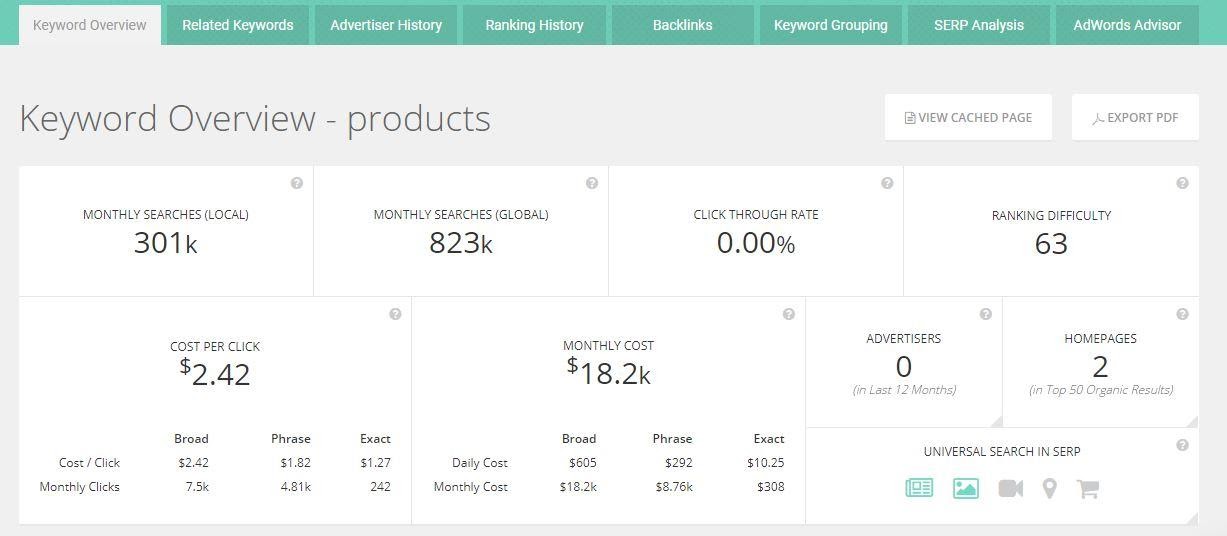 A simple keyword search on SpyFu will reveal a plethora of statistics you can use to select keywords for a particular website. After you research a keyword you will be able to see the following information
Keyword overview
Top AdWords Buy Recommendation
Profitable Related Keywords
Most Successful Advertisers and Their Best Ads
Organic Ranking History
Backlinks
Organic Search Ranking Analysis
Current Ads
What's more, you can use SpyFu's SEO Research tools to gather data companies you're competing against are using. After you insert a domain into a search bar you'll be able to see charts for:
SEO Keywords
Monthly Clicks
Monthly value

Once you've discovered the keywords that are best suited for the content you'd like to promote, you can start using the platform's tracking features. You just have to add a new keyword to a project and SpyFu will deliver weekly tracking updates and inform you about a domain's standings on Bing and Google search engines.
Marketers that collaborate with a lot of different clients can easily create detailed SEO and PPC reports. Metrics like most valuable keywords, keyword groups with the biggest gains or the value of organic clicks per month can help companies improve the rankings on popular search engines.
Pricing and Plans
During the trial period, you only have access to SpyFu's basic options, and you must select a subscription plan before you start using this platform professionally. You can choose from Basic, Professional, and Team plans that can be purchased on a monthly or annual level.
The Basic annual plan costs $33 per month, while the monthly plan is a bit more expensive as you must pay $39 for it each month.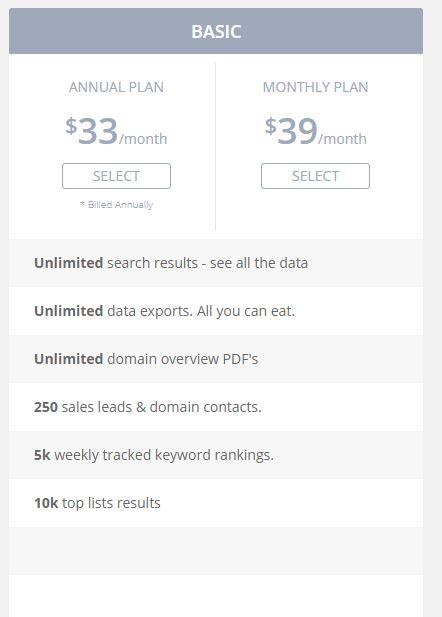 In return, you'll get unlimited search results, data export, and domain overviews, as well as 250 sales leads and domain contacts. However, the Professional plan is better suited for marketers in need of advanced SEO tools, as it offers more sales leads, weekly track keyword rankings as well as a custom brand reporting option.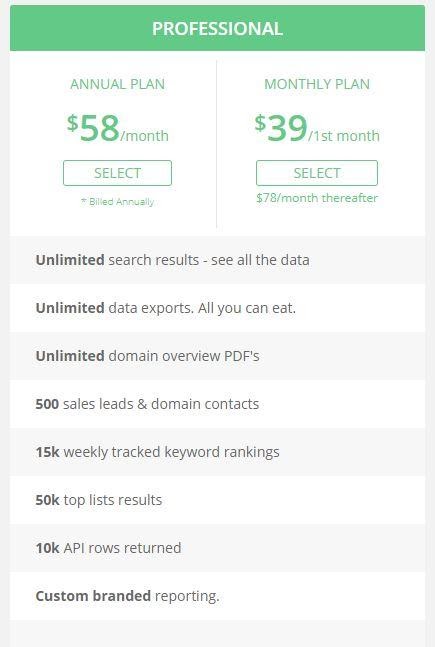 The monthly fee for the Professional subscription plan costs $78 per month, with the exception of the first month when the fee is reduced to $39. That is why opting for the annual fee seems like a more affordable option since you have to pay for it just once a year at the rate of $58 per month.
SpyFu also has a  subscription model for teams of online marketing professionals that comes with 5 user logins. Other than offering more sale leads, top list results or weekly tracked keyword rankings this subscription model doesn't include any other SEO tools that aren't available in the Professional subscription plan.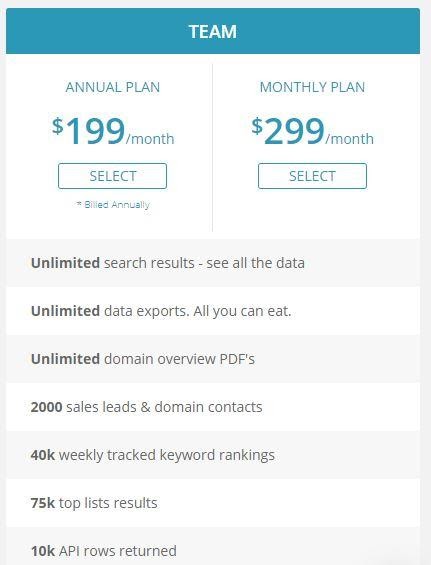 In addition, if you opt for the Team subscription model you'll be able to create:
An unlimited amount of Small Domain SEO Reports
30 Medium Domain Reports
10 Large Domain Reports
Unlimited AdWords Advisor Reports
Each of the subscription models SpyFu offers seems reasonably priced considering the number of options they provide. The basic model is aimed at smaller businesses that don't have the need for a huge number of monthly reports, while the team plan is best suited for digital marketing companies that collaborate with a large number of clients on a monthly basis.
SpyFu Review – How Does SpyFu compare to its competitors?
Even though platforms like Moz Pro or SEMRush are still more popular among the industry professionals, the SpyFu platform is favored by small and medium-sized businesses that want to conduct thorough keyword research and create detailed progress reports.
SpyFu is by no means a new player on the market, but rather a well-establish and reputable search analytics company. It was established in 2005 and over the course of the last fourteen years its range of SEO tools has extended considerably. The extensive list of companies that uses this platform includes The Washington Post, Forbes or The Wall Street Journal among numerous others.
Besides displaying the keywords websites buy on Google AdWords, SpyFu also enables its users to see the keywords that appear in the search results for a particular company. SpyFu utilizes Velocityscape's web scraping technology to acquire data, but the accuracy of the data the platform provides has been the subject of debates over the years.

The platform updates its data once a month, which is why it can't be used to keep track of daily trends. SpyFu is much more effective as a tool that tracks wider SEO developments and helps businesses develop better SEO strategies.
In the last couple of years, there has been a lot of talk about the real value of search engine optimization, as some reports have shown that prioritizing search engines over people is the tactics that is doomed to fail.
However, as an industry whose estimated worth is going to reach $80 billion in 2020, it is safe to say that SEO isn't going anywhere. That's why a platform like SpyFu can still be a huge difference-maker for all businesses that are still trying to develop a viable SEO strategy that will position their websites better in the search results.
Exploring SpyFu's SEO Research Tools
The SpayFu's neatly organized website is easy to navigate, and it grants you quick access to all of its most important features. You can easily create new projects for each competitor you choose to research and add all the results you acquire in the Keyword or the Outreach categories.
The platform's SEO Research menu offers a plethora of options that let you see metrics for a domain or a keyword you entered into the search bar. The SEO Research tab contains the following tools:
SEO Overview
Competitors
Kombat
Keyword Groups
SEO Keywords
Ranking history
Backlinks
SEO Reports

In addition, the SEO Overview page enables you to see the statistics from the following categories:
Competitors
Shared Keywords
Top Keywords
Inbound Links
Ranking History
So, for instance, if you would like to research a domain like starbucks.com or fashionnova.com you'll be able to see who their main competitors are or the backlinks they are using.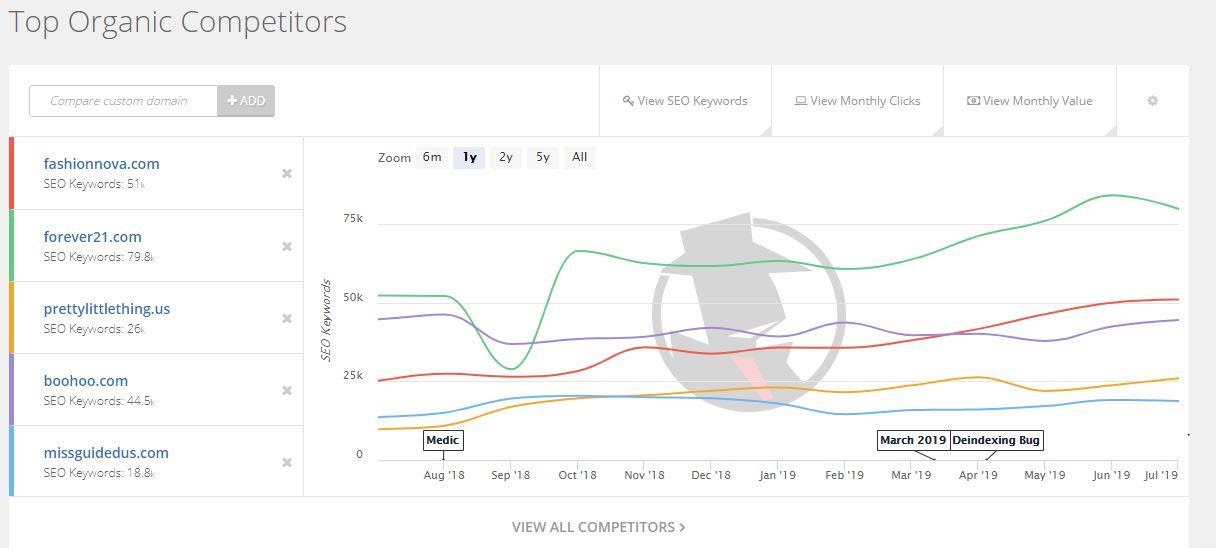 The SEO Keywords tab enables you to organize the data based on different criteria. The Gainers and Losers category lets you see:
Most Valuable Keywords
Newly Ranked Keywords
Keyword Rank Gaines
Keyword Rank Loses
Moreover, you can sort the keywords based on their Rank and Position and you can choose from the following options:
Page One Keywords
Almost There Keywords
Keywords on Pages 2 to 5
Keywords That Just Made the First Page
Keywords That Just Fell Off the First Page
The Ranking History feature shows you the top ten keywords for a domain you're researching and how they ranked on search engines over a six month, one year, two-year or five-year period. This can be particularly useful if you are trying to detect future trends for particular keywords that are commonly associated with a domain you're interested in.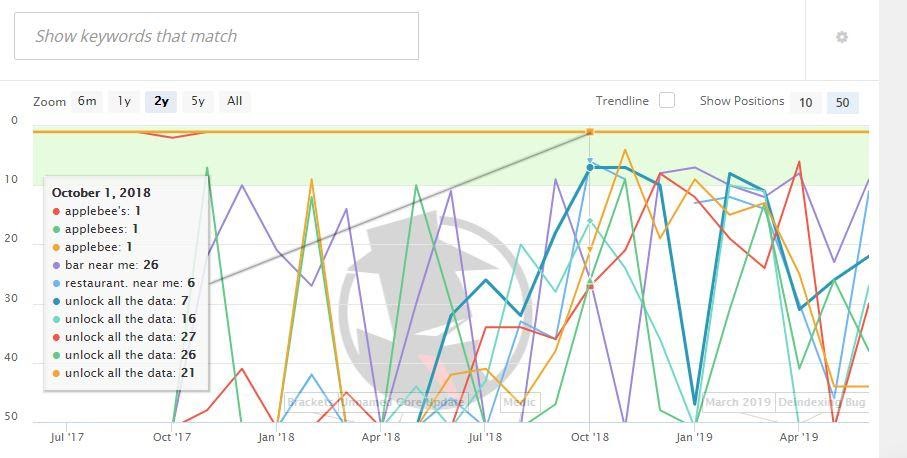 The Backlinks tab enables you to search for different types of backlinks, and you can optimize each search for the following types of backlinks:
News
Blogs
.gov/.edu
Has affiliate links
Directories
Forums
The search results will display information regarding:
Domain Monthly Organic Clicks
Page Monthly Organic Clicks
Domain Strength
Ranked Keywords
Outbound Links

You should keep in mind that you are not going to be able to access all the data SpyFu gathers until you subscribe to one of the available pricing plans.
Conducting PPC Research with SpyFu
In pay-per-click advertising, keywords are crucial for the success of a campaign. Google's ever-changing algorithm is quite different today than it was just five years ago. Even though the range of keywords that can trigger ads has narrowed down, researching PPC keywords has actually become easier than it used to be. Platforms like SpyFu are partially responsible for making the development of AdWords campaigns faster and simpler.
To start researching PPC keywords you just have to add a competitor's name to the search bar and a monthly PPC overview will appear on the screen within seconds.

Possibly the greatest difference between the SEO Research and PPC Research tools are the Ad History, AdWords Advisor and AdWords Templates options. All other tabs within the PPC Research menu offer basically the same functionalities as those that can be found in the SEO Research Tab.
Within the Ad History tab, you can search for the most profitable keywords and ads or see the cost-per-click values for particular ads.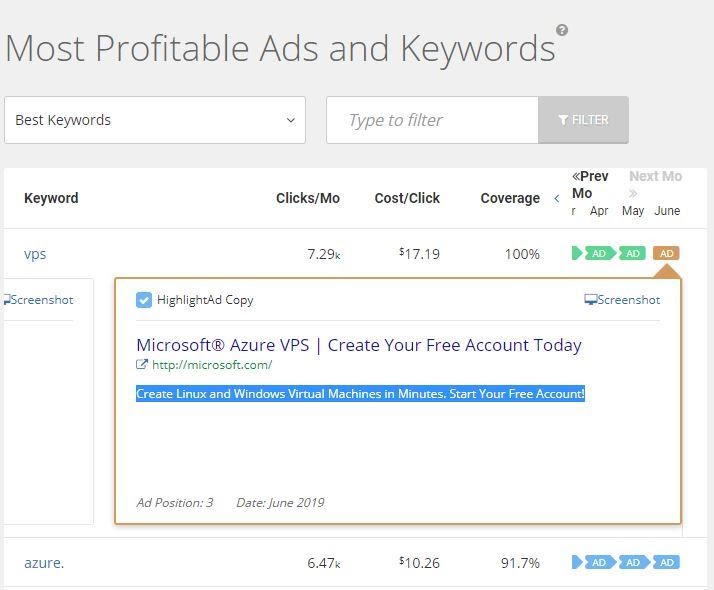 The AdWords Advisor contains a list of keywords for the competitor you're researching the platform suggests that you should buy. You can select the recommended keywords based on the following parameters.
Great Buys
Good Buys
Buys
Considers
Moreover, you can update your list of competitors or use the search filters if you want the recommendations to include a specific keyword.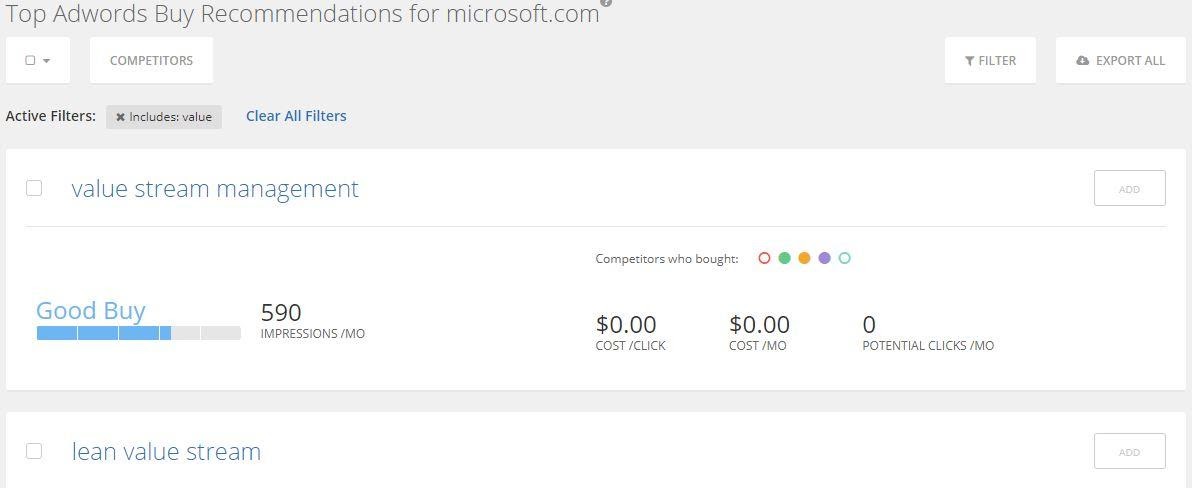 SpyFu offers a number of templates that let you set up AdWords campaigns effortlessly. You just have to add branded and product keywords, as well as your AdWords account,  and you're ready to go. Nonetheless, you won't be able to download the AdWords template unless you have at least the Basic subscription model.
How can SpyFu help you discover the best keywords for your business?
Researching the domains of the companies you're competing with on the market or the keywords associated with those domains is going to produce only the limited results. That's why SpyFu also lets you see how well a keyword is ranked on popular search engines.
Besides the metrics for a keyword, the Keyword Overview page also lets you see the current ads that contain a keyword you're interested in or the best keywords you can buy. The Organic Ranking History feature gives you insight into a keyword's history on search engines so that you can estimate how well it is going to perform in the future.

 Within the Advertiser History tab, you can see how much companies that use a keyword you're researching are spending each month or how well their ads are positioned in the search rankings.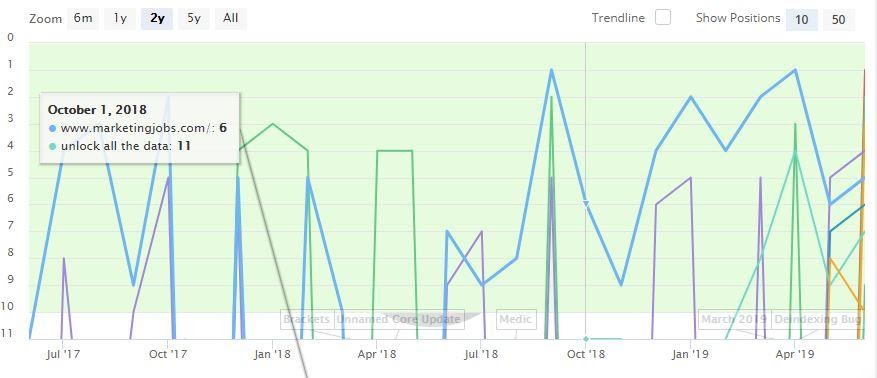 The SERP Analysis tab contains valuable information regarding Ranking Difficulty, the approximate number of monthly clicks the domains you're interested in are getting or the strength of those domains. You can also use this tab to monitor current ads that include a keyword you're looking into which enables you to know exactly how much traffic they are generating.

You can find the list of the top AdWords Buy Recommendations in the AdWords Advisor tab, that shows you the cost-per-click, potential clicks per month, and the monthly cost of a keyword. However, you can only use the Add button to import new keywords to a project if you are using the Premium version of SpyFu.
Utilizing the SpyFu's Extra Features
Once the research is completed and you've selected the keywords you'd like to use in a campaign, you have to find a way to utilize the data you gathered to your own advantage. The SpyFu's tracking features are designed to make this process much easier by providing you with weekly updates that show your domain's SEO and PPC standings on Amazon and Bing.
SpyFu also tracks all ranking and positions of your ads through time, which allows you to see how you can improve a strategy you've selected for a project in question. Besides the powerful tracking features, the platform also lets you create small, medium, and large reports.
 You can either create an SEO Dashboard or SEO Keyword Ranking reports that analyze the data acquired by SpyFu. These reports can be particularly useful if you're looking for an elegant way of presenting the accomplished results to your clients. The only downside is that the actual number of reports you can create each month depends on the subscription model you've purchased.

SpyFu also grants you quick access to the Domain and Keyword top lists that show you which companies use social media or spend the most on AdWords. The Keyword Top Lists tab displays the keywords that have the most clicks, the most expensive keywords as well as a broad range of different lists that show frequently used keywords in different industries.

The Leads tab enables you to search for potential contacts based on a keyword, industry, location and various other parameters. Identifying potential leads and reaching out to new business associates is easy with SpyFu, as the platform enables you to narrow down your search criteria.
Pros and Cons
Pros:
Offers a broad range of SEO tools
More affordable than most of its competitors
Powerful tracking features
Fully customizable reports
Makes managing multiple campaigns easier
Offers huge amounts of data
Excellent for competitor research
Advanced PPC and CPC metrics
Cons:
Not the best choice for inexperienced users
The Basic pricing plan offers only limited capabilities
The spending estimates can be inaccurate
Graphs can be confusing
Conclusion – Does investing in SpyFu pay off?
SEO is not just about rankings. It is about improving the user experience, offering quality content, and boosting the organic search numbers. In order to accomplish all these tasks, you have to keep track of what your toughest competitors are doing, which keywords they use for their campaigns or which backlinks they are choosing.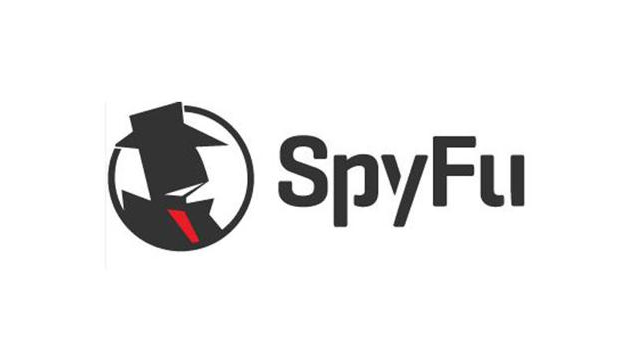 The SpyFu platform enables its users to do all of these things and much more. Handling multiple projects simultaneously, conducting a SERP analysis, or researching an advertiser's history are just a few of the features, this platform offers that can take you a step closer to building a viable SEO strategy.
Small businesses, as well as medium-sized teams of digital marketing professionals, can use SpyFu for research purposes or to see how well a campaign is performing in the search rankings. Click here and start your free trial today if you would like to make sure that SpyFu is the right choice for you.
Frequently Asked Questions
Can I use SpyFu for free?
Yes, but the free version of the platform offers only limited options. You must purchase a Basic, Professional or Team subscription plan in order to use all the features SpyFu offers.
Can I export the data I acquire through SpyFu?
SpyFu provides unlimited data exports regardless of the subscription plan you purchased.
How many sales leads and domain contacts does SpyFu offer?
You will get 250 sales leads and domain contacts within the Basic pricing model. Opting for the Professional plan will enable you to have access to 500 sales leads and domain contacts, while the Team plan features 2000 contacts and leads.
Can I customize my reports?
The platform lets you choose the data a report will contain, add logos or pick the type of report you want to create.
Is it possible to track keywords with SpyFu?
Once you add a keyword to a project, SpyFu will send you weekly tracking reports that show how well that keyword is performing on Google and Bing search engines.
How difficult is it to use SpyFu?
Even though researching a domain or a keyword is a quick and easy process, the amount of data SpyFu provides can be overwhelming for novice users.