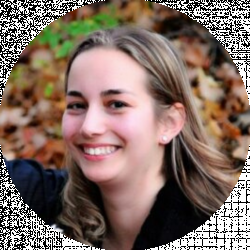 Latest posts by Julie Thompson
(see all)
Last Updated on May 29, 2020 by
What if you could read Google's mind? Do you think your website, company, or marketing agency would benefit from this pertinent data? In this WooRank review, we will discuss what it is, features, functionality, and WooRank pricing.
SEO tools are a key component of online success. With over one million users, WooRank is a super-fast, intuitive SEO audit and digital marketing tool. And to prove they are worth a spot in your marketing tool kit, they add an incredible 700 new accounts every day.
What is WooRank?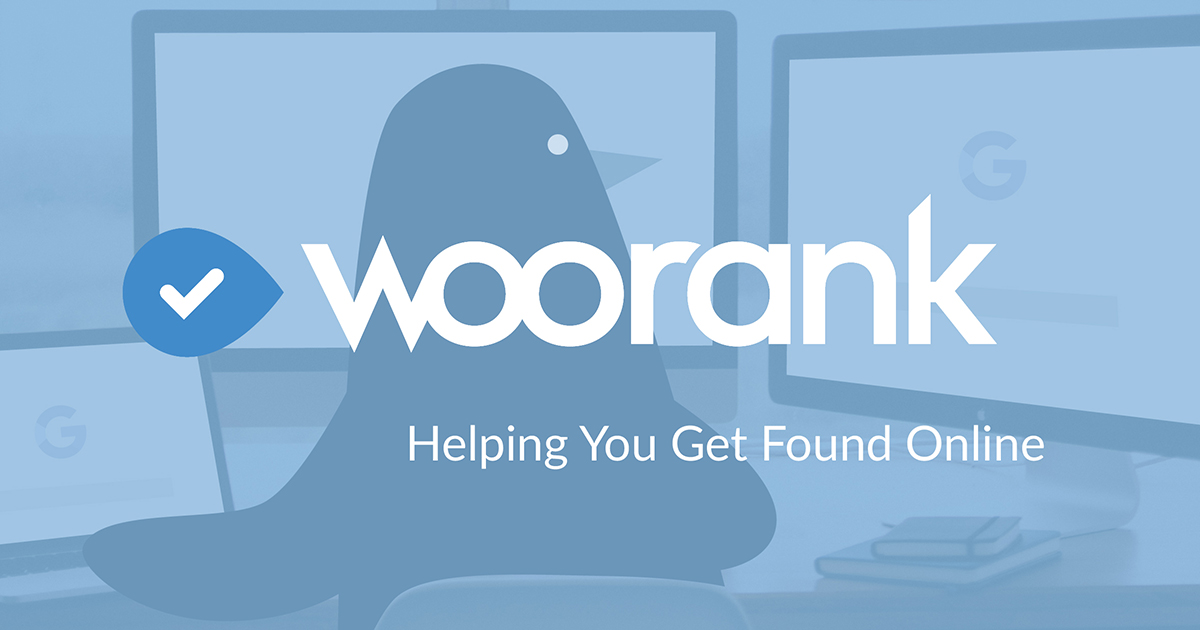 WooRank is an SEO tool that provides its users with instant website reviews. The reviews offer detailed data including ranking keywords, site maintenance, sales tools, and custom branded reports.
The data helps individuals and companies rank higher in search engines, conversions rates, increase ROI, and understand their competitors' marketing strategies.
The service is available in six languages (English, Spanish, French, Dutch, German, and Portuguese). They respond to user requests within 2 hours and have a 90% customer satisfaction rate.
WooRank Certification
If you are or become a paid subscriber of WooRank, you can become certified in their software for free. The test has forty-four questions that must be answered within fifteen minutes. The questions are all multiple choice and true/false. You will receive an email after the test stating whether you passed or failed.
There are many benefits to getting your WooRank Certification. In addition to getting promoted within WooRank to get more qualified leads, you will also increase your exposure to over 40,000 potential clients daily.
Plus, you will receive exclusive access to advanced training material. It's a great tool to boost your LinkedIn profile sincSwitch to Block Editore its an industry-recognized certification.

The Marketers Behind WooRank
WooRank is based in Brussels, Belgium. The WooRank tool was created by Belgians, Jean Derély (BetaGroup) and the founders of the creative design studio 1MD.be. Twenty-one team members from eight countries create a dream team of web developers, marketers, content writers, customer success and business-focused professionals.
The team provides a blog, WoorankTV on Youtube, and SEO guides that can take your SEO knowledge from basic to advanced.
Features
Website Review. Need a report card for your website? WooRank will search your site and tell you almost immediately how to improve. If you want a sample ranking, check out their home page and enter your URL.
Keyword Research Tool. Specific niche keywords, localized keyword tracking, and keywords compared to your competitors.
SEO Monitoring. Nothing is worse than not knowing that your site is down. WooRank watches your site 24/7 and will alert you when any issues are detected. You will even get a weekly report detailing issues and current keyword rankings.
Sales Tools. WooRank's Lead Gen tool can increase your customers using marketing automation.
Reporting. WooRank is a great tool for marketing agencies with multiple clients. Create branded reports generated by WooRank to make it look like you have been slaving away at the numbers. The monthly reports feature to keep your customer's goals in check while making them feel like a valued client.
How Much Does WooRank Cost?
WooRank has a free SEO tool that is available by typing in a URL on WooRank's main page. You can also download a free Chrome extension (SEO Analysis and Website Review by WooRank).
The free SEO tool only provides a detailed website review and website score. For additional features like the keyword research tool and site crawl, you will need to start the free trial or choose a paid plan.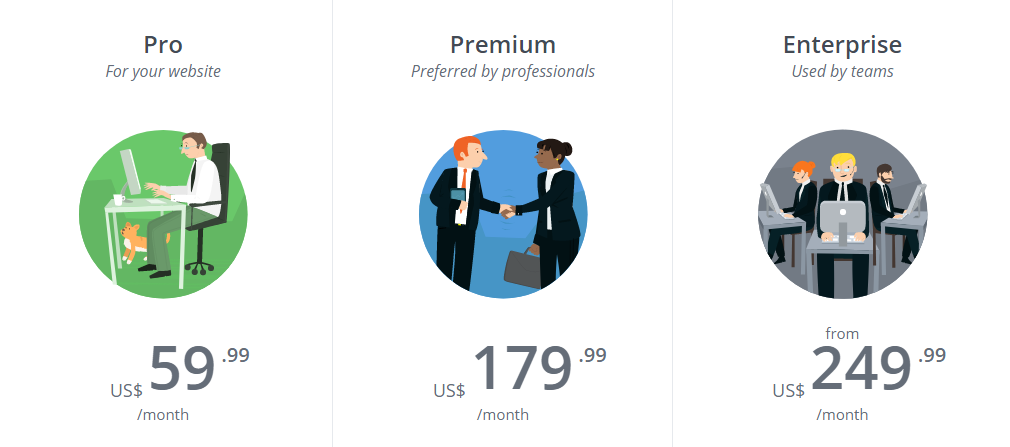 If you will be using WooRank for more than one website or agency purposes, you will get more value by upgrading to a paid plan.
Pro ($59.99 per month)

Unlimited Reviews
Optimize one website at a time with a Project including backlink analysis, mobile friendliness test and more!
Track 50 keywords in Keyword Tool for position, volume, and performance.
Use Site Crawl to crawl up to 2000 pages for technical errors and content issues.
Stay on top of your progress with weekly Email Digest updates.
Monitor your website 24/7 and receive Uptime Notifications if it goes offline.
WooRank Help Center and online support available day and night.
Available in 6 languages: English, Spanish, French, German, Portuguese and Dutch.

Premium ($179.99 per month)

Pro features plus:

Projects for up to 5 websites.
Create and download white-label PDF reports customized with your branding.
Track 250 keywords with Keyword Tool.
Crawl 10,000 pages with Site Crawl.
Use our LeadGen tool to generate leads on your website
Priority support whenever you need it.

Enterprise ($249.99 per month)

Premium features plus:

Team access
Extra Projects
Extra Keywords
Custom API access with third-party integration
Bulk Review generation
Data mine millions of website reviews for market research and insights
Phone support
WooRank Free Trial (14 Days)
WooRank currently has a 14-day free trial available for its Pro and Premium plans. Once your trial is over, you will be automatically charged for the plan you have chosen.
Once charged, there is a 48 hour grace period for payment refund. There are no contracts with WooRank. You can cancel at any time.
Pros
Easy user-interface
Keyword tool saves time
The FAQ is extremely helpful
White-label reports allow branding
Easy to follow checklist highlights website issues
The blog is a great resource for users looking to get more info about SEO
It's fast

Doesn't produce information overload
Site analysis report includes links on how to solve issues
The software runs in the cloud so there's nothing to install
Covers both onsite and offsite SEO
Available in 6 Languages
In-depth Reports
Competitive Analysis
Smart Dashboard
KPI Monitoring
Marketing Plan
Continuous tracking
Backlink analysis
SEO Analysis Tool
Keyword Tracking
Mobile-friendly analysis
SEO Audit
Analytics
White-Label Report
Cons
Doesn't allow access to some Premium features during the trial period
No client-specific login
Not for SEO newbies
Limited to a single user unless you pay for an Enterprise plan
Pricing is a bit on the high side
Who is WooRank For?
If you are looking for a fully-featured Search Engine Optimization tool that is lightning fast, you will appreciate WooRank's clean code and detailed reporting. For once, the free version of the software offers more than just clickbait.
If you are just starting and need to learn SEO language, WooRank can help you achieve your goals and increase your skills at the same time.
WooRank Google Chrome Extension
WooRank provides an SEO Analysis and Website Review by WooRank Google Chrome extension for free to anyone interested in learning more about their SEO or a competitor's stats. It can analyze any website that you are currently viewing.
The browser extension provides data on the following: SEO, Structured data, Mobile-friendliness, Usability, Website technologies, Backlink, Social media, and Website traffic. Data can be refreshed so you always have up to date stats.
Great for growing your online business. You can even use the data to study up on a potential client or find out what backlinks or technology your competitor(s) is using.
Who is WooRank Not For?
WooRank is a powerful SEO tool that provides information quickly and accurately. However, it has a variety of competitors in all price ranges and specialties.
Alternatives
If you need a specific feature that WooRank simply doesn't specialize in, here are a few of our favorites.
SEMRush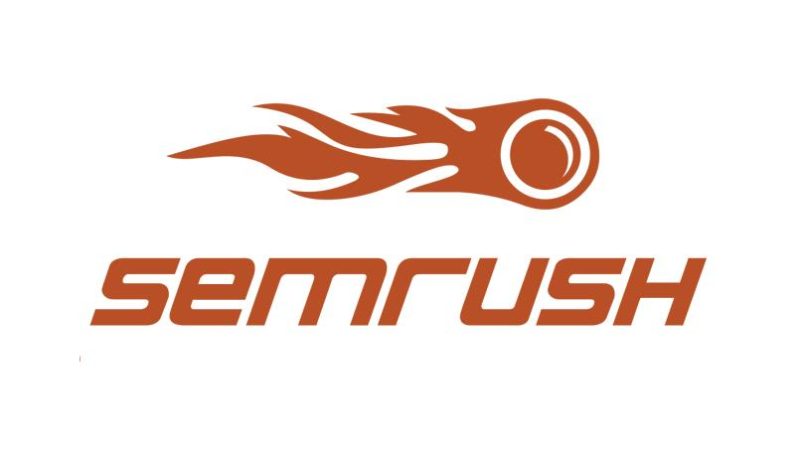 Pros:
SEO and SEM features
Comprehensive competitor analysis
Lots of features for the price
Cons:
Plans start at just under $100 per month
Keyword research needs more filtering features
Information can sometimes be unreliable without digging into the details to verify
Moz
Pros:
Great for marketing, SEO, web designers, and business owners
An everyday quick check of domain authority, SERPs, keyword ranking
Setup and store different campaigns within one account
Cons:
Data only available for the US
Error messages when utilizing different features
The learning curve for the average user
HubSpot Marketing
Pros:
Quality customer support
Easy to use
All-in-one solution
Cons:
Keyword suggestions only available in English
Custom reporting is not very detailed
Using add-ons can jack up the price quickly
Ahrefs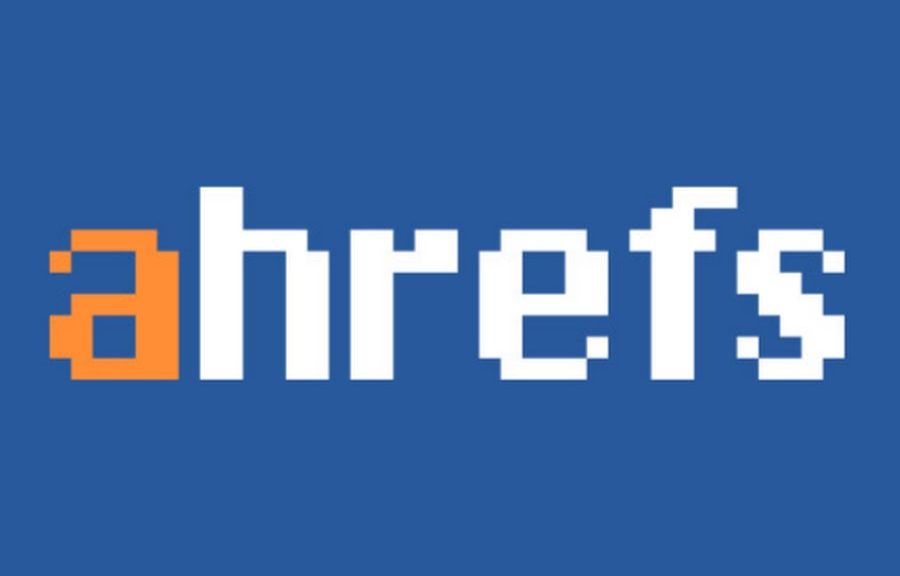 Pros:
Excels in competitor backlinks
Gives you simplified data to improve Google ranking
Full audit with actionable instructions
Cons:
The monthly subscription is on the expensive end
Similar competitors have a better user interface
Can be slow loading when processing data
FAQ
How can I check my SEO ranking?
You can check your SEO ranking for free by typing in your website URL on WooRank's main page.
How do I check my website quality score?
WooRank instantly gives your website a score based on key factors that impact SEO and usability.

WooRank bases its score on three main points:

•Accessibility. Can a search engine and humans see your page and load its contents?
•Readability. How easily can a search engine take your website content and categorize it properly?
•Quality. Does your website provide a good user experience that makes people want to stay on your site?
Your website will either receive a score on a 100 point scale. This detailed analysis is based on 70 data points.
WooRank recommends the following actions for scoring:
•Ready to market: A score of 70+ can produce a positive ROI
•Improvement recommended: A score of 41-69 should consider improvements before investing in marketing campaigns.
•Revamp required: A score of 40 or lower should focus on improving score before investing in marketing.

This scoring is great because many new and small businesses invest in marketing right away and wonder why they do not receive a return on ROI.

By fixing the recommended navigation, structure, mobile-friendliness, etc., you can easily tweak your site to improve your score without wasting money in the process.

Internal pages receive a letter grade and are based on 30 criteria. A+ is the best you can receive, while E is the worst. Each internal page is analyzed differently based on the content.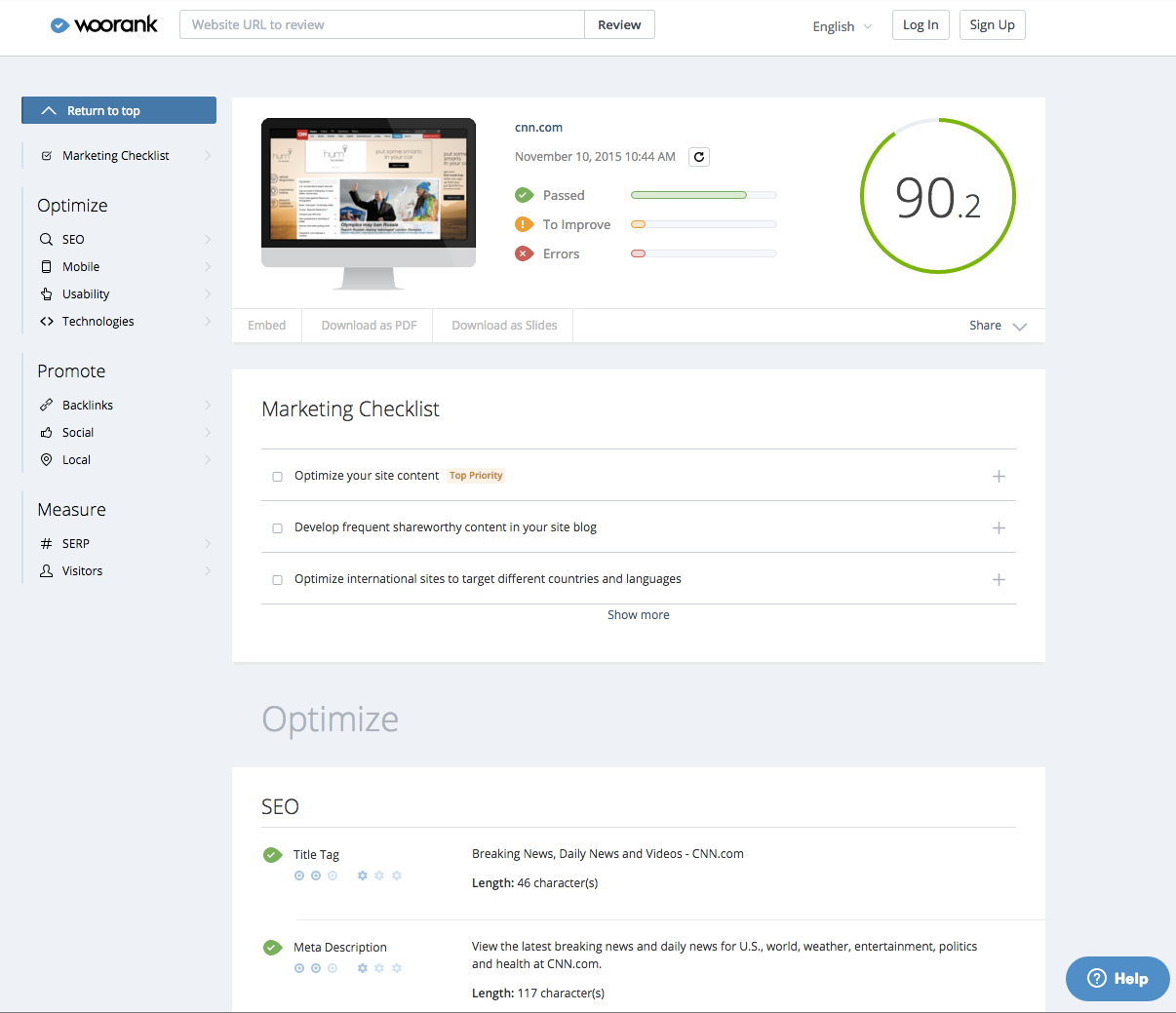 How do you rank higher on Google?
While WooRank provides you with a website score that can improve your SEO ranking and ROI, it should not be used as a Google rank scoring system.

Google algorithms can change and rely on different criteria depending on a lot of factors. It is possible to receive a lower WooRank score and still rank higher than a site with a high WooRank score.

There are two reasons for this. Google sees the site with the lower WooRank score as more relevant to the user's search. It is also possible that different content of the site could rank higher depending on the user's search such as h1 content or backlink.

It is important to note that Google ranks websites internally using its algorithms. It does not rely on third-party software to rank websites on Google.com.
Final Thoughts
WooRank delivers on what it advertises. It is very intuitive and great for advanced Search Engine Optimization insights.
Even if you cannot afford the monthly subscription price, you should be using the free version to analyze any websites you manage. If you start using WooRank regularly, I recommend starting with the trial. If you like what you see, consider upgrading to a paid subscription when the budget allows.
Whether you are a website owner, a marketer, SEO expert, or web designer, WooRank can help you keep retainer clients and earn quality referrals. Easily provide your clients with custom reporting that shows a tangible score.
Take the guesswork out of Search Engine Optimization. WooRank allows you to take your clients to the next level and give them valuable insight into their competitors.
Ready to take your website to the next level? Click here to start your free trial today.
Here are other related articles you may be interested in: