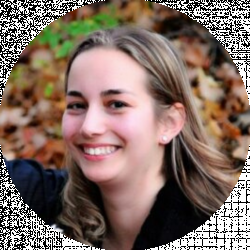 Latest posts by Julie Thompson
(see all)
Last Updated on May 29, 2020 by
Looking for a fast and feature-rich SEO keyword research tool? You've c2ome to the right place, we put together this SECockpit review to show if it can really help improve your rankings.
Every year, Google receives trillions of searches for anything and everything. With the frequency of Internet use, it's hard to believe that 15% of daily Google searches are new.
To keep up with changing algorithms and the demand for text and voice searches, businesses must invest in the best keyword tool. To stay competitive, your content must be relevant to your customers and ranked high on search engines so potential customers are consistently finding your brand.
Fortunately, there are a lot of keyword tools available to meet your specific Search Engine Optimization needs. SECockpit boasts that it is the world's most advanced keyword research and online marketing tool. We have provided some keyword basics and put SECockpit to the test to see if it truly is the top keyword tool.
Keywords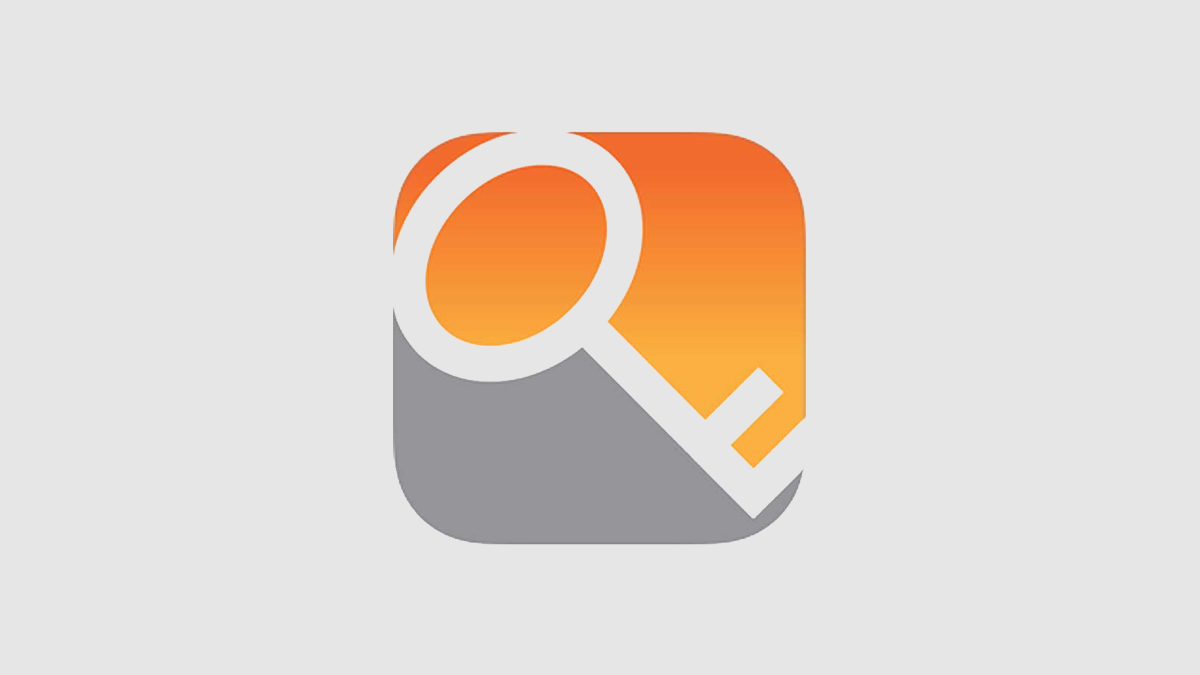 Keywords can help you create an online business plan. They can provide you with direction when you are unsure of which way to turn.
Keywords pinpoint your content writing so you can focus on niche ad campaigns and segment your customers to increase your sales.
Your chosen keywords should fall into four distinct categories.
Primary Keywords
Primary keywords are foundational for your business. They should describe what you make or what service you would like to promote.
For example, if you are selling graphic design services in Chicago, your primary keywords would be "graphic design Chicago" or "web design Chicago".
Secondary Keywords
Secondary keywords are related to the primary and are simply used to optimize your existing content. Secondary keywords can increase your traffic and improve your site's organic search results.
Long tail Keywords
A long tail keyword consists of at least three keywords strung together. Most of the time, a long tail keyword will be significantly longer.
It is important to use long-tail keywords in your marketing strategy to capture the type and voice search results that your potential customers are using. If you can answer common questions related to your niche, you are likely to increase website traffic and provide relevant content to your target audience.
Long tail keywords are currently 70% of our searches. A well researched long-tail keyword can rank higher than shorter phrases and also yield a higher conversion rate.
Semantic Keywords
Semantic keywords are improving via AI. Although as humans we can recognize when phrases are used interchangeably, this is not always the case with AI. Using LSI (latent semantic indexing), search engines are improving on making synonymous connections.
Using semantic keywords on your site is important today, but will be even more so in the future. As more and more people rely on voice search, using alternate phrases for your product or business will help you rank above your competitors.
SECockpit is a website planning tool. Its main features are a keyword research tool. SECockpit is cloud-based and can process 200 keywords per minute.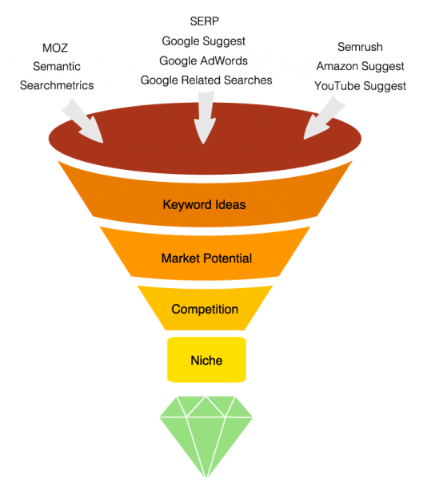 You can manually add or remove filters to customize the software to your keyword needs. This greatly reduces the time you need to create reports and generate results depending on the filter your niche or business uses to stay competitive.
You should never attempt to guess which keywords suit your needs. Use data-driven keyword software to make informed decisions. Your competitors are already using it so take advantage of the technology that will keep you ahead of the game.
History of SECockpit
SECockpit was the flagship product created by SwissMadeMarketing. The marketing team was founded in 2010 by tech gurus in Switzerland.
They created SECockpit to provide foundational online business tools for SEO companies and affiliate marketers.
SwissMadeMarketing has several online tools to improve business efficiency including YTCockpit (to rank higher on Youtube), LocalBizProfit (plug and play local business website creation), MemberBizProfit (plug and play members-only websites and sales pages), AffiliateBizProfit (plug and play high-converting affiliate websites), inCMS (cloud software to create and edit websites), TrafficAnalysis (Google analytics keyword reveals), RankTracker (targeted organic website traffic), and BacklinkSpy (provides hidden backlink info. from URL(s) and seed keywords).
SECockpit Review Features
Dashboard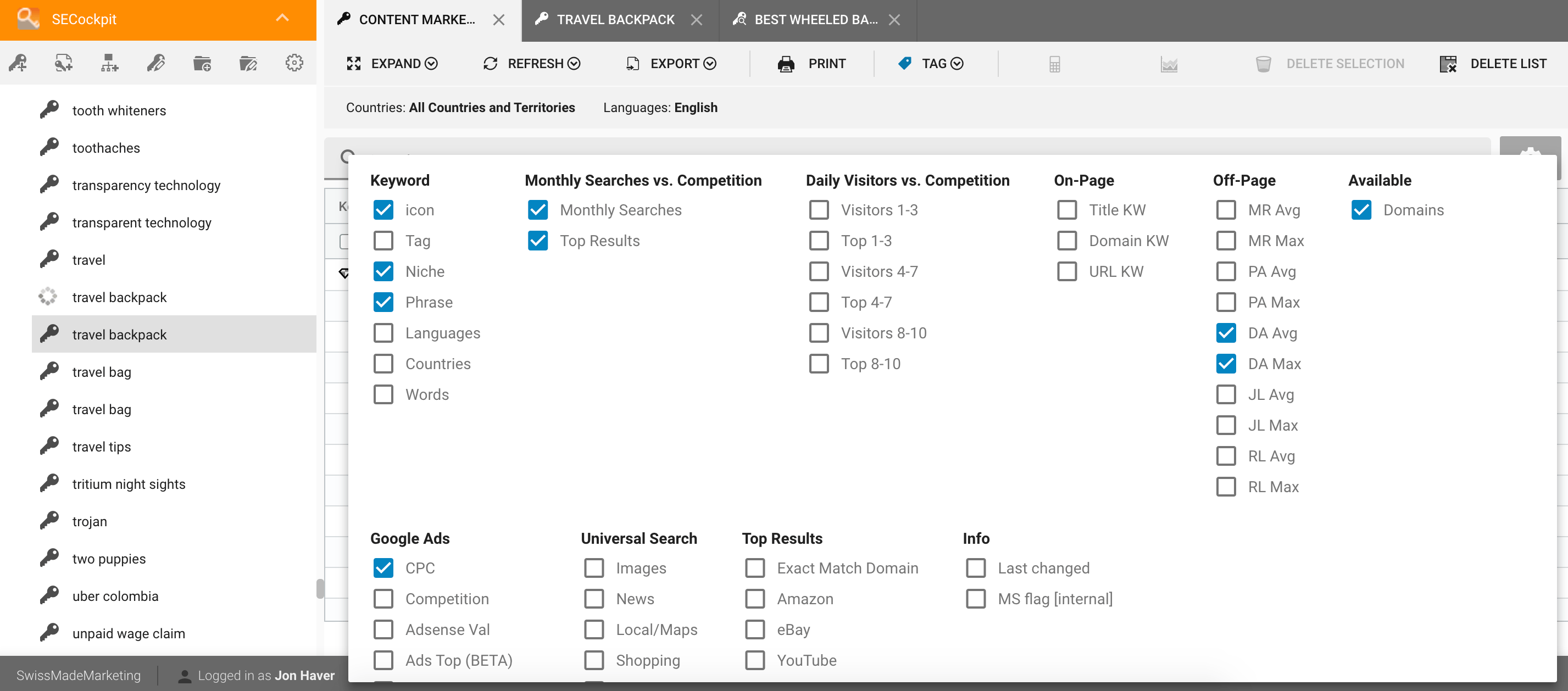 SECockpit offers users an introduction video when they first open the keyword tool. This breaks down any learning curve barriers that you may experience if you are new to keyword ranking and management.
The dashboard itself showcases three main tabs: Keywords, Projects, and Tasks. Each tab is expandable and can be refreshed if any changes are made.
The Keywords tab is your main tab. You can navigate and organize all of your filters for researching a particular keyword.
Options for Keywords tab include:
Start a new keyword search
Rename existing search
Create a new keyword folder
Edit existing folder
The Projects tab stores all of your websites and pages that you want to get ranked for a specific keyword. This helps you keep track of your SEO campaign separately for easy tracking and editing.
The Projects tab includes tools like overview links, tasks, a journal, backlinks log, and budgeting tool.
Options for Projects tab include:
Create a new project folder
Edit an existing project folder
Delete a project folder
Expand all folder trees
Close all folder trees
The Tasks tab includes step-by-step instructions for ranking your website on page one of Google. This is based on the link building tools/services you currently use.
You will also see a Rank Tracker tab that automatically monitors your rankings in Google for any domains or keywords that you track.
Features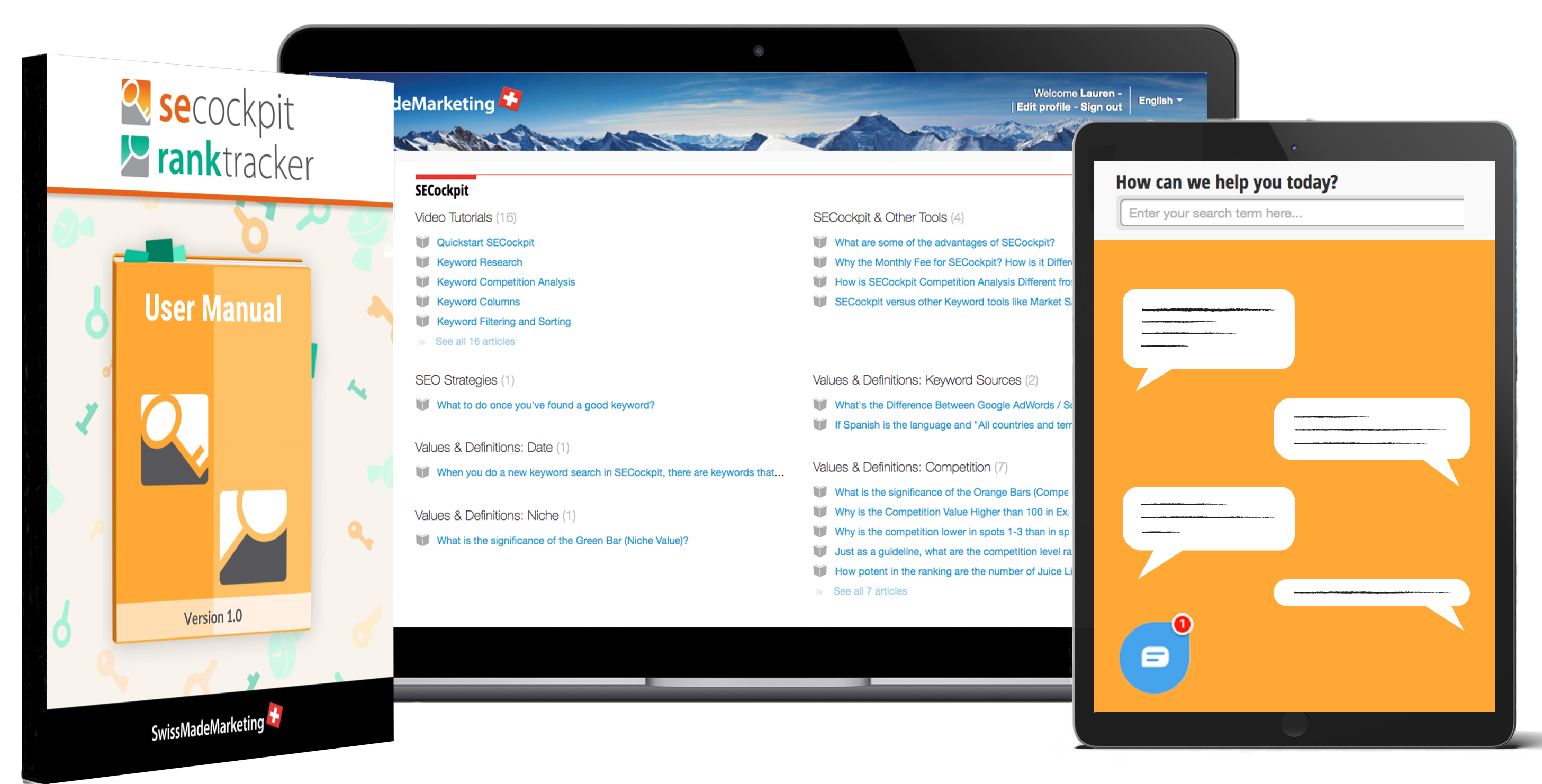 Faster processing of keywords–SECockpit keyword tool runs as fast as you do. While most keyword tools only process one keyword in 1-2 minutes, SECockpit can process 200 fully optimized keywords in just one minute.
Advanced sorting and filtering–Choose the keywords you need based on your data processes.
One-click evaluation–Find out everything you need to know about a keyword including competitor keyword analysis, all in one click.
More keyword sources and ideas–Compared to its competitors, the SECockpit tool has access to more keyword sources and generates hundreds of keyword ideas. The tool utilizes Google AdWords, Google Suggest, Google Related Searches, Amazon Suggest, and YouTube Suggest.
Most comprehensive data–Since SECockpit is not limited to its database, you will get the best SEO data available on the market. You will also receive a full competitor analysis for every profitable keyword including the top 10 pages that are currently ranking.
Pricing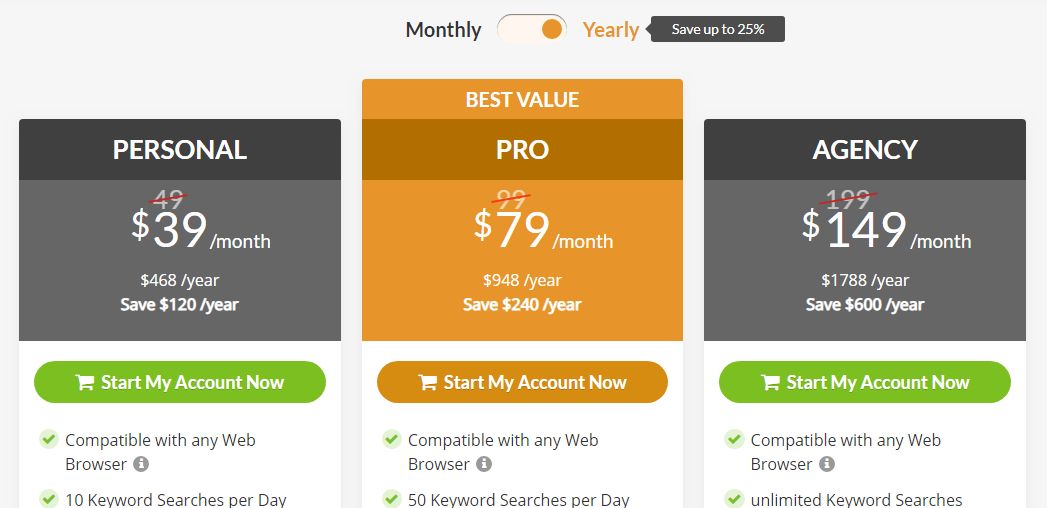 Personal ($49 per month)
Compatible with any Web Browser
10 Keyword Searches per Day
800 Search Results per Keyword Search
Keyword Ideas via Google AdWords
30 Day Money Back Guarantee
Pro ($99 per month)
Personal Plan plus the following features:
Keyword Ideas via Google Suggest and Google Related Searches
Keyword Ideas via Amazon and YouTube Suggest
Special Bonus: BacklinkSpy
Unlimited URL Searches
Max. 1'000 Backlinks returned per Search
Find Backlinks of URLs & Keywords
Special Bonus: RankTracker
50 Daily Tracked Keywords
Ranking for Desktop and Mobile
Ranking for all Countries and Languages
Agency ($199 per month)
Pro Plan plus the following features:
Ranking by City
Branded PDF Reports
Email Reports and Notifications
All plans are discounted up to 25% if you choose to pay yearly. You will save $10 a month with the Personal plan, $20 a month on the Pro plan, and $50 a month on the Agency plan).
Major credit cards are accepted including a PayPal option. VAT-Rate may be added to those living in Switzerland or the EU.
Free Trial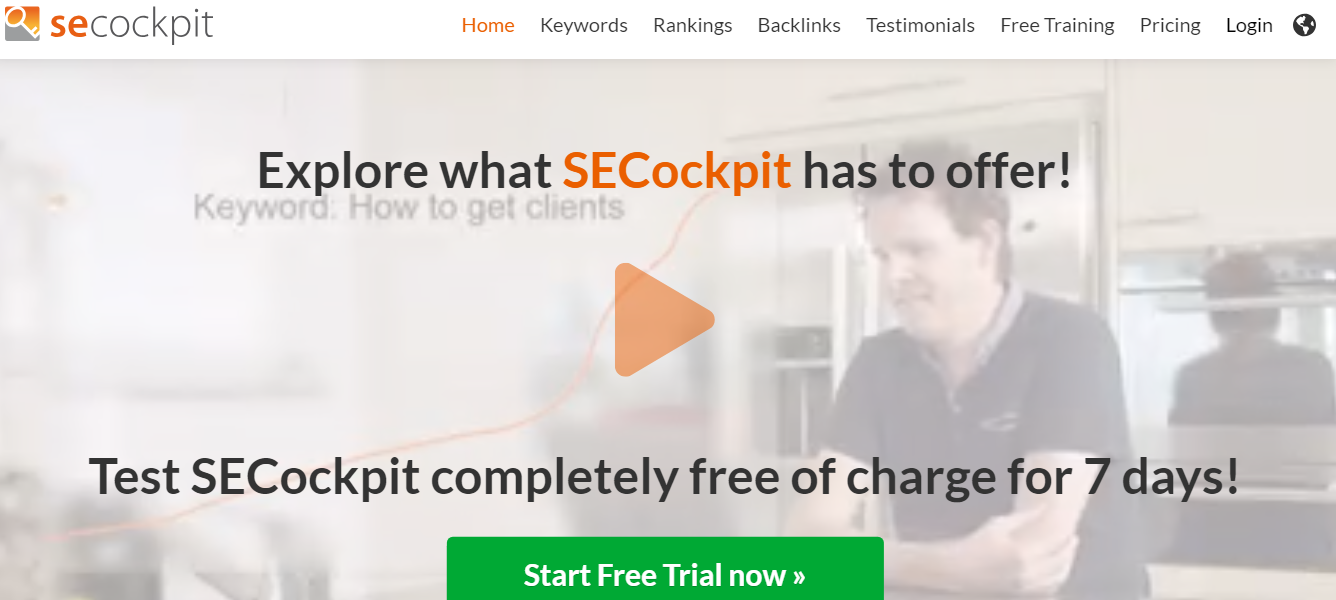 SECockpit offers a free trial keyword SEO report (PDF format). The report will provide you with up to 100 related keyword options and include competition analysis, number of exact monthly searches, AdWords CPC, domain availability, niche value, and keyword phrase.
Pros and Cons
Pros
Super fast results, productive from day one
Competitive keyword data
Quality keyword analysis
Switch between multiple activities on the dashboard (with new tabs, no page reloads)
Keyword synonyms (from Google, Amazon, or YouTube)
Cons
You will pay a higher price than its competitors for features like SEO Projects and non-AdWords keyword suggestion
Must be committed to keyword research to see a return on ROI
Who is SECockpit For?
The SECockpit tool is best for websites and online businesses that frequently research keywords. You do not have to be tech-savvy to use the updated user interface. It is aesthetically pleasing on both desktop and mobile devices.
SECockpit is best known for running hundreds of keywords per minute, whereas its competitors can only run 1 or 2 in the same timeframe. It's a great time-saver, perfect for on-the-go marketers and editors, and affordable.
FAQ
Why keywords are important in SEO?
Keywords are very important in quality content writing. They are based on the searcher's need for information and are either found by typing a word or phrase into a search engine box or by voice search.
When used properly, keywords can quickly get your target audience to the best content for their needs.
How do I research a specific keyword for free?
Google Keyword Planner used to be the go-to free keyword generator. Unfortunately, Google has restricted its use to only those who also use its AdWords SEO campaign. If you are not ready for AdWords, there are free keyword research tools.

A few of the free keyword tools include Google Trends, Google Correlate, and Keyword Tool.
What is a seed keyword?
A seed keyword is a single word and phrase that best defines your business. Having seed keywords and phrases is essential for expanding your keyword list. To properly build your core keywords, you must determine the terms associated with your specific products or services. Include terms used by your followers or customers.

Then begin to target that keyword list with Keyword data found through Google search terms, current ranking content and successful competitor keywords.
Customer Service
SECockpit offers a detailed user manual and video tutorials so that all levels can easily use the SECockpit interface. This is great for professionals who need to save time by finding relevant keywords faster and for tech geeks who enjoy detailed information about every nook and cranny of the keyword tool.
Additional information can be found via their extensive Knowledge Base and Customer Service pages.
If you still have questions, you can contact SECockpit's Help Desk at any time. They are available via email or submit a support ticket.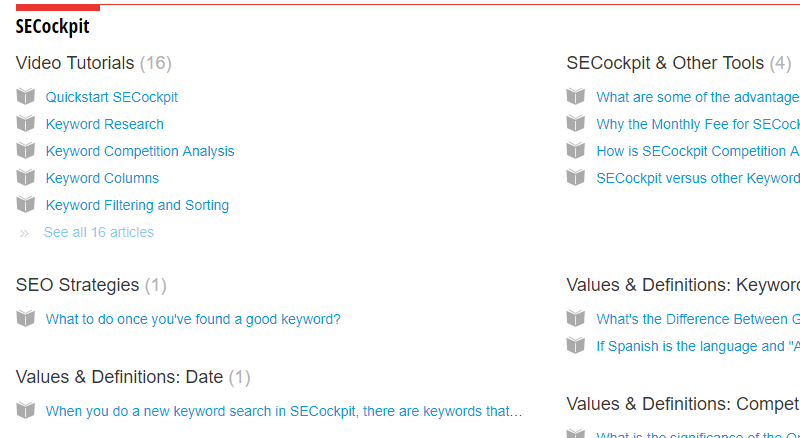 Free Training
Use the quickstart video tutorial to immediately start searching for keywords. Learn keyword basics like evaluating the value of your chosen keywords and see how you rate against your competition.
The keyword tool offers an exclusive FREE training series for its website visitors. The series offers current industry insights into Search Engine Optimization and website monetization. Soak in live examples and case studies that guide you through the process.
Who is SECockpit Not For?
SECockpit keyword tool may not be for individuals that are just starting with their website or online business. Free keyword tools are available if you do not have a budget for a paid keyword tool.
Once you establish your growing business and desire more website traffic and a higher search engine ranking, it is recommended that you invest in an advanced keyword tool.
SECockpit Alternatives
Choosing keywords should not be rocket science. There are several software options to automatically generate useful data.
SEMRush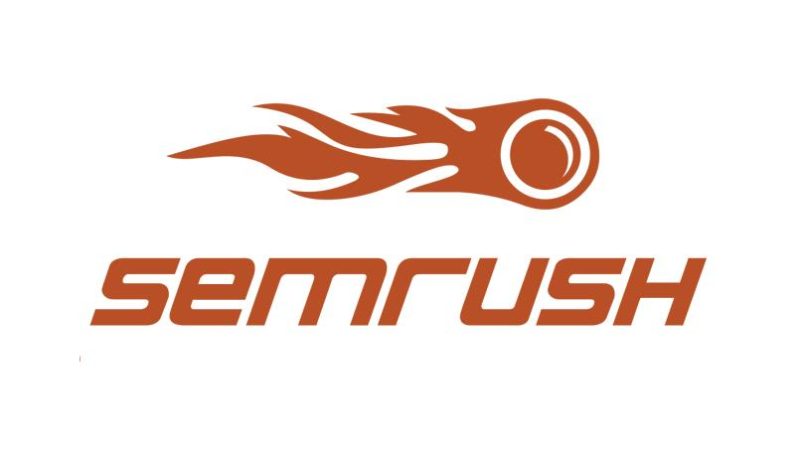 SEO
Advertising
Social media
Content
Keyword competitiveness research and analysis
Reporting & management
Free Trial: 7 days
How much does SEMRush cost? Pro $99.95 per month, Guru $199.95 per month, Business $399.95 per month, Enterprise custom pricing. Tiered savings for paying annually.
Ahrefs
Competitive analysis
Keyword research
Backlink research
Content research
Rank tracking
Web monitoring
Use "Also rank for" and "Questions" lists to find new relevant phrases
Free Trial: Ahrefs does not have a free trial, however, you can get a 7 day trial for $7.
How much does Ahrefs cost? Lite $99 per month, Standard $179 per month, Advanced $399 per month, Agency $999. If paid yearly, you will receive the equivalent of 2 months free.
MarketMuse

Optimize existing content
Find gaps and opportunities for new content
Built-in editor for optimizing content
Streamline your content workflow
Research and Questions functions that help articles perform well with organic search and voice search
Word Count function to judge how long articles need to be to compete
Free Trial: Free trial available for serious inquiries only.
How much does MarketMuse cost? Contact sales for custom pricing. Long term contract and recurring free expected.
The above alternatives can also be used in conjunction with SECockpit for a better all-around marketing and keyword solution.
Final Thoughts
If you are looking to improve your rank in Google search, SECockpit provides real data to help you do just that. By gathering this data, you can efficiently create content that will beat your competitors.
Using a high-quality keyword tool can save you time and money. With all of the keyword tool options available, you should not be trying to come up with keywords on your own. Invest in a keyword tool that can provide you with fast processing, personalized filters, detailed data, and step-by-step guidance for implementing all of your findings.
Here are other related articles you may be interested in: