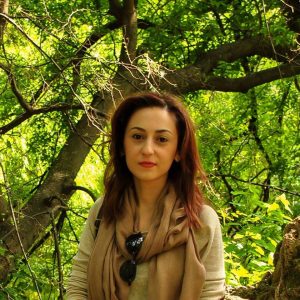 Latest posts by Alexandra Gavrilescu
(see all)
Last Updated on January 5, 2023 by Natalia Bickell
In today's comparative review, I will detail everything you need to know about two popular and highly effective SEO tools: SEMrush and Ahrefs. I will help you discover which one of these two leading platforms could meet your business' needs.
After years of using these two SEO tools, I found out many useful insights about each one of them and how they work. They really dominate the entire online optimization landscape and I must confess that they are my favorite tools of their kind.
I will compare functions, features, and their performance in terms of keyword research, website audit, backlink analysis, and the things that set them apart.
Main Differences Between SEMrush vs Ahrefs
The main differences between SEMrush vs Ahrefs are:
SEMrush is more effective in terms of SEM and PPC (paid advertising), whereas Ahrefs is less effective in that regard.
SEMrush features better social media capabilities, whereas Ahrefs focuses more on search engines.
SEMrush doesn't offer you accurate traffic estimations for the first 10 search results, whereas Ahrefs does offer it.
SEMrush provides less accurate data, whereas Ahrefs is more accurate in terms of link analysis.
SEMrush vs Ahrefs – What Are They?

With these two products, you can successfully optimize your website so that you achieve your business goals in terms of search engine ranking. They achieve this goal in numerous ways. The most important thing, in my opinion, is how these tools provide you with accurate data and valuable information that you can use to obtain the following things:
Create and publish fresh content that's relevant to your target audience because that's more likely to help you boost your site's organic traffic;
Modify technical aspects of the site to improve its overall performance in search results;
Identify link building opportunities that are sourced from external high-authority websites.
One of the most important things that all marketers and business owners should focus on is keyword research. SEMrush and Ahrefs offer relevant keyword suggestions that are based on the words or phrases you enter. Some of those (ideally, those with higher search volumes and lower competition) can be used as topics for your blog posts because they perform well in Google search.
Another important aspect that you will find with any of these two platforms is the difficulty level of ranking well for specific phrases. Furthermore, you will find out the best website that you should approach for backlinking purposes.
With any of these two platforms, you will be able to do SEO audits on your business' site or blog to know whether or not there are certain technical improvements that you should perform.
SEMrush Overview
This platform was launched back in 2008 and it was developed by a team of IT and SEO specialists who mixed their expertise and experience to come up with a competitive and effective research service for all those business owners who wanted to invest in online marketing.
After 10 years on the market, SEMrush has known amazing growth, and nowadays it is the most popular digital marketing toolkit in the world. Many marketing professionals prefer to work with SEMrush rather than choosing other similar services.
There's nothing you cannot do with SEMrush. It is really an all-purpose SEO tool. I started using it a couple of years ago when I was working for a digital agency and they needed me to optimize lots and lots of articles and other content. Before that, I was using Google's Keyword Planner for research purposes.
What started as a free trial it evolved and it became a great business choice. I honestly believe that investing in SEMrush is worth it.
Ahrefs Overview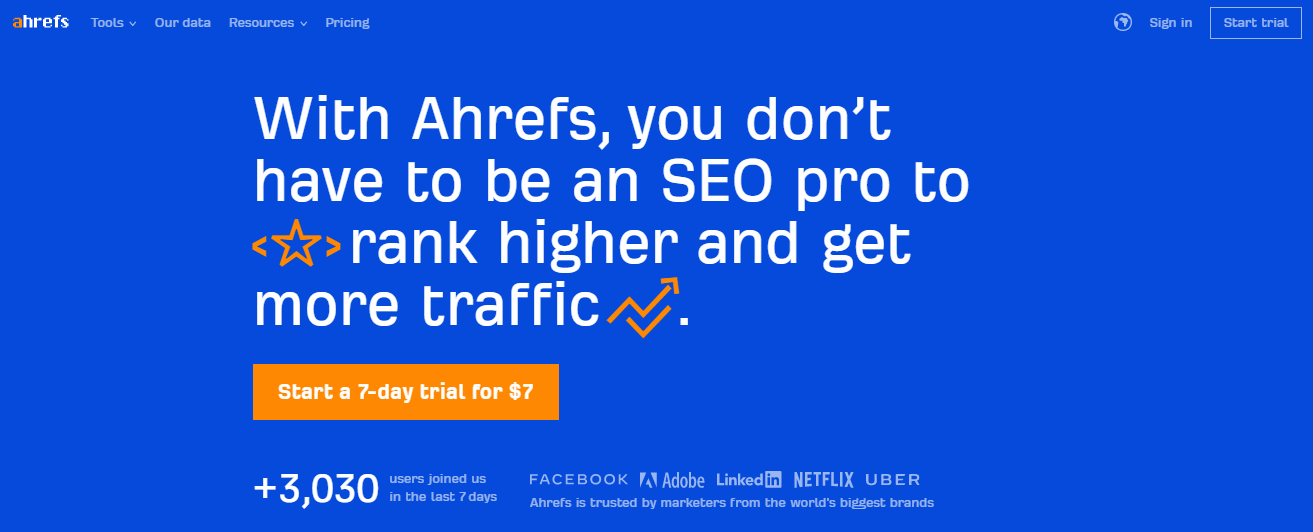 The company likes to market its SEO service as the best choice for all experience levels, even for beginners. Ahrefs appeared in 2010 and it was first created as a tool that was used to analyze backlinks. After that, the website grew and it became an amazing SEO tool that serves multiple purposes.
With Ahrefs, you can perform keyword research, website audits, content marketing, and many other interesting things. When I started to use this platform, I was already using SEMrush but, somehow, I knew right from the start that Ahrefs is much more complex and complete.
It amazed me with its user-friendly interface. Extracting data from it is done super easy and it offers in-depth backlink data. In terms of backlink analysis, I don't think there's another tool that can give you the same amount and complexity of information.
SEMrush vs Ahrefs – Main Features
Let's take a look at some of the most important features and opportunities that these two SEO tools offer us.
Keyword Research
Keyword research represents the main and most important step of any SEO strategy. It is where all the other tactics begin. Through keyword research, you can gain a better understanding of how your target audience behaves, the things they are searching for online, and the way they do it on search engines.
Based on keyword research, if done correctly, you can adjust your content in such a way that it will meet the need of both search engines and online users.
SEMrush started as a keyword planner but Ahrefs has later created its own dedicated Keywords Explorer.
In my humble opinion, both platforms display a pretty equal performance when it comes to keyword research. So, there's no winner! It's a tie!
At the same time, SEMrush is a better choice for product listing ads and pay-per-click campaigns. Both work pretty similarly but if you also want to apply search engine marketing tactics, then SEMrush might be the most suitable alternative. By comparison, Ahrefs' Keyword Explorer also shows click metrics.
Backlink Analysis
The fact that Ahrefs is a better tool for backlink analysis comes as no surprise. This function helps you analyze the backlinks of your competitors to find out the best link building opportunities. Through it, you can also discover your website pages that have high authority levels which means they are great candidates for internal linking.
From my work with these SEO tools, I can say that Ahrefs provides highly accurate data in all its backlink reports. Moreover, Ahrefs picks up many more referring domains compared to SEMrush. On the other hand, SEMrush focuses on listing only high-authority websites and leaves out low-authority ones.
So, the winner here is certainly Ahrefs!
Topic Research and Content Explorer
I don't know about you, but my go-to method for topic research is brainstorming keywords and only afterward I look for topics. That's a very effective method to have one powerful main keyword for each page so that the page can rank well in Google search.
Others might need fresh content for link-building purposes only or to publish them on their social media pages. In those two cases, both the Topic Research tool from SEMrush and Content Explorer by Ahrefs come in handy.
However, the winner is Ahrefs, especially since they've released the new version of their keyword research tool, the Content Explorer 2.0. It comes with a lot of upgrades. According to Sam Oh, you can use Ahrefs' keyword planner for the following purposes:
Trends data;
Finding broken links and link-building;
Data-driven content research.
Simply put, Ahrefs features a more robust keyword planner compared to SEMrush. Nevertheless, SEMrush's Topic Research also has many great uses. So, overall, both platforms are more than decent options for keyword research.
Technical SEO Audits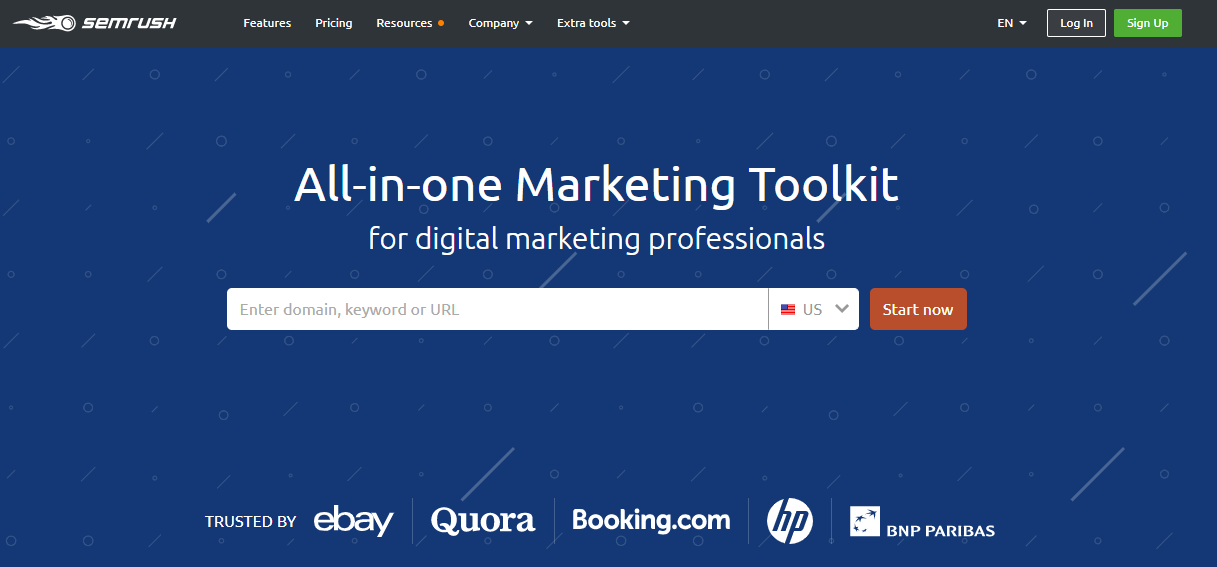 This time, SEMrush wins the battle. Let's be totally honest! These two platforms weren't created to work as technical auditing tools. They both have that feature but it only provides basic auditing data. For in-depth SEO audits of your website's technicalities, you should use other specialized tools such as Deep Crawl or Screaming Frog.
I've tested the same URL on both platforms and here's what I got:
Out of a total of over 2,600 crawled URLs, Ahrefs gave the website a health score of 89% and it also showed 164 flawed internal URLs that had errors;
SEMrush displayed a pretty similar health score of 86% and there were warnings, errors, and notices featured right from the start.
All in all, Ahrefs is easier to use and understand as an auditing tool and it offers enough information as well as ways to fix those existing errors which represents a major advantage.
What I liked more about SEMrush is the fact that you can see the warnings and errors right from the very beginning, on the dashboard. So, if you click on those colorful numbers, you will go directly to the things that don't work properly on your site.
By comparison, SEMrush is more straightforward and easier to navigate. Just like Ahrefs, SEMrush also provides ways to fix those errors. In my eyes, in terms of technical SEO audits, SEMrush is the winner due to how intuitive the platform is.
Ease of Use and User Interface
For me, and I bet for many others, the user interface is extremely important. I enjoy working with tools that look good but also function well. Being able to analyze straightforward charts and graphs that are easy to digest at a glance makes my life a whole lot easier.
Ahrefs has excellent user intelligence. All its SEO tools (besides the site auditing feature) show data that's easy to follow and understand and the platform is highly intuitive. On the other hand, its competitor, SEMrush, can seem a tad dated because there are so many features that it might be difficult to learn all the tools and know exactly what everything does.
So, again, the winner that has the best user interface is Ahrefs.
SEMrush vs Ahrefs – Main Alternatives
Here are some free and paid alternatives to both SEMrush and Ahrefs.
Ubersuggest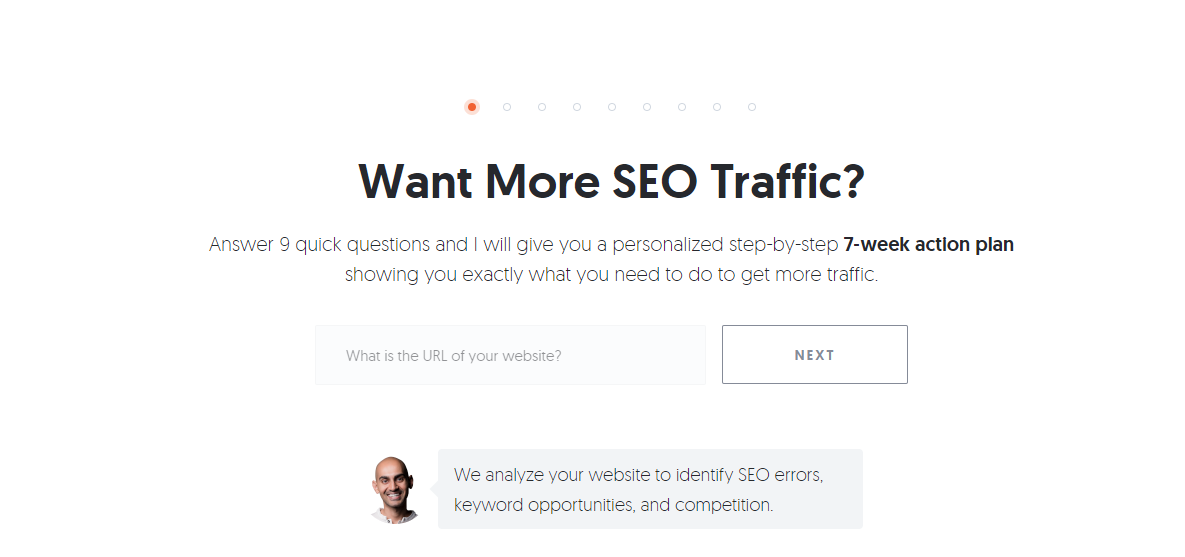 This is a free SEO tool that does almost all the things that Ahrefs performs. It is very hard to find a fantastic platform that's also free. Ubersuggest comes with plenty of useful features:
Keyword research;
Backlink analysis;
Topic research;
SEO audit reports; etc.
All of the tool's features are solid and offer accurate information. Ubersuggest is a very good choice for those of you who're only beginning to apply SEO techniques. The service is completely free although they have recently created a paid plan as well.
Moz Pro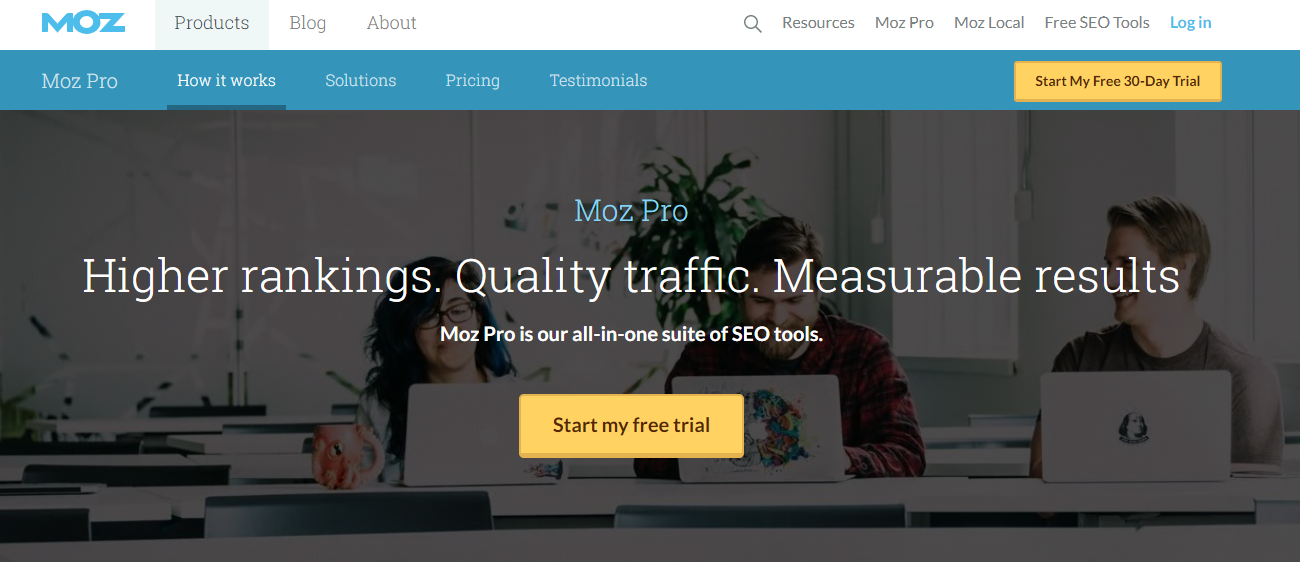 Although Moz Pro might not be as amazing as SEMrush or Ahrefs, it still remains a decent SEO tool that's worth considering. According to its users, Moz Pro's main issue is the fact that most of its features are a bit outdated while many competitors have upgraded their platforms.
While both platforms reviewed today are always releasing improvements, Moz couldn't really keep up. The only thing they rolled out was a keyword explorer feature. Still, this option is very good when you want to search for new long-tail keyword ideas.
This service is great for competition analysis purposes.
BuzzSumo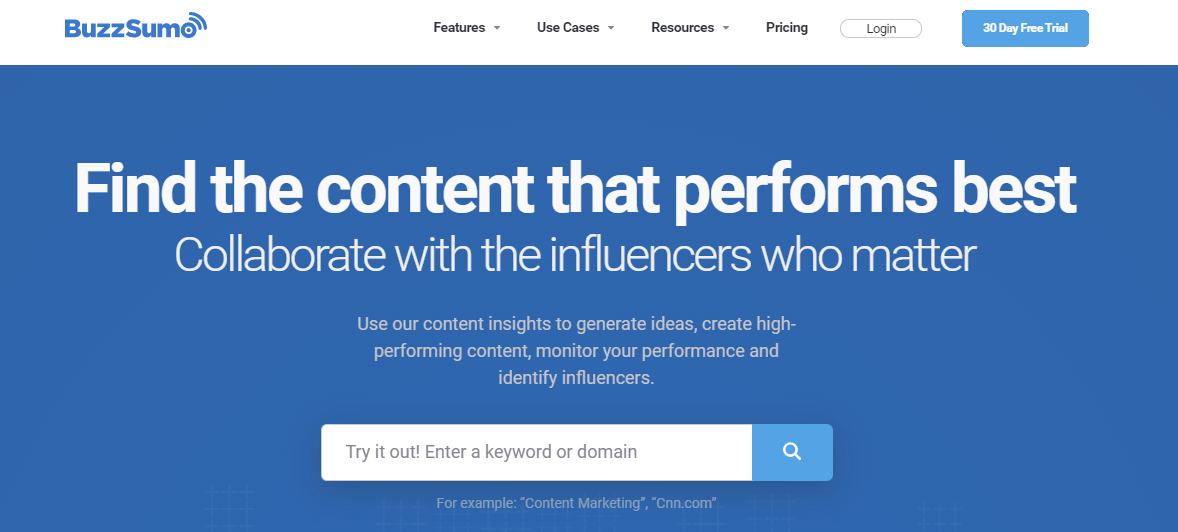 BuzzSumo is another popular SEO tool that's great at offering data regarding your business' social media performance. So, for those of you who're relying on social media networks to increase website traffic, this platform might come with a better ROI compared to other similar services, including SEMrush or Ahrefs.
This platform is one of the best marketing tools on the market and it will help you create better and optimized content. On the other hand, it lacks some of the key features that Ahrefs comes with such as a website audit option.
FAQs About SEMrush and Ahrefs
Are Ahrefs and SEMrush Worth the Money?
From my experience, after using both of these tools, Ahrefs seems a lot better than SEMrush due to all its functionalities and its intuitive dashboard. However, both of them are decent and display solid information regarding your site's performance and ways to improve your content.
So, the answer is yes, they are worth it if you want to grow your business, provide the users with relevant content, rank well on Google search, and gain more website traffic.
Which Is Better between SEMrush and Moz?
SEMrush is more complex than Moz and, besides SEO features, it also offers other reports and charts linked to PPC. So, SEMrush covers more areas than Moz.
Could You Handle SEO on Your Own?
Yes, absolutely; as long as you learn a few basic concepts about it, do some research, and practice a lot, you can totally manage the SEO part for your business, especially if we're talking about small and medium-sized companies. Larger companies might need an SEO expert who knows much more than just the fundamentals of search engine optimization.
SEMrush vs Ahrefs – Final Thoughts
Both SEMrush and Ahrefs are very good choices and they provide numerous features that will help you create, maintain, and develop a strong online presence for your business or blog. They have many similarities but also a few important differences.
My personal favorite SEO platform is, as you have probably guessed by now, Ahrefs although both of them offer plenty of useful functionalities butAhrefs is more complex yet easy to use, whereas SEMrush has a dashboard that, for some people, can seem like it's all over the place.