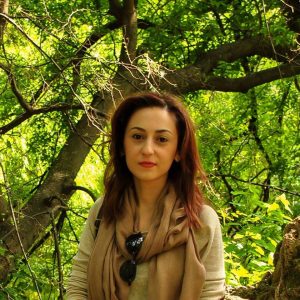 Latest posts by Alexandra Gavrilescu
(see all)
Last Updated on September 20, 2020 by Sasko Manev
SEO stands for search engine optimization and it is a strategy that scares a lot of people. Most of them tend to overcomplicate the concept of SEO. Believe it or not, online optimization and keyword research are actually pretty straightforward as soon as you understand their basics. All you have to do is learn the proper way to search for new keywords, insert them in your content in a smart manner, and achieve more traffic and views.
You will find plenty of SEO tools online so don't be surprised if you feel confused at first. The one I'm about to discuss is a free one and was created by the well-known blogger and digital strategist Neil Patel. Ubersuggest might help you if you want to increase your client base via a well-structured blog.

What Is Ubersuggest?
Ubersuggest is a user-friendly and free SEO online tool that helps marketers and business owners alike. You will be able to find some amazing ideas to boost your content's rating on Google Search.
Moreover, there are important details regarding what your competitors are doing as well as useful and well-targeted keywords suggestions. It is a service that works similarly to SEMRush, Ahrefs, and MOZ, all of which are paid tools.
The tool was developed by Neil Patel who is a well-known and appreciated businessman. Neil is also a bestselling author and one of the most important Internet influencers of our time.
He offers valuable knowledge through his blog and his YouTube channel. Both resources offer content that motivates and inspires millions of people. Neil specializes in digital marketing, blogging, SEO, and more.
Ubersuggest Review – Pros and Cons
Advantages
Using this tool won't cost you a thing. Ubersuggest is completely free;
It can help you achieve useful insights that you can effectively use in your competitive analysis;
It helps business owners and marketers identify the best-suited keywords for their content, as well as secondary or related keywords;
The tool brings fast results with simplified metrics;
The platform is user-friendly. Besides being easy to use, it also provides plenty of data.
Disadvantages
According to a user, Ubersuggest still has plenty of things that need improvement;
Some of the platform's features, like content ideas and backlink analysis, are still being created, designed, or developed as we speak;
Sometimes, the platform works a tad slow;
It doesn't feature certain important metrics such as organic ranking;
Some say it may benefit from the addition of a geographic filter.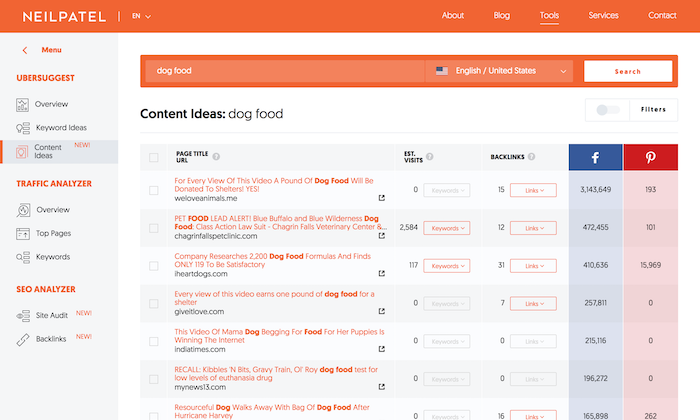 Using the Ubersuggest Platform to Optimize Your Content
You can use this platform to plan as well as optimize your website's content in order for your readers or clients to benefit from what you have to offer. You don't even have to be a content writing freelancer use Ubersuggest.
In fact, anyone with a blog published on their website can boost their business' audience by optimizing online content. A content strategy goes beyond using the right keywords. It is also about carefully planning posts and reaching your targeted public.
Analyzing the Competition
On Ubersuggest, you will see how your competitors are doing. If they are doing well in terms of traffic and ranking, then you must start applying the same or a similar strategy. Only through trial and error you can improve your content and create a buzz but why should you make mistakes when you can avoid them altogether?!
Let's consider the following example. If you are personal development and lifestyle coach and you're aware of the fact that Mark Manson's blog is a successful platform where he talks about topics such as relationships, happiness, behavior, skills, etc.
You must insert the blog's domain (https://markmanson.net/) in Ubersuggest's domain or keyword section. In just one click, the tool will provide you with a traffic analysis and popular keywords used on Mark Manson's blog.
Ubersuggets is able to seek and analyze effective keywords that have the power to attract a lot of online readers. You will see how many individuals are searching for information using a specific keyword or how difficult it can be to boost your Google Search ranking for that particular keyword (in either paid or organic searches).
Analyzing Keywords
In terms of keyword analysis, the tool gives you suggestions of other popular articles written on the same or similar subject. For instance, if you are a wedding planner and you want to help your followers find the best wedding planning company they can afford, you will have to write an article about it with clear and simple steps to follow.
Before writing the post, you must first search how effective the long-tail keyword "how to find the best wedding planner for your special event" is. Of course, this is just an example and it can be adjusted to your specific needs.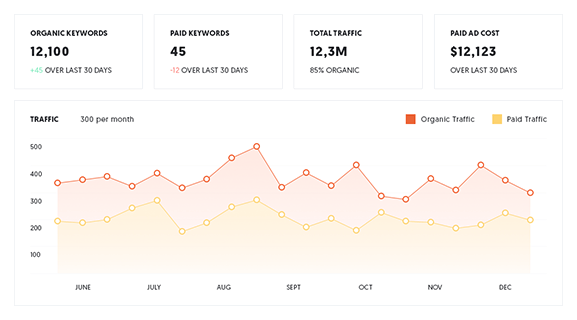 Keyword Suggestions
For every inquiry, Ubersuggest also features a smaller list of keyword ideas that are connected to what you wrote in the dedicated section. If you search for "how to find a good wedding planner," you will also see and use, if necessary and relevant, secondary keywords. Here is a list of possible suggestions:
How to choose a good wedding planner;
How much does a wedding planner cost;
When to hire a wedding planner;
Why should you hire a wedding planner; etc.
Who knows?! Maybe all or at least some of these suggestions might work even better than the keyword you chose initially and it may be more relevant to your business.
NOTE! Update!
Now, there's the possibility to enter a domain of one of your competitors in order to achieve better keyword ideas!
Ubersuggest Review – Main Features
1. Keyword Research
This feature allows users to search for new keywords for their content. At the top part of the screen, you will be able to write your desired word or domain. Think about what article or post you want to write about and then insert one, two, or even three words related to that specific subject. Then, Ubersuggest will feature a list of many keyword ideas along with their search volume and Google rankings.
If you want to target a certain area, you can use the country filter which comes in the form of a drop-down section. There, you can make your selection to target a particular region or country. Here are the things you will be able to see right next to each keyword suggestion:
Keyword volume;
CPC (cost per click);
Traffic volume and top ranking website;
Keyword ideas;
Paid difficulty;
SEO difficulty.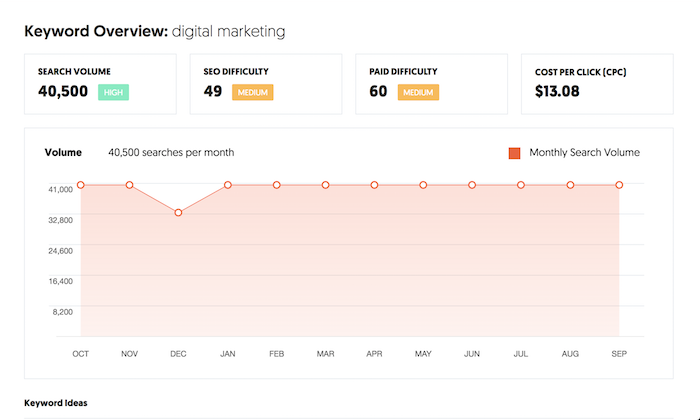 2. Domain Overview
This feature allows users to check aspects like traffic, domain score, search volume, well-ranked keywords, and many other things that can be found on your competitors' websites. You may call this "stealing" but I like to call it "borrowing" or "inspirational." Using effective keywords that similar companies use might really boost your website traffic. Here are the things you will find in the domain overview:
Competitors' organic keyword volume;
Domain score;
SEO keywords;
The organic monthly traffic that goes to your competitors;
The number of backlinks;
Top SEO pages;
The traffic volume for the last 10 months; etc.
3. Keyword Suggestion
You will find a lot of interesting and useful keyword suggestions for this platform. In fact, this is one of the tool's most amazing features. And, all of them come for free.
Through this function, you will discover new ideas that you didn't think of at first, things that people think of in relation to the keyword you came with initially.
4. Backlinks Data
With Ubersuggest, you will find out a lot of valuable insights, including other websites' backlink volume. This feature is a paid one in the majority of SEO tools but with this platform, you will discover and use this data without paying any fees. You can check the following aspects:
Backlink volume – their number;
Domain references;
Domain score;
Non-follow backlinks;
The number of backlinks that are sourced from special domains such as .edu or .gov.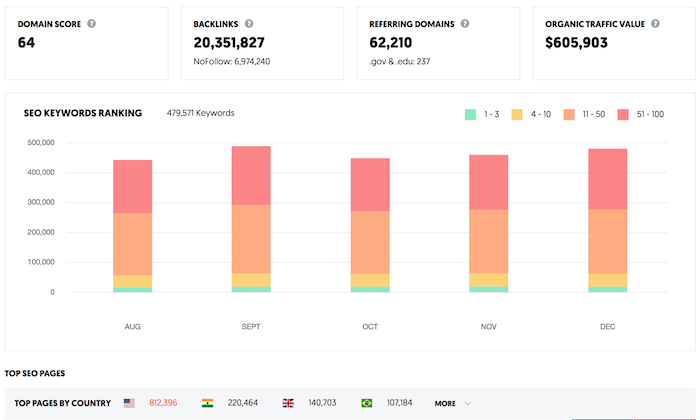 5. SEO Analyzer
Ubersuggest's SEO analyzer will assist users to better understand their website's flaws and mistakes. If you still have your doubts about how valuable this free platform is, just think about this: most other similar SEO tools require users to pay extra in order to benefit from an SEO analyzer. So, with Ubersuggest, you can point out and fix your digital work's mistakes without paying a dime.
Once you figure out the downsides of the way your site works and whether or not you have successful content, you can solve all those issues by making appropriate changes. This type of analyzer breaks down your site's structure while assessing the quality of your content.
Ubersuggest Review – How Accurate Is This Tool?
If you ask me, I personally believe that there is no such thing as a 100% accurate online tool. Even premium platforms such as Semrush don't provide completely accurate data. As a matter of fact, the best tools offer information that reaches an accuracy level of around 70-80% which, in my opinion, is pretty decent.
You will be happy to find out that Ubersuggest isn't different from Ahref or Semrush. In other words, it also offers the same level of accuracy. After all, all platforms that use Google API work similarly.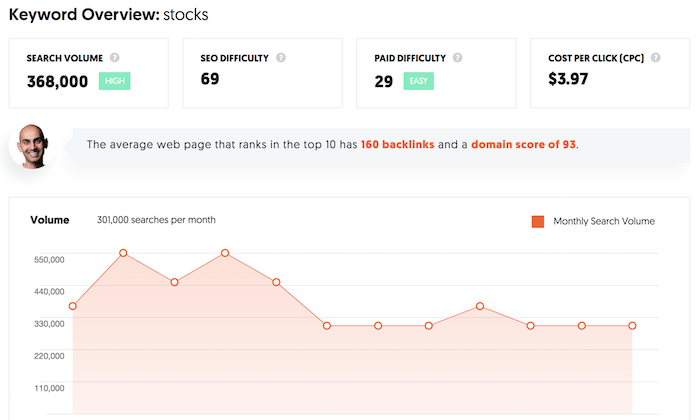 Ubersuggest Review – Potential Flaws
Although Ubersuggest comes with a lot of perks and advantages, it isn't perfect. I was able to find a few flaws. The most common problem that several users complained about is the time it takes for the platform to load. Fortunately, this issue happens rarely because, normally, the tool loads pretty well.
Another common issue is related to its features. Not all features are available yet. Neil Patel, the created of Ubersuggest, promised he will make sure these functions will become available soon enough. Or, at least, that is what he said on his blog.
So, you should expect future updates. Still, I believe that an important and useful option that the tool won't have any time soon is a section for content ideas but Neil hasn't talked about releasing this yet.
Let me explain a bit how this amazing feature would work. Every time you would initiate a new search on Ubersuggets, looking for ideas regarding a certain keyword, the section of new ideas for content would usually show the trendiest alternatives, all of which are either the most searched words or the most shared articles.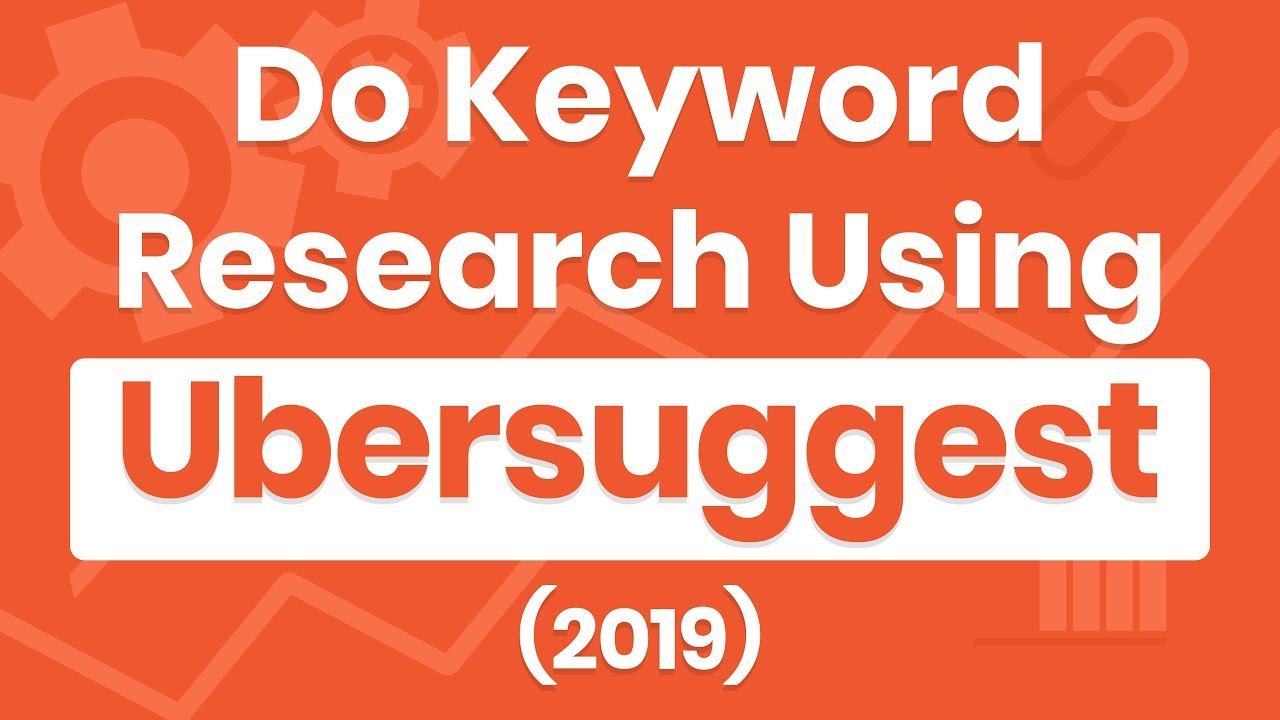 Ubersuggest Review – FAQ Section
Where Does This SEO Tool Get Its Information?
Most online SEO tools gather their data in three possible ways:

•Directly from Google by using the AdWords API;
•Through a third-party platform who can extract data from Google;

Using their in-house models and gathering data using various data sources – a mix of Google statistics and third-party data.
The updated and improved version of Ubersuggest pulls data directly from Google.
How Can You Increase Your Domain Score with Ubersuggets?
•Opt for a great, catchy, and easy to remember or read domain name;
•Optimize the on-page content of your website, including the content itself as well as secondary keywords, image alt tags, and title tags;
•Develop and publish linkable content – you must come up with high-quality and valuable content on a regular basis;
•Update or improve the internal linking structure which will further lead to an increased site rankablity;
•Remove toxic links that come from bad sources and which can damage your domain authority;
•Develop a mobile-friendly website;
•Offer good advice and become an expert of your niche;
•Improve your pages' loading speed;
•Promote the content on social media networks using the proper keywords and short yet catchy texts.
How Can You Increase Your Site's Domain Authority with Ubersuggest?
•Take care of the off-page SEO that includes incoming links from reputable and popular websites, links from related websites, high-quality links, and links sourced from unique domains;
•Create natural linking but also rely on blogger outreach;
•Make sure you optimize your website which is known as on-page SEO. •You must optimize everything, from headings and titles to meta descriptions and images;
•If you can, you should work on improving the technical part of SEO which refers to XML sitemaps and shifting the website to an https domain;
•Improve page speed and make the website mobile-friendly.
Ubersuggest Review – Main Alternatives
Keywords Everywhere – it is a great solution for content creation, keyword research, and SEO. It is a free tool that provides competition-related statistic and CPC, among other data;
Keyword Explorer by Moz – with this SEO tool, you will be able to find some of the best keywords out there that can help improve your site's traffic;
kwfinder – with this tool, you can discover a lot of long-tail keywords that have low SEO competition. It is a reliable and user-friendly platform that offers a wide range of insights such as volume research data, keyword suggestions, and CTR.
Ubersuggest Review – Is This Tool the Right One for You?
Ubersuggest works very well, especially if you take into consideration the fact that we're talking about a free SEO tool. OK, maybe you won't have access to as many features as you would receive with a paid platform.
Nevertheless, you can easily use Ubersuggest as a content creation base and then, once your business grows, you can switch to paid and more complex or more insightful tools that can provide in-depth and comprehensive data.
Especially digital marketing beginners might find Ubersuggest to be a valuable and accessible app that can help them learn all the basics of keyword research. With this tool, you can effectively shape the content of your website or social media pages. Moreover, you will find ways to target your specific audience. This particular SEO tool might not be as useful for experts or experienced professionals who might be looking for detailed information regarding their competitors and keyword research.
However, the tool has known several different improvements during its lifetime. According to Ubersuggest's developer, there are still some adjustments left to be made in the near future, so stay tuned! If you don't need a more comprehensive tool, this app is an excellent choice.
Images sources: Quora.com, Neilpatel.com, YouTube.
Here are other related articles you may be interested in: