Let's take a look at SERPWoo Review and discuss the key features, pros, cons and things you need to consider before making your choice.
SERPWoo is a keyword rank tracking tool, but you may better understand it as a "niche tracker". 
If you're confused about what a tool such as this one does, you need not be because it's relatively straightforward. 
You see, it simply tracks the top 20 or more websites associated with a keyword (It'll actually track even more websites if you create a project in ORM mode).
Easy, right?
Why Was the Tool Created?

According to SERPWoo's website, the tool was created out of the frustration that was experienced by the tool's founders when using rank trackers that only provided URL rankings without any information relating to the top SERPs. 
So, with that in mind, they created a tool that will allow you to access all the keyword data available on Search Engine Results Pages (SERPs) for the top 20+ results associated with a keyword.
This is a great feature, as most tools only allow you to investigate SERP across a single domain at any given time. So, the fact that you'll be able to look at over 20 different domains gives you a lot of flexibility.  
What Does SERPWoo Do?
We know, we know, we've already explained what SERPWoo does, but that explanation was far too superficial, and a more defined explanation is in order.
So, we thought it would be best to give you one!
Anyway, in a nutshell, SERPWoo helps you improve your SEO efforts, by allowing you to understand how websites are:
Being ranked
Changing positions in the SERPs
Attracting visitors organically

 
This information is also extremely useful because it will show you the areas your site might be lacking.
Being able to identify where your site is of poor quality is extremely important if you are to remedy the situation and improve your SEO strategy. 
And, if you not only want to survive but thrive in the long run, you need to be able to chop and change your approach. 
So, yeah, this tool is pretty great.  
Features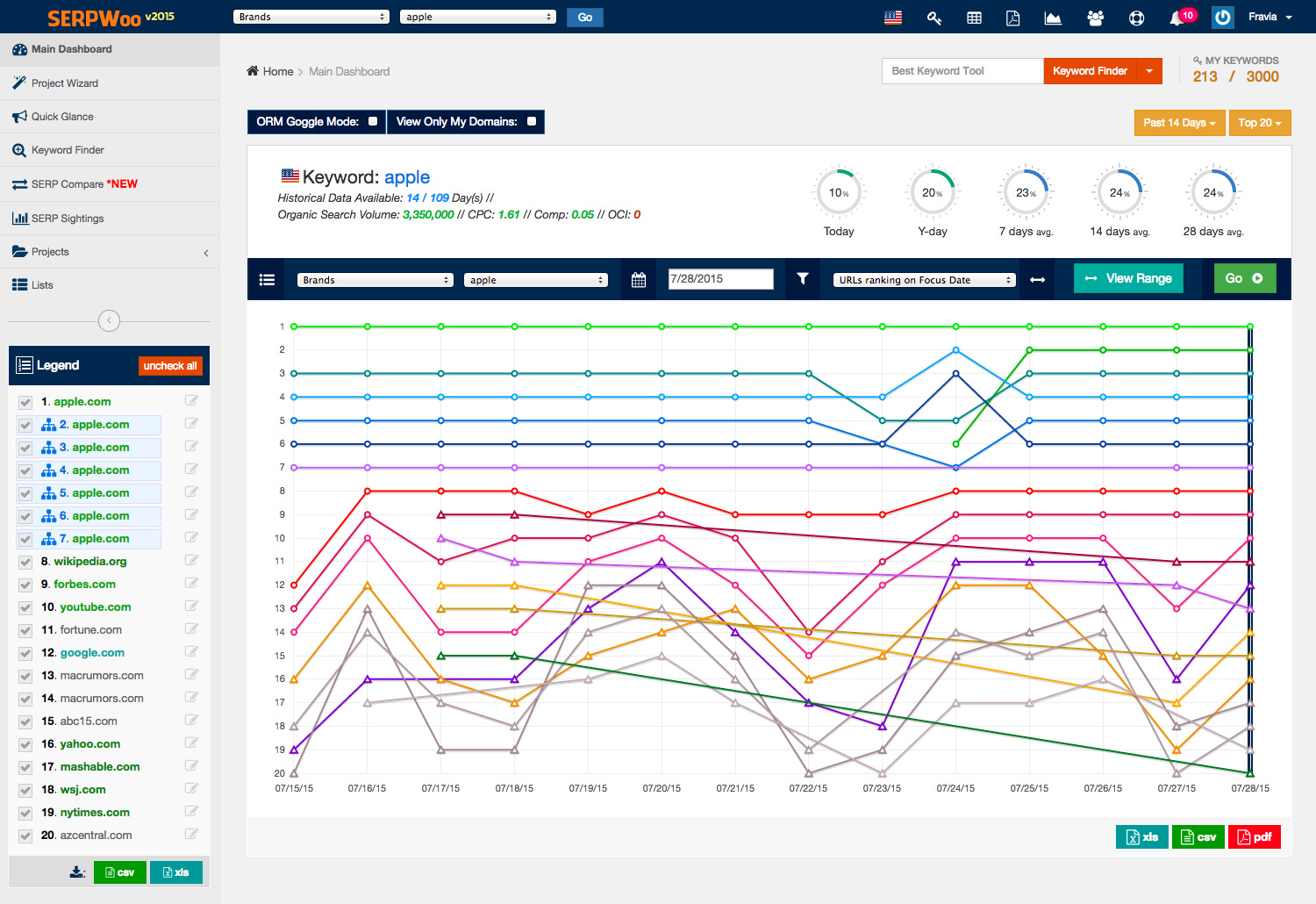 With SERPWoo, you'll be treated to a colorful user interface (UI) that displays information regarding your Search Engine Optimisation (SEO) projects. This is great because you'll have access to visual representations of how your projects are progressing. Something extremely helpful is the ability to sort out progress via color and rankings.
For example, if your project reaches that elusive number one spot in the SERPs, it will appear dark green. Conversely, if your SEO campaign is not in the top one hundred results it will appear in dark purple. This tool will show you how your projects are doing, which will enable you to adjust your content strategy accordingly. So, you'll never be left confused as to whether your project is doing well, or needs attention.  
You'll have access to Whois data with this online tool. Whois data is not exactly a groundbreaking tool, but it is functional and could come in handy for those of you in competitive niches. It will allow you to find out information about your competition. Nothing beats knowing what you're up against, and more importantly who you're up against. So, being able to single out competitors and rival their content is a must.
In summary, this app will allow you to view data relating to your competitors easily and hassle-free, and save you a lot of time as a result.   
This system devised by SERPWoo does exactly what it says on the tin. If something changes within your account, you will be sent an alert.
Normally, the reason for you receiving an alert will have something to do with the projects you're running within their cloud-based app.
But sometimes you might also receive an alert if the URLs that you're tracking have become negative or positive.
And by that characterization, we mean that they will either have improved or declined positions in the SEO ranking.
How to Access the Alerts System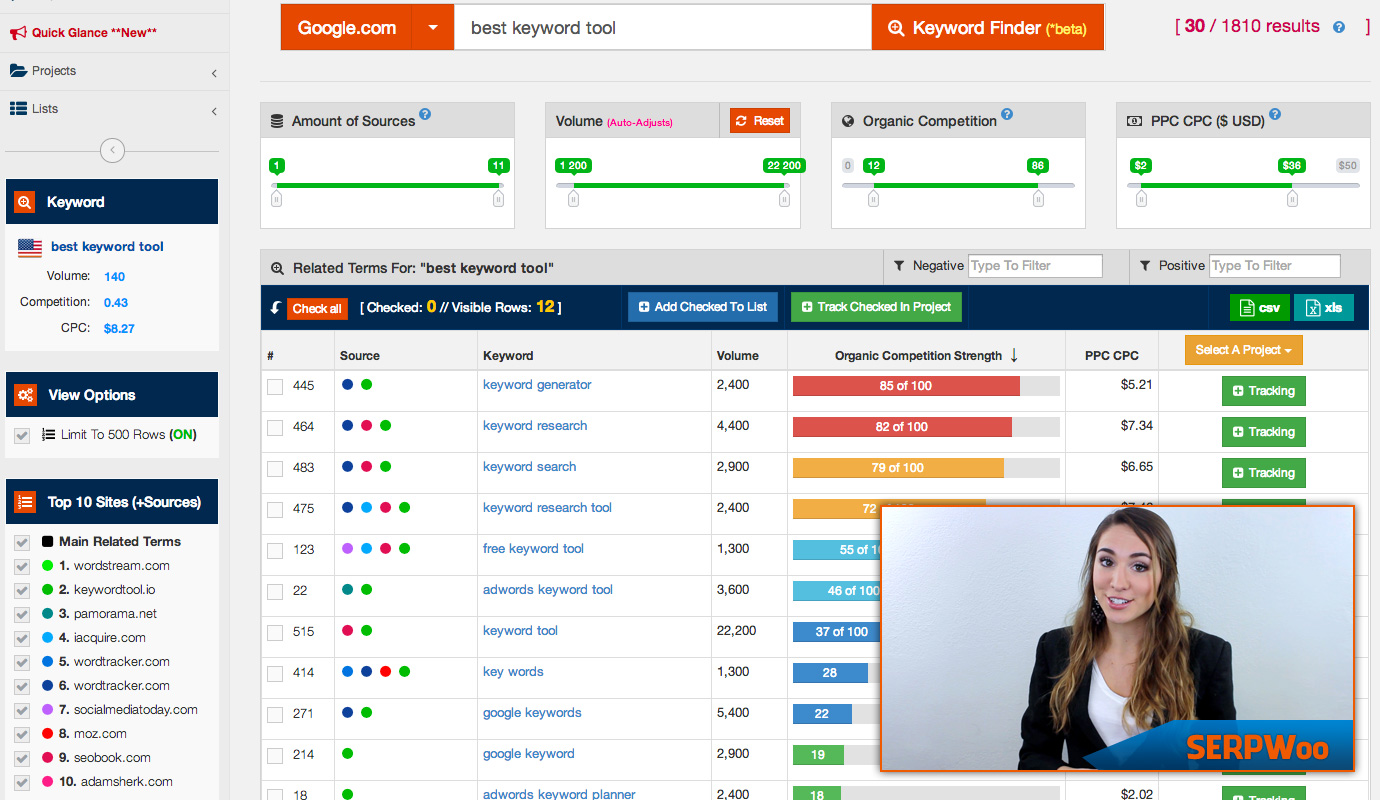 To access the alerts system on your dashboard, you simply hover over it.
For anyone worried about not being able to find it, it'll be in the same interactive menu as "My Home". 
When you hover over "Alerts" on the dashboard, you'll be presented with all the most recent alerts along with some information about them.
But, if you want to take an in-depth look at the information regarding your alerts, you need to click on the "View All" button. The "View All" button is green and has a little bell to the left of it. 
Once you click it, you'll be taken to SERPWoo's alerts page. The first thing you'll notice about the page is that it's fairly minimalistic, which is a good thing. Mainly because all the buttons and functions you'll need are more or less in plain sight.
Anyway, there's no point in boring you too much with obvious functionality stuff, so let's cut to the chase.  
Something that we like about this section, is the ability to sort your alerts using "Project Mode" and "Classic" mode.
You can toggle between these modes using a switch conveniently placed on the right of the page.  
What's the Difference Between the Project and Classic Modes
This mode allows you to arrange your alerts data by project.  
This mode allows you to arrange your alerts data by the most recent alerts.  
How to Understand the Information Provided by SERPWoo's alerts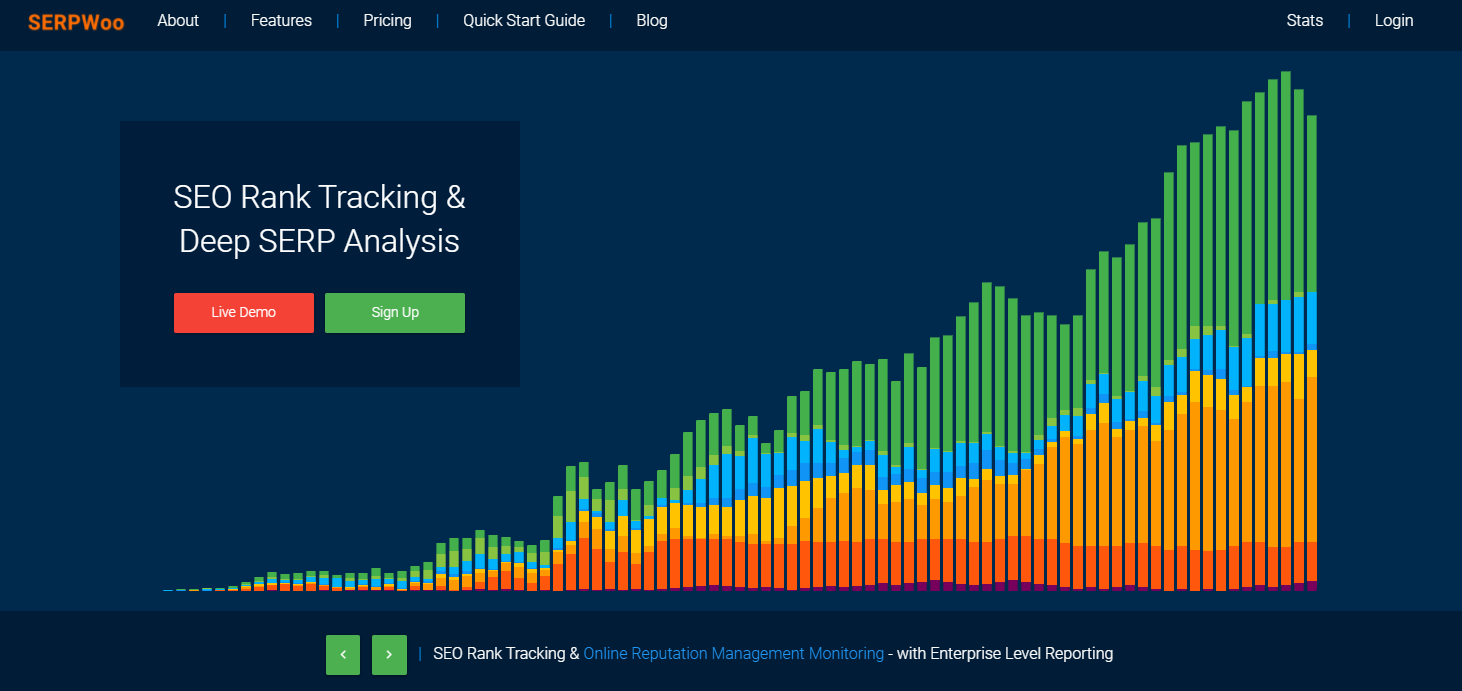 Your alerts will show a domain tagged to a keyword. 

 

If your domain-keyword tag has declined, that means it has dropped in the search rankings. And if it has improved, that means it has climbed in the search rankings.

 

You can see the dates and times of when your tagged combinations, either declined or improved, on the left side of your alerts page.

 

Project alerts are both green and red.
They are displayed on the left of its interface.

 

Green alerts indicate an improvement in search results
Red alerts indicate a decline in search results.
On the right of an alert, you'll be able to see whether the URL tag is positive or negative.
Positive tagging aids in identifying online reputation management and link building partners.
The negative tag indicates something you simply wish to keep tabs on but don't feel it's important or likely to rise in the SE rankings.
Abnormally large red alert tabs indicate that a negatively tagged URL is doing well in the search engines. (This also indicates something is worth taking a look at because you've tagged it as negative, yet it's improving, which is positive!)
All tagged URLs are hyperlinked under "Direct Link".

 
Customization, Tagging, and API With SERPWoo
You'll have access to an Advanced Programming Interface (API) that you can use to customize the platform using different routines and protocols.  
SERPWoo is continuously updating its sample code. You can find all of its sample code located HERE. 
How to access your Customization Settings
Accessing the tool's customization settings is extremely easy to do. You simply need to navigate to the left sidebar of its interface and click on the drop-down menu icon. The icon in question is the one in the top left of the main dashboard that is rectangular with three lines running horizontally through it.
Next, you need to click on the cog icon, which is located inside the orange box alongside your Username. 
Upon doing so, you will again be presented with a drop-down menu. The menu will contain "Customization Settings".
Now, all you have to do is click on the term!
Managing your tags 

By accessing customization settings, you'll be able to manage your tags.  
There are four default tag types:  
Positive 

Negative
Neutral

 

No Value

 
You can alter all these tags, but you cannot delete them.
So, if you find that you do not have a use for a tag, you can disable it.
And, if you want to use it again in the future, you can go back and enable the tag once more.
And, yes, all of this can be done under "Tag Management". 
Here is a Breakdown of How "Tag Management" Works With
SERPWoo
There are two types of tags, "Permanent" and "Customized". 

 

If you click status, you'll be able to disable and enable a specific tag. 

 

The default tag colors are red, green and blue. 

 

Tag colors can be changed to suit your preference.

 

You CANNOT delete Permanent tags. 

You CAN delete customized (AKA custom) tags.

 

Custom tags can be made public or private to you.
Public tags can be seen by and shared with others.
Private tags can only be seen by you.
Custom tags can be named and renamed by you.
Tags are useful for seeing how domains are doing within your projects. 

 
Tags can make the visual representation of your project data tied to the domains you're tracking extremely clear. For example, if you wanted to track marketingsatchel.com with another site such as digital merchant.com, you can do so easily.  
You would simply positive tag marketing satchel.com (it will be green) and negative tag digital merchant.com (it will be red). You will then be able to easily identify them using the graph on the projects page by clicking on them.  
Clicking on a URL within a project will highlight its representation as a line on the graph, which will make it easily identifiable.
For instance, if we had tagged marketingsatchel.com, the line would be green because we had tagged that URL positively. And also, because green is the color, we've assigned to represent positive tags.   
SERPWoo
 Affiliate Program 
SERPWoo offers an affiliate program. Affiliates of this online tool will be tasked with promoting its services in exchange for a commission. Your main goals will be to generate sales and traffic for SERPWoo, and you will be paid concerning your performance achieving said goals.
All affiliates are paid monthly, so you know when to expect your payments.  
To earn your payment, you need to entice visitors to your website and get them to click on your affiliate link.
Once a user clicks on your link, and subscribes to SERPWoo, you'll receive a commission.  
Here are a few interesting facts about 
SERPWoo's
 Affiliate Program 
You will be paid at the end of every month. 

 

$100 Payment Threshold (i.e. you need to have earned a minimum of $100 to get paid)

It's PayPal friendly 

 

Payments go out every 30 days
It offers up-to-date real-time reporting

 

An affiliate newsletter is released and it's jam-packed with helpful content marketing tips and tricks
To receive a payout, you need to have a minimum of 3 referring paid users
You are not allowed to sign yourself up as one of your three recurring paid users (you will be thrown out of the program!)
You can construct a custom URL so that the platform can easily identify users you've successfully signed up as an affiliate
International (i.e. not an

American

citizen) affiliates are required to provide a w8 tax form upon signing up

American affiliates are required to provide a w9 tax form upon signing up.
You CANNOT BE PAID as an affiliate with 

SERPWoo

 if you fail to provide these tax forms. 

If your account is inactive for a year, it will be deactivated. 

 
How to access the Affiliate Program using SERPWoo's Interface
The first thing you need to do is log in to the tool. 

 

Then, you need to click on the drop-down list icon in the top left of its dashboard.

 

Once you have the drop-down menu activated, you'll see a sidebar menu.
You'll see a red interactive button with your username, payment plan, and a cog symbol to demarcate settings.
Go ahead and click on the cog button, and scroll down to the affiliate program.
Now, click in!

 
How to View the Money That You're Owed From Being a
SERPWoo
Affiliate 

If you're trying to figure out how much money you're owed at the end of the month from SERPWoo's affiliate program, all you have to do is log in to its platform.
From there, you need to head over to its affiliate page.
Once you've done that, you should see the "commission owed" and the "commission on hold" in the left sidebar of its affiliate interface.
Here, you'll also be able to see how many paid, free and total users you've signed up to the program.
Also, if there's been an issue with any payments or affiliates, you can access that information regarding that here aswell.  
It is of the utmost importance that you provide a w8 tax form if you are an international affiliate.
Likewise, if you're an American affiliate, it is just as important that you provide a w9 tax form.
Failure to provide these forms will result in you being unable to receive payment.
Now, you may be panicking that this is all overly technical, or just annoyed by the thoughts of having to go through the effort of obtaining the forms in question.
Well, luckily you don't have to because a copy of the form can be emailed to SERPWoo. 
Also, the tool has a copy of the forms in question hyperlinked on its affiliate page.  
So, honestly, the whole process could not be any easier. 
Creating an affiliate campaign with 
SERPWoo
Creating an affiliate campaign with this online tool is straightforward.
You simply need to navigate to the "my campaigns" tab of the affiliate interface.
Once there, you'll instantly be able to identify where you can create your campaign name and get it up and running. Hint: "Look for Create a Campaign".
One last thing worth mentioning, you'll also be able to create URLs for your campaigns in this tab.  
Creating a Project Using
SERPwoo's
 Project Wizard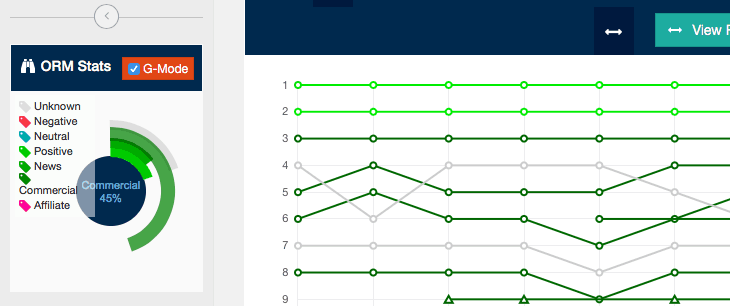 Once you've signed up and logged in to your SERPwoo account, the first thing you'll need to do is create a project.
You can do this by identifying the "Get Started Checklist" on the left side of its dashboard. Begin to read the list and look for "Create Your First Project".
You should see "Project Wizard" interlinked in blue. If you do, then go ahead and click on it.  
Alternatively, for anyone who can't find the "Project Wizard" this way, go ahead and click on the left sidebar emblem.  
Upon doing so, you should be presented with a dropdown list that reads:  
Your Account Details 

 

Upgrade Plan 

 

Project Wizard 

 

Keyword Finder 

 

Global Stats 

Changes & Updates

 
You'll need to click on Project Wizard.  
What The Project Wizard Offers
Before we go any further, it'd make sense to talk about what this feature offers.  
Well, it offers you the functionality to manage and create projects.  
And, it does this in three main ways:  
By allowing you

to create tonnes of different projects based on single or multiple projects.

 

Enabling y

ou

 to import your data from a different project altogether. 

Granting you access to your projects so that you can get started working on them immediately.

 
The Five Main Elements to Using the Project Wizard 
Here, you can select the Google regions that you wish to be part of your project. Please be aware, that you cannot track any other search engine, other than Google, using this cloud-based app.  
You can easily input the keywords that you wish to be tracked using the Project Wizard interface. But you need to be careful with how many keywords you have available when doing so. You see, by selecting 10 keywords for SEO Rank tracking, on both PC and Mobile, you have ended up selecting 20 keywords for tracking. 
And that is because, the number of keywords you wish to be tracked, are being tracked on more than one device. Therefore, multiplying the number of keywords being tracked by two, and resultantly equalling 20.  
Anyway, the main thing here is that you take into account the buffering of keyword volume when selecting more than one device to track keywords. Otherwise, you could end up going over the number of keywords you have available through your plan, which would be a problem.  
This feature will allow you to track your desired domains. To do so, you simply enter the URL of the domain you want to track into the text box provided in the tab.  
Number Four: Settings/Variation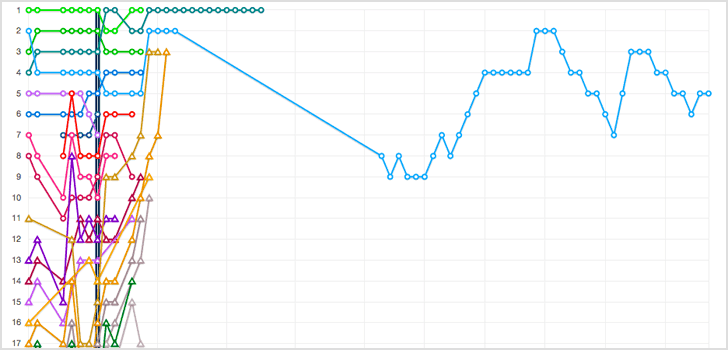 This section is where you get to name your projects. It's also where you get to decide whether you want to run a regular or ORM project.  
If you're wondering what the difference is between the two, you can find out below:  
Regular Project – this project allows you to track URLs within the top 20 search results. Also, it will send you an alert if a URL jumps 4+ rankings.  
ORM – this project allows you to track URLs within the top 30 search results. Also, it will send you an alert if a URL jumps 1+ rankings.  
Once you've reviewed your choices and are satisfied, you can go ahead and finalize your work by clicking "Create New Project(s)".
On a side note, for those who are unsure of themselves, any issues in your work will be highlighted in the "Warnings" section of this tab.
On another side note, the warnings section will also give you some handy little hints to help you solve any issues regarding your project(s). 
Finding Keywords using: 
SERPWoo's
 Keyword Finder
The keyword finder only shows keywords and alternate keywords from the top three search URLs

 

You can use it to find top ranking SERPs by carefully selecting root keywords

 

Past keyword searches can be revisited for convenience

 

A ranking source can be identified easily via color co-ordination

Keyword search volume can be traced 

 

How competitive a keyword is by percent is also 

available
What is the Keyword Finder-like?
The keyword finder is quite good. It can be somewhat inconsistent in its results, but overall it is reliable in its performance and fairly straight forward to use.  
Where is the Keyword Finder in SERPWoo's UI?
The keyword finder can be accessed by clicking the drop-down icon on the top left of your screen. You'll see it in the same menu as the "Project Wizard". 
Online Reputation Management (ORM) With
SERPWoo
 Online Rank Tracker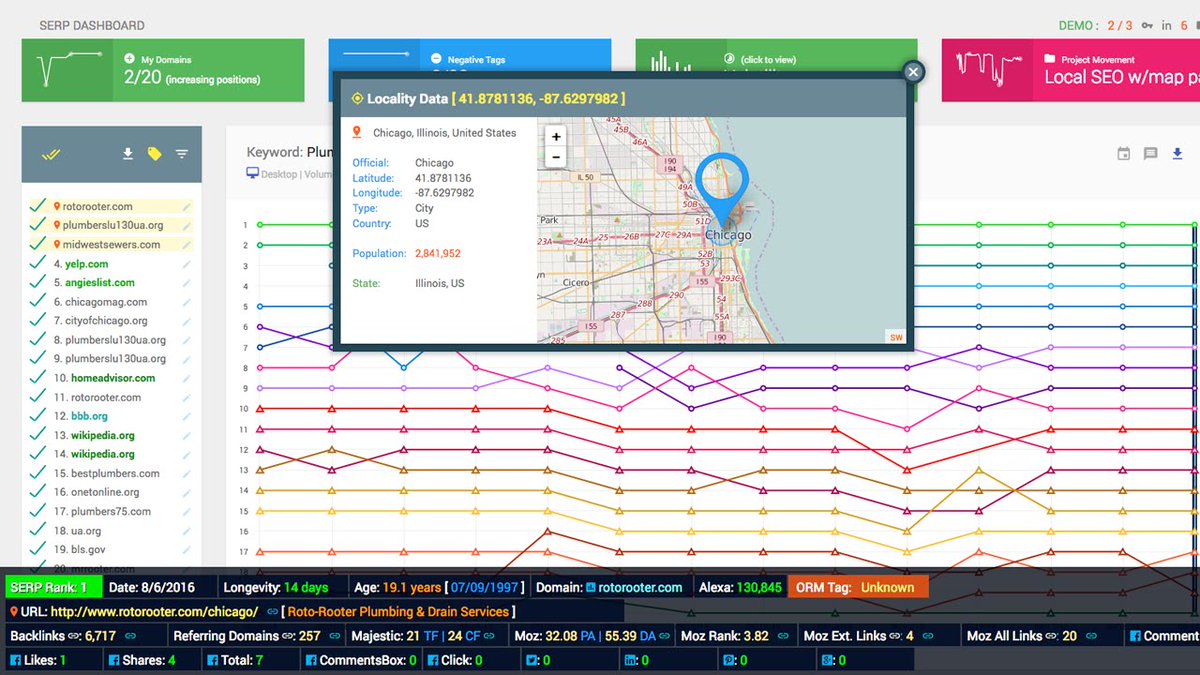 Many digital marketers seem to be extremely fond of SERPWoo for ORM.
And it's not difficult to understand why, as it's something that not every platform offers.  
For those unaware, you can use the Project Wizard to create a project tailored toward online reputation management.   
Not to bore you with too many details, but this will offer you greater information regarding the keywords and URLs you wish to track.  
Ultimately, improving your ORM to better than that of what other platforms can offer you.  
It does this by offering you the top 30+ search results for a given keyword, as opposed to the top result offered by other platforms.
It also sends you an alert if the domain/URL that you're tracking increases a single position.  
What is Online Reputation Management?
Very briefly for those who are unaware, this concept relates to growing the online reputation of your brand.  
Pricing – How Much Do SERPWoo's Plans Cost?
You're all interested in how much SERPwoo costs, so let's not leave you waiting any longer.  
If you choose to pay for SERPwoo's services, you will have the choice of several different payment packages.  
All paid plans provided by this online tool, come with: 
Unlimited Domains 

Unlimited Projects
CSV exports
PDF Reporting

 
 Here's a list of all the paid plans offered by SERPwoo
Free 

Bronze
Silver
Gold
Platinum
Platinum Plus
Diamond
Diamond Plus 

 
If you're someone who likes to test out platforms before you commit your funds to them.  
Well, you're in luck because you can do just that with SERPWoo.  
It provides a free plan for you to test out its online platform.  
While the free plan offers extremely limited functionality, we found that it still gave us a good taste for the rank tracker's interface and features.  
We'd recommend you take advantage of it before purchasing the tool.  
The first plan that we'll talk about is the bronze plan.  
It's going to cost you $49.95 per month, and it will allow you to create projects and to track a total of 750 keywords monthly.    
One downside to the bronze plan is that it does not include mobile tracking.   
Unlike all the other plans (except for the free plan), which do.  
Features of All SERPWoo Plans Higher than Bronze 
API Access 

CSV Exports
PDF Reports
Keyword Finder
Local SEO Tracking
Mobile Tracking 

 
The silver payment plan is a step up from the bronze plan. Mainly, because it offers mobile tracking and a greater keyword limit of 2,000 words.  
It costs $99.95 per month.  
Gold doesn't offer anything different than silver, except for an increase in keyword tracking capacity of 4,000.  
It's going to cost you $199.95 per month.  
Again, like the silver and gold payment options, this option does not offer any new features.  
But unlike the silver and gold plans, you will be able to track 8,000 keywords. And you will also have to pay a lofty fee of $299.95 every month.  
On top of the ability to track 15,000 keywords, you'll have access to SERPWoo's new Quantum interface. The Quantum interface is just a more powerful data tool that offers a more intuitive interface than the original SERPWoo interface.  
This plan will cost you $499.95.  
This plan will let you track 30,000 keywords. It will cost $899.95 per month.  
This is the final "All Plan" payment package that we're going to discuss in this review. Diamond Plus will give you the capability to track for 50,000 keywords. You will be able to access its features through the new Quantum interface.  
All enterprise solutions offer the same features as the plans above. The catch is, that they offer an insanely high keyword tracking limit.  
There are four Enterprise level plans available:  
Overall, we'd give SERPWoo's pricing a 6.5/10. There's cheaper tools out there that offer similar functionality at lower prices.
As far as online SEO tools go, we found SERPWoo extremely easy to use. As already discussed, their main interface is clean and is also fairly consistent. Most sections and settings are broken up using tabs, which makes finding things a lot easier. 
In terms of support, there's an abundance available to help you use the tool. And that is both in the form of documentation and actual assistance from the brand itself. We'll talk more about the support offered by SERPWoo down below.
It also offers a good bit of easy to understand advice placed alongside most of the features on the platform too.
So, you may not even need to look at the support or documentation offered by SERPWoo.
Creating a project with SERPWoo is extremely simple. The entire process has been broken down into the three easy steps discussed above.
But one thing that we would say is bad about creating a project with SERPWoo, and something that definitely makes it harder to use, is trying to make sure that you've enough keywords available to run your projects. 
Now, this isn't an issue that will affect you when you first start using the rank tracker, but by the end, it certainly will. 
The final thing worth mentioning is the color scheme of the tool. Particularly when it comes to demarcating data on the charts and graphs employed by the rank tracker. 
Also, the color scheme, in general, is bright and minimalistic so everything feels super easy to find.  
Overall, we'd give the Ease of Use 8.5/10. The only thing dragging it down is that unorthodox keyword buffering when you're trying to create a project. 
Support 

We wanted to get an idea of the level of support offered by SERPWoo, so we downloaded their free trial.
Of course, it only offers limited features and functionality, but it was enough to give us an idea of their customer service.
To start, it's worth mentioning that they offer a chat. The chat is not live, but it took only a short while to get a response.
The next thing worth mentioning is the documentation offered by SERPWoo in their chat.
Documentation is great because it gives you an idea of how to use a tool. And answers any FAQs you may have, which should save you the hassle of reaching out to customer service.  
Anyway, the following guides are hyperlinked in their chat to help you get started:  
Quick Start Guides

Interface Overview
Create A New Project
Keyword Dashboard 

 
SERPwoo also has a blog, which they use to provide helpful advice regarding not only their platform but marketing and SEO in general.  
Overall, we'd give the SERPWoo support 8/10. They have loads of information out there to help you, as well as a fairly responsive team going by our experience working with them. 
SERPWoo
 Review – Pros and Cons
Here's a table detailing some of the pros and cons of using this SEO rank tracking tool:  
| | |
| --- | --- |
| | |
| Suitable for businesses of all sizes   | You can only track project regions using Google's search engine   |
| | Cheaper plans offer significantly less functionality   |
| Ability to track SERP for the top 20 and 30 URLs (not just the top URL like other trackers)  | Sometimes it does not show all search results  |
| Easy-to-Use UI (User Interface)   | Complicated keyword difficulty project setup  |
| | Limited teamworking functionality   |
What are the best 
SERPWoo
 Alternatives? 
SEMRush
 – what does 
it do
? 
You can use SEMRush to bolster your all-round SEO game. For instance, if you need something to help you perform thorough keyword research, it's got you covered. If you need a powerful tool to run SEO audits of your blog, it can be that tool. Also, if you're trying to create a list of potential backlinks to your blog or website, it can be a game-changer. Now, it has more uses, but they're the main ones we felt were worth mentioning.   
Moz provides you with a host of SEO tools of varying degrees of power and functionality to help you improve your SEO. They offer tools that are great for keyword research, a keyword generator and link analysis tool that gives you valuable information on the quality of your links and inbound links.  
SEO 
Powersuite
 – what does it do? 
SEO Powersuite enables you to fine-tune your SEO, by offering you powerful tools that will help automate the process. Its powerful tools will aid you in link-building, rank tracking, keyword research, and auditing your website.  In a nutshell, it'll help your sites and pages attract views in the Search Engines.  
Frequently Asked Questions
Regarding This Rank Tracking Tool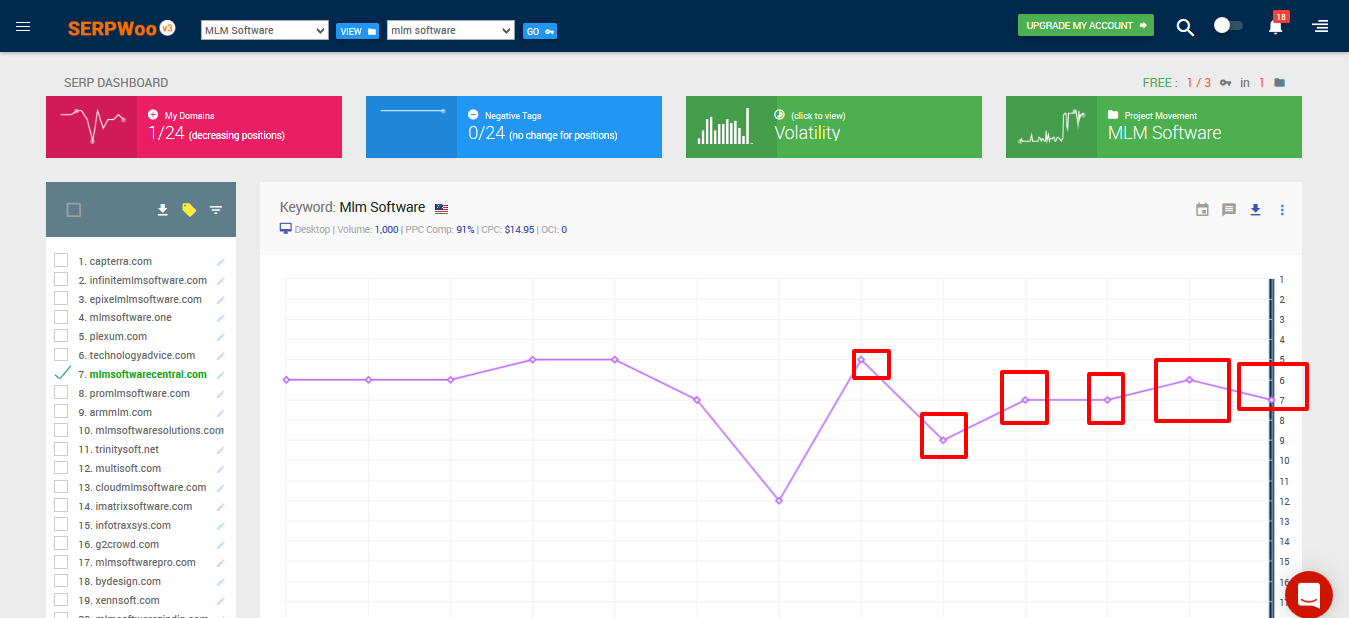 What is SERPWoo?
SERPWoo is a SERP tracking tool that will help you optimize your strategy for Search Engines (SEs). 
Who is the founder of SERPWoo?
Jason Brown is the founder of SERPWoo. 
What does SERPWoo's pricing look like?  
| Plan | Keyword Limit | $ Price |
| --- | --- | --- |
| Bronze | 750 | 49.95 |
| Silver | 2,000 | 99.95 |
| Gold | 4,000 | 199.95 |
| Platinum | 8,000 | 299.95 |
| Platinum Plus | 15,000 | 499.95 |
| Diamond | 30,000 | 899.95 |
| Diamond Plus | 50,000 | 1499.95 |
To see their enterprise plan options, and to get more information on the above plans, view the pricing section of this article up above.  
What is SERPWoo's blog for?
Its blog is there to provide you with valuable information about marketing and about how to use their platform.   
Here Are Some SERPWoo Customer Reviews  
We used g2.com to get our customer reviews.  
"The Most Accurate SERP Tracker" 
Our first review is from "consultant in the internet". This reviewer has been verified as a current customer with SERPWoo and as a legitimate reviewer by g2.com. This person posted their review on the 11th of June 2019. They stated their working range as mid-market, with 51-200 employees.  
From their title "the most accurate SERP tracker", you can immediately get a sense of which direction this review is heading. What this reviewer liked the most about the online tracking tool, was the ability to track by location. You see, SERPWoo offers you geo-tracking with extreme specificity, exemplified by the ability to track using ZIP code.  
Anyway, this review was not all positive (despite its five-star rating!), and something that irked this user was the tool's inconsistent performance. This is because, on occasion, they found that SERPWoo did not display all the results by the metrics they had specified. 
If you're trying to carry out serious market research, this failure can be quite annoying. So before buying this tool, you should give this bug some consideration. This reviewer concludes their review by stating the problem they're solving with SERPWoo.  
And of course, it pertains to SEO. Long story short, they're using it to monitor their clients' search results for select keywords and locations. All these searches are branded as they're monitoring their clients' search results as well as their online presence. 
"The Best SERP Management Tool Out There!"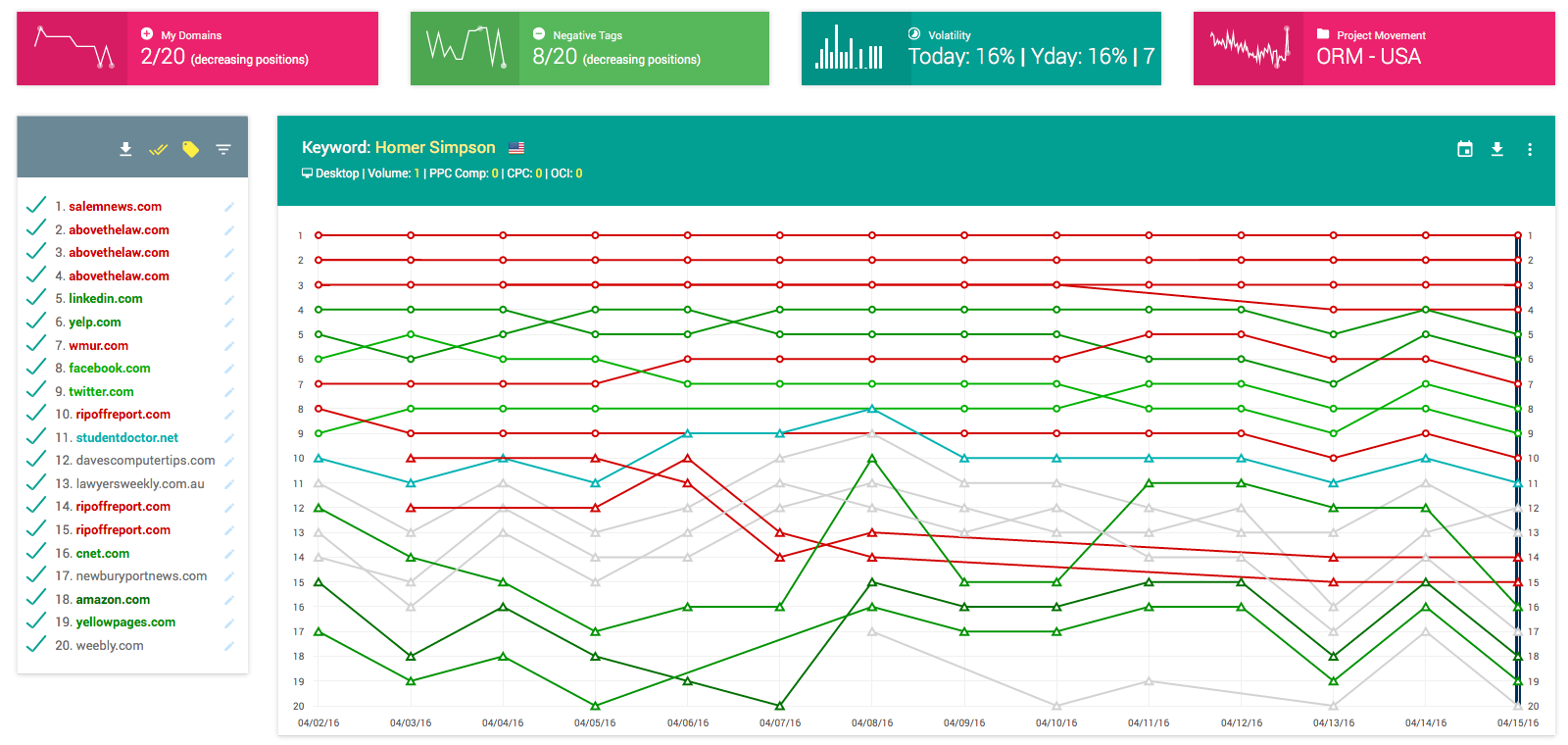 Our next review comes from Cole. Cole is a director in digital marketing and works for an enterprise with 1001-5000 employees that specializes in environmental services. He has been validated as a reviewer through LinkedIn and was invited to write his review by g2.com.  
He posted his review on April 4th, 2019 and called the SEO tracking app "the best SERP management tool out there!". Cole goes on to say that what he loves most about the tool, is the ability to manage the reputation of a brand through the ORM model. He also feels that the way the daily SERP rankings are displayed is of a market-leading standard.
But as with every review, there is always some drawback.
And the drawback Cole identified using these SEO tools, was that the setting up of keyword groups is over complicated.  
He finishes off his review by stating that he's using the tool for SEO reputation management.  
"A very specialized tool in SERPs and very intuitive" 
Our final review comes from Victor Manuel Ganan Fernandez. Victor is the CEO of a company that goes by the name Servilia. He specializes in the area of advertising and marketing and his business employs 1-10 people. His review has been vetted and he has been verified as a user. Victor begins his review by explaining what he's using SERPWoo for. And, that is, to aid the marketing department of his company in creating an SEO strategy by analyzing keyword positioning.  
Victor left some pros and cons in his review, so here they are in a list format:  
Pros  
Simple Reporting 
Platform Usability
Notifications of Evolution  
Cons  
Section Layout  
Personalization of Notifications 
Team Working Options  
What Did Victor Get Out of Using SERPWoo? 
Increased Web Traffic  
Generated More Leads  
Became More Visible to Search Engines  
What Alternatives Did Victor Mention?  
SEMRush  
Moz 
SEO PowerSuite  
Likelihood to Recommend  
Victor states in his review that this is a helpful tool for companies of all shapes and sizes. The reason he gives is that it allows you to find new niche keyword positions as well as track and report on keywords in search engines.  
Overall Verdict – We Would Recommend SERPWoo
While SERPWoo may be hard to understand in terms of its keyword handling, and though it's quite pricey, it's still a good tool. You will be able to access the top 20 URLs for a given keyword, and even more if you choose ORM mode.
On top of that, they offer an extremely easy to use interface that comes with a strong level of support and customization.
Also, the rank tracker offers advanced API, so you can constantly mold and shape the platform to fit your needs.
Here are other related articles you may be interested in: