Last Updated on März 13, 2021 by Sasko Manev
If you are selling a product, service, or course, online, then you will no doubt have been exploring the best ways to market and sell to your customers. ClickFunnels vs LeadPages, are two of the leading tools used. Although both share some common features, they're also very different applications.
First and foremost you need to make people aware of what you are selling first, and then persuade them to buy it, and one of the best ways to do this is with what's known in the marketing world as a sales funnel.
Today we are going to compare two popular tools which can be used to market and sell products, services, and courses online – ClickFunnels vs LeadPages.
So, why is it important to have a funnel?
37% of marketers say that prospecting for new leads is the hardest part of their job, and it becomes easier once you have passed that first step.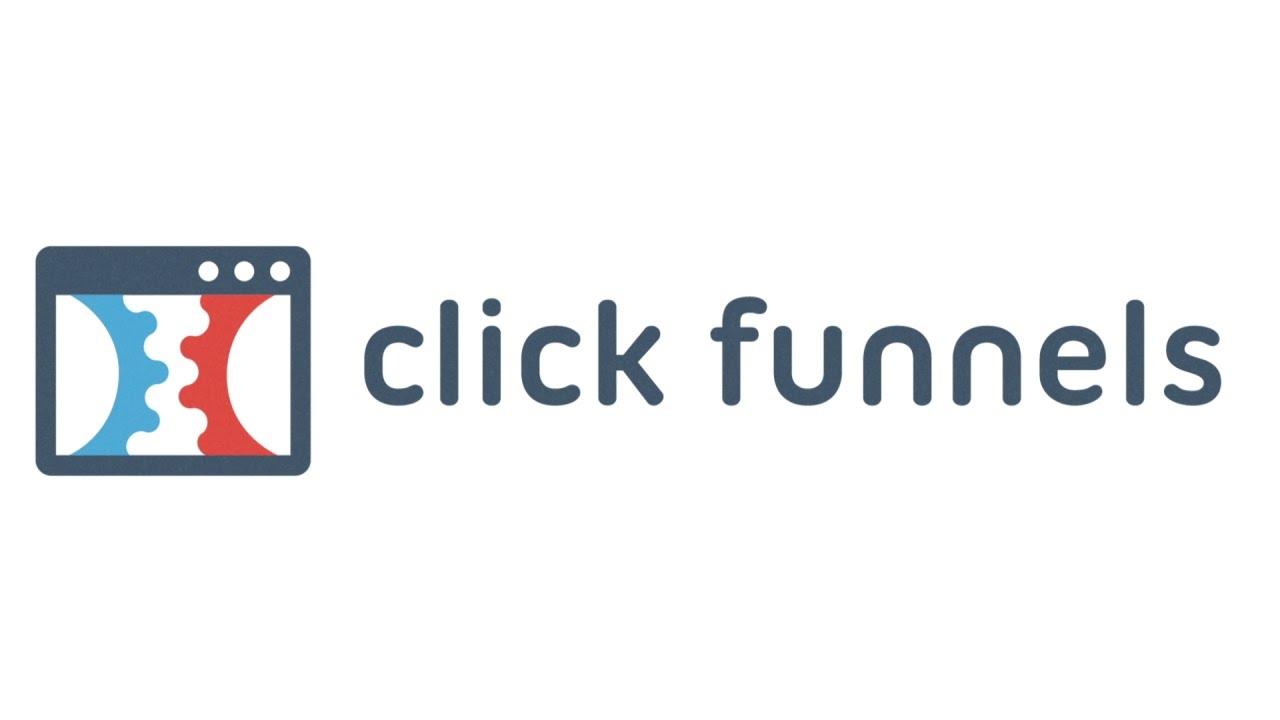 With a Verkaufstrichter it's easy to collect new leads using either a free or low priced offer, and then once they are inside your funnel you can nurture them, build trust, and funnel them towards higher value offers!
The 'nurturing' part of the sales process is particularly important, since nurtured leads are proven to make 47% larger purchases than non nurtured leads, which is why it's so important to get the customer into your funnel like a 'lead', so you can stay in touch with them rather than letting them just visit your webpage, leave without making a purchase, and then forget about you.
It used to be difficult to build Verkaufstrichter, and you would need to either hire a developer or have a good knowledge of coding and building pages yourself. Not anymore!
These days, we are lucky enough to have access to easy to use 'drag and drop' page building software that absolutely anyone can use, regardless of experience.  There's lots of different software to choose from now, so how do you know which one is the right choice?
Well, we can help with that. Today we will be looking at ClickFunnels and LeadPages, which are two of the most popular tools for building landing pages, sales pages, and Verkaufstrichter. We will be looking at all of the features that these two solutions offer, as well as the pros and cons, and pricing, so that you can choose for yourself which one is best suited to your business.
Let's take a look!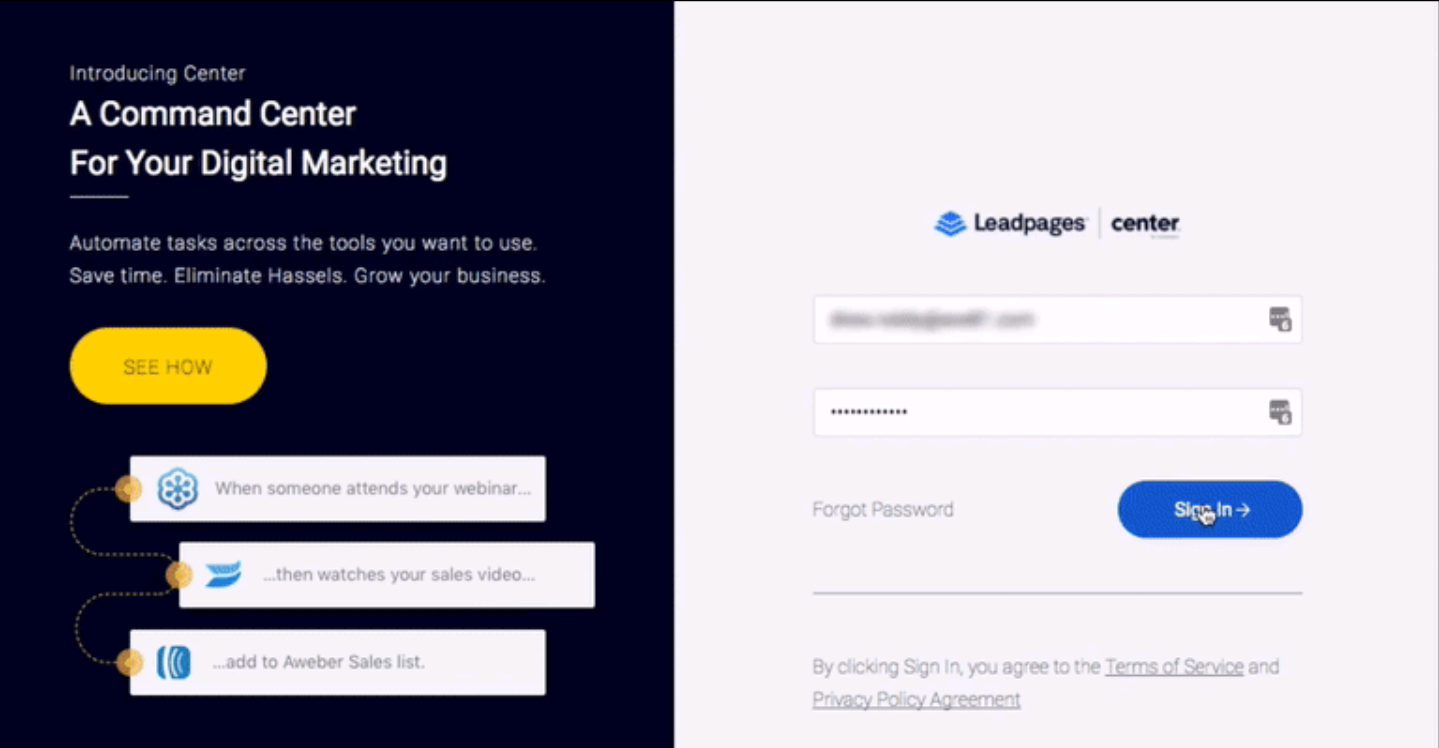 The Main Differences Between ClickFunnels vs Leadpages
The Main Differences Between Clickfunnels vs Leadpages are:
ClickFunnels is a dedicated sales funnel builder which helps you build high converting sales funnels that you can use to sell your products and services, whereas Leadpages doesn't have sales funnel templates instead you'd have to work out to do it yourself
ClickFunnels can be used to build entire websites, sales pages, membership sites, and landing pages, whereas Leadpages has more options since it's a dedicated page builder for websites, pop-ups, alert bars, social media ads, landing pages, and sales pages
ClickFunnels helps you nurture the customer relationship starting by offering a free or lower value offer and then funneling the customer towards higher value offers, whereas Leadpages doesn't have this feature.
ClickFunnels includes email autoresponder software and affiliate software with the Etison Suite plan, whereas Leadpages doesn't have this feature.
Clickfunnels is more expensive, whereas Leadpages is much cheaper so it's a good option for people just starting out who already have a website
Why Should You Be Using ClickFunnels to Sell Your Products Online?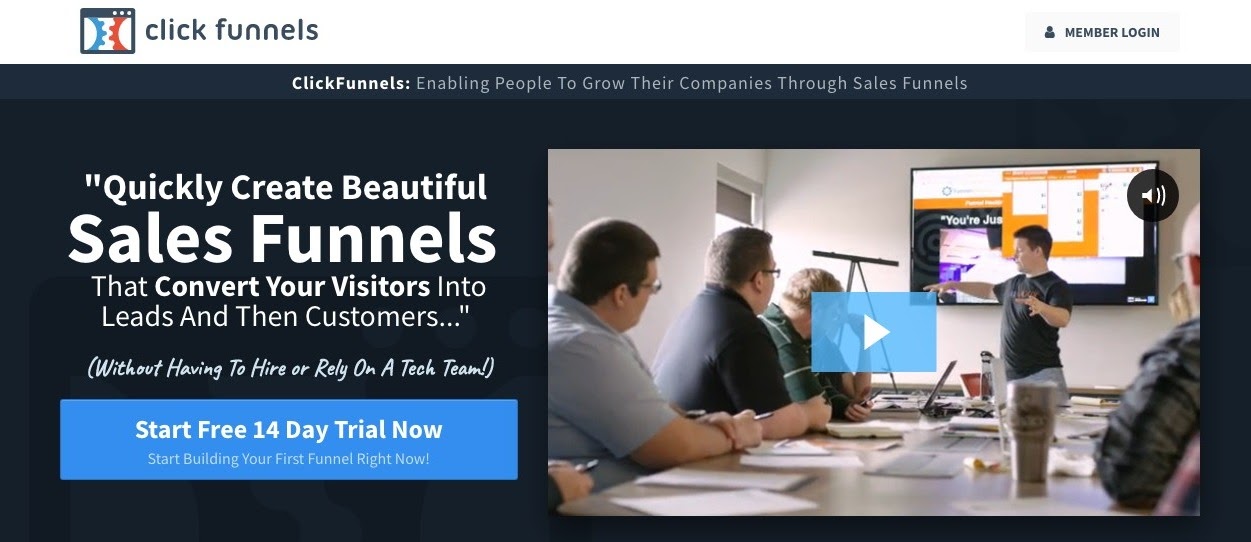 ClickFunnels is a sales funnel builder software that enables anyone to build high converting sales funnels for their business, with no technical knowledge required.
As well as building sales funnels, ClickFunnels can also be used to create entire websites and membership portals, and their 'Etison suite' plan also offers email autoresponder software and affiliate software, so if you wanted to, you could effectively run your entire business on ClickFunnels without the need to integrate any other software.
Anyone can get started building a website or sales funnel using ClickFunnels. There are loads of page and funnel templates for you to choose from, and you can easily customize your pages using their drag and drop page builder.  The funnel templates provided have been rigorously tested, so you can be sure that they will convert well. All you need to do is add in your own text and images, and you can have your funnel up and running in a matter of hours.
No matter what type of business you run, or which industry you are in, there will be a funnel template for you, whether it's coaching, physical products (e-commerce), memberships, digital products, agencies, small local businesses, network marketing, and even bloggers and affiliates.
ClickFunnels uses a two-step opt-in process so that you can collect your customer's email address even if they don't end up making a purchase. Once they have handed over their email address you can send them to a sales page, where they have the opportunity to buy your product. It's here that you can collect the payment from your customer, and also offer a 1-click upsell to increase the order value.
After the purchase, you can deliver the product. If it's a digital product or membership then the customer can be taken there automatically, and if it's a physical product you can get it shipped out.
As well as building complex sales funnels, ClickFunnels can also be used to build simple, high converting funnels collect leads for your business. Once you have collected the leads you can continue them to build a relationship and sell to them in the future.
When you upgrade to Actionetics MD you can create follow up funnels to recontact your visitors wherever they are, including by text, desktop notifications, email, and social media.
You can also boost your sales by using affiliates to sell your products, services, courses, or memberships by using the 'Backpack' affiliate software within ClickFunnels. This is a great way to rapidly scale your business, as your affiliates do all the selling for you, and you don't have to pay them a penny until they have made a sale.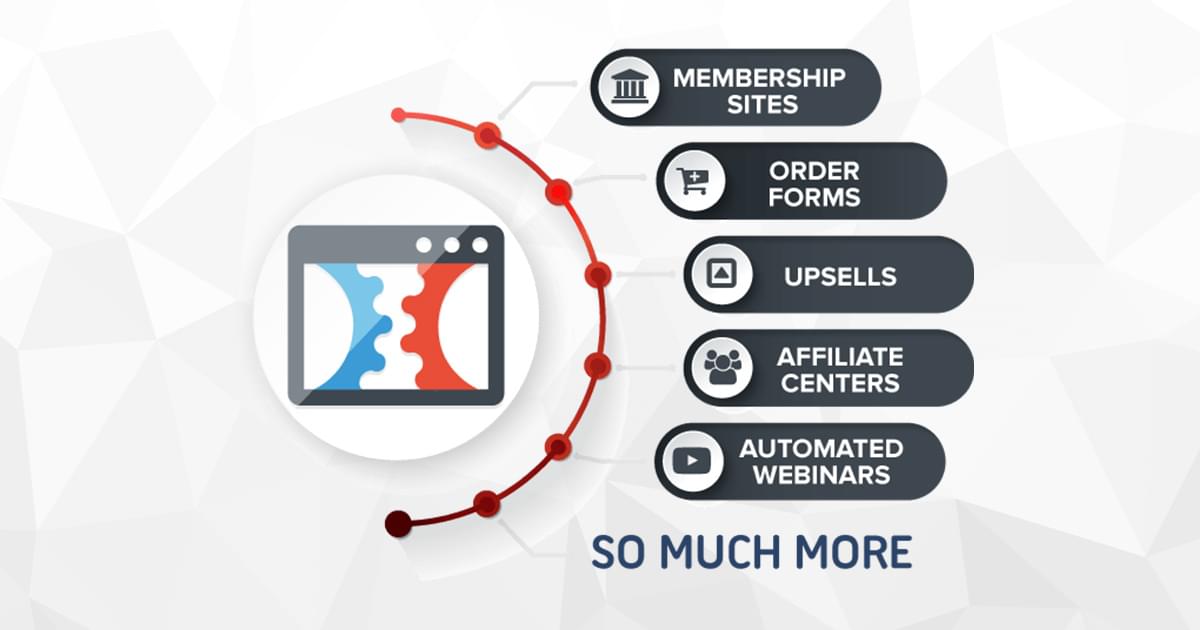 Die wichtigsten Funktionen von ClickFunnels
Easily build high converting sales funnels
Create landing pages and sales pages
Lead generation funnels
Drag and drop funnel builder
Create and sell Membership sites
Affiliate backpack software
Actionetics MD
Intelligenter Einkaufswagen mit Upsells mit einem Klick
Automatisierung von E-Mail- und Facebook-Marketing
ClickFunnels has everything you need to start and run an online business, and everything can be managed in one place which saves time and money on other software you would need to buy without ClickFunnels. In the Etison Suite plan, there is no need to purchase additional software for affiliate marketing and membership sites, as this is all included.
Die Vorteile der Verwendung von ClickFunnels
You can use ClickFunnels to build high converting sales funnels even if you have no previous tech experience
Once your funnels are set up you can focus on other areas of your business, as the funnels will do the selling for you
Everything you need to run your business is in one place, and it all works seamlessly together
There is no need to download software, ClickFunnels is cloud-hosted software so you can log in to your ClickFunnels accounts wherever you are in the world, on any device
With the Backpack affiliate software, you can easily scale your business with no extra cost to you, and you don't pay your affiliates anything until they have closed a sale
Die Nachteile der Verwendung von ClickFunnels
The pricing may be off-putting to some people. ClickFunnels starts at $97 per month for the basic plane and rises to $297 per month for the full package 'Etison Suite' plan, which may seem like a high cost for a small business who is just starting out. The standard plan has very limited features and doesn't include 'Backpack' and 'Actionetics', so if you need these features you will need to go straight to the Etison Suite plan, which includes the affiliate backpack and email marketing software, as well as unlimited funnels.
Another thing some people don't like about ClickFunnels is that it is 'Closed source' software, which means that you can't own the software, you are just paying to use it, and you have no access to the code, which means there are some limits on how much you can customize it.
Why Should You Be Using Leadpages to Sell Your Products Online?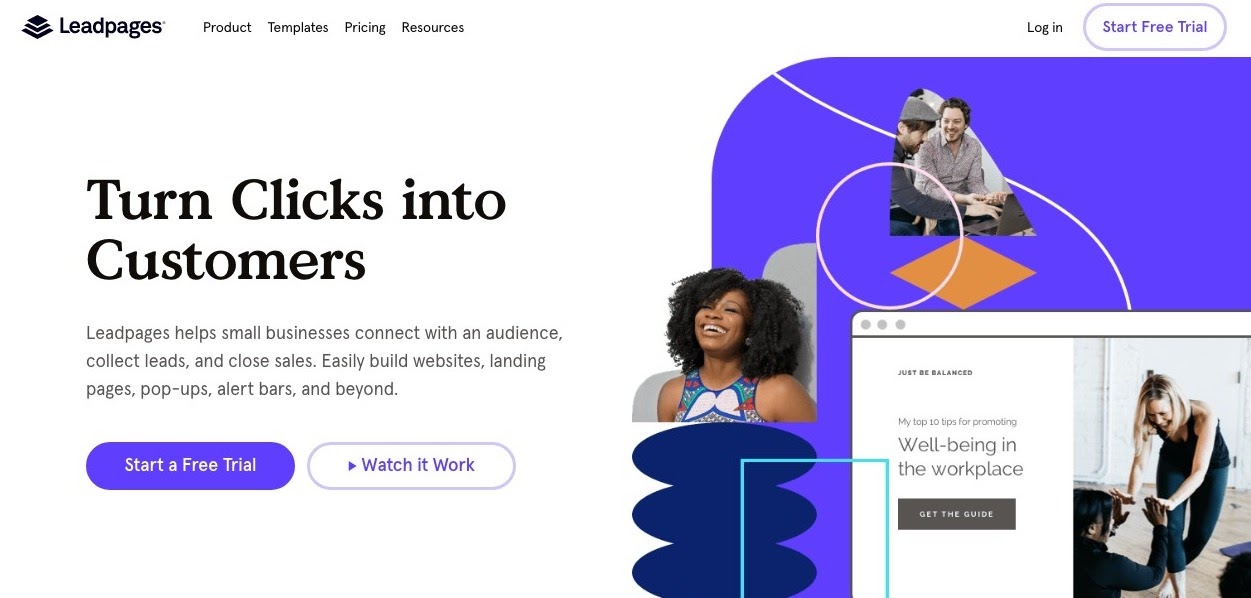 Leadpages is a page builder software which you can use to build landing pages, websites, pop-ups, alert bars, and social ads. All of the pages and popups are professionally designed and optimized to help you grow your business.
Everything on Leadpages is easy to use, so anyone can build beautiful pages without the need to know any code or hire developers.
The site builder allows you to build a code-free website, by simply using the drag and drop page builder. There are 26 premade website templates to choose from which you can use as a starting point, and you can replace and customize any elements you want to change. All of the templates are mobile responsive so your visitors can view the pages perfectly on any device.
You can then easily add any pop-ups, alert bars, landing pages and anything else you need to your website, all from the same place.
If you have a product or service to sell you can use Leadpages' high converting sales pages, and you can take payment right there on the page with built-in checkouts powered by Stripe.
Everything that you can create with Leadpages is optimized from the ground up, and you can easily check on your results with the simple analytics dashboard, which gives you real-time data. You can continually work to optimize your pages by using the unlimited split testing Leadpages offers, which includes A/B testing.
Leadmeter is another handy feature which gives you tips on how to improve your conversion rate while you are building your pages and predicts how well each page will do so you can make sure they are optimized as much as possible before you even hit publish.
With Leadpages there are no limits to how many pages you can create, or how much traffic you can have, you can publish as many pages, alert bars popups as you want to.
Leadpages integrates seamlessly with most popular software, including Salesforce, Drip, Mailchimp, Calendly, Facebook, Google Analytics and much more. This makes it easy to update your CRM, send your leads straight to your email lists, let users sign up for webinars, book appointments, and anything else you need to do.
The Key Features of Leadpages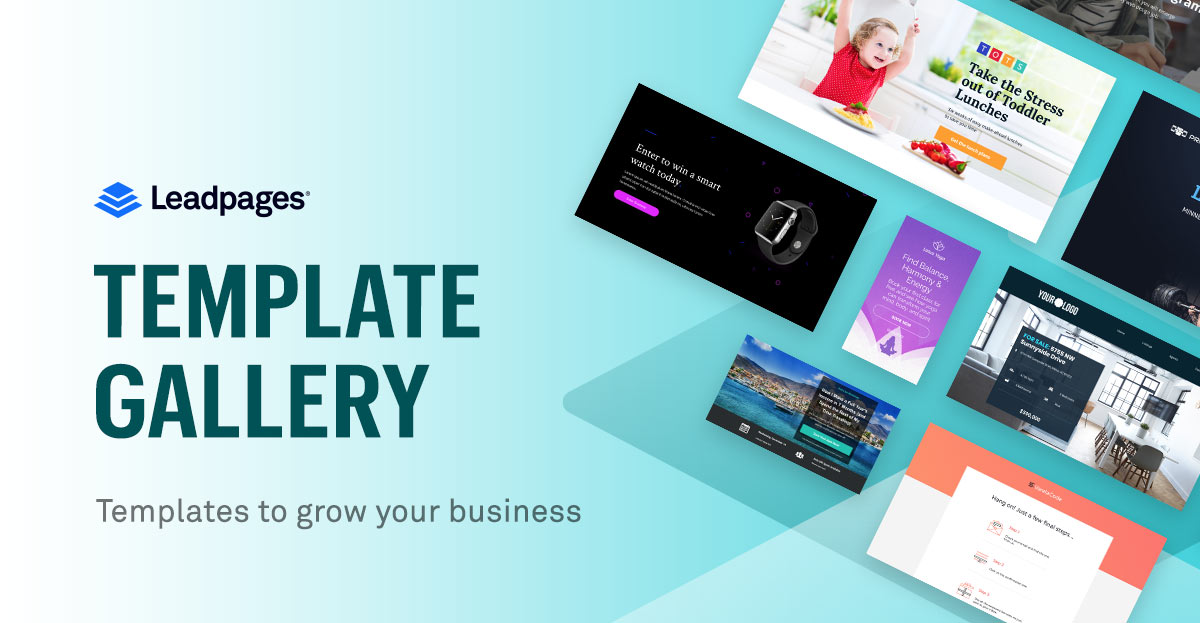 Website-Ersteller
Landing Page Builder
Pop-ups
Alert bars
Sell products and services
Integrates with most other software
Simplified analytics
A/B-Split-Tests
Leadmeter
Drag-and-Drop-Seitenerstellung
Ready-made templates
Unlimited traffic and pageviews
Publish unlimited landing pages, pop-ups, and alert bars
GDPR compliant
Die Vorteile der Nutzung von Leadpages
Easily SEO friendly build websites, landing pages, pop-ups and alert bars that work together seamlessly without the need to learn any code or hire developers
Optimize pages as you are building them with Leadmeter, which scores each element of your page so you can ensure everything is perfect before you hit publish
Integrates with most other software, so it is an easy add on to your existing website and can integrate with your existing autoresponder software
Easily collect quality leads to grow your email subscriber list
Sell products and services using the high converting sales pages with checkouts powered by Stripe
Free hosting on Leadpages domain, or publish directly to a domain you already own
Easily add an active-consent checkbox to your opt-in forms to ensure GDPR compliance
Leadpages is very affordable and is a great option for businesses who are just starting out, who are perhaps working on a tight budget
The Downsides to Using Leadpages
Although Leadpages can be used to build sales funnels, the process isn't quite as easy as it is with ClickFunnels. There are no funnel templates, so you have to design and build the sales funnels yourself, and depending on the complexity of your funnels this could be a little tricky if you are not already quite tech-savvy.
Because Leadpages uses a drag and drop page builder, it can be tricky to incorporate HTML and CSS, and other custom elements like custom fonts, so it really depends on the complexity of your needs. There is also no built-in image editor, so if you want to edit your images you will need to do that in a separate program before importing the image to Leadpages. Not a big deal, but a little inconvenient.
ClickFunnels vs Leadpages Pricing 2019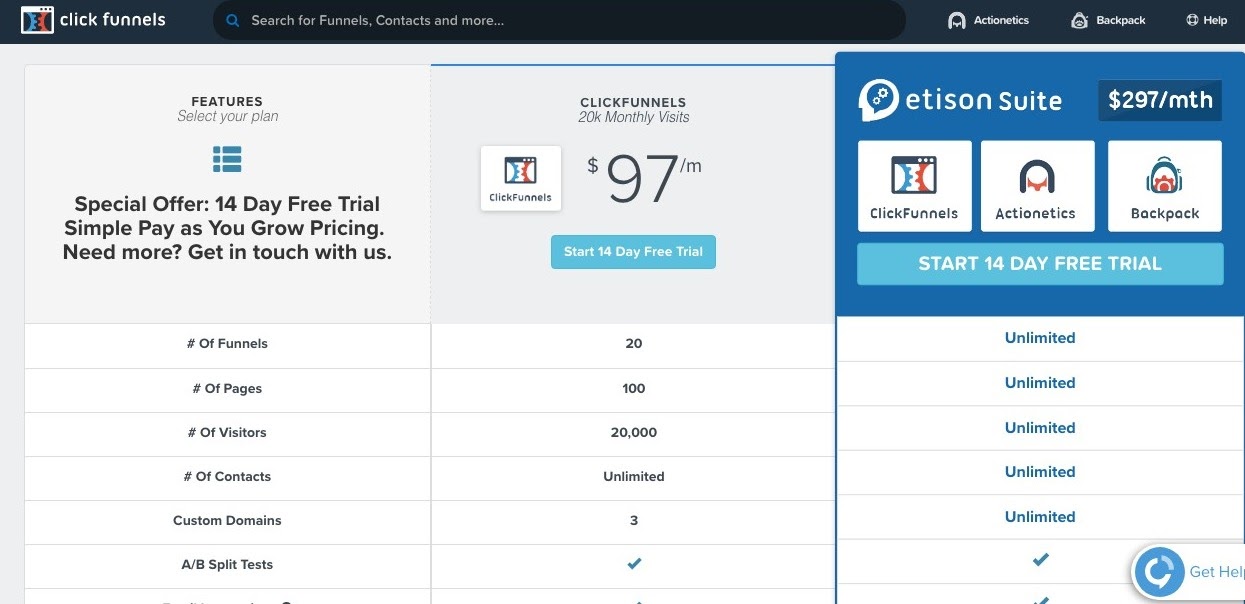 ClickFunnels has two pricing options; the standard ClickFunnels plan, and the Etison Suite plan. The standard plan is $97/month and includes 20 funnels, 100 pages, up to 20,000 visitors, unlimited contacts, and 3 custom domains. This plan includes everything you need to build high converting sales funnels and membership funnels, and it gives you access to all advanced funnel templates.
The Etison Suite plan is $297/month and includes everything from the standard plan, as well as Backpack affiliates and Actionetics for marketing automation. The Etison Suite plan also has no limits on the number of funnels, pages, visitors or contacts you can have, and you can have unlimited custom domains.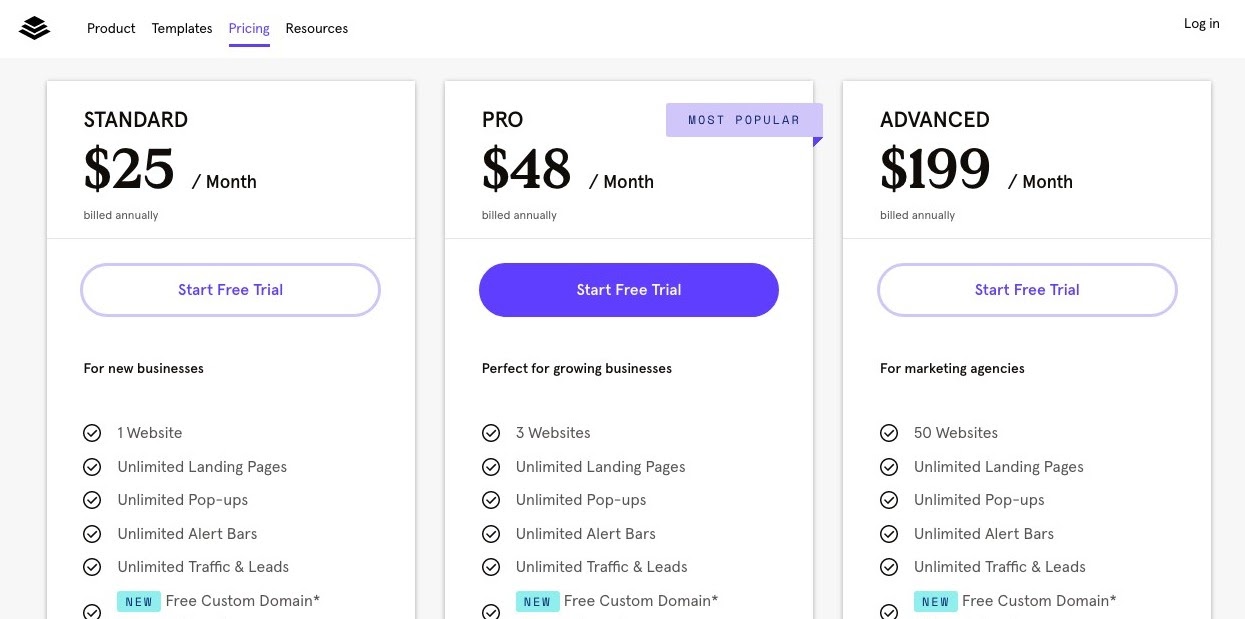 Leadpages has three different plans to choose from, so you can start on the lowest plan and upgrade gradually as your business grows.
The first option is the Standard plan, which is just $25/month when billed annually. With the standard plan you can build one website, unlimited landing pages, unlimited pop-ups and alert bars, and you can have unlimited traffic and leads. You also get a free custom domain when you pay upfront for the year. Hosting is included with this plan, and you have access to over 200 landing page templates. There is also a Facebook and Instagram ad builder, email tech support, and weekly group coaching.
Next up is the Pro plan, which is the most popular option. The pro plan works out at $48/month when billed annually, and includes everything from the standard plan, with the ability to build 3 websites. This plan also includes online sales and payments, unlimited A/B split testing, email trigger links, and 10 opt-in text campaigns.
Last but not least is the Advanced plan, which is a great option for agencies. This plan costs $199/month when billed annually, and it includes everything from the standard plan, with the ability to build up to 50 websites. It also includes advanced integrations, 5 pro-sub-accounts, 50 extra opt-in text campaigns, virtual workshops, and a 1-on-1 quick start call to help you get set up.
ClickFunnels vs Leadpages – Which one is better?
After taking an in-depth look at both ClickFunnels and Leadpages, it's time to announce the verdict… and the winner is…
ClickFunnels!
Although both ClickFunnels and Leadpages are great tools, there are a few reasons why we have chosen ClickFunnels as the winner.
ClickFunnels makes it easy for anyone to grow their business using high converting sales funnels. In the past, it would have been difficult to create a sales funnel from scratch, and you would probably either have to have a fair bit of tech knowledge or hire a developer to do it for you. ClickFunnels is easy for anyone to use, and all the funnel templates have been tested, so you know before you have even started that you are off on the right foot. All you need to do is select a template that suits your business type, and then add your own text, videos or images, and you are ready to go, so you could have a sales funnel up and running in just a couple of hours.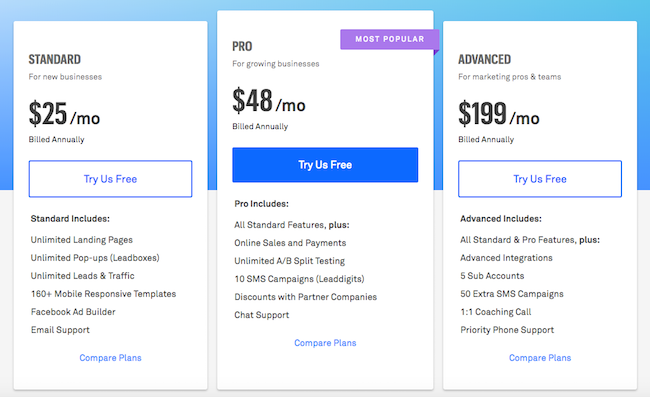 You can definitely create sales funnels using leadpages, but you would have to first build the pages, and then put them together yourself, which may take a little longer. You would also need to perform a lot more tests to see which funnels will work best for you since there aren't already high converting funnel templates for you to choose from.
Leadpages is still a great tool though, and because of its low price point, it's a fantastic choice for anyone who is just getting started and can't afford to pay for ClickFunnels. It's also a great tool if your aim is to collect leads, as there are loads of beautiful high converting templates for landing pages, popups and alert bars.
Basically…
If your goal is to build funnels then choose ClickFunnels.
If you are looking to collect leads, build landing pages and popups, then Leadpages is a great choice for you.
You can try ClickFunnels free for 14 days here, and try Leadpages free for 14 days here.
Frequently Asked Questions about Leadpages and ClickFunnels
Can I use Leadpages to replace my website?
Yes, you can either replace your website entirely with Leadpages, or you can use Leadpages alongside your existing website to build popups, landing pages, alert bars and more. If you are just getting started and don't already have a website, then Leadpages is a great option to build your first website. It's very easy to use, and you can have your website up and running in a matter of hours with the simple drag and drop page builder.
Is the ClickFunnels software secure?
Yes, since ClickFunnels is cloud-hosted, all security updates are done automatically so you don't need to worry about doing any security updates yourself- it's all taken care of for you.
Do I need to install any software to use ClickFunnels?
No- ClickFunnels is hosted on the cloud, which means that you do not need to download any software. You can access and use your ClickFunnels account from anywhere at any time, from any device.
Can I connect my own domain to my Leadpages pages?
Yes, any pages you create will automatically be published to your Leadpages domain, but you can also easily connect your existing domain to your pages or websites.
How long is the contract with ClickFunnels?
There are no long term contracts to sign with ClickFunnels, you can choose to be billed yearly or month to month, and you can easily cancel at any time from your account settings area.
Hier finden Sie weitere verwandte Artikel, die Sie interessieren könnten: